Diving Vietnam
Underwater marine life and dive sites of Vietnam
Vietnam has a lot of coastline, and has many dive sites. The main diving areas are Nha Trang, Hoi An and Phu Quoc. There are not a lot of big fish, but the dive sites are rich in soft corals, gorgonians, black coral, small fish, nudibranchs, seahorses, frogfish and other macro subjects. I suggest using a good dive guide who knows where the best areas are for macro life.
Vietnam may not have the best underwater photography opportunities, but it's rich culture, history, great people and natural beauty make it a very worthwhile travel destination.
Diving Nha Trang, Vietnam
Here's a report from a diver I trust who went to Vietnam:
For Vietnam, I dove in Phu Quoc and Nha Trang. Phu Quoc is not very interesting for diving, quite shallow; quite low viz and very few fish due to massive overfishing. Still a nice island with quite wild parts and if you like Nuoc Mam, this is the best place to buy some. Nha Trang is much nicer for diving and I really liked it, good viz and a good diversity of fish. I also like the atmosphere of the city. More remote is whale island north of Nha Trang, but when we were there the moonsoon was making diving very difficult. Two diving operations I may recommend:

- On Phu Quoc Searama www.searama.com
- In Nha Trang : Angel Dive www.angeldivevietnam.info
Both are operated by French staff and very nice (good ratio of guide to divers and very safe and friendly). One point also about Vietnam is that diving is quite cheap especially in Nha Trang.
Here's his vietnam photos.
And here's an opinion from a great underwater photographer visiting from a nearby country:
On the downside, the diving in Vietnam is very hit and miss. No where near as good as say Indonesia, Bali, Sulawesi, PNG as it's very macro-orientated with no fish bigger than ~20cm. If you love macro and hunting for nudibranchs then you will like Vietnam, it's definitely not the place for good vis and nice corals! I liked the diving as I'm into nudibranchs and critters but then I went to Lembeh and Bali and they were so much better. Best place I dived in Vietnam was Whale Island, a small resort about 3 hours north of Nha Trang. Diving was average except for the one dive site called Electric Nose which was awesome for nudies. but Nha Trang is like diving with about a million other people as it is where all the backpackers are. I highly recommend Rainbow Divers, they were excellent.
Underwater photography from Vietnam
Photos by Caroline Istas
Underwater marine life and dive sites of Vietnam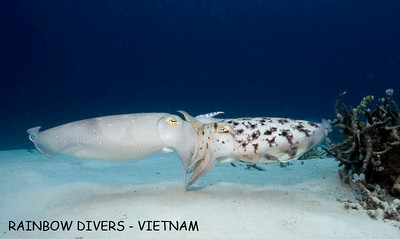 SUPPORT THE UNDERWATER PHOTOGRAPHY GUIDE:
The Best Service & Prices on u/w Photo Gear
Visit Bluewater Photo & Video for all your underwater photography and video gear. Click, or call the team at (310) 633-5052 for expert advice!
---
The Best Pricing, Service & Expert Advice to Book your Dive Trips
Bluewater Travel is your full-service scuba travel agency. Let our expert advisers plan and book your next dive vacation. Run by divers, for divers.
---