Kraken Solar Flare Mini 15000 Review
The best bang-for-the-buck high power video light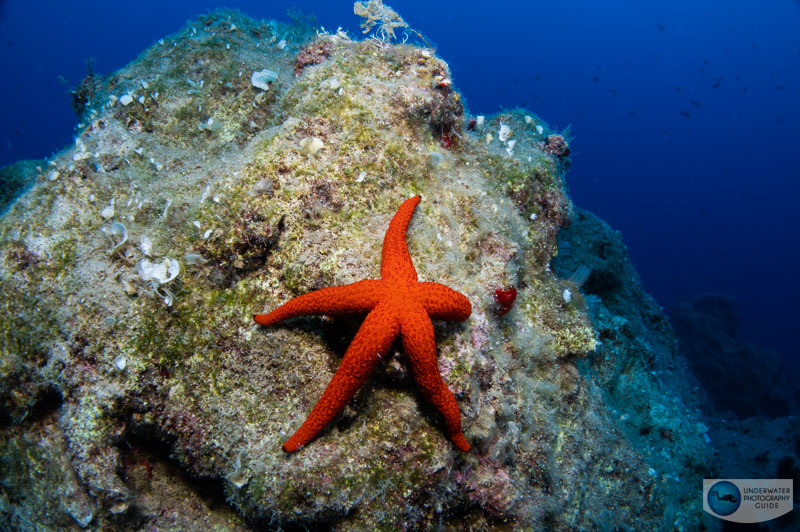 A photo captured with the Kraken Solar Flare Mini 15,000's bust mode @ 18,000 lumens
The Kraken Solar Flare Mini 15,000 was introduced this summer as the best "bang for the buck" high power underwater video light available at Bluewater Photo. While it doesn't have the numerous features available in its fancier sibling - the Kraken Sports Hydra 15,000 video light - it does offer 15,000 lumens of output for $300 cheaper than the latter. At a retail price of $799, the Kraken Solar Flare Mini 15,000 is a practical solution for any underwater video shooter looking to shoot wide angle video - especially in shallow, bright conditions.
We had the opportunity to take this light diving in the clear, azure waters of the Mediterranean as well as the darker waters of the Pacific Northwest. Check out the beautiful video footage we captured below and read on to our full review.
Kraken Solar Flare Mini 15,000 Specifications
15,000 lumens of output
1 hour burn time at full power
5600K color temperature white beam
120 degree beam angle underwater!
7 hour charge time (we recommend a spare battery)
CRI rating of 90
18000 lumens burst mode for photography
Triple button control panel with a battery level indicator light
Single cell 144 Wh battery with usb-c charger built in
Depth rating: 330 ft (100m)
Weight: 1345 grams on land (550 grams underwater)
Dimensions: 79mm (D) x 238mm (L)
YS and Ball Mount included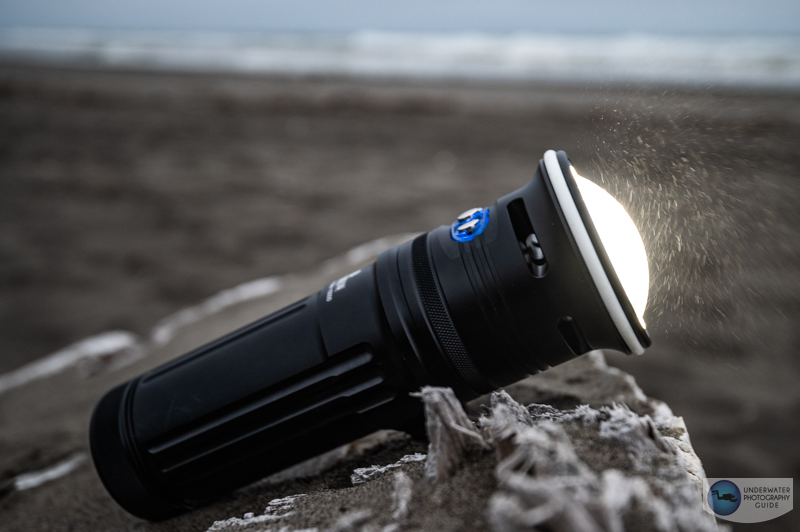 Beam Quality
The Kraken solar flare mini is a simple light because it only has one purpose - to provide its user with the brightest beam possible. The light produces a whopping 15,000 lumens of light which means that just one light (though preferably two) is enough for wide angle video in shallow, bright shooting conditions. It's enough light to fight bright ambient sunlight and still produce nice color in your video. The light itself is 5600K with a CRI rating of 90. This means it's a little on the cooler side and reproduces colors quite close to reality. I love the color temperature on the light and I think it makes the colors of the subject pop without making the substrate temperature too warm.
The beam angle on the solar flare mini is exceptionally wide at 120 degrees. This means you can easily shoot wide angle video - even fisheye video - with just one light. While it is always better to have two lights for creative lighting, one light will certainly be enough to get you by shooting wide angle. The only issue I ran into when shooting with a 120 degree beam was that the beam was so wide and diffuse, it tricked my camera into trying to focus on particles in front of my subject rather than the subject itself. While this didn't always happen, I recommend pointing the light directly at the subject for your camera's autofocus to work properly, or to use manual focus when shooting video. This is more of an issue with wide angle lenses rather than macro lenses.
Burn Time and Charging
Considering the output of the solar flare mini - the 1 hour burn time at full power is 15 minutes longer than its competitor, the Sola Pro Video Light 15,000. However, the charge time is 7 hours - significantly longer than the charge time of the Sola light. Therefor we recommend getting a spare battery for this light if you want to film video on multiple dives. Batteries are removeable, which means that you don't have to charge the light between dives as long as you have a charged spare battery available.
Build Quality & Controls
The Kraken solar flare mini is built like a brick. It has a strong, solid anodized aluminum casing. The controls on the light have been updated to include three buttons - two to control power up and down, and one to control light modes and on/off. While it is more ergonomic than previous versions of the solar flare mini, we still recommend a Kraken remote control if you want to make changes in power quickly underwater.
It's important to note that in order to have a long burn time, this light has a very large battery. Underwater the solar flare mini is 550 grams. For some this could be a dealbreaker as the light is larger than most strobes.
18,000 Lumen Burst Mode
Most Kraken video lights are equipped with a burst mode. Generally, strobes are much more powerful so they are still the preferred tool for photography. That being said, the 18,000 lumen burst mode in the Kraken solar flare mini is powerful enough for even wide angle photography. I was able to successfully take wide angle photos with the light. Some might even take photos with just the continuous video light. However, I find this to be difficult because 15,000 lumens is quite bright and scares off critters when shined continuously.
Who Should Buy the Kraken Solar Flare Mini 15000?
The Kraken solar flare mini is perfect for anyone looking for the most lumens of light possible for the best value. While it may not have all the features of the Kraken Hydra 15,000, it certainly produces the incredible video quality.
---
---
SUPPORT THE UNDERWATER PHOTOGRAPHY GUIDE:
The Best Service & Prices on u/w Photo Gear
Visit Bluewater Photo & Video for all your underwater photography and video gear. Click, or call the team at (310) 633-5052 for expert advice!
---
The Best Pricing, Service & Expert Advice to Book your Dive Trips
Bluewater Travel is your full-service scuba travel agency. Let our expert advisers plan and book your next dive vacation. Run by divers, for divers.
---