SeaLife Micro 3.0 Review
The easiest to use underwater compact camera on the market featuring 4K video @ 30 fps and 16 MP images
SeaLife delivers again with their third generation Micro 3.0 compact camera. It is fully sealed which means no housing is needed and features SeaLife's undeniably easy to use trademark piano key design and replaces its predecessor with 4k @ 30fps video and the option to capture jpeg or RAW images. The Micro 3.0 fixed focus lens has an expansive 100 degree field of view underwater, 16mp sensor, and is compatible with the SeaLife Sea Dragon line of video light accessories.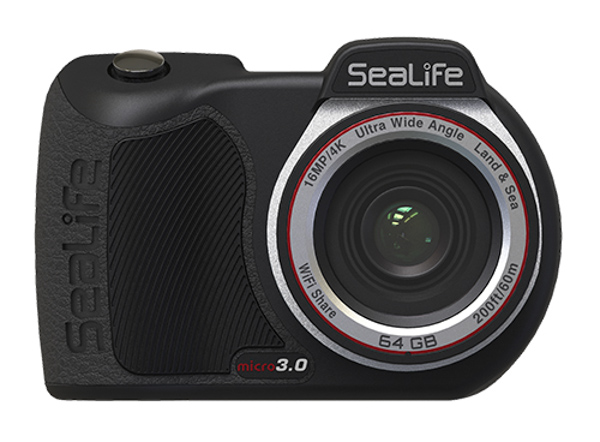 ---
Support Our Content and purchase a SeaLife Micro 3.0 at Bluewater Photo:
SeaLife Micro 3.0 Pro Dual Beam Set
---
Key Specs and Features
Permanently sealed - no o-rings to maintain
3 piano key controls for simple operation
Easy set-up mode
16 mega pixel SONY IMX083 1/2.3" CMOS sensor
4k 30 frames per second MPEG4 h.264 (.mp4)
100 degree fixed focus lens (130 degree out of the water)
Picture in video capability
Adjustable ISO settings - Auto, 100, 200, 400, 800, 1600, 3200
Various capture modes: Single, Continuous, Time Lapse, Burst, Auto Exposure Bracketing
White Balance: Auto, Shallow Underwater, Deep Underwater
64GB internal memory
Minimum focus distance: 15" to Infinity
USB cable connection for transferring photos and charging
Compatibility with Sea Dragon lights and accessories
Waterproof: 200ft (60m)
Weight and size: 11.6 oz / 329g, 4.2" x 2.1" x 2.9" (10.7cm x 5.3cm x 7.4cm)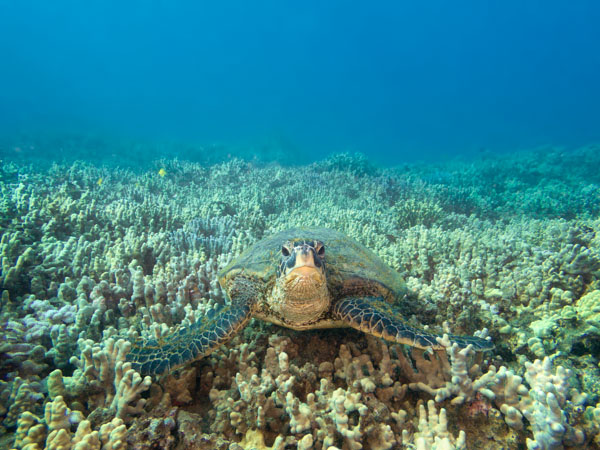 SeaLife Micro 3.0 Key Upgrades
Twenty years ago, SeaLife developed the world's first digital underwater camera. In 2014 SeaLife introduced the Micro HD, the world's first fully sealed underwater camera. This revolutionary, permanently sealed, flood proof camera was first in its kind. The compact camera was soon replaced by the Micro 2.0 in late 2015. With the same ergonomic design, the Micro 3.0 offers 4k video with video stabilization, RAW image capability, five scene modes to choose from and expanded white balance modes specifically for underwater use.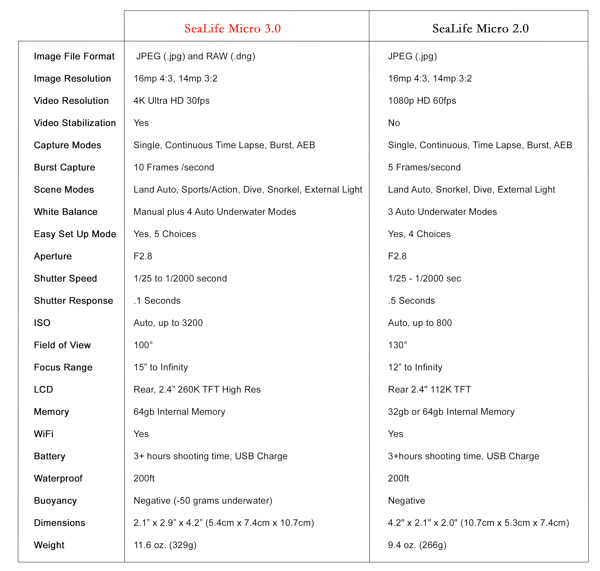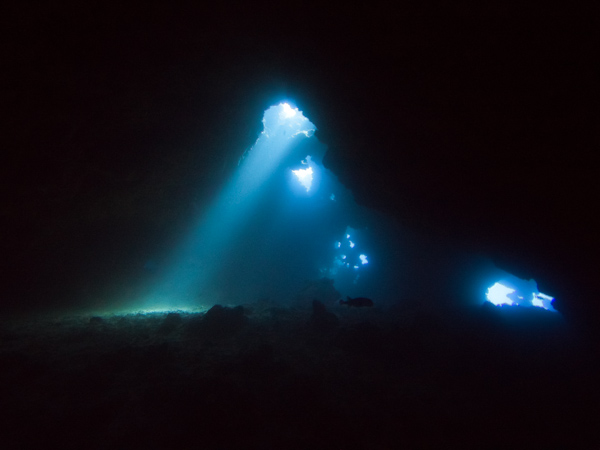 Ergonomically Designed
The SeaLife Micro 3.0 could arguably be the world's easiest underwater camera to operate. Its shockproof, rubber armored body is comfortable to hold with the right side flared for easy grip between fingers and thumb. The three piano keys located on the back navigate the entire menu with the new high resolution color display. The buttons are large and simple to push underwater with or without gloves on. And with the same permanently sealed design as previous models, the Micro 3.0 does not have any doors to flood or orings to worry about and maintain. This is truly a no fuss system giving you more time to focus on diving!
There is a standard ¼-20 tripod mount on the bottom great for mounting the camera on a tray for added stability and/or adding lights and a specific spot built into the design for a lanyard. Its compact, lightweight design weighs only 11.6oz, making it easy to take along on your travels.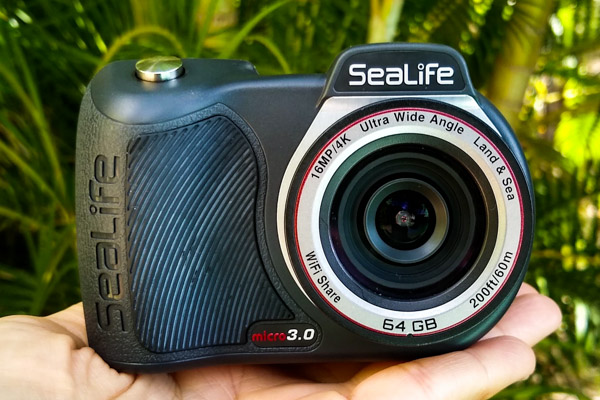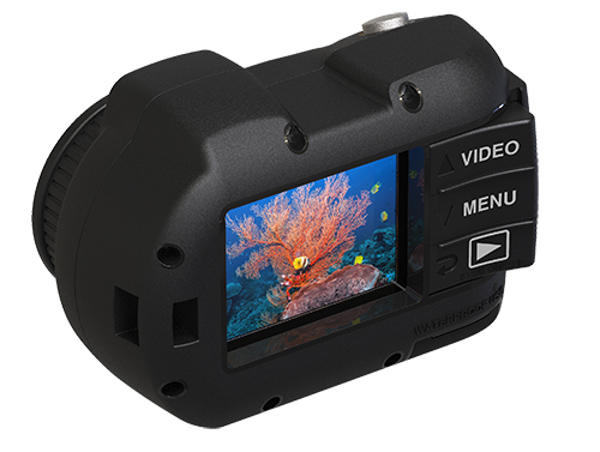 Setting Up the SeaLife Micro 3.0 Underwater Camera
Charging: The Micro 3.0 comes with a USB cord and adapter for charging and retrieving your images. (You can also transfer images via WiFi.) Remove the rubber cover over the wet USB contacts to slide the USB cord and adapter into place. It is imperative that the camera is completely dry before inserting the USB adapter. The USB adapter is not waterproof. The display will automatically light up when it detects that the USB is plugged into an outlet. Choose the 'charge' option by navigating with the center (down) piano key/button. The red LED indicator light will blink while charging. The light will remain on solid red when successfully charged. Allow for just over 3 hours to fully charge the battery.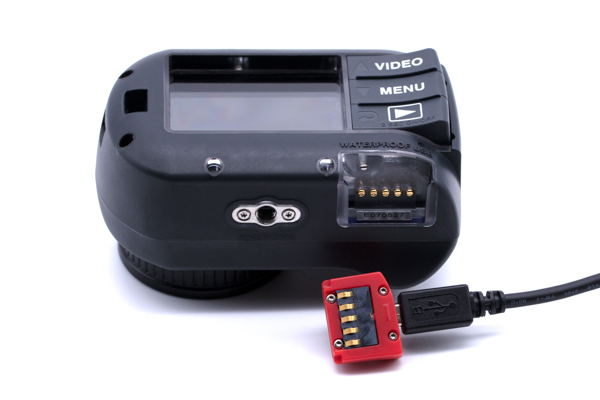 Camera Settings: To get started, turn on the camera by holding down the Play button for 2 seconds. The center Menu button brings you to three menu categories: Easy Setup, Image Settings and System Settings. Once you're in this menu, navigate by pressing the up or down arrow (video & menu buttons). Make your selection by pushing the shutter button. I started with Easy Setup > Underwater > Ext Light. If you will be shooting with an external photo/video light source like any of the compatible Sea Dragon models, you will want to choose this setup as well. If you will be using the camera without a light, simply choose Easy Setup > Underwater > Dive. It's that easy!
Note: You may want to adjust the white balance according to your dive plan. Easy Setup initially puts it on Underwater Deep. If you will be shooting in 40ft depth or less you will want to change to either Auto, External Light, or Underwater Shallow so that your images don't turn out too warm.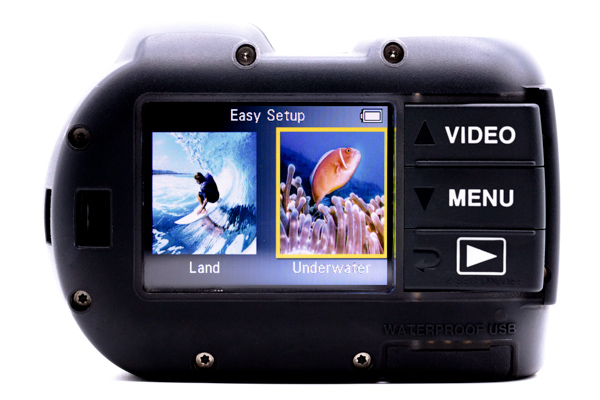 Easy Set Up will get you started for taking 4k video and 16mp RAW + Jpeg photos underwater. Customizing these settings is simple. For example, let's say you want to change the white balance to Auto, Underwater Shallow, or Deep depending on your dive plan. Just choose the Image Settings option in the initial menu, navigate to WB and several options are available for your preference!
Retrieving Images and Video: Transferring your content to your device can be done either via WiFi or the supplied USB cable and adapter. For WiFi transferring, you will need to download the free Micro 3+ app through the Apple App Store or Google Play Store. Be sure to turn on the camera's WiFi in the system settings before connecting it to your Android or Apple device. The app offers live view and downloading images straight to your device.
Getting Started: Micro 3.0 Image Settings Tips
WB: Auto
EV: 0.0
ISO (Picture): Auto
RAW+JPG: ON
Capture Md: Single
Scene Md: Dive or External Light
Quality: Super Fine
Picture Res: 16MP(4:3)
Video Res: 4k-30fps
Metering: Average
Sharpness: Standard
Photo TimeLapse: 5sec
Self Timer: Off
Color: Standard
Video TimeLapse: Off
Video Stabilization: On
Getting Started: Micro 3.0 System Settings Tips
WiFi: Turn on when using the Micro 3+ app
System Reset: Restores Camera's Factory Default Settings
Format: This deletes all photos and videos from the internal memory
Date/Time: It is preferred to set this upon initial setup
Mem Available: Measures in gigabytes how much space is left to store photos/videos in internal memory
Microphone: High
Sound: High
Quick View: On
Language: Set as desired
System: NTSC or PAL
Light Frequency: 60Hz
Date Stamp: Turn off unless time/date imprinted on image is preferred
Auto Off: 3min. will save battery life
Upside Down: Off
Shortcut: Creates one shortcut of choice when pressing menu button for 2 seconds.
SSID: The username used for wireless connection, available when WiFi is turned on.
Conformity Marking: Contains the FCC Symbol and FCC ID Number
Firmware Version: Contains what firmware is installed on the camera.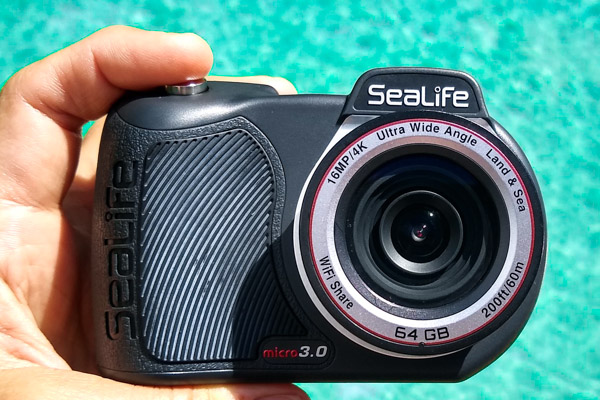 Diving With the SeaLife Micro 3.0
The compact design of the Micro 3.0 makes it easy to carry, clip to your BCD or hang off your wrist with a lanyard. I took the Micro 3.0 camera diving in Hawaii mounted on the Flex Connect Dual tray with two SeaDragon 2500 lights (Micro 3.0 Pro 5000 Duo Set pictured below.) The increased stability that it offered was significant and yet it was still a fairly compact system to carry. I preferred the Flex-Connect Grips not only because it was easier carrying them topside (bending them inwards over the camera) but there is an added benefit of customizing the direction of the light source when photographing critters tucked away in dark areas of the reef.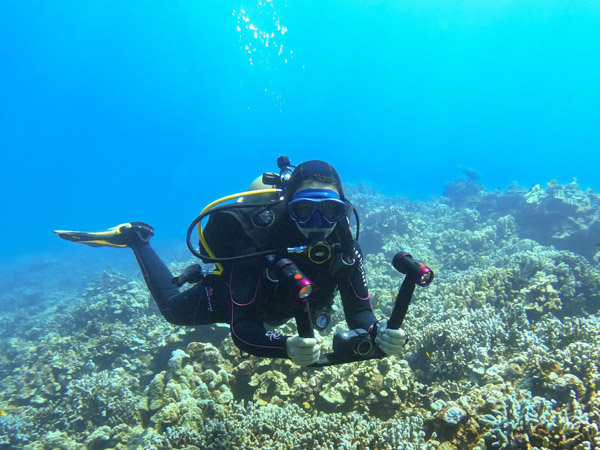 I kept the white balance mode between Auto and External Light as I felt the Underwater Shallow and Underwater Deep settings were a little warm for the Hawaiian waters. The ultra fast 0.1 second shutter response was incredible at capturing 'the moment'. The school of Ta'ape (Blue Stripe Snapper) pictured below was fast moving and zipping around me so pressing the shutter at the exact moment was important to get a profile shot of the fish.
One thing to keep in mind is that the wide angle 100 degree field of view lens focuses from a distance of 15" to infinity. That means if you are less than 15 inches away from your subject it will be blurry. The camera was about 20 inches from the crab in the photo below. If you would like to shoot macro images, or fill the frame with small critters, consider the SeaLife 10x Close Up Lens which cuts the focal range of the camera to 6 to 24 inches! It is an optical grade wet lens featuring a press on mount that can be added or removed from the camera while underwater on your dive.
What I liked most about shooting with the Micro 3.0 was the seamless transition from taking photos to switching to video. The Micro 3.0 offers several video resolution options from 480p (great for super quick sharing) on upwards to high res 4k at 30 frames per second. The added electronic stabilization which reduces camera shake provides ultra smooth playback. One cool feature is that it takes still photos while shooting video.
3+ hour battery life: While out on the boat for the day, including two 80 minute dives, reviewing and taking pictures while topside cruising around on the boat the battery never dipped below half power. Wow. To preserve the battery power, I had it set to 'Auto Shut Off to 3 minutes' located here: Menu >System Settings>Auto Off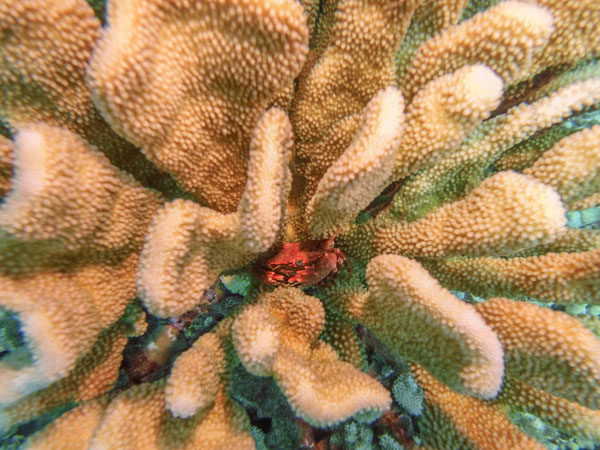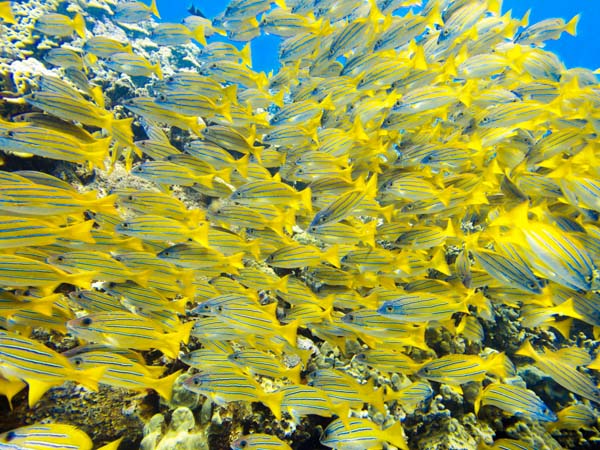 Optional Recommended Accessories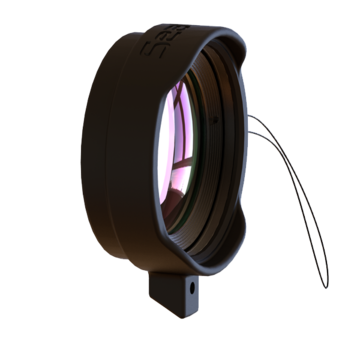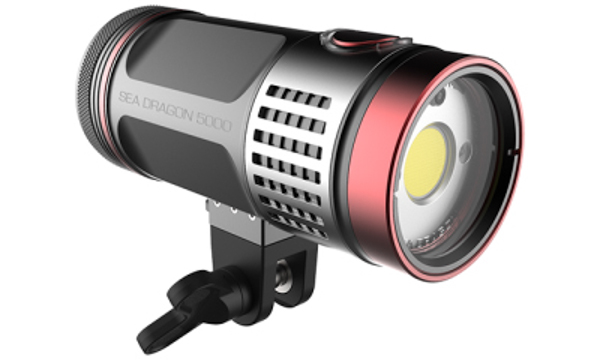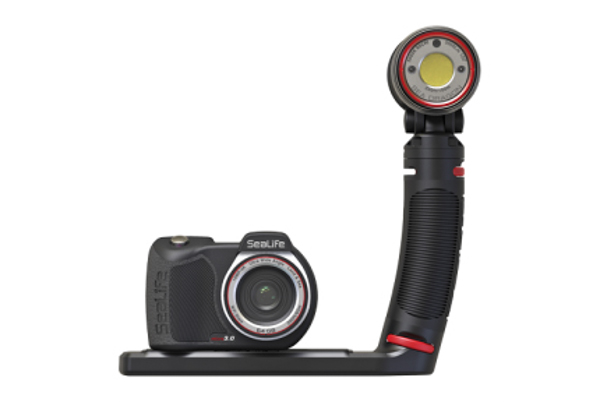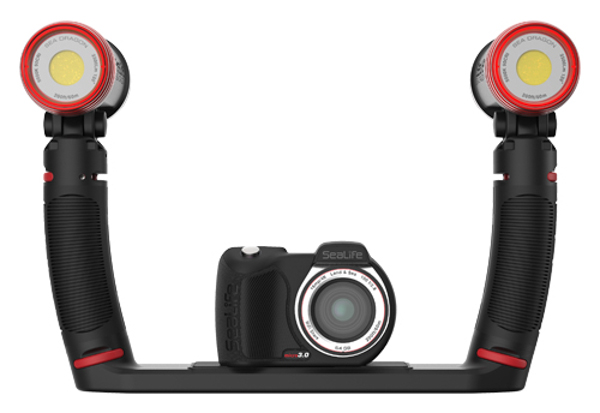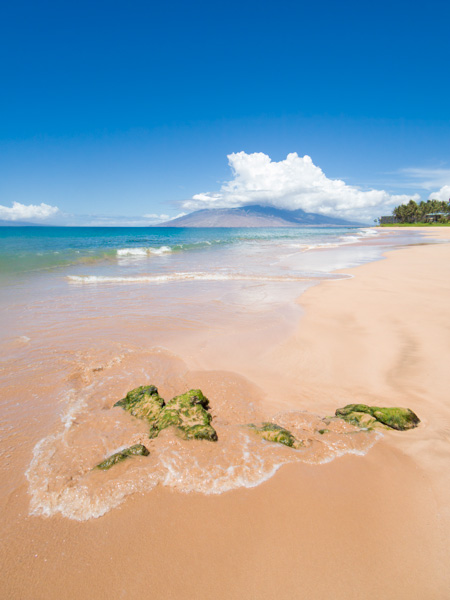 Conclusion
If you're new to underwater photography, or just looking for a compact, simple-to-use underwater camera then the SeaLife Micro 3.0 is for you. Since the Micro 3.0 has a fixed f/2.8 aperture and fixed focal length lens it does not have manual controls that advanced users would be after. However, it is small and lightweight to travel with, offers RAW capability, 4k video with electronic stabilization and takes decent topside photos too! Plus, without orings to maintain, it is perfect for someone who wants to spend more time on their dive than preparing for it! Finally, the image and video quality is excellent for the price point and overall, we think the Micro 3.0 is the perfect starting point for any new underwater photographer.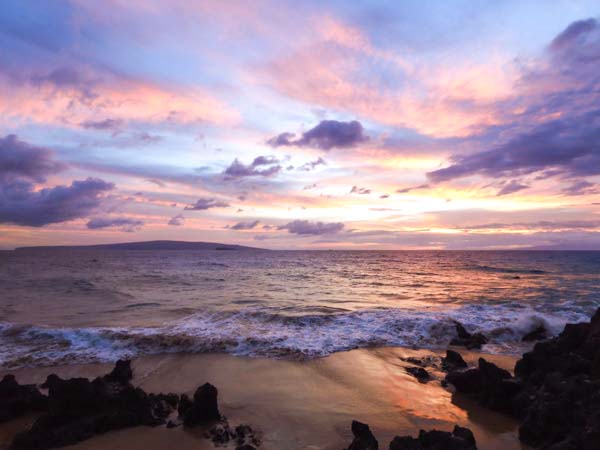 SUPPORT THE UNDERWATER PHOTOGRAPHY GUIDE:
The Best Service & Prices on u/w Photo Gear
Visit Bluewater Photo & Video for all your underwater photography and video gear. Click, or call the team at (310) 633-5052 for expert advice!
---
The Best Pricing, Service & Expert Advice to Book your Dive Trips
Bluewater Travel is your full-service scuba travel agency. Let our expert advisers plan and book your next dive vacation. Run by divers, for divers.
---