10 Dive Sites You Must See in the Solomon Islands
Wide-angle, macro, wrecks and the most beautiful diving in the Solomons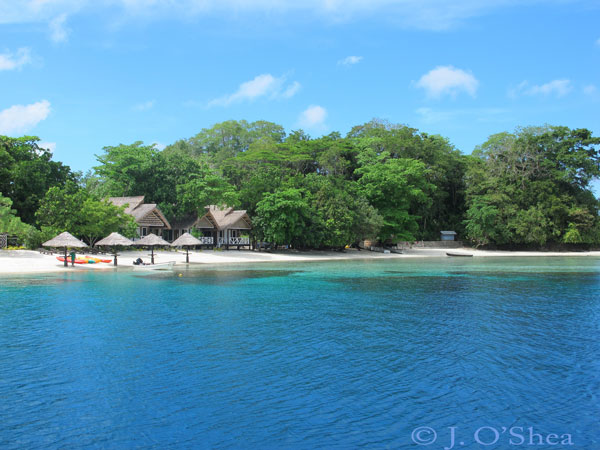 Solomon Islands is a hidden gem in the South Pacific. Still relatively new to tourism, it sees far fewer visitors each year that its neighbours Fiji and Vanuatu. This means pristine reefs, and no other boats crowding the dive sites. One of the reasons Solomons is know for the best diving in the world is because it has such a variety of diving options: reefs, wrecks, big animals, little critters, caves and beaches. Here are my top ten favourite sites.
Twin Tunnels
Twin Tunnels is named for two big vertical lava tubes in the sea mount. The tubes are next to each other; you can pick either and swim down to where they join and open up on the side of a reef wall at about 36m. The walls of the lava tubes are covered in fans and whip corals, and occasionally you find nurse sharks resting on the sand at the bottom. This dive is great not only for the lava tubes, but for the huge schools of fusiliers that constantly school around the entrance to the tunnels, and the fabulous reef on top. You can find pygmy seahorses in the fan corals, hairy squat lobsters live in the edges of the barrel corals, and it's a great place to find cuttlefish, octopus, and eels.
This shot was taken from about halfway down the lava tube, looking straight up towards my dive buddy as she descended.
1/60, f3.5, ISO 400
Pygmy seahorse on a fan near the lava tubes.
1/250, f22, ISO 100
White Beach
This site is surprisingly not a white beach; the island is actually edged by mangroves. It was an American military base during the WWII, with the code name "White Beach". When the troops departed, they pushed everything into the sea. So if you're into wrecks, there is plenty here to explore: trucks, pieces of machinery, bullets and old coke bottles. But I love this site for its incredible macro life. Nudis galore, jawfish, pipefish, harlequin shrimp, mandarin fish and tons of juvenile fish. Along the edge of the mangroves, you can see pyjama cardinals and archer fish loitering amongst the tree roots.
Pipefish are abundant at this site, and they are always happy to pose.
1/320, f11, ISO 100
Archer fish are known for their ability to shoot down resting insects by spitting a jet of water to knock down prey from tree branches above the water. They are the sharpshooters of the ocean, able to account for the refraction of the light on the water surface to hit their target.
1/125, f14, ISO 100
Friendly locals watching as I surfaced at the end of a dive. The kids are always fascinated by dive gear.
1/160, f7.1, ISO125
Leru Cut
Probably the most famous dive site in Solomon Islands, Leru Cut is an indent into the side of a small island which runs for about a hundred meters, around 12m deep. You can surface at the end of the "cut", and feel bizarre being in scuba gear in the interior of the island, while looking up at huge trees with vines hanging down and birds calling.
Light filtering down onto Leru Cut.
1/60, f4, ISO400
Leru Cut.
1/60, f3.5, ISO640
Mary Island
Mary Island, also known as Mborokua, is the best site for schooling jacks, barracuda and sharks. Huge bumphead parrotfish are also common. As if that wasn't exciting enough, there is an underwater volcano nearby, which gives off the occasional rumble.
Schooling barracuda at Mary Island.
1/100, f11, ISO 125
Schooling jacks at Mary Island.
1/200, f10, ISO100
Battery Point
This is my favourite site for night dives. The sandy slopes are a great place to find little critters including mantis shrimps, bobbit worms, snails and nudis, as well as hunting squid, cuttlefish and rays.
Squid sometimes use divers lights to hunt. One night at Battery Point this squid caught and ate a fish in front of my eyes. I felt a bit sorry for the fish, but I was happy with the shot.
1/160, f14, ISO 100.
Bobbit worm. Its powerful jaws, toxic bristles and rainbow shimmer are very impressive.
1/200, f20, ISO 160
Wreck of the Ann
This wreck is worth diving twice; once with a wide-angle lens to shoot the wreck, then you should come back and find all the tiny critters on the wreck itself. Soft coral crabs, nudis, and shrimps are abundant. The sandy slopes to either side are also worth exploring for crocodile fish, eels and rays.
Diver above the wreck of the Ann.
1/100, f4.5, ISO125
Soft coral crab, perfectly disguised to match its home.
1/250, f22, ISO100
Bonegi
At Bonegi Beach, a short drive from the centre of Honiara, two large Japanese WWII wrecks lay conveniently in shallow water. Starting at just a few metres depth (making them accessible to snorkelers and divers alike), each wreck is covered with amazing biodiversity; fish, shrimps, nudis, eels, rays, and diverse, healthy hard and soft corals.
The Bonegi wrecks are home to several species of anthea.
1/160, f10, ISO100
Mirror Pond
This is another site with both excellent wide angle and macro opportunities. There is a cave you can enter by swimming under the reef, and then you can surface in a beautiful pool under the jungle canopy. There used to be a resident saltwater crocodile here, but (happily for most) he's not there any more.
Coral hermit crabs are tiny, living in holes around 6-8mm diameter. They are filter feeders, using their feathery arms to collect particles from the water.
1/320, f25, ISO100
Calm, sunny shallow hard coral gardens at Mirror Pond are a pleasure to explore.
1/80, f4, ISO 100
This is the "pond" which gives the site its name. You can swim under a cut in the reef, and surface here to admire the lush green jungle above.
1/80, f3.5, ISO 640
Maravagi
Maravagi is in the Florida Islands, and is best known for its dive site called "Devil's Highway", where divers hook onto the reef and let the fast current fly past while manta rays swim overhead. But the shallow waters just off the beach are also worth exploring; they are home to a vast array of juvenile species including baby batfish, cuttlefish, crabs, rays and scorpionfish.
Maravagi Island, left, is separated from a nearby island with a deepish channel, where you can find schools of manta rays cruising on the current when the tide is right.
1/320, f9, ISO100
A tiny crab hides at the base of a tube anemone in the shallows.
1/250, f20, ISO100
Mbike
Mbike is a tiny island not far from Honiara, with simple accommodation and a purposely sunk wreck just off its beach. It's regular weekend getaway for Honiara residents.
This fishing boat wreck sits in shallow waters off the side of Mbike Island.
1/125, f4.5, ISO 160
Nembrotha kubaryana is my all-time favourite nudi, and for some reason this wreck always has at least a dozen of them crawling around its deck.
1/250, f18, ISO100
Mbulo Caves
Mbulo Island has a series of caves cut into the reef around the island. This dive is all about the light; swimming in and out of caves, finding beams of light to shoot. A green jungle canopy lies above.
1/80, F3.5, ISO 400
---

Book Your Trip to Galapagos
Our sister company
Bluewater Travel
has lots of experience booking trips to Raja Ampat and 40+ other amazing scuba diving destinations. So if you want help planning your trip:
Check out their selection of dive resorts on their dedicated Solomon Islands diving page.
Further Reading
SUPPORT THE UNDERWATER PHOTOGRAPHY GUIDE:
The Best Service & Prices on u/w Photo Gear
Visit Bluewater Photo & Video for all your underwater photography and video gear. Click, or call the team at (310) 633-5052 for expert advice!
---
The Best Pricing, Service & Expert Advice to Book your Dive Trips
Bluewater Travel is your full-service scuba travel agency. Let our expert advisers plan and book your next dive vacation. Run by divers, for divers.
---