Diving Cozumel
Destination Guide including marine life & dive sites
Known for drift diving and spectacular coral formations, the island of Cozumel, Mexico, is a favorite Caribbean destination for thousands of U.S. divers. Easy to get to from most gateway cities; relatively inexpensive; clean; safe; populated by friendly people who speak English with a Texas accent; crystal clear, warm water; and lots of fish – who could ask for more than diving Cozumel?
Cozumel Marine Life
On a typical dive trip you will see turtles, groupers, green moray eels, nurse sharks, and lots of colorful tropical fish. If you are lucky, you will see eagle rays or black-tip reef sharks.
Sea turtle, quite common in Cozumel
Typical day while diving in Cozumel
Two-tank, morning boat dives are the norm while diving Cozumel. The first dive is deeper (70-80 fsw) somewhere along the famous, Punta Sur, Colombia, and Palancar Reefs. Cozumel drift dives are easy – drop in the water with your dive guide, descent to the reef, drift along in the current (no need to swim), ascend with your buddy with700 psi remaining in your tank for a three-minute safety stop, go to the surface and wait for the boat to pick you up! During a one-hour surface interval, the boats move north to the shallower reefs for the second dive at Paso del Cedral, Chankanaab, Punta Tunich, etc., returning to the hotel in time for lunch, a nap, an afternoon or night shore dive. Diver's Heaven.
Caribbean seahorse, Cozumel
Cozumel's Best Dive Sites
Columbia Deep – for huge coral formations.
Panancar reef – big structure with many tunnels and swim throughs
Chankanaab Reef – a very fishy place
Barracuda – northwest of the island, a deep hog back reef with strong currents, a great place to see pelagics; an advanced dive.
C-53 – wreck of an old mine sweeper, put down as an artificial reef.
Read our full guide to Cozumel's best dive sites here.
Diver and sponge in Cozumel
Cozumel Underwater Photography Tips
The Mexican government has established a large National Marine Park extending along the southwest coast of the island. The presence of large groupers, dog-size lobsters, and large schools of fish, are indications the park is being protected from predatory fishing. The southernmost reefs are great for wide-angle photography – some of the coral heads are the size of apartment buildings and covered with colorful sponges. Further north, the shallower reefs are home to myriad numbers of smaller fish and inverts. Shore diving provides the opportunity to do some amazing macro photography of little critters on sandy bottoms and artificial reefs. Take all of your lenses with you!
Drift diving Cozumel
Diving is often drift diving in currents with a group. To maximize your photography opportunities, work on your buoyancy control. You can't fight the ocean, to stop, duck behind a coral head or sponge. If you lag behind the group, you will be in a better position to get that shot of the turtle the dive guide just pointed out.
Visibility, Water Temps, and When To Go
Visibility is fantastic all year long. Water temps range from the mid-seventies in the winter to mid-eighties in the summer months. Late summer and fall is hurricane season in the Caribbean, but the odds of a storm are extremely low; this is also the "low" season and rates are lowest. December to April is the high season and probably has the best diving conditions.
Winter winds from the north sometimes mean choppy surface conditions and occasionally close the port for diving. When is the best time to go to Cozumel? Whenever you can.
Things to Do Around Cozumel
Scuba diving is one of the top activities in Cozumel, but those interested in experiencing more of Mexico and its unique history can travel by ferry to the mainland. Explore the area from Cancun to Tulum: visit ancient Mayan ruins, snorkel or scuba dive in cenotes, and experience the best of Mexican food and culture.
More Cozumel Underwater Photos
Eagle rays are commonly seen while diving in Cozumel
Caribbean nudibranch
Large grouper in Cozumel
Sailfin blenny
Want to see MORE Cozumel photos? Click below for our latest photo essay:
Cozumel Dive Resorts
For the best Cozumel dive resorts, visit the Cozumel dive resort page on our sister website, Bluewater Travel. Scuba Club Cozumel is an excellent choice, but there are many others.
Further Reading
Destination Guide including marine life & dive sites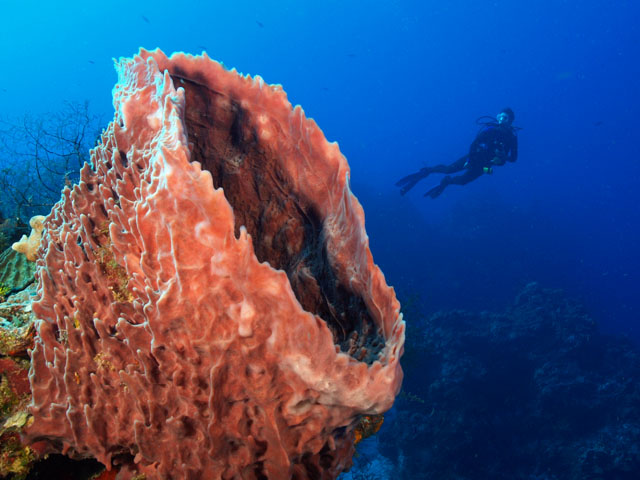 SUPPORT THE UNDERWATER PHOTOGRAPHY GUIDE:
The Best Service & Prices on u/w Photo Gear
Visit Bluewater Photo & Video for all your underwater photography and video gear. Click, or call the team at (310) 633-5052 for expert advice!
---
The Best Pricing, Service & Expert Advice to Book your Dive Trips
Bluewater Travel is your full-service scuba travel agency. Let our expert advisers plan and book your next dive vacation. Run by divers, for divers.
---