Insta360 GO 2 Packs Flagship Power into the World's Smallest Action Camera
An Action Camera That is Both Tiny & Mighty
Action cameras are the Go2 cameras for extreme sports enthusiasts - including scuba divers. In recent years, there have been a lot of new releases like the GoPro Hero 9 and Insta 360 One R that feature a "modular" design - providing shooting flexibility. Very rarely do we see quality action cameras that are designed for what we truly want - a small form factor! Image an action camera that you can easily fit inside the smallest cracks and crevices to take underwater video of tiny shrimps cleaning eels or nudibranchs slowly inching along. Well with the Insta360 Go 2, that camera is now here.
Press Release
Insta360 GO 2 Packs Flagship Power into the World's Smallest Action Camera
27 Grams, The Size of Your Thumb and Unbeatable Stabilization
Insta360 today launched GO 2, a stabilized action camera that weighs in at just 27 grams — that's less than an ounce.
Insta360 GO 2's ultra-light body enables high-res, hands-free recording and lets creators effortlessly capture their perspectives — with none of the bulky, inconvenient accessories of a traditional action cam. Waterproofing and a replaceable protective lens ensure that it's ready for every type of action.
GO 2's unrivaled combination of size, stabilization and performance allow it to do what no other action camera can: Capture the action without ever getting in the way of it. It's a cinematic sidekick that creators and athletes won't even know is there.
Insta360 GO 2, complete with a multi-purpose Charge Case and a selection of mounting accessories, is available to order today via Insta360.com.
Wear it, clip it, mount it.
Insta360 GO 2 is the Spider-Man of cameras — it sticks to anything. Thanks to its tiny form factor and a host of in-the-box accessories, GO 2 can go where other action cams can't, whether that be on you, your dog or your car.
Its powerful built-in magnet pairs with the Magnet Pendant so you can pop GO 2 right on your shirt. The Easy Clip attaches GO 2 to your hat or headband so you can get an effortless POV shot. Once GO 2 is in position, shooting a video is as easy as pressing the front of the camera once.
A mighty sensor.
Despite its size, GO 2 doesn't skimp on power. GO 2 packs in the same high-performance hardware as other flagship action cams, while weighing 6x lighter.
A 1/2.3" image sensor, the standard for flagship action cams, enables GO 2 to capture crisp, clear and detailed ultra-wide angle shots. The resulting 1440p videos are guaranteed to stand out on your social feed.
Always steady.
No matter where you mount GO 2, Insta360's signature FlowState stabilization and horizon leveling algorithms eliminate every shake, bump and roll.
With your hands freed up and FlowState stabilization keeping your shot steady, you can run, jump or ride with no holds barred. With FlowState, you can go out with nothing but a thumb-size camera, and come back with footage that looks like it was shot with a high-end gimbal.
Charge on the go.
GO 2's Charge Case is a sidekick for your sidekick. Just snap GO 2 into the case and you'll be charged up in half an hour. With the case, GO 2 can keep going for up to 150 minutes before needing a recharge at home. That's double the length of most action cams, at a fraction of the size.
Far more than a charger, GO 2's case doubles as a remote, a tripod and a handheld grip for shooting selfies. It even has a ¼" mounting point ready to attach to a selfie stick.
Using the Charge Case's onboard Bluetooth connection, you can control GO 2 from up to 10 meters (33ft) away. Just mount the camera wherever you like and then use the case to capture from a distance.
Ready for adventure.
Surfing, going for a dip or sunbathing seaside? Dunk GO 2 down to 4 meters (13ft) underwater without a worry. GO 2 is IPX8 waterproof straight out of the box.
Meanwhile, the scratch-proof, hardened-glass Lens Guard keeps GO 2's lens protected from wipeouts. Pop it off and screw on a replacement at any time. Or swap it out for an ND filter to get balanced colors and contrast even on the brightest days.
An app that does it all.
GO 2's companion app lets you preview your shot in real time over WiFi and adjust settings on the fly. Once you're done shooting, the app offers a full-featured editor to perfect your clips.
If you're in a rush, you don't even need to download your footage to your phone before starting your edit—just connect and edit directly over WiFi. No cables needed.
Let AI edit for you.
Not up for a manual edit? Let AI edit for you with FlashCut 2.0. FlashCut 2.0 auto-edits your clips into a story, highlighting the best moments and editing them together on beat to music.
Choose from preset editing templates for themes like sports, travel or pets, or just select your favorite shots and let FlashCut take care of the rest. Either way, you get a slick edit that's ready to share instantly.
Skinny camera. Wide angle.
GO 2's lens might look small, but its ultra-wide field of view means you never have to worry about getting all of your surroundings in the shot.
Choose from four fields of view to get the perfect framing. Shooting an expansive landscape? Try the 120-degree "Ultra Wide" field of view. Hitting the trails on your bike? Try the 110-degree "ActionView" field of view, perfect for first-person perspectives.
Speed it up or slow it down.
Condense the action with a dynamic hyperlapse or highlight key moments in super slow-mo. It's all as easy as a tap with GO 2. Shoot hyperlapses at up to 6x speed or slow things down to 4x slow-mo when you shoot at 120fps.
Setting up a stationary timelapse shot can be done in seconds too. Pop GO 2 into the Charge Case, fold out the tripod legs and record from any angle. Shooting at night? Use Nightlapse mode to get the interval and exposure time just right.
Available now.
Insta360 GO 2 is available today via Insta360.com worldwide. GO 2 retails for $299.99 / £294.99.
GO 2 comes standard with an included Charge Case, Magnet Pendant, Easy Clip, Pivot Stand and Lens Guard. You can also customize your GO 2 by designing a one-of-a-kind "skin" exclusively at Insta360.com.
Minions Edition.
The Insta360 GO 2 Minions Edition will also be available this summer, with a design based on Illumination's Minions from the world's most successful animation film franchise. Designed in collaboration with Illumination, the camera and Charge Case are designed in Minion yellow and blue colors to reflect the iconic appearance of the Minions. The Minions Edition retails for $329.99 in the U.S., Canada, Japan, Mainland China, Hong Kong, and Taiwan exclusively on Insta360.com.
Key Specs.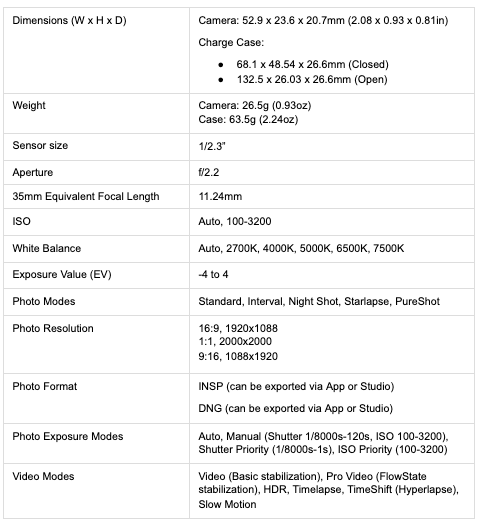 SUPPORT THE UNDERWATER PHOTOGRAPHY GUIDE:
The Best Service & Prices on u/w Photo Gear
Visit Bluewater Photo & Video for all your underwater photography and video gear. Click, or call the team at (310) 633-5052 for expert advice!
---
The Best Pricing, Service & Expert Advice to Book your Dive Trips
Bluewater Travel is your full-service scuba travel agency. Let our expert advisers plan and book your next dive vacation. Run by divers, for divers.
---