Fisheye Lens vs. Wide-Angle Lens
Fisheye Lenses vs. Wide-Angle Lens, such as the Sigma 15mm and Canon 8-15mm fisheye
What is a fisheye lens?
A fisheye lens is a special type of ultra-wide angle lens. They are small, ultra-wide, and show a distorted, spherical view of the world, most evident in the curved, outer corners of the photo, known as the "fisheye effect".
Fisheye lenses happen to work very well underwater for a couple different reasons:
They focus very closely

There are few straight lines underwater

Using a very wide lens allows to get very close to your subjects, giving your photograph more sharpness, and better colors when lit with a strobe.

Behind a dome port, fisheye lenses perform better optically than regular wide-angle lenses.
The Sigma 8mm, 10mm, Sigma 15mm, Tokina 10-17mm, Nikon 8-15mm, 10.5mm, Nikon 16mm, Olympus 8mm, Inon UFL-165 and the Canon 8-15mm and 15mm are all "fisheye" lenses, these are extra-wide lenses with up to a 180 diagonal degree of view. Straight lines in the outer areas of the images will appear curved. There are even iPhone fisheye lenses.
Tokina 10-17mm fisheye and Sigma 10-20mm comparison photos
Sigma 10-20mm at 10mm, this is not a fisheye lens.
Tokina 10-17mm fisheye lens, at 10mm. Note that the center of this photo is exactly the same as the Sigma 10-20mm photo, but as you move towards the edges this lens becomes "wider" and the subject smaller.
Sigma 10-20mm lens at 10mm
Tokina 10-17mm fisheye lens at 10mm, showing how the lines curve as you move away from the center
Photograph from a tokina 10-17mm fisheye lens underwater
Properties of fisheye lenses:
They usually focus very close

You can get very close to large subjects, maximizing color and sharpness

They perform well behind dome ports with good corner sharpness, and they don't need a diopter

When shooting ultra-wide angle, you benefit from a large depth of field

They are small and light

You usually need at least 2 strobes with good angle of coverage to properly light the entire area.
Nikon 10.5mm fisheye lens, and a tokina 10-17mm fisheye lens with the focus ring on it.
Fisheye lenses and focal length
Although people often think of a fisheye lens as wider than a rectilinear lens, it's important to note that at the same focal length, a subject at the center of a fisheye lens will be magnified the same amount as a rectilinear lens. This can be clearly seen in the example photos at the beginning of this article.
Barrel Distortion
When reading about fisheye and regular wide-angle lenses, you wil hear a term called barrel distortion. This distortion causes curved lines at the edges of the photo. This is a negative aspect of cheaper rectilinear wide-angle lenses at their widest settings. However, on fisheye lenses, this is their main feature. That is why they are called "fisheye" lenses, and the barrel distortion should not be viewed negatively.
Photo of oil rigs showing curved lines of the rigs structure from a fisheye lens.
Correction a fisheye lens in software
Land photographers will sometimes use software to correct the distortion of a fisheye lens. However, underwater this is rarely done, as the slight curvature of a fisheye lens is often considered a desired effect.
What is a rectilinear lens?
A rectilinear lens is any lens besides a fisheye, like a Nikon 12-24mm, Canon 10-22mm, Tokina 11-16mm, Tokina 12-24mm, Sigma 10-22mm, Olympus 9-18mm. Lines in photos taken by rectilinear lenses remain straight.
Inon and Ikelite make several "wet" wide-angle lenses for compact cameras, like the Inon UWL-100 and the UWL-105AD. Their width is usually expressed as an angle of view underwater. Read more here about wet lenses.
It is important to note the 17mm on a fisheye lens is not equivalent to 17mm on a rectilinear lens. For example, the Tokina 10-17mm at 17mm is about as wide as the Nikon 12-24mm lens at 12mm. In general, a fisheye will be much wider than a rectilinear lens. You can compare angle of views on my best lenses for underwater page. However, a subject in the center of a photo will appear similar size in a fisheye and rectilinear lens (e.g. - small subject taken in the center of a 10mm fisheye vs a 10mm rectilinear). The difference will be seen away from the center, and in the edges/corner of the photo.
A fisheye lens is good for
Reef shots

Getting really close

Divers, models

Large wrecks

Mantas, whale sharks

Schooling fish shots

Over-under shots

Sharks that come really close

Close-focus wide angle of large macro subjects such as large frogfish, rhinopias, large seahorses
Check out 10 Amazing Photos you can Shoot with a Fisheye Lens.
If a Manta ray or Whale shark comes close underwater, you'll want a fisheye lens to get it within the frame.
A rectilinear lens is good for
Shots with straight lines where you don't want to see any curves

Skittish pelagics, sharks, dolphins, that won't come close

Reef shots that are easier to light the entire space

Turtles, sea lions

Many people use a rectilinear lens underwater, like a 10-22mm lens, because they also need a wide-angle lens for topside (out of the water) use, such as landscape photography, and they can't afford 2 wide-angle lenses. A fisheye lens has more limited use topside.
My recommended choices for underwater photograpy:
The Canon 8-15mm fisheye and Nikon 8-15mm fisheye lenses are the best quality full-frame fisheye lenses out there, but you pay a premium for them. On a full-frame camera, they will give a circular fisheye view at 8mm.

Tokina 10-17mm fisheye lens
Angel shark in California, taken with my Tokina 10-17mm fisheye lens at 14mm. F13, 1/160th, ISO 160, strobes out wide. The shark was very close to me, maybe 2ft away. Shooting at F13 ensured a sharp photo in the corners.
The Tokina 10-17mm is good on a full-frame DSLR, and really shines on a cropped-sensor DSLR because the zoom range is fully useable. Read my Tokina 10-17mm fisheye lens review
Sigma 15mm fisheye lens
If you are shooting a full frame dSLR, you may be interested in the excellent Sigma 15mm F2.8 fisheye lens. The lens is very sharp, focuses close and fast, and gives a 180 degree angle of view underwater with a full-frame dSLR. It is recommended over the Nikon 16mm fisheye, and the Canon 15mm fisheye, because of its closer focus distance, which is very important for underwater optics. Canon shooters will also want to check out the Canon 8-15mm fisheye, mentioned in the circular fisheye section below.
Read our Sigma and Tokina fisheye lens full-frame comparison
Micro-four thirds cameras
The Panasonic 8mm fisheye lens is an great choice for micro-four thirds cameras such as the Olympus E-M1 Mark II, E-PL1 - E-PL7, or the Panasonic GH4, GH5 or G9. The newer Olympus 8mm Pro Fisheye has a larger aperture, but is slightly heavier.
Fisheye lens for Sony NEX cameras
The Sony NEX fisheye conversion lens is excellent, and costs less than $150. It screws onto the Sony NEX 16mm pancake lens.
Circular fisheye lenses
Cuttlefish, Sigma 8mm fisheye, film camera. F5.6, 1/30th. Photo by Uwe Schmolke.
The Sigma 8mm fisheye lens is a circular fisheye lens. Results are best on a full-frame dSLR camera, on a cropped-sensor dSLR the photo looks like this.
Sigma also makes the Sigma 4.5mm F2.8 circular fisheye lens for cropped sensor cameras. It has a 180 degree of view in all directions on a cropped-sensor camera. I'd love to try one out soon with my D300.
Canon 8-15mm circular fishyeye lens
If you own a Canon dSLR, the Canon 8-15mm fisheye lens is excellent, and very sharp. With a 5D Mark II or 5D Mark III, you can get some incredible circular photos. Read our Canon 8-15mm fisheye review.

Canon 8-15mm fisheye underwater photo, at 8mm, on a Canon 5D Mark III
Continue reading about Camera Lens Basics
Photo Feature: 10 Amazing Photos you can Take with a Fisheye Lens
Recommended Tutorials:
Fisheye Lenses vs. Wide-Angle Lens, such as the Sigma 15mm and Canon 8-15mm fisheye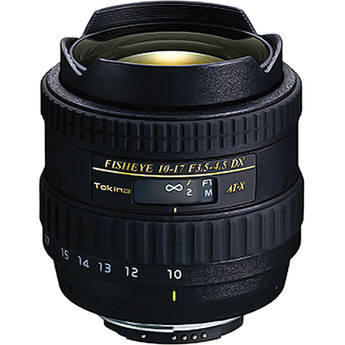 SUPPORT THE UNDERWATER PHOTOGRAPHY GUIDE:
The Best Service & Prices on u/w Photo Gear
Visit Bluewater Photo & Video for all your underwater photography and video gear. Click, or call the team at (310) 633-5052 for expert advice!
---
The Best Pricing, Service & Expert Advice to Book your Dive Trips
Bluewater Travel is your full-service scuba travel agency. Let our expert advisers plan and book your next dive vacation. Run by divers, for divers.
---