GoPro Hero9 Black Review
The GoPro Hero9 Black is an excellent underwater action camera capable of 5K video, 8X slow motion, 20 MP photos, and improved Hypersmooth stabilization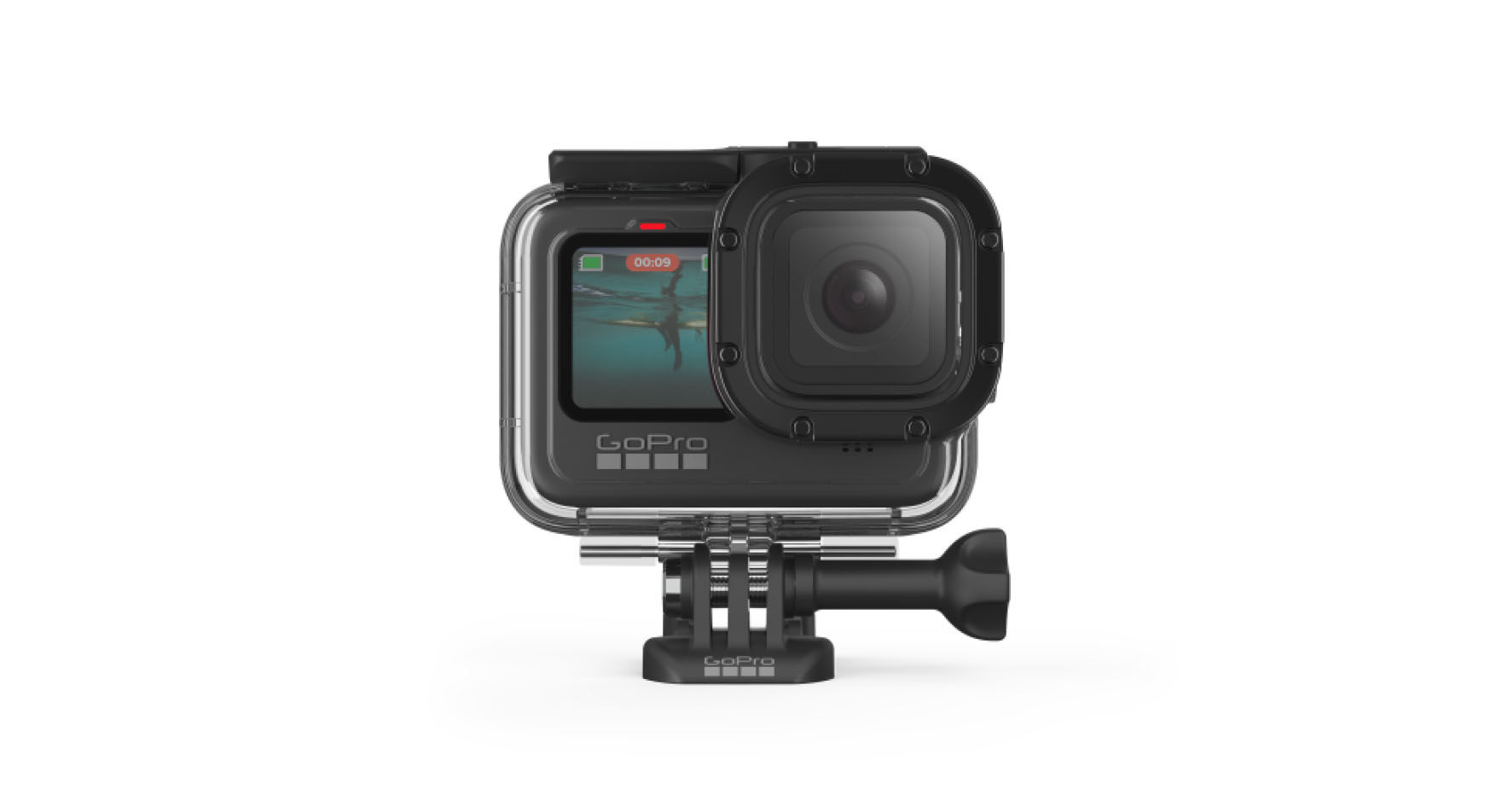 The GoPro Hero9 Black just might be the best underwater action camera currently available for underwater video. While it doesn't replace a dedicated underwater video camera, it is an excellent option for scuba divers and content creators who need an ultra-small, compact camera to capture video on the go in the toughest environmental conditions. This year, improvements to the new GoPro are all very exciting for underwater shooters. The GoPro Hero9 features many positive updates from the GoPro Hero8 including an updated higher resolution 5K sensor, more effective HyperSmooth 3.0 stabilization, a new detachable lens, 8X slo mo, TimeWarp 3.0, and 30% more battery life. It's a feature-packed camera and there's a lot to unpack. We can't wait to get in the water soon and come back with our own sample underwater photos and videos. Until then, this review of the GoPro Hero9 covers what makes this camera so appealing for underwater video and why you should potentially consider upgrading from the Hero8.
U.S. MSRP: $449.99*
* This year, GoPro's marketing team decided to introduce some shenanigans to GoPro Hero9's pricing. At the time of this review, the GoPro Hero9 was listed at a retail price of $449.99, which is $50 more expensive than the initial retail price of the Hero8. That being said, it's on sale for a price of $399.99. Now if you buy the GoPro Hero9 Bundle with the subscription (which includes a magnetic swivel clip, floating hand grip, a spare battery, and a 1 year subscription to GoPro) the whole package is only $349.98. Obviously, this is the best deal and it's there to make you feel like you're getting something special.
GoPro Subscription
So, what is the GoPro Subscription? The GoPro subscription that comes with the GoPro Hero9 includes unlimited cloud storage for GoPro footage, a replacement camera if you break your GoPro, and up to 50% off gear at GoPro.com. The fine print reads that the cloud storage does not support content with GoPro Fusion; you can exchange up to two cameras per year of the same model (fees apply); and your discount is limited to 10 items per year. After having the GoPro Hero9 for a year, you will need to continue the subscription at $4.17 per month. Is it worth it? If you're a GoPro fanatic, then yes. If you intend to upgrade cameras every year and buy a bunch of accessories, it could be worth the money. However, if you only intend to buy what you need and use it for an extended period of time, it might be worth cancelling after your free year.
---
Help support our content and shop GoPro Packages, GoPro Accessories and more on Bluewater Photo for all the housing, accessory and shooting tips you need to bring home excellent underwater video.
Email sales@bluewaterphotostore.com if you have any questions about the gear!
---
Jump to Section:
GoPro HERO9 Black Specs | Key Features
Recommended GoPro Settings | GoPro HERO9 Accessories
GoPro HERO 8 Sample Video | Conclusion | Full GoPro Tutorial Series
---
GoPro HERO9 Black Specifications
Key Upgrades from the GoPro Hero8 Black
New sensor - shoots 20 megapixel photos and 5K video (bitrate of 100Mbps!
New Max Lens Mod for wide angle perspectives
New Front Display
30% more battery life
HyperSmooth 3.0 - features in-camera horizon leveling
TimeWarp 3.0
HindSight - allows the user to capture up to 30 seconds of footage before you start recording. You won't miss the shot!
Scheduled capture - schedule your GoPro to take a video at a certain time
GoPro HERO 9 Black Complete Specs & Features
New 20 MP CMOS 1/2.3 inch sensor
5K video (100 Mbps bit rate) @ 30 fps
4K video @ 60 fps
Superphoto Mode + HDR
RAW file photo capability
HyperSmooth video stabilization 3.0 with in-camera horizon leveling
Rugged + Waterproof to 33 ft (10m)
Live Streaming in 1080p
TimeWarp 3.0 - improved from 2.0
8X slo-mo video
Touch Screen
New Front Display (great for vlogging)
14 voice control commands
Scheduled capture mode
Built-in mounting
Touch Zoom to "Change Lenses" (field of view)
New wide angle (Max) lens mod
LiveBurst recording
Photo Timer
Exposure Control
Pro Tune - advanced settings control
Advanced Metadata
Removable battery with 30% more battery life
Not compatible with super suit. Must purchase Hero 9 protective housing which is depth rated to 60m

Video Resolution:

5K Video @ 30fps
4K Video @ 60/50/30/24fps
2.7K Video @ 120/60/50/30/24fps
1440p Video @ 120/60/30/24fps
1080p Video @ 240/120/60/30/24fps
720p Video @ 60fps
GoPro HERO9 Key Features
Higher Resolution Photos & Video
The GoPro HERO9 is a significantly different camera from the HERO8 because it features a brand new sensor. Despite being the same size of 1/2.3 inches, the sensor has a higher resolution capable of capturing 20 megapixel still images and 5K video. Stuffing so many megapixels on such a small sensor reduces the size of each pixel which introduces noise and reduces dynamic range. So we actually expect the image quality to be slightly worse on the HERO9 despite increases in resolution. 5K is just too many megapixels for a sensor that's significantly smaller than a traditional full-frame sensor. That being said, the added megapixels help improve the GoPro's HyperSmooth stabilization capability, so it is a beneficial feature to the camera overall. For underwater video, we still recommend shooting 4K video at 60 frames per second. This will allow you to slow down your video for additional stabilization. Underwater video tends to be very shaky compared to topside video.
For macro shooters, 5K video and 20 megapixel images can both be cropped in case you want to get a tighter shot of your subject. This makes it a great camera if you're into macro!
Hypersmooth Image Stabilization 3.0
HyperSmooth Image Stabilization 3.0 is our favorite feature on the GoPro HERO9. It is a must have for any underwater content creator. HyperSmooth uses pixels on the edge of the frame to digitally stabilize GoPro video in shaky, 3D underwater environments. It's similar to having the HERO9 on a gimbal without the cumbersome gear. If you check out our HERO8 sample video below, you'll see just how well HyperSmooth 2.0 works. 3.0 will be even better! Moreover, Hypersmooth 3.0 can level the horizon of the video in camera. While we doubt this will work very well underwater, its bound to be useful for those shots where you're getting in.
TimeWarp 3.0
TimeWarp is another popular feature on recent GoPro models. IT allows you to take smooth, hand-held timelapse video while moving around. It basically combines playback speed effects with HyperSmooth stabilization. We used it underwater for creative effect in our sample video below, and it certainly came out interesting.
HindSight
HindSight is a new feature on the GoPro HERO9. It allows you as a videographer to capture 30 seconds of video BEFORE you hit the record button. This is a huge help to anyone who's ever been surprised to see something in nature only to regret not hitting the record button!
Live Burst Mode
Live Burst is to photos what HindSight is to video. Live burst allows you to take 1.5 seconds worth of photos at 30 frames per second, 1.5 seconds prior to pressing the record button. This is a huge deal if you're trying to capture photos of fast moving animals and don't have much time to hit the button. Try capturing photos of sea lions blowing bubbles - this is the feature to do it!
Recommended GoPro Hero9 Settings
Despite the HERO9 being able to capture 5K video, we recommend shooting 4K video @ 60 fps, a wide field of view, with HyperSmooth image stabilization on. This is because 5K video can only be filmed at a frame rate of 30 frames per second, and we recommend shooting at higher frame rates when taking video underwater. This will allow you to slow down the video during post processing. If you are shooting at 4K @ 60fps, please be sure that your computer has enough processing power and hard drive space. If, after a test video, it cannot handle 4K @ 60fps, then we recommend shooting 2.7K @ 60fps. If your video at 4K @ 60fps looks jagged and jittery in playback on the computer, then you might need to export the footage under a different codec or upload it to YouTube and play it there.
GoPro HERO9 Presets
The HERO9 camera with 4 presets preconfigured labeled Cinema, Action, Standard, and slow-mo. These various presets will make it easier for you to set your settings based on the look you want. Cinema shoots in 16:9 aspect ratio and the standard 24fps while slow mo jacks up the frame rate. Action boosts your stabilization so whether you're riding mountain bikes at breakneck speed or flying off kickers on your board, your shot is stable. No longer do you have to adjust your settings manually for every situation you might find yourself and your gopro in. On top of that, for people who like to be in control, you can save up to 10 presets. This is awesome for travelers. You can now switch effortlessly from your underwater settings to your topside settings with a few simple taps.
GoPro HERO8 Black Sample Video
(Until we dive with the HERO9)
We dove in some amazing conditions off the coast of California with the GoPro Hero8 Black and absolutely loved using the camera. HyperSmooth 2.0 and TimeWarp 2.0 were very useful creative tools, and we anticipate the 3.0 versions to be great for underwater video as well. Until we get our hands on a HERO9 and take it underwater, please enjoy this video!
GoPro HERO9 Recommended Accessories
SeaLife Aquapod
Capture your best selfie yet with the extendable Aquapod. Made by SeaLife, the Aquapod is designed for underwater use. Not only can you capture that selfie, but you can get the camera closer to your subject, whether it is something small or something skittish that you can't approach. The aquapod can also be quite useful for immersing the GoPro into the water from a small boat.
GoPro Multigrip Handle
Adding a handle like the Beneath the Surface Multigrip handle adds stability and is an easy way to hold your GoPro while diving, or any other activity. Often, if handholding your GoPro, you'll see your fingers wrap around into the picture. This problem is solved with the handle.
GoPro Tray and Handles
Attaching your GoPro 8 to a tray and handles will make the camera easier to hold on to and much, much more stable underwater. In addition, the handles serve as a mounting point for video lights. Below are a few of our favorities:
Ultralight Tray & Handles for GoPro
Beneath the Surface Angled Double GoPro Tray
Video Lights
Bring color back into the picture with the use of video lights. Even a high-powered light will only illuminate a subject a few feet in front of you, so these are most useful for macro and close focus wide-angle video. Adding a video light to your GoPro setup will allow you to shoot professional-quality video on your next dive! Below are a few of our favorites:
Be sure to visit Bluewater Photo to learn about more video lights, whether professional high-lumen or small and affordable.
Check out the full range of GoPro Accessories at Bluewater Photo
Conclusion
Overall, some excellent improvments have been made with the GoPro HERO9 Black, there's no doubt about that. With more resolution, better stabilization, and the ability to capture footage 30 seconds before you hit the record button, the HERO9 is a significant upgrade from the HERO8. That being said, we're really looking forward to getting underwater with the HERO9 to see if there are negative effects on the image quality by stuffing the sensor with so many megapixels. If the dynamic range is reduced and the noise is increased, then we might recommend saving a little money and getting the HERO8 which has many of the same features. But if you shoot a lot of quick animals and would benefit from the additional cropping on macro photos and videos, then the GoPro Hero9 is the camera for you.
GoPro Camera Reviews
GoPro Tutorials
SUPPORT THE UNDERWATER PHOTOGRAPHY GUIDE:
The Best Service & Prices on u/w Photo Gear
Visit Bluewater Photo & Video for all your underwater photography and video gear. Click, or call the team at (310) 633-5052 for expert advice!
---
The Best Pricing, Service & Expert Advice to Book your Dive Trips
Bluewater Travel is your full-service scuba travel agency. Let our expert advisers plan and book your next dive vacation. Run by divers, for divers.
---