St. Vincent
Diving St. Vincent
The "Critter Capital" of the Caribbean
If you like shooting small to tiny marine animals and get off on finding weird looking, unusual fish and invertebrates and you want a destination that doesn't require an 18 hour flight to the Indo Pacific, diving St. Vincent Island in the Caribbean might be for you.
This out-of the-way, mountainous island, the main island of the Grenadines, is mainly known by yachtsmen as a safe harbor and a boaters' paradise. Its closest neighbor is St. Lucia, and it is also near Barbados and Grenada. St. Vincent is quite uncommercialized, and the topside weather is quite pleasant.
Reef at St. Vincent Island in the Caribbean
St. Vincent Marine Life
The dive guides say they are often finding new, undescribed animals and the list of commonly seen subjects is very impressive, especially for the Caribbean. The list of animals we saw included seahorses, pipefish, a number of different eels; black-spotted and gold-spotted snake eels, short-tailed eels and spoon-nosed eels. Morays included broadband, chain, chestnut goldentail and spotted. Banded, blue-bar and yellowhead jawfish. Longsnout seahorses. Longlure and striated frogfish.
All sorts of shrimp, crabs, flamingo tongues, mantis shrimp, long arm octopus, gobies, blennies, hamlets, basslets, angels, butterflyfish, flying gunnards….you get the idea. If you enjoy photographing juvenile fish, the shallow sandy and eel grass areas near fringing reefs will delight you with the fish nurseries. There's not many larger fish.
Caribbean seahorse in St. Vincent
Best time to dive St. Vincent 
July to December is the rainy season, with frequent rain showers.
Dive conditions
Diving conditions are usually very mellow with deep dives to 100' + available for spotting some rare fish or crustaceans, but most dives are 15-50' and last for 60 minutes or more. Visibility varies with the tides, weather, depths and locations, but usually is often good, sometimes very good (70'+). 
Traveling to St. Vincent
From the West Coast of the United States, an overnight either in San Juan, PR or Barbados is required,  followed by a short flight on Liat Air to Kingstown. We took the earliest Liat flight and made it just in time to start diving. We arrived at 9:05 am and were in the water at 10:30 am.
Where to stay while diving St. Vincent
St. Vincent has a large assortment of resorts and hotels to choose from, and you can stay at any of them.
Underwater Photography Tips
Photo equipment is almost entirely geared to MACRO and/ or close-up shots. Zoom Macro lenses like the 28-80mm, 60mm and 105mm lenses with or with out teleconverters and diopters are the main tools with one or two strobes absolutely necessary.
St. Vincent Underwater Photos
Hairy frogfish, a great find while diving St. Vincent Island
Further Reading
About the Author
Randy Harwood has been SCUBA diving since 1975 and has been photographing the marine environment for over 20 years. Diving all over the world, he has visited Mexico and Latin American, many of the islands in the Caribbean , Hawaii, Fiji, Micronesia, the Solomon Islands, Papua New Guinea, Thailand, Indonesia, Malaysia, The Republic of the Maldives, French Polynesia, the Philippines, Africa, Cocos and Malpelo Islands and Australia. He regularly dives in California and still considers the kelp forests of California a favorite dive destination.
Active in the Los Angeles Underwater Photographic Society for over 20 years, he has served as the Society President for almost 8 years.
Randy's "Underwater World" calendar has been in continuous publication since 1986. He has contributed numerous photographs and articles to books, advertising media and magazines, including "Outdoor Photographer", "SCUBA World", Rodales "SCUBA Diving", "Outdoor California" and many more.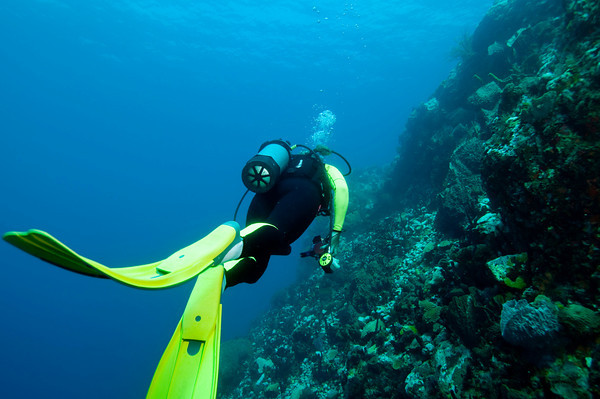 SUPPORT THE UNDERWATER PHOTOGRAPHY GUIDE:
The Best Service & Prices on u/w Photo Gear
Visit Bluewater Photo & Video for all your underwater photography and video gear. Click, or call the team at (310) 633-5052 for expert advice!
---
The Best Pricing, Service & Expert Advice to Book your Dive Trips
Bluewater Travel is your full-service scuba travel agency. Let our expert advisers plan and book your next dive vacation. Run by divers, for divers.
---