Sony A1 Underwater Housings
These New Underwater Housings Could Be the Ultimate Sony Photo & Video Systems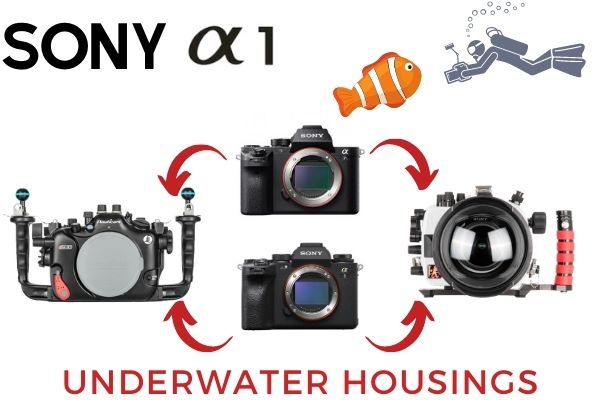 Two new underwater housings for the Sony A1, from Nauticam and Ikelite, present a very exciting opportunity for Sony shooters.... They are compatible with both the Sony A1 and the Sony A7S III cameras - either by design or by conversion kit. For underwater creatives, this presents the unique opportunity to use Sony's best photo and best video systems in one underwater housing! Both the Nauticam and Ikelite housing are currently shipping from Bluewater Photo & Video.
---
Order a Sony A1 & A7S III underwater housing at Bluewater Photo:
Nauticam Sony A1 Underwater Housing
You will need this Nauticam Conversion Kit to use the Nauticam A1 Housing with the Sony A7S III.
Ikelite Sony A1 & A7S III Underwater Housing
Order a Sony A1 Camera Body at Bluewater Photo:
Check out our full Sony A1 Underwater Housing Buyer's Guide
Order a Sony A7S III Camera Body at Bluewater Photo:
Check out our full Sony A7S III Underwater Housing Buyer's Guide
---
Why a Sony A1/A7S III Underwater Housing is the Highest Quality & Best Value Sony System
The Sony A1, as Sony's flagship camera, was debuted as the ultimate hybrid photo and video camera. You could pair just the Sony A1 body with the Nauticam or Ikelite Sony A1 underwater housing and be a very happy diver. After all, the A1 can take 50 megapixel photos with burst shooting speeds up to 30 fps, as well as record 8K & 4K/120p video. Not to mention its updated sensor technology allows the Sony A1 to sync with external flashes with the electronic shutter. The camera has some of the lightest rolling shutter of any camera currently available due to a quick electronic shutter readout.
So why would you need to add a Sony A7S III body to make it the ultimate photo and video system? The Sony A7S III excels in underwater video in situations where the Sony A1 does not - particularly in low light. The Sony A7S III's sensor was built for video, unlike the A1. At 12 megapixels, the sensor is very low resolution so that each pixel is as large as possible to produce less noise, better dynamic range, and improve light sensitivity. Do not estimate how much light is lost underwater. The A7S III's sensor acts as though it has dual gain ISO with ISOs higher than 12,800 producing less noise than middle ISOs. This means you can comfortable film at 12,800 and higher while still producing excellent image quality - immensely expanding your ability to capture video in low light. Feel free to check out our Sony A7S III video to see just what we mean by this.
With one housing that fits both cameras, you can use one camera that is designed for the best photography possible, and one that is designed for the best video possible. Both cameras use the same lenses, ports, etc. So the only thing extra you need to buy is the A7SIII camera body. Compared to two separate housing systems, you are saving thousands by just having one housing.
Introducing the Nauticam Sony A1 Underwater Housing
The Nauticam Sony A1 housing is currently the top anodized aluminum housing released for the Sony A1. However, we do expect some more housings released from Isotta, Aquatica, and Sea & Sea very soon. When purchased alone the Nauticam NA-A1 housing is designed for just the Sony A1, but it can be converted to be compatible with the Sony A7S III with a simple conversion kit. Contact Bluewater Photo for more details about this conversion kit.
Nauticam is known for their patented port locking system that makes it easy to quickly change out ports and lenses with a simple lock lever. This housing is also a great choice for the Sony A1 and A7S III because it has compatibility with external recorders that can unlock video features like the Atomos Ninja V. Moreover, some of Nauticam's top underwater optics like the Nauticam WACP-1 and WACP-2 are compatible only natively with Nauticam systems.
Introducing the Ikelite Sony A1 & A7S III Underwater Housing
The Ikelite Sony A1 underwater housing is the top polycarbonate housing for the Sony A1 and Sony A7S III. It does not need a conversion kit and ships with both a tray for the Sony a1 and A7S III! We love Ikelite housings because they are light underwater (and above), simple, easy-to-use, and compatible with the best underwater TTL system and strobes on the market. If you are interested in using this housing with an external recorder for underwater video, contact the helpful sales staff at Bluewater Photo and they can customize a housing for you with an M24 thread for monitor compatibility.
The Ikelite Sony A1 housing is compatible with Ikelite's very affordable dry lock port system and comes with a vacuum system built into the housing - but the pump is sold separately. You have full control of all camera functions in the Ikelite housing but it is important to note that the joystick on the cameras is not full compatible with the housing. This housing comes with a quick release handle system that makes it very easy to remove and attach strobes to your housing.
Sony A1 - The World's Best Full Frame Camera for Underwater Photography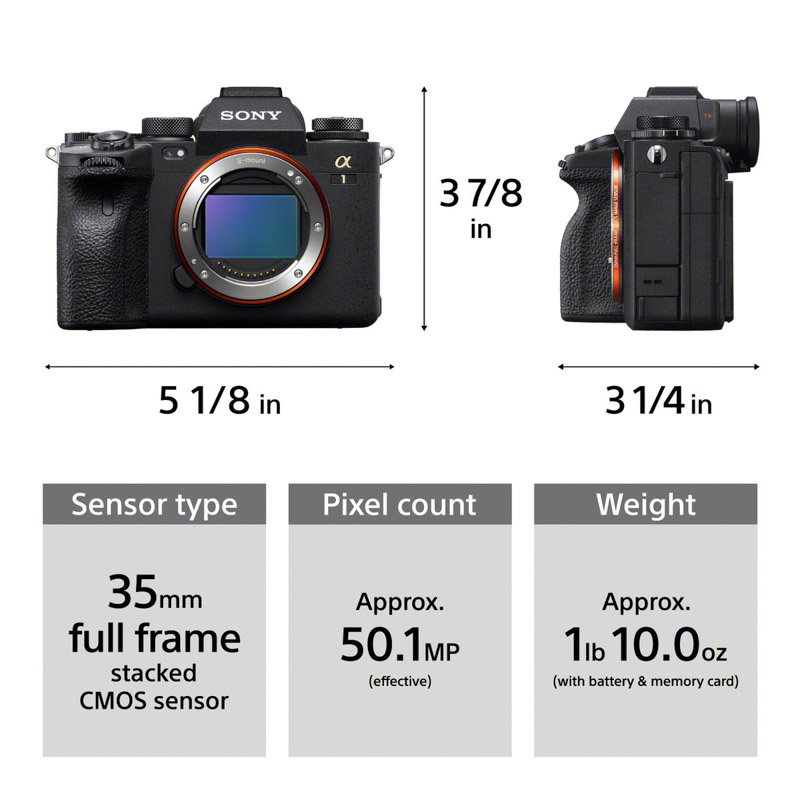 The Sony A1 is Sony's flagship full frame mirrorless camera, and currently the best full frame camera for underwater photography if you don't factor in the steep $6500 price tag for the body. (If you do factor in the price tag, we think the Canon EOS R5 is the best camera for underwater photography). It debuted with amazing new technology - particularly in regards to the stacked 50 megapixel CMOS sensor. The sensor is capable of a very quick sensor readout which makes it the first camera to sync external flashes with the silent electronic shutter. This quick readout reduces rolling shutter in underwater video. It also has a higher than average strobe sync speed with the mechanical shutter of 1/400s, which makes it a great camera for shooting sunballs and in harsh light situations. Finally, the A1 can record 8K video up to 30 fps and shoot at burst shooting speeds up to 30 fps. This makes it an excellent camera for shooting quick subjects like sharks, turtles, dolphins, and more. The animal eye autofocus system has been improved and will hopefully capture fish eyes in our underwater tests.
Sony A1 Specifications
New Full Frame 50MP Exmor RS Stacked CMOS Sensor
15 stops of dynamic range with improved colors, tones, and gradation
New BIONZ XR Processor (introduced in the Sony A7S III)
Continuous shooting up to 30fps w/ electronic shutter and 10fps w/mechanical shutter at full resolution - AE and AF operable throughout
Updated Carbon-Fiber Mechanical Shutter for a more quiet and vibration-free performance
Records video up to 8K/30p (oversampled from 8.6K), 4K/120p (oversampled)
Improved electronic shutter - greatly reduced rolling shutter and flicker under artificial light
THE ELECTRONIC SHUTTER WORKS WITH EXTERNAL FLASHES (and strobes)
FLASH SYNC SPEEDS: up to 1/400sec (mechanical shutter; 1/500 in APS-C mode), 1/200 (electronic)
Lightning quick AF with its 759 phase-detection points with 425 contrast-detection areas - covering 92% of the sensor
AF system recalculates 120 times per second - 30% more accurate than A9II
Better animal eye AF that can track birds - we will be testing to see if it can track fish
5 axis IBIS with 5.5 stops of recovery
New Active steadyshot stabilization (introduced with the Sony A7S III)
10-bit 4:2:2 internal recording with 16-bit RAW external recording
Full range of Log recording options - Cine, HLG, and S-Log
Viewfinder: Electronic (OLED) - 9.44 million dots
Dual CFexpress Type A / UHS-II SD Card
No built-in flash
Native ISO: 100 - 32,000
Extended ISO: 50 - 102,400
Shutter speed: 1/8000 - 30 seconds
ISO 100 to 32000 (Extended: 50 to 102400)
Fastest built-in wifi - can transmit video files over 5G
Sony E Mount
Dimensions: 5.07 x 3.81 x 2.74 in (128.9 x 96.9 x 69.7 mm)
Weight: 1.6 lb (737g)
Sony A7S III - Our Favorite Full Frame Camera for Underwater Video
The Sony A7S III is our pick for the top full frame camera for underwater video in 2021. The A7S III is designed for the most efficient video workflow possible with a wide range of recording options for post processing. The camera can film 4K video up to 120 fps with no time limit to recording. With an external recorder it can record 16 bit RAW and without an external monitor it can record 4K, 10-bit 4:2:2 internally with log recording like SLOG-2, SLOG-3, HLG, and more. The sensor on the camera is effectively a "dual gain" sensor with amazing performance at high ISOs like 12,800 and higher.
Key Sony A7S III Specifications
12 MP BSI CMOS Sensor
Bioz XR Image Processor
ISO 80-102,400
"Low Base" and "High Base" (effectively dual gain) ISO capability for better low light shooting
4K video up to 120 fps
No recording time limits. Could be limited by heat (4K @ 60p for at least an hour)
10bit 4:2:2 internal recording
S-LOG, HLG, and Cine type log picture profiles available
4K @ 60p, 16-bit RAW video recording with an external recorder
5 axis in-body image-stabilization (IBIS), new active steadyshot stabilization mode (incorporates digital image stabilization)
Dual card slots (either SD or CFexpress Type A)
9.44 M dot EVF - the best resolution on the market!
Movie file formats: XAVC S (Long GOP, H.264 MP4); XAVC HS (Long GOP, H.265 HEVC); XAVC S-1 (All-Intra, H.264 MP4)
AF tracking with human and animal eye AF capability
759 point hybrid AF system and 425 contrast detection points
Weight: 21.7 oz (617g) with batteries
Size: 5.1 X 3.8 X 2.7 in (129 X 97 X 70mm)
SUPPORT THE UNDERWATER PHOTOGRAPHY GUIDE:
The Best Service & Prices on u/w Photo Gear
Visit Bluewater Photo & Video for all your underwater photography and video gear. Click, or call the team at (310) 633-5052 for expert advice!
---
The Best Pricing, Service & Expert Advice to Book your Dive Trips
Bluewater Travel is your full-service scuba travel agency. Let our expert advisers plan and book your next dive vacation. Run by divers, for divers.
---