A Customer Review: Sony NEX-7 and Nauticam NA-NEX7
From Wide to Macro, Bill Pottinger gives an evaluation of the Sony NEX-7 and Nauticam NA-NEX7 Housing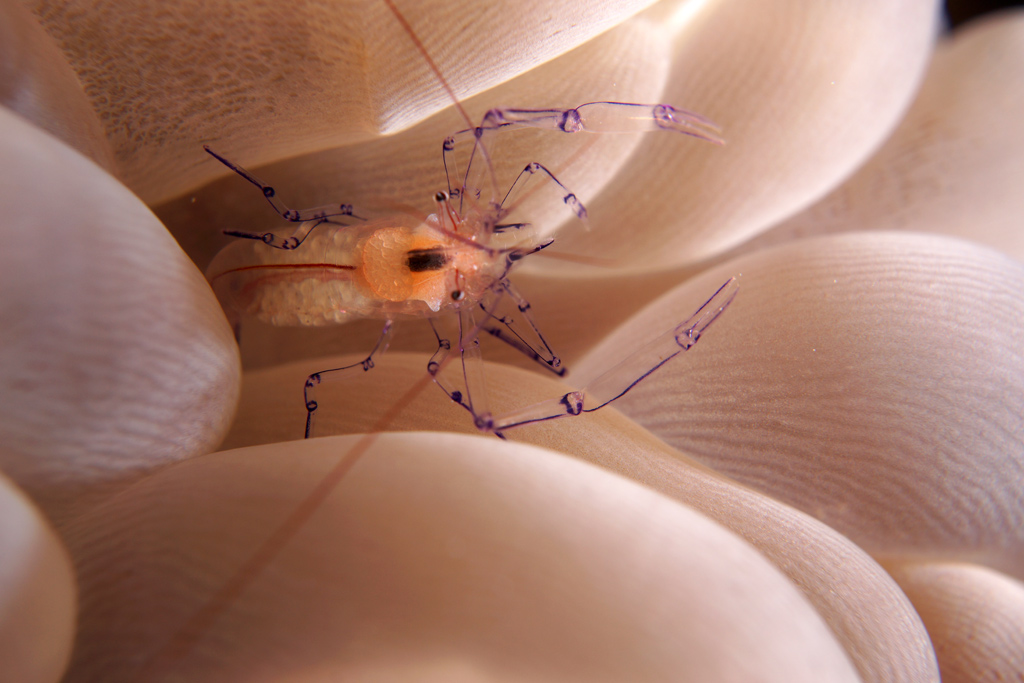 NEX-7 and 30mm lens, F11, 1/60, ISO 100, Nauticam NA-NEX7 and macro port 45, 2 Sea & Sea YS-01 strobes, TTL control. Glass Anemone Shrimp with eggs, Wakatobi, Indonesia
I would like to share my experiences using my new Sony NEX-7 and Nauticam NA-NEX7 housing on my May 2012 Indonesia diving trip to Wakatobi and Bali (Pemuteran). My comments will be confined to actual use of the equipment underwater. I assume the reader has read more extensive reviews of the camera and housing elsewhere, and has made peace with the limited lens selection in the short term.
Equipment Choices
My priority in camera rig selection was to reduce equipment weight and bulk without compromising image quality. I only used Sony's fixed prime lenses (30mm macro and 16mm with 12mm ultra-wide converter), seeing no compelling reason for the 18-55mm zoom for my underwater work.
Assembled rig without camera. Single arm segments and 3" strobe adapters reduced weight and drag. Maximum distance
Equipment details:
Purchase price (camera body, 2 lenses, housing, ports, arms, tray and handles, strobes, cables, camera backpack) $6,171

Topside assembled rig weight 8.5 lbs

Submerged weight less than ½ lb negative with buoyancy floats

Airline baggage weight including backpack, laptop, extra batteries and charger, hand tools, and 18-200mm lens for topside use, 22 lbs
I chose two Sea and Sea YS-01 strobes on ULCS 5" arms (only one arm section per strobe) and a Nauticam tray and handles. The small strobes and one-segment arms significantly reduce size, weight and drag, and are well suited for macro and CFWA photography. However, I found that a more powerful strobe with wider beam width and additional 8" strobe arm segments are needed for wide angle reefscapes at distances over 6 feet, or for fisheye work where very wide angle illumination may be needed.
Everything plus laptop fit in this Case Logic DCB-309 camera bag with room to spare
Otherwise, I never missed the extra length that adding 8" strobe arm segments would have provided. The 5" arm length and 3" strobe adapter length achieved every strobe position I needed. I tried the same setup with single 8" arms but could not position the strobes properly in some macro circumstances. I really appreciated the reduced form factor that one arm segment per strobe presented when diving currents. It was also smaller in the rinse tank, easier to port around topside, and helped reduce carry-on size and weight.

Nembrotha Lineolata. Example of NEX-7's high ISO performance. 30mm lens at F16, 1/60, ISO 1600, Pumeteran, Bali, Indonesia
Nauticam NA-NEX7 Housing
The Nauticam NA-NEX7 Housing size is small enough for easy one-handed operation. I added Stix jumbo buoyancy floats to my strobe arms to achieve slightly negative buoyancy. When released in open water, the rig retained its upright position and sank slowly enough that I never used a lanyard.
Consider purchasing the hand strap instead of the second handle if opting for a single strobe setup. The result will be an even smaller profile with no compromise in ergonomics, but one less grip for handing the camera to and from dive staff on board. Note that this alternative may require two strobe arm segments for all lighting requirements, or an 8" arm and 3" strobe adapter mounted on the housing cold shoe.
NEX-7 and 16mm lens, F5.6@1/60, ISO 100, Nauticam NA-NEX7 and 100mm dome port, 2 Sea & Sea YS-01 strobes, manual control. Wakatobi, Indonesia
The Nauticam tray and grip assembly is widely adjustable, which was essential for my small hands. I definitely recommend the Flexitray over the Easitray for added customizability. The Nauticam tray and grip design, machining and finish are all superb. Every adjustment is secured by two set screws, and never slips. I like the grip finger molds. ULCS 15 degree clamps and arms worked perfectly with Nauticam handle ball ends.

White Spotted Combtooth Blenny. NEX-7 and 30mm lens, F11, 1/60, ISO 200, Pemuteran, Bali, Indonesia
Sony NEX-7 Camera Setting Accessibility
All primary camera settings are directly accessible with a knob or button, or are available from one click of the control wheel button. Aperture, shutter speed and exposure compensation are set by the top dials, and ISO is set with the control dial. I customized the "A" and "B" buttons to access flash compensation and shooting mode (though most of the time I shoot aperture priority), and the control wheel button ("C") for white balance when shooting with ambient light. Another button toggles between auto focus and manual focus with Sony's very effective focus peaking feature.
NEX-7 and 30mm lens, F16@1/60, ISO 100, Nauticam NA-NEX7 and macro port 45, 2 Sea & Sea YS-01 strobes, TTL control. Tomato Anemonefish, Wakatobi, Indonesia
Because no manual focus ports were available for my lenses, I used the autofocus for initial focus settings. I then switched to manual focus/peaking when needed, and moved the camera closer to or away from the subject to fine tune the focus point to precisely where I wanted it. The peaking feature is readily visible for precise real-time focusing assistance, and it worked very well. I worked most often at F8 or F11 and ISO 100 or 200 when shooting macro.

Schooling Barracuda. My twin Sea and SeaYS-01s and 5" strobe arms were able to handle this wide-angle shot without difficulty. 16mm lens, F5.6, 1/160, ISO 100, Wakatobi, Indonesia
Strobe Settings
TTL worked reliably for macro and close-in work. For in-the-blue subjects I usually switched to manual strobe exposure settings. YS-01's controls are easy to operate in warm water diving conditions but might be challenging for larger hands in 5mm gloves in cold water. For those regularly shooting using manual strobe, note that having flash compensation directly accessible on the housing allows turning the camera strobe intensity to a minimum (-3EVF) to conserve battery strength. As noted below, I never exhausted a battery on my 3-dive days, but conserving battery strength can improve shot-to-shot times, which are delayed by the camera's strobe recycle time.
Pleurobranch. This guy left no discernable trail in his wake as he crept along the sand. Night dive, 30mm lens, F11, 1/60, ISO 100, Pemuteran, Bali, Indonesia
I discovered a flare issue when using the wide-angle lens and port. The on- board camera strobe strayed past the lens through the dome and lit the subject. I reported this to Nauticam, and they are working on a more elegant solution than the lens barrel baffle I devised. Check with them for details and status.
Editor's Note: Nauticam is shipping a solution to the flare problem as we speak.
In the interest of weight savings and initial cost reduction, I used the YS-01's aiming light as a poor man's focus light on night dives and dark conditions. Its auto shutoff at exposure works perfectly, preventing hot spots in the image. It was an acceptable compromise since I had a second strobe available for top, side or back lighting. However, I may add a dedicated focus light to the housing's cold shoe. Moreover, I came to really appreciate the aiming light for its intended purpose of fine-tuning the strobe's direction and placement. It takes the guesswork out of the initial setup, and has little apparent impact on battery drain (though I turned them off when not in use as a courtesy to my fellow divers).

Frogfish, 30mm lens, F11, 1/60, ISO 200, Pemuteran, Bali, Indonesia
NEX-7 Electronic View Finder
Although the NA-7 housing's electronic viewfinder (EVF) window works well with the NEX-7 EVF, it obscures the upper left corner of the rear display when viewed from an overhead angle. I think Nauticam should offer a plain back option with no EVF lens. I never had reason to prefer the EVF to the rear display when underwater. The rear display's resolution, size and brightness are excellent, and quite sufficient for quickly evaluating exposure settings for subsequent adjustments.
The housing accepts Nauticam's pricey 45° EVF viewfinder attachment as a factory installed retrofit, providing a shooting position close to the ocean floor while still floating above the reef. But you don't need the existing EVF lens for that option since the entire glass backing is replaced. In any event, if you use the camera's EVF eye cup for topside photography as I do, you must temporarily remove it when placing the camera in the housing.
NEX-7 and 30mm lens, F11@1/60, ISO 400, Nauticam NA-NEX7 and macro port 45, 2 Sea & Sea YS-01 strobes, TTL control. Decorator Crab at night, Pemuteran, Bali, Indonesia
For cameras larger than compacts, housing designs use mounting shoes to position the camera in the housing with utmost precision and stability. I learned how important it is to screw the camera on its tray very snugly to assure all controls properly engage.

Amenone in Brittle Stars, 2nd Place, macro category, SoCal Shootout. "Anemone" is Greek for "daughter of the wind." It took several exposures to catch the anemone's surging cnidae at just the right moment for symmetry. 16mm lens, F9, 1/60, ISO 160, Channel Islands, California, USA
Sony NEX-7 Batteries
As noted earlier, all camera body controls are accessible from the housing. The camera lens and port can be quickly changed without removing the camera from the housing. Swapping the battery requires taking the camera off its mounting shoe. A fully charged camera battery easily lasted three dives, or over 200 flash exposures and a few videos. I never came close to draining a battery.
As for the YS-01 strobes, same story – I never drained the batteries to the point where refresh times became noticeably longer, even with frequent use of the aiming lights. I started each diving day with freshly charged batteries in strobes and camera. I never noticed any overheating from either camera or strobes.

Chromodoris Magnifiica, 30mm lens, F11, 1/60, ISO 200, +.7 step, Pemuteran, Bali, Indonesia
Sony 30mm Macro Lens
The 30mm macro requires small working distances for best detail. I regularly worked a few inches from my subject. However, the shorter lens improved depth of field and reduced camera shake for very sharp images. Although these benefits help offset the challenges from the small working distance, I still look forward to when a longer macro lens and port are available.
I'm very happy with the performance of my NEX-7 rig, and look forward to lots of great photography over the years.
Pygmy Seahorse, 30mm lens, F10, 1/160, ISO 800
Further Reading
SUPPORT THE UNDERWATER PHOTOGRAPHY GUIDE:
The Best Service & Prices on u/w Photo Gear
Visit Bluewater Photo & Video for all your underwater photography and video gear. Click, or call the team at (310) 633-5052 for expert advice!
---
The Best Pricing, Service & Expert Advice to Book your Dive Trips
Bluewater Travel is your full-service scuba travel agency. Let our expert advisers plan and book your next dive vacation. Run by divers, for divers.
---