Nikon Z9: Initial Thoughts & Review
Nikon is Back on Our Radar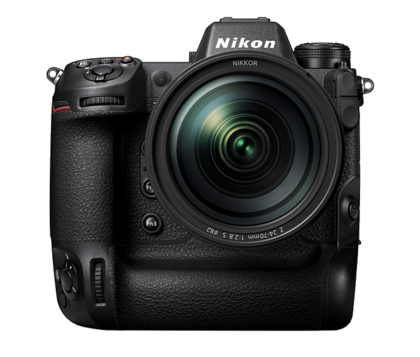 Three years ago, Nikon released the Nikon Z7 and it quickly became our favorite camera for underwater photography. But within two years (a lifetime in the camera arms race), both Canon & Sony had pulled lightyears ahead of Nikon in technological feats. Nikon's Z line of cameras and lenses left a lot to be desired and dire financial warnings left some wondering if Nikon would pull through as a company. But it seems that all that worrying might have been for naught with the announcement of the Nikon Z9. The Nikon Z9 is Nikon's newest flagship cameras, and address many of the concerns we've had about slow, innacurate autofocus, and a lack of video features. As it turns out, all Nikon needed was a new processor, the Expeed 7. This new processor has unlocked many of the features Nikon was lacking, that could be found in popular cameras like the Canon R5 and the Sony A1. In fact, Nikon even took the Z9 one step further and created the world's first "shutterless" camea. Without a mechanical shutter, the Z9 reaches new levels of speed and AF performance. But ultimately, with an integrated vertical grip and a large price tag, the Nikon Z9 might not yet be the underwater camera that we have been hoping for. But it does promise a promising future.
Nikon Z9 Availability: December 15, 2021
Nikon Z9 US MSPR: $5,496.95
---
Underwater housings for the Nauticam Z9 will be available at Bluewater Photo!
Nauticam Nikon Z9 Underwater Housing
---
Nikon Z9 Specifications
45.7 megapixel, full frame stacked CMOS sensor
Expeed 7 image processor
2X CF Express Type B and XQD memory card slots
3.7 million dot EVF (electronic viewfinder) - blackout-free
30 sec to 1/32,000 shutter speed - no mechanical shutter
flash sync speed up to 1/200 sec
20 fps continuous shooting speed with uncompressed RAW, 30fps with full res JPG, 120 fps with 11 MP JPEG
ISO Range: 64 - 25,600
Low light AF sensitivity down to -8.5 EV
AI-based subject detection and tracking - Eye AF for peopls, pets, birds
AF calculations are made 120 times per second
5 axis in-body image-stabilization (IBIS) - enhanced with Synchro VR - up to 6 stops of correction
8K/30p & 4K/120p, 10-bit 4:2:2 video recording (no overheating!)
4k/30p video oversampled from 8K
N-Log video recording internally
2022 firmware updates promise 12-bit 8K/60p RAW recording internally and native N-RAW file format
Minimal distortion from rolling shutter
Dimensions: 5.9" X 5.9" X 3.6"
Weight: 2.96 lbs
Nikon Z9 vs Canon EOS R3 vs Canon R5 vs Sony A1
The Nikon Z9, Canon EOS R3, and the Sony A1 are the current "flagship" cameras from each of the "Big 3" camera companies. They all offer very similar specification like high resolution photos, high resolution & high frame rate video, quick burst shooting rates, and insanely fast and accurate autofocus tracking systems. Suprisingly, as the least expensive of the three, the Nikon Z9 is actually likely going to be the best performing of the three cameras. The Z9 offers longer recording times at 8K/30p & 4K/120p than the Sony A1, higher resolution photos & video than the Canon R3, and autofocus that will likely rival both cameras.
But for underwater shooters, the Canon R5 and the Sony A1 will likely be the top high-end mirrorless cameras on everyone's minds. This is because the integrated battery grips found in the Nikon Z9 and Canon EOS R3 make underwater housings very large and cumbersome. When you can have similar performance from a smaller camera, it makes sense to look at the Canon R5 and Sony A1.
Nikon Z9 Key Features
Build
The Nikon Z9 may be a mirrorless camera, but it's a large camera. With an integrated verticle grip, it clocks in at almost 3 lbs for the the body. This means we'll be looking at larger and more expensive underwater housings - a feature that many underwater photographers won't be happy about.
Otherwise, the ergonomics and button design of the camera resemble other Nikon Z series cameras - a series where ergonomics are one of the most redeeming qualities about the cameras.
The camera comes wit dual CFExpress type B and XQD card slots for quick data capture and redundancy.
A "Shutterless" Shutter - Burst Shooting, Rolling Shutter, and Flash Sync
The Nikon Z9 is centered around its new Expeed 7 processor. Combined with a stacked CMOS sensor, the Z9 is designed for speed. With a high resolution 45.7 MP sensor, 20fps of burst shooting is insanely fast. It might not be as fast as the Sony a1's burst shooting speed, but will those extra 10 frames per second really make the difference? Maybe in some rare instances like shooting quick pelagic fish like marlin.
For video shooters and those who like to shoot quick critters, rolling shutter has been almost completely elminated in the Z9 due to the ultrafast sensor readout. While it is not yet a "global" shutter you can be rest assured that your action photos will have minimal distortion.
Perhaps one of the most curious features of the Z9 is the lack of any true mechanical shutter. This means that ever photo you capture will be with the electronic shutter. While it has been designed to sync with strobes, we were disappointed to see that the sync speed isn't any higher than 1/200.
Incredible New Video Features
There is no doubt that the Nikon Z9 is the best Nikon video camera ever created. With 8K/30p & 4K/120p of unlimited recording, it might be worth it for some underwater video shooters to consider the Z9 despite its size. The Z9 is the first Nikon camera to shoot N-Log & 10-bit 4:2:2 video internally. This will allow video shooters to color grade their footage to their hearts content. Moreover, Nikon is promising an N-RAW firmware update as well as a 8K/60p firmware update in 2022. It's quite possible that with these features, the Nikon Z9 will become the camera of choice for underwater video shooters - even over the Sony A1 or Canon R5.
Improved Autofocus
Over the last three years, autofocus has been a major sore point for Nikon. But back then, Nikon was limited by the capability of its Expeed 6 processor. Now Nikon promises autofocus that rivals the Sony A1 and Canon EOS R3 with AF refresh rates up to 120 cycles per second. Moreover, the Z9 can focus in low light down to -8.5 EV - so forget your focus lights, you should be good with the camera alone. Nikon is also promising an improvement to their subject detection algorith - we can only hope so as the Nikon Z7II's subject detection is quite poor compared to the Canon EOS R5 or Sony A1.
Nikon Z9 for Underwater Photo & Video
Overall, we think the Nikon Z9 makes up for a lot of what Nikon was lacking in underwater photography. With quicker autofocus and burst shooting rates, the Z9 can compete with the best of what Sony and Canon have to offer. However, the sheer size of the camera, makes this a difficult sell for underwater photography - where size is very important for both the sake of the underwater housing and for the sake of travel. Overall, with options from Sony and Canon just as good as the Nikon Z9 - I think we'll need to wait just one more Nikon model before having a viable option for high-end underwater photography.
When it comes to underwater video, however, the Nikon Z9 just might be worth looking at when compared to its competitors. This is because the Z9 promises "unlimited" recording at 8K/30p and 4K/120p - a sore spot for both Sony A1 and Canon R5 shooters. With a native logarithmic profile that can be recorded internally and 10-bit 4:2:2 color sampling, the Z9 can final record with enough color options for dedicated colorists. Overall, we can't wait to get our hands on the Nikon Z9 and start doing some underwater shooting!
Recommended Nikon Z9 Lenses
Because the Z lens mount is so new, there are only a few Z mount lenses that could be viable for both wide angle and macro. Z mount lenses are superior to F mount lenses because the shorter flange distance of the Z mount allows for sharper corners in an image with less diffraction and ghosting. However, when it comes to lens focal lengths available for underwater photography, there are more available F mount lenses with the FTZ adapter - particularly when it comes to fisheye lenses. We are excited to see many more Z mount lenses arrive in the near future.
Macro
Nikon Z mount 105mm 2.8G VR Macro: Great for small and shy subjects, giving you more working room than the 60mm and essential for super macro. This lens is sharper and faster focusing than the Nikon F mount 105mm macro.
Nikon F mount 60mm 2.8G Macro w/ FTZ adapter: Great all around lens and especially great for blackwater diving
Nikon F mount 105mm 2.8G VR Macro w/ FTZ adapter: Great for small and shy subjects, giving you more working room than the 60mm and essential for super macro
Nauticam Super Macro Converter: the Nauticam super macro converter (SMC-1) is a wet diopter perfect for taking sharp super macro images. In fact, it is the strongest, sharpest diopter on the market. For the best super macro results, use it with the Nikon 105 mm 2.8G VR lens.
Wide Angle Fisheye
Wide Angle Rectilinear
Nikon Z mount 14-30mm f/4.0: Great for large animals and extremely sharp lens, but requires a larger dome to get sharp images
Nikon F mount 16-35mm 4.0 w/ FTZ adapter: Great for large animals and extremely sharp lens, but requires a larger dome to get sharp images
Nikon F mount 20mm 1.8G w/ FTZ adapter: Small, compact, sharp, doesn't need as big a dome as the 16-35 mm
For further reading, check out Bluewater's guide to the best Nikon lenses for underwater.
Nikon Z9 Underwater Housings
Because the Nikon Z9 will be rather large with the integrated vertical grip, it is difficult to tell how many underwater housing manufacturers will support a housing. We anticipate an anodized aluminum housing fro the Nikon Z9 from Nauticam. It's also possible that Ikelite might make a polycarbonate housing. Feel free to email Bluewater Photo to keep up to date on what housings will become available, or preorder yours!
Conclusions
All in all, the Nikon Z9 is a huge step in the right direction for Nikon. As Nikon's flagship camera, there is no doubt that it will be a popular camera for topside shooters. Underwater, it might just be a little large. But with unlimited recording times for underwater video, it does offer something other brands do not. Moreover, we see the Z9 as a roadmap for technology that will be debuted in Nikon's future offerings. So we can safely say - things will be looking up for Nikon shooters!
SUPPORT THE UNDERWATER PHOTOGRAPHY GUIDE:
The Best Service & Prices on u/w Photo Gear
Visit Bluewater Photo & Video for all your underwater photography and video gear. Click, or call the team at (310) 633-5052 for expert advice!
---
The Best Pricing, Service & Expert Advice to Book your Dive Trips
Bluewater Travel is your full-service scuba travel agency. Let our expert advisers plan and book your next dive vacation. Run by divers, for divers.
---