Scubalamp D-Pro Underwater Strobe Review
The Best Value Professional Strobe on the Market

The Scubalamp D-Pro, is the latest addition to the Bluewater Photo's exclusive strobe lineup! In many respects, at just $758, the D-Pro is the best value pro-level strobe on the market. Boasting an impressive 160 Ws output (with a GN of 30), an expansive 150-degree beam angle, and the ability to deliver 500 full-power flashes on a single charge, this underwater strobe is a game-changer. That said a list of specifications really doesn't do a gear review justice. Take a look at the incredible set of photos below, captured in the inviting waters of the Caribbean. Not only is each one beautifully with spot on colors and clarity, the photos themselves were easy to capture. Specifications can't define those moments when each burst produced is fast, consistent and even. Evidently, what may appear as an overly impressive spec sheet can indeed materialize in reality.
---
Jump to a Section
Scubalamp Specs | Size, Build & Ergonomics | Beam Quality
Recycle Time | A Strong Focus Light | Battery Life
---
The Scubalamp D-Pro Strobe used for our diving while in Cozumel
Scubalamp D-Pro Strobe Specifications
Anodized aluminum construction with a sealed battery compartment
Guide number @ ISO 100: 30
160 Ws output
Circular flash tube with a 150 degree beam angle
0.1 - 1.1 second recycle time
At low power, 10 flashes per second sync
9 step manual power controls - no TTL or S-TTL
SUPE lithium ion battery pack
Battery Life: 500 flashes at full power per charger
Color Temperature: 4800 K
500 lumen center focus/targeting light
Depth rating: 100 meters (330 ft)
Dimensions: 170mm x 90mm
Weight (land): 1080g without battery
Weight (underwater): 120 g
Protective neoprene covers included
Colorful reef fish photographed with the Scubalamp D-Pro strobe and Nikon Z8 Camera. 1/160, f/13, ISO 200
Size, Build and Ergonomics
The Scubalamp D-Pro design is a fusion of elegance and allure. Crafted with precision, the D-Pro possesses a seamless, radiant, and robust aluminum exterior that conjures images of futuristic marvels from 1960s science fiction classics. Safeguarding this luminous silver facade, a Scubalamp neoprene is supplied with each strobe, ensuring longevity of each strobe after multiple dives during it's lifespan.
Moreover, the accompanying covers serve not only for protection but also as underwater aides, bestowing buoyancy beneath the waves. A crucial feature considering the D-Pros' main drawback: their substantial proportions and weight, similar to their other Lithium Ion and NiMH counterparts. Nonetheless, these formidable battery packs contribute swifter refresh cycles and protracted battery longevity in comparison to their AA-powered peers. Once submerged, the strobes lighten considerably due to buoyancy, and only weigh 120g when submerged.
The D-Pro underwater strobe boasts a unique light head configuration featuring a circular flash tube, resulting in a beautifully even illumination that effectively minimizes any undesirable hotspots. Circular flash tubes, renowned for their superior light quality, have become the preferred choice among underwater photographers when compared to conventional rectangular flash prisms. Encircling the flash tube cover, a specialized retaining o-ring stands ready to securely fasten diffusers onto the strobe. While these o-rings excel at maintaining diffuser placement, our testing uncovered a minor caveat – they can occasionally dislodge when removing the diffusers. Exercise caution to prevent any accidental loss of these o-rings!
In terms of mounting versatility, the D-Pro incorporates a universally adaptable 1-inch ball mount accompanied by an elongated stem. This extended stem design ensures the strobe remains strategically distanced from the housing arms, simplifying the manipulation of the strobe's positioning.
Operating the D-Pro strobe is a breeze, offering dual triggering options: Sea & Sea Style Fiber Optic Cables and the familiar 5-pin sync cords, a standard shared with other prominent brands like Inon and Sea & Sea.
Concluding with ergonomic considerations, the user-friendly back panel controls on the D-Pro provide effortless adjustment. Augmented by an illuminating LED screen, these controls furnish insights into power levels and battery status. The interface features two highly accessible dials: one dedicated to toggling between manual modes (including single flash and preflash), while the other dial finely tunes power levels across a 9-tier spectrum. Even with the added bulk of thick gloves, the protrusion of these dials from the back panel ensures seamless adjustment of settings.
Embarking on our underwater adventure in Cozumel, our anticipation soared as we were excited to photograph the mesmerizing sponges adorning the reefs Cozumel is known for. Armed with a remarkable strobe boasting a remarkable ultra-wide 150-degree beam – and notably not requiring diffusers – we were excited to say the least. While Scubalamp's D-Pro has optional wide-angle and macro diffuser attachments, the expansiveness of the beam proved astonishing, effortlessly enshrouding virtually every vista within its embrace. At times we did use the available diffusers, to soften the light, improve the contrast, and shrink the size of backscatter in the water as much as possible.
The light emanating from the strobes lit subjects in a warm 4800K color temperature. While a nuanced difference was detected between the listed and perceived color temperatures, this warmth introduced a fascinating dimension to our compositions – creating vibrant background blues.
The Scubalamp D-Pro 160Ws strobe has a 150-degree beam angle, which results in a slightly more diffuse output than other 160Ws strobes. This means that the guide number (GN) is 30, which is lower than other 160Ws strobes. However, the D-Pro can still light up wide-angle scenes in clear tropical blue water, which typically require the highest levels of power from a strobe to match the bright ambient light.
The reason for the lower GN is that a wider beam angle means that the light is spread out over a larger area. This results in less light per unit area, which is what the GN measures. Despite the lower GN, the D-Pro can still be a great choice for wide-angle photography in clear water. The 150-degree beam angle will help to create a more natural-looking light, and the strobe's power is still sufficient to overcome the ambient light.
Colorful sponges on the reef in Cozumel, Mexico photographed with dual Scubalamp D-Pro strobes. f/13, 1/160, ISO 200
Recycling time stands as a fascinating puzzle in the realm of photography. While some strobes boast swift recycle times theoretically, they often stumble when it comes to capturing additional shots with reduced power during the recycling phase. In contrast, certain other strobes have mastered the art of shooting at diminished power once the initial dazzling burst is unleashed. In this arena, the Scubalamp D-Pro emerges as a true competitor, consistently delivering flashes at a uniform intensity. In our tests conducted at 5 frames per second, these strobes exhibited remarkable adaptability in almost all scenarios.
When operating at full power, the D-Pro exhibits a remarkable pattern: an initial high-intensity burst followed by a sequence of consistently lower-powered flashes. This orchestrated performance continues until the strobe completes its recycling process. The remarkable uniformity across these shots imparts a sense of rapidity far exceeding what mere specifications suggest. This visual consistency is strikingly evident, with burst series capturing vibrant hues and unwavering illumination.
Even when dialed down, the D-Pro strobe exhibits astonishing prowess, seamlessly synchronizing with burst speeds of up to 10 frames per second. This makes the Scubalamp D-Pro an ideal companion for photographers who thrive in dimly lit environments, requiring just a touch of supplementary light from the strobe.
Ultra fast recycle times allow the Scubalamp D-Pro strobes to expose multiple frames to catch quick subjects before they swim away. 1/160, f/13, ISO 200
The Scubalamp D-Pro boasts a specialized 500-lumen focus light, renowned for its concentrated beam that outshines typical strobe focus lights in terms of lux intensity. This unique feature renders it exceptionally advantageous for capturing moments amidst the enigmatic realm of blackwater diving. Here, divers leverage the precision of the focus light to zero in on minuscule subjects adrift within the water column. It's worth noting that in various scenarios, we opted to navigate without the focus light activated, aligning with the requisite positioning of strobes that necessitated a slight diversion from direct subject illumination. Moreover, the versatile focus light seamlessly doubles up as a dependable backup dive light, delivering adept luminosity for spotting and exploration.
We used the D-Pro's focus light to find this splendid toadfish on a night dive. 1/160, f/11, ISO 200


Battery Life
The D-Pro underwater strobe boasts an impressive battery life, allowing for an astounding 500 shots at maximum power. This outstanding performance surpasses that of traditional AA battery strobes by a remarkable 40%, which directly accounts for the D-Pro's slightly larger form factor. Drawing from our extensive usage, the Scubalamp D-Pro strobe consistently proves its longevity, effortlessly accompanying divers throughout an entire day of underwater shooting. Considering that the majority of photographs are captured at less than full power, it's entirely feasible to anticipate capturing an impressive 700 to 1000 shots on a single, fully charged battery cycle!
This photo was captured with the Nikon Z8 and Scubalamp D-Pro strobes. f/13, 1/160, ISO 200
Scubalamp offers a diverse selection of accessories for the D-Pro. These excellent add-ons open up a realm of artistic possibilities, ranging from gentle diffusers that beautifully scatter light to focused snoots that sculpt and concentrate light for captivating black backgrounds. Delve into the realm of creativity with these must-have attachments, revolutionizing your experience with Scubalamp D-Pro strobes.
The D200 Diffuser for Wide Angle Photography
The D200 Diffuser exhibits a slightly higher level of opacity compared to the D210 diffuser. Crafted with wide angle photography in mind, it effectively broadens the beam emitted by the D-Pro strobe, resulting in a wider distribution of light. Furthermore, the D200 diffuser marginally diminishes the strobe's output, leading to the creation of softer shadows. While the incorporation of a diffuser may amplify backscatter within your image, the presence of such artifacts will be somewhat diminished compared to using no diffuser.
This photo was captured using the D200 diffuser on a Scubalamp strobe. f/13, 1/160, ISO 200
The D210 Diffuser for Macro Photography
The D210 Diffuser has been meticulously crafted to enhance underwater macro photography. Distinguished by its greater thickness compared to the D200 model, it facilitates the creation of gentle, diffused lighting that results in reduced contrast. As macro photography demands less intensity than wide-angle counterparts, the diffuser boasts a deliberately lower level of light transmission.
The Scubalamp OSD Optical Shaping Device (Snoot)
Snoots serve the purpose of concentrating light into a narrow beam characterized by a notably reduced width and significantly higher lux (measured in lumens per square inch). By doing so, they enable the light to be directed precisely onto the subject while minimizing spill onto the background. The outcome is a strikingly high-contrast photograph, often featuring a solid black background. The Scubalamp OSD Snoot, for instance, employs optical lenses to effectively concentrate the light emitted by the strobe. With a built-in aperture, this snoot offers the flexibility to regulate the width of the light beam. Notably user-friendly, it stands apart from traditional snoots that necessitate the use of conventional masks for similar effects.


Who Should Buy the Scubalamp D-Pro Strobes?
The value of the Scubalamp D-Pro is unparalleled; it's a remarkable choice for those seeking a top-tier underwater strobe without breaking the bank. Priced at an attractive $758, the D-Pro redefines affordability within the "pro" category, making it the go-to option for budget-conscious enthusiasts and professionals.
In the vast realm of underwater strobes, the Scubalamp D-Pro emerges as a beacon of value, versatility, and control. With a design tailored for travel, operation simplified to empower photographers, rapid recycle times for dynamic shots, and a wide-angle embrace that sparks creativity, the D-Pro harmoniously unites function and affordability.

The Scubalamp D-Pro produces beautiful colors with a color temperature of 4800K
Bluewater Photo has put together some exciting packages, that include the Scubalamp underwater strobes, paired with the Nikon Z8 mirrorless camera and the Marelux Nikon Z8 Underwater Housing: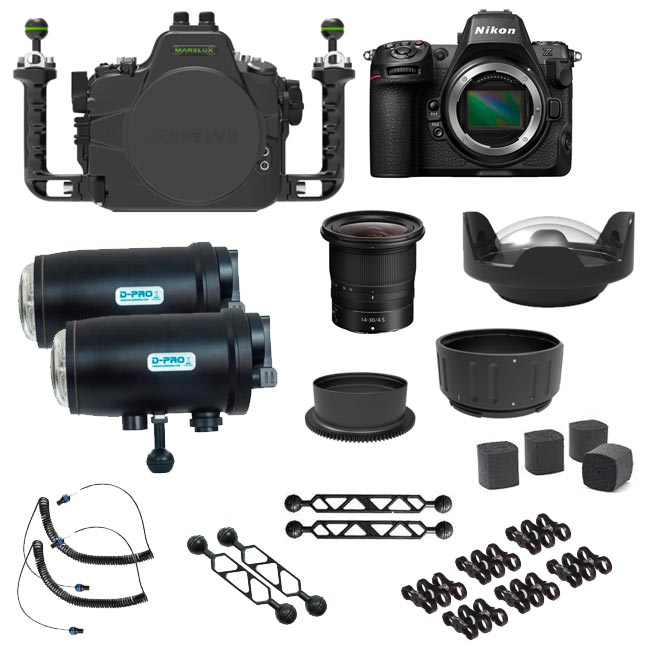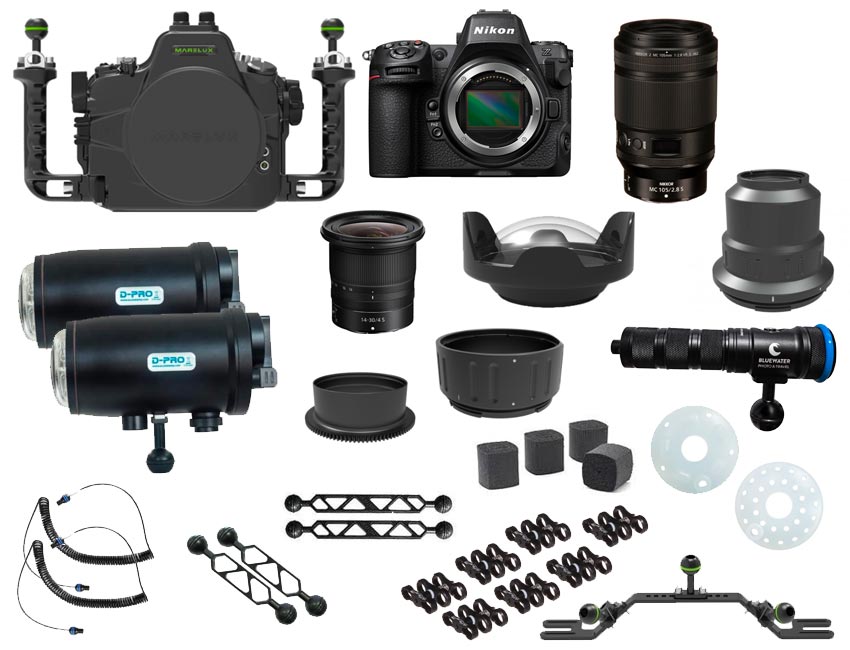 These are some great examples of what underwater housing to pair these exciting strobes with. If you wish to build your own Package, whilst including these powerful strobes, please contact the team at BluewaterPhoto, and we will put together exactly what you require.
---
SUPPORT THE UNDERWATER PHOTOGRAPHY GUIDE:
The Best Service & Prices on u/w Photo Gear
Visit Bluewater Photo & Video for all your underwater photography and video gear. Click, or call the team at (310) 633-5052 for expert advice!
---
The Best Pricing, Service & Expert Advice to Book your Dive Trips
Bluewater Travel is your full-service scuba travel agency. Let our expert advisers plan and book your next dive vacation. Run by divers, for divers.
---