Creating Videos with GoPro Studio 2.0
Create a Video in 5 Minutes – Seriously…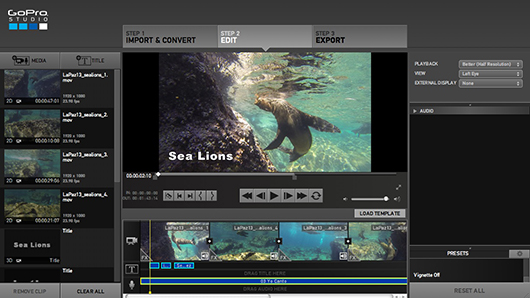 As underwater photographers, we build extensive archives of photos and videos. The trip ends and the daunting task of editing begins, often lasting for weeks after a long photo trip. For photographers, creating an edited video can seem intimidating. Not only do you need to tell a compelling visual story, but there titles, transitions and music or narrative to add to the video. I'm a photographer (and savvy with computers, Lightroom, Photoshop, etc) but feel I'm not alone in saying that the intimidating part of creating a video is learning to use the editing software, especially if it's been a while since last opening it.
This completely changed once I tried the free GoPro Studio Edit Software. I was blown away after learning to use the software and putting together a video in 45 minutes. Next I put together a short timelapse to share on Instagram, which took about 5 minutes. This article is presented with the hope that more "closet video shooters" will be encouraged to start creating and sharing their own underwater videos.
GoPro Studio is designed to create a streamlined workflow.
About GoPro Studio Edit Software
GoPro Studio is designed to let non-pro video makers create stunning high-quality videos. The software is very intuitive, easy to use and creates a streamlined workflow. There are two ways to approach a new video.
Have a lot of big action and want to create a video that looks like a GoPro promo? No problem. Edit templates allow you to choose a favorite video template with preselected music, edit points, slow motion effects, titling and more. If a theme matches the video you have in mind then you'll be sharing your video in just minutes. Tip: make sure to shoot the highest framerate possible for slowmo.
Starting from scratch gives you full control of the editing process. Just click, drag and follow the suggested workflow. Got a timelapse to add to your video? All you need to do is import the photos and they'll be instantly turned into a video. You select the playback speed (ie time spend on each frame) and it's ready to go. Adding titles, music and transitions to the video is just as easy.
Choosing editing templates is easy.
Just one click to export your finished video.
Key Features
In addition to editing videos, GoPro Studio has three other standout features.
1. Export video still frames at full resolution
Video is a much better tool that a still photo in many situations. Think about fast behavioral action, or a very fleeting moment with a subject. Being able to pull a full resolution photo from the video is really useful in this situation, and gives the photographer the best of both worlds (video & photo).
Export any frame as a still photo with a choice of quality levels.
2. Advanced editing tools are built in
While working in the Edit module of GoPro Studio, users not only have the ability to make video edits like playback speed and transitions, but also adjust the picture appearance as well. This includes white balance, tonal adjustments like saturation and contrast, and framing/cropping of the picture.
Fine-tune white balance, picture tones and framing via slider adjustments.
3. The software supports GoPro, Canon, Nikon and other constant frame rate H.264 mp4 and .mov formats
This means that you can edit your DSLR, mirrorless or compact camera video along with your GoPro video. This is really important if you're working on filming one video with multiple cameras.
Conclusion
I'm writing this review because there are a lot of divers shooting underwater video, but not nearly enough of video being shared. I'm certainly one of those divers, but after recently "discovering" the Studio software I've made it a priority to start going through the folders of video clips to start making some movies. Hopefully you do too!
Featured GoPro Reviews
SUPPORT THE UNDERWATER PHOTOGRAPHY GUIDE:
The Best Service & Prices on u/w Photo Gear
Visit Bluewater Photo & Video for all your underwater photography and video gear. Click, or call the team at (310) 633-5052 for expert advice!
---
The Best Pricing, Service & Expert Advice to Book your Dive Trips
Bluewater Travel is your full-service scuba travel agency. Let our expert advisers plan and book your next dive vacation. Run by divers, for divers.
---