Photographing Jellyfish, Salps, and Pelagic Invertebrates
Underwater photography of clear jellies & invertebrates
Jellies, Salps, Pelagic Gastropods, and other pelagic marine invertebrates can be exciting underwater photography subjects. You can see them on regular dives, especially on night dives, or you can go into the open ocean for some blue water diving. Either way, photographing jellies offers its own unique challenges.
Sea butterfly (Thecosome pteropod), Corolla spectabilis, a pelagic gastropod. Underwater photography with a Nikon 60mm macro lens behind a compact dome port, unless otherwise noted. F7, 1/320th, ISO 200
Anthomedusae Jellyfish, F10, 1/320th, ISO 320
Underwater Photography Tips for Jellyfish & Salps
UWPG editor, Michael Zeigler, painted a small "focus target" on his glove which he uses to pre-focus his camera between subjects. The contrast of the white paint and black glove allows the camera to focus using continuous focus mode very quickly.
F13, 1/320th, ISO 400
Small, juvenile fish and a tiny crab utilizing this fried-egg jelly as shelter. Nikon D90 with 60mm lens behind a flat port. F11, 1/200th, ISO 200. Photo by Michael Zeigler
Lens selection for photographing clear jellies underwater
I like to alternate between my Nikon 60mm behind a dome port (for smaller stuff 1/2 inch to 3 inches), and my Tokina 10-17mm (subjects 3 inches and larger). I haven't tried my 105mm since the extra working distance isn't needed or helpful, and focusing would be much too difficult. Stick to the 60mm if you are shooting with a dSLR. Why do I sometimes use my macro lens behind a dome port? I find that I don't need/want the extra magnification that my flat port gives me. When I want to focus on the really small stuff I'll use a flat port.
My dive buddy tried the 60mm with a 1.4x teleconverter and found it almost impossible to focus properly, and he is very experienced with that setup, so I would avoid using a teleconverter.
If you are using a compact camera, you are using a great focal length and will be able to get some good shots, but expect focusing to be difficult.
Pelagic gastropod (Heteropod), a visual predator. Nikon D300, Tokina 10-17mm fisheye lens. F11, ISO 400, 1/250th
Salp, Cyclosalpa bakeri, with several crustaceans inside. Nikon D300 + 60mm macro lens. F8, ISO 320, 1/250th
Planktonic Tube anemone, Cerianthid species, Larval stage (unsettled), 1/2 inch long. ID by Claudia Mills. F13, 1/320th, ISO 400
Purple jellyfish sheltering a juvenile Ragfish under its tentacles. F9, 1/320th, ISO 400. There's a photo I took of just the Ragfish here, which according to researchers may be the first non-ROV underwater photo of a Ragfish ever taken.
Comb jelly, a Ctenophore, in front of the anchor line. F13, ISO 400, 1/320th
Pelagic jellyfish underwater photo. F11, 1/320th, ISO 400
Comb Jelly, photo by Kevin Lee, Tokina 10-17mm lens. ISO 100, 1/250th, F10
Pelagic colonial Salp, photo by Kevin Lee, Tokina 10-17mm lens, ISO 100, 1/250, F4.5
Do you have your own underwater photography tips for jellyfish or pelagic invertebrates? If so, let us know, leave a comment below.
Further reading
Photographing Jellyfish, Salps, and Pelagic Invertebrates
Underwater photography of clear jellies & invertebrates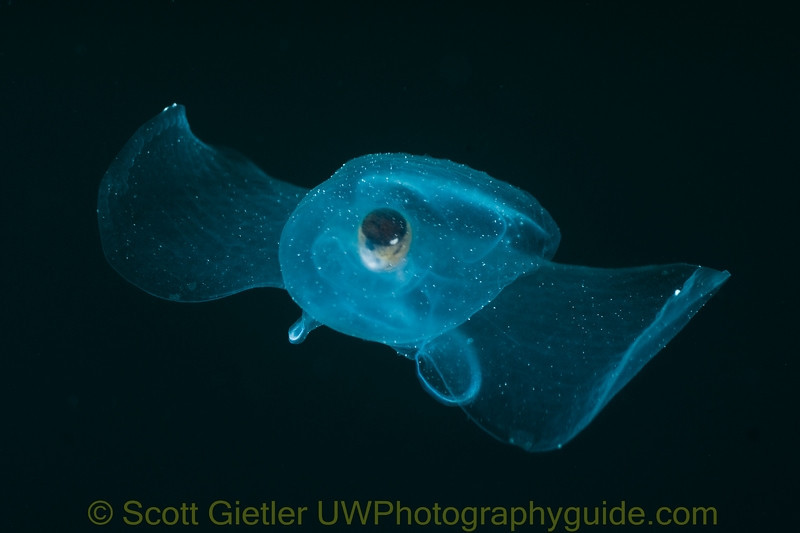 SUPPORT THE UNDERWATER PHOTOGRAPHY GUIDE:
The Best Service & Prices on u/w Photo Gear
Visit Bluewater Photo & Video for all your underwater photography and video gear. Click, or call the team at (310) 633-5052 for expert advice!
---
The Best Pricing, Service & Expert Advice to Book your Dive Trips
Bluewater Travel is your full-service scuba travel agency. Let our expert advisers plan and book your next dive vacation. Run by divers, for divers.
---