Salted Line Sony A6xxx Series Underwater Housing Review
Salted Line's affordable, durable underwater housing for Sony's A6000 - A6500 cameras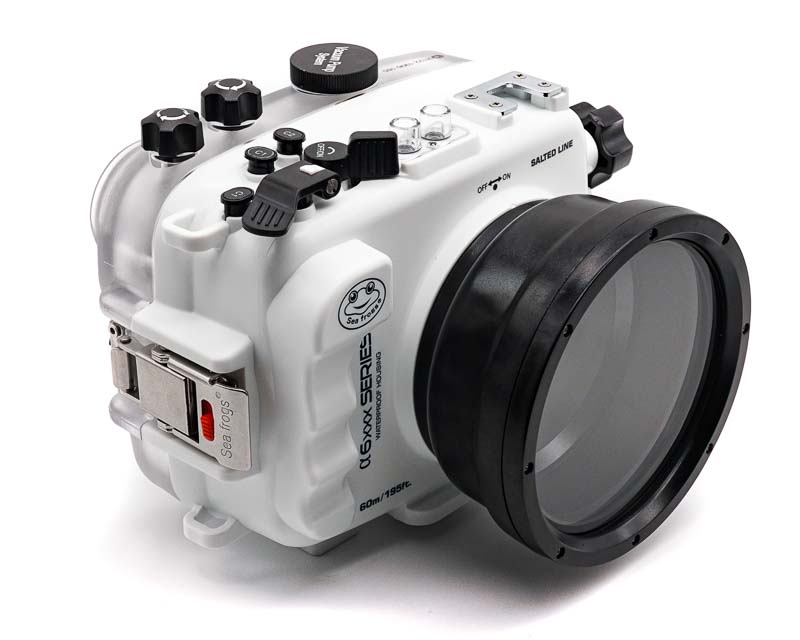 Sony has set the standard for compact mirrorless cameras with their wildly popular a6xxx series. They are known for their lightweight, compact size making them a competitive choice for underwater photography.
The expense to take a camera beneath the surface is usually a deterrent, especially when the housing can cost more than the camera itself. Well, wait no longer…a newly designed underwater housing for Sony's Alpha a6xxx series has arrived and might be just what you are looking for. Salted Line has created an affordable, durable housing designed exclusively for the a6000 - a6500 cameras.
What sets Salted Line apart? The housing not only includes an optical glass standard flat port that is compatible with a variety of lenses but it is priced quite reasonably. And with the option to upgrade to a macro or wide dome port, it gives those entering the underwater world of photography the flexibility to get creative with their interchangeable lens camera.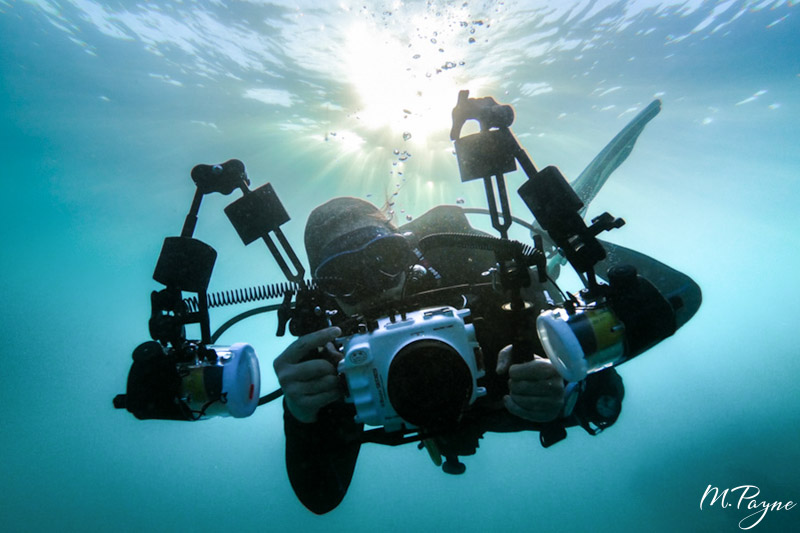 a6100 Quick Specifications
The newly released a6100 is Sony's latest addition to their APS-C mirrorless line. As an upgrade to the a6000, it is still their budget friendly model but with a few added perks from the premium a6400. It is compatible with Sony's quality e-mount lenses and a great entry level interchangeable lens camera especially for those looking to upgrade from a GoPro. I had the opportunity to bring the a6100 underwater in Salted Line's housing and was nothing short of impressed.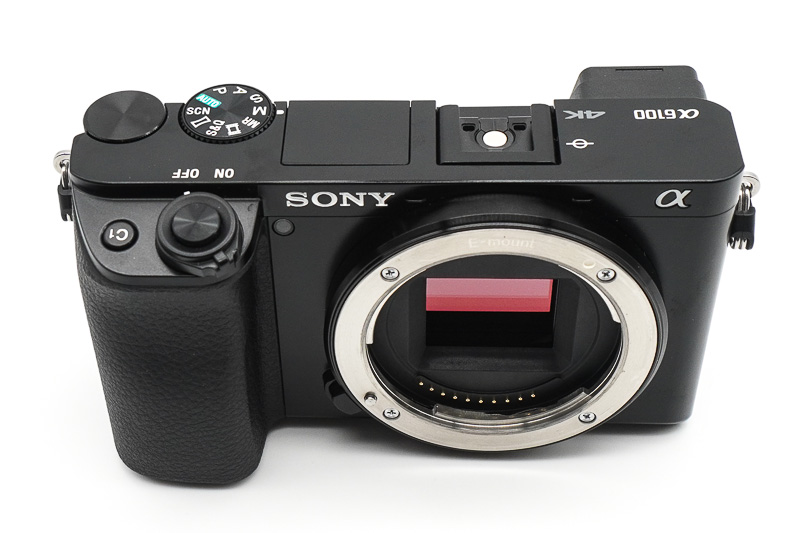 a6100 Specifications
Lens Mount: Sony E
Sensor: APS-C (1.5x Crop Factor)
Effective Pixels: 24.2 Megapixel
Maximum Resolution 6000 x 4000
Image File Format: JPEG, RAW 14-bit
ISO Sensitivity: Auto, 100 to 32000 (Extended up to 51200)
Built in Flash
Maximum Flash Sync 1/160

Salted Line Housing Features
Upon arrival, my first impression of the build was that it is solid and structurally sound. Weighing in at almost 3 pounds (with the standard port) it felt more deserving than its economical price. The European based company has created one housing design for the Sony Alpha APS-C mirrorless line. That's right; if you upgrade to another Sony a6xxx series camera you can keep using this same housing.
Availability: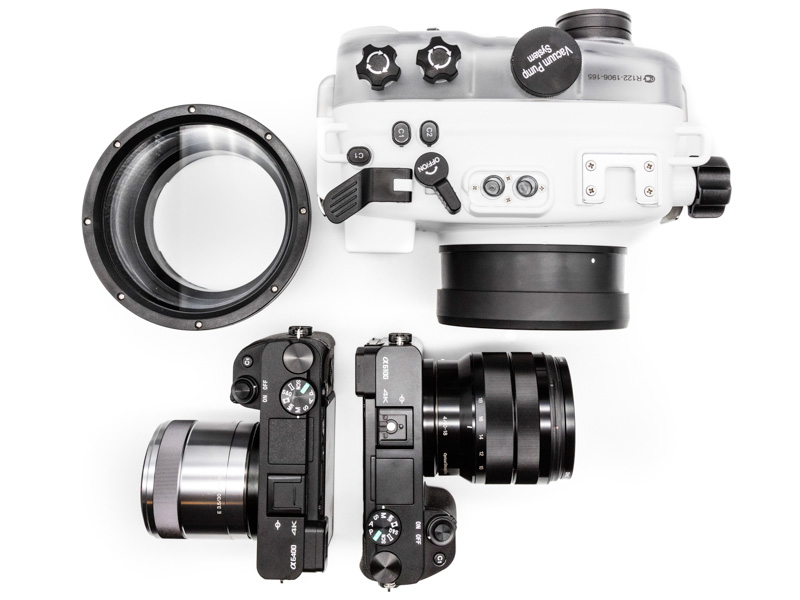 Key Specifications
7.8"W x 5.9"H x 7"L
2.9lbs (1.396kg)
Polycarbonate build
Interchangeable lens port system
Includes multi coated optical glass standard flat port
Waterproof to 195ft(60m) with standard port
Built in leak sensor alarm and light warning system
Dual fiber optic cable ports for strobes
Dual ORing seals
Optical viewfinder or LCD view option
Two ¼"-20 threaded holes at base
Cold shoe mount for optional accessories
Manual zoom gear for Sony 10-18 and 16-50mm lenses included
Optional pre-dive vacuum pump system
Optional wide 4"or 6" dry dome or macro ports
Optional pistol grip handle with shutter release for surf photography
Ergonomics
Accessing the controls from the housing is pretty straightforward. The frosted back panel adds familiarity making it simple to access and manually change your settings while underwater. A clear unobstructed view of the LCD monitor enables you to see the camera's recording information and image reviews. All labeled buttons and dials are super smooth to operate and allow full access to all of the camera controls. The housing itself has right hand finger indents for a comfortable feel and added grip if taking the housing underwater without one of the optional handle and tray setups.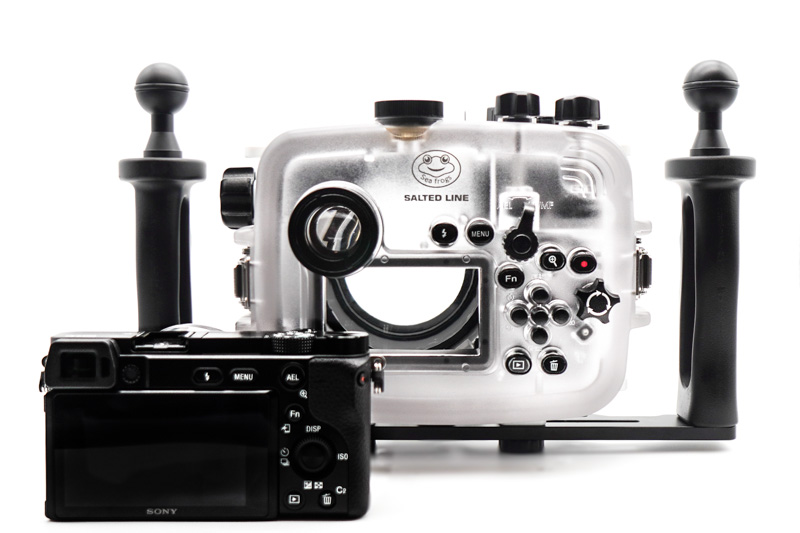 Port and Lens Options
Salted Line offers several versatile port options for a number of lenses. The housing comes with the standard flat glass port which is compatible with a range of Sony lenses including the 10-18mm, 16-50mm, 30mm Macro and more. (See chart below) Upgrading your package to include a 67mm front threaded macro port or a 4" or 6" dome still includes the standard flat glass port at a surprisingly low cost.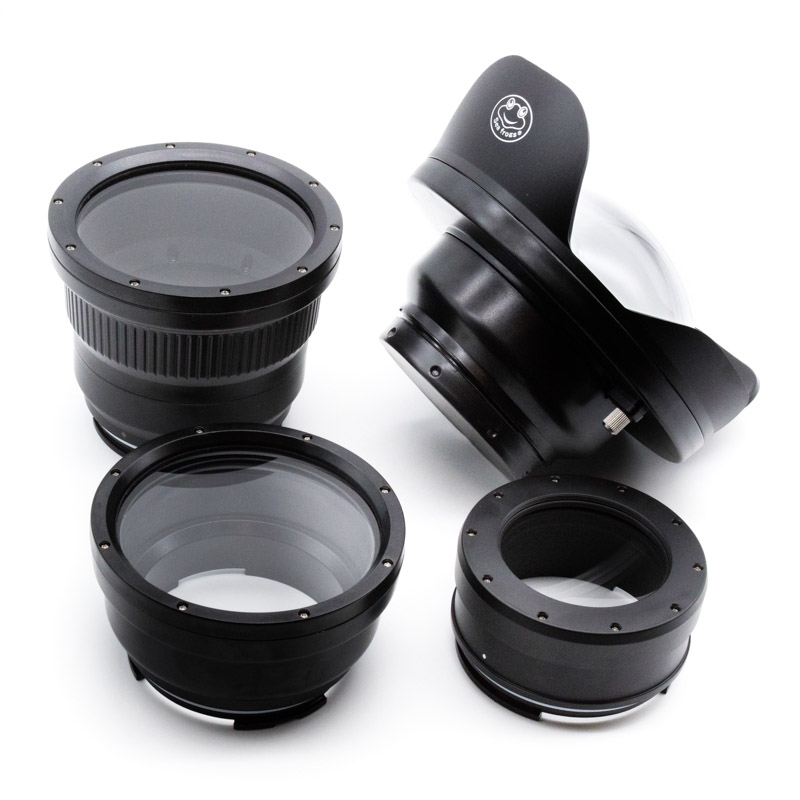 Standard Port
Multi Coated Optical GLASS
Polycarbonate
Depth Rating 195ft (60m)
Maximum Inner Diameter 78mm
Maximum Inner Length To The Port 73mm
4"Dry Dome Port
Optical Acrylic Lens
Polycarbonate
Depth Rating 130ft (40m)
Maximum Inner Diameter 78mm
Maximum Inner Length To The Port 59mm
6"Dry Dome Port
Optical Acrylic Lens
Polycarbonate
Depth Rating 130ft (40m)
Maximum Inner Diameter 78mm
Maximum Inner Length To The Port 117mm
Flat Short Macro Port
67mm Threaded Front
Multi Coated Optical GLASS
Polycarbonate
Depth Rating 130ft (40m)
Maximum Inner Diameter 78mm
Maximum Inner Length To The Port 58mm
Flat Long Macro Port
67mm Threaded Front
Optical GLASS
Polycarbonate
Depth Rating 130ft (40m)
Maximum Inner Diameter 78mm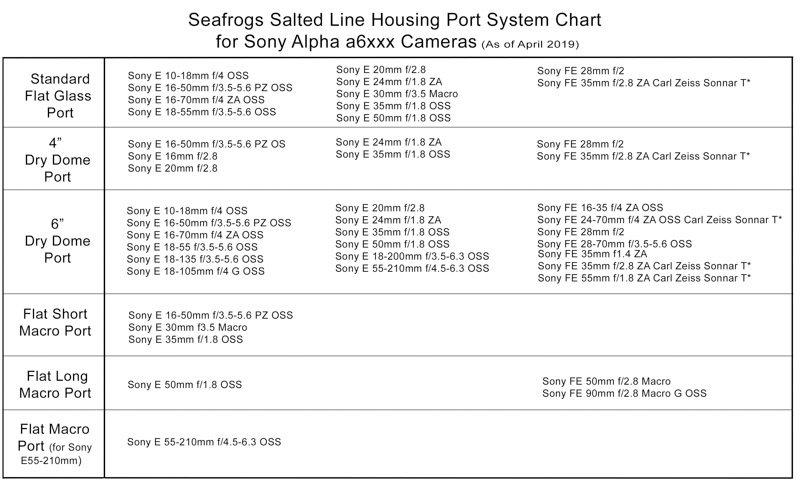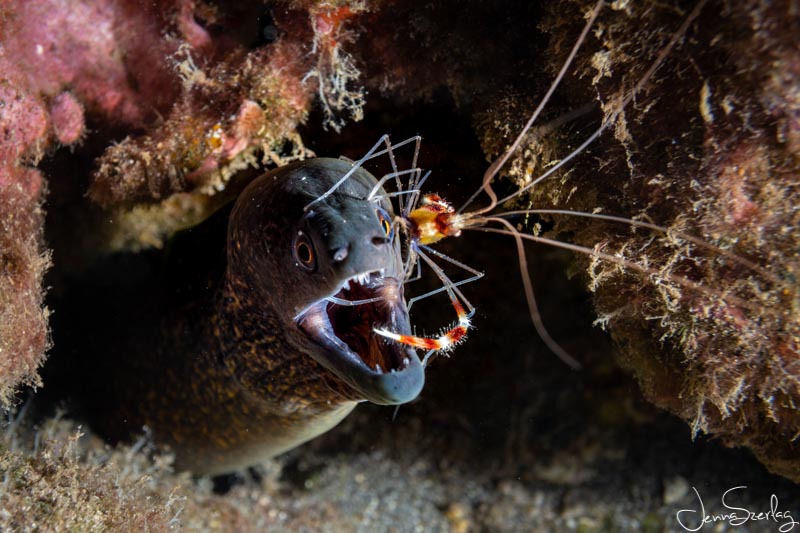 Optional Accessories
Salted line offers additional accessories including three different handle setups. An aluminum tray with a single foam padded handle and one 1" ball mount; a lightweight dual handle aluminum tray system with 1" ball mounts; and also a pistol grip with a built in shutter release button for taking the housing into the surf. Other accessories available include a GoPro adapter for the cold shoe mount, fiber optic cables for strobes and a vacuum pump kit to test for leaks prior to taking it into the water.
Additonal accessories available for the Salted Line Housing:
Aluminum Tray w/ single handle and 1" ball mount
Aluminum Tray with dual handles each with 1" ball mounts
Pistol Grip with shutter release for surf photography
GoPro adapter for cold shoe mount
Cold shoe 1" ball mount
Vacuum pump system for pre-dive waterproof test
Fiber Optic Cable for Inon /Sea & Sea strobe setup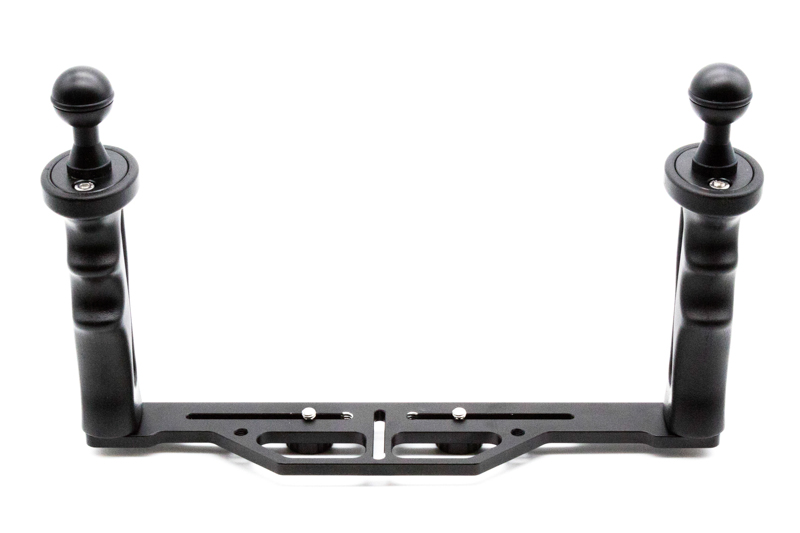 Underwater Performance
The a6100 and 30mm macro lens with the flat short macro port was easy to handle topside and operated smoothly underwater. It still felt compact even with dual Sea and Sea YSD2j strobes. Overall, maneuvering the controls and the ease of the shutter release button on the housing was flawless. The dials to manually change the aperture and shutter are located toward the right edge, exactly where they are on the camera itself making adjustments like second nature.
I felt it was quick to focus but a little tricky when there was particle in the water. Sony's 30mm macro lens has a minimum focal distance of less than 4 inches so when photographing a larger subject from 6" or more away it had trouble distinguishing between it and the particulate in front of the lens. With that said, this particular set up is a versatile choice as it is rare to have a wide angle macro lens such as this one.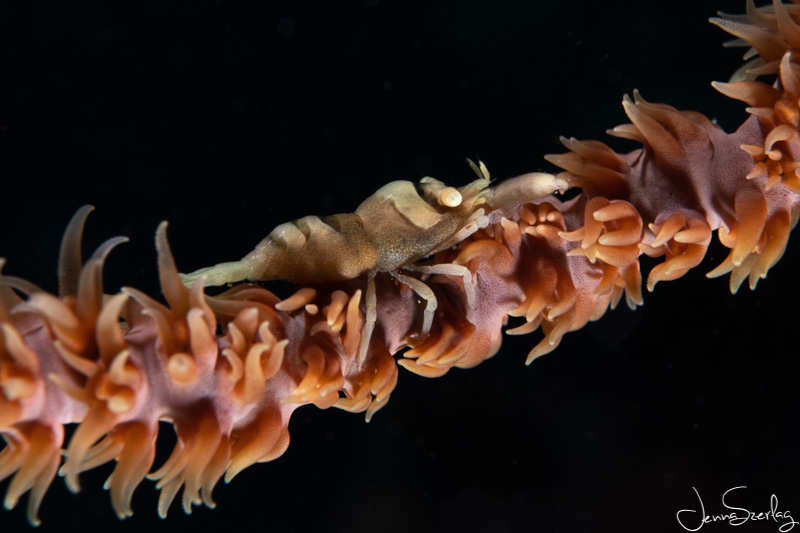 The housing itself with the a6100 installed on dual handle grip tray is buoyant. The degree of buoyancy of course can vary with additional accessories. When the Sea & Sea YSD2j strobes were added the system was negative. I chose to install two bouyancy cubes on each strobe arm to compensate for its negative buoyancy. It was still slightly negative but comfortable to operate while diving.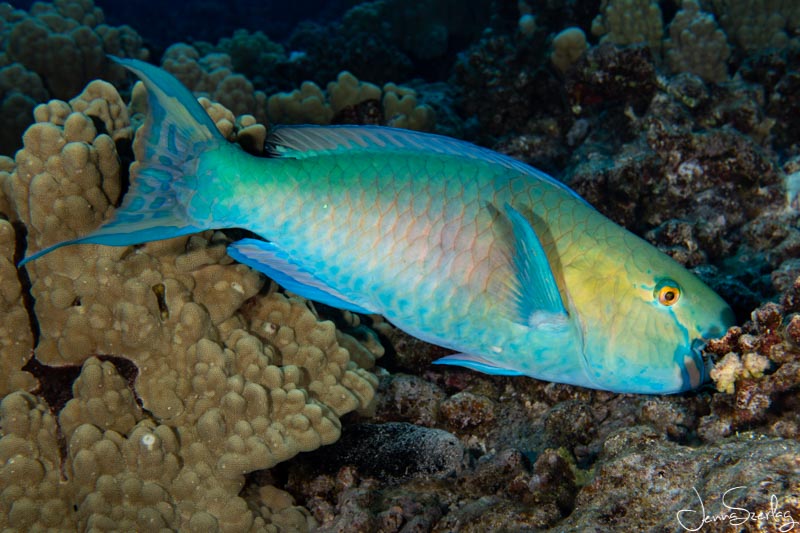 Getting the Salted Line a6xxx Housing Water Ready
The housing and port system went together seamlessly. Exchanging out the ports with the simple twist on/off mechanism is an easy, functional design somewhat similar to how one changes a lens on their camera. Two dots, one on the housing and one on the port, help to line up the components before twisting the port into place. A locking piece is then positioned into a groove on the port from within the housing. The added benefit of knowing the port will not turn on its own is nice but I can see the tiny piece could be hard to maneuver for some. It also makes for an extra step if changing out a lens and port between dives as the entire camera needs to be removed from the housing to undo the port lock. However, this is an unlikely scenario unless you're doing multiple dives per day.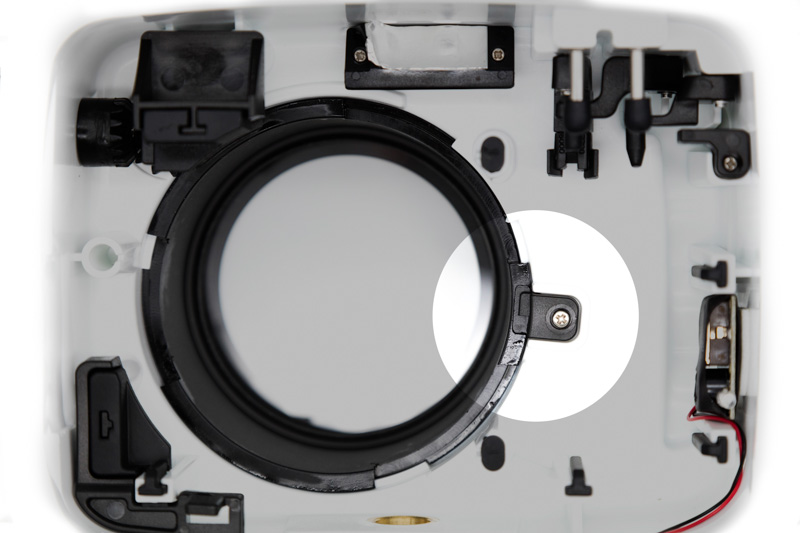 Once the camera is in place, the back panel attaches to the housing with dual stainless steel hinge locks (one on each side) that latch down with an audible click adding confidence to the already secure fit.
TIP: The latch is secure when its red release button slides into place. Check the latches by giving them a gentle tug.
Setting Up the Housing and Installing the Camera Step by Step:
Be sure to clean ORing channels and the ORings free of any debris. Lubricate Orings with supplied lubricant
Line up the white dot on the port with the dot on front of housing
Gently push the two components together and twist the port clockwise until in place
From within the housing, line up the port groove with the port lock space and screw in locking piece. *See photo above. (If the housing arrives with locking piece in place, you will have to remove this first to install port)
Now that the port is installed, place the camera into housing
Secure the back panel onto housing with hinge locks on each side
Test air tight seal with optional pre-dive vacuum test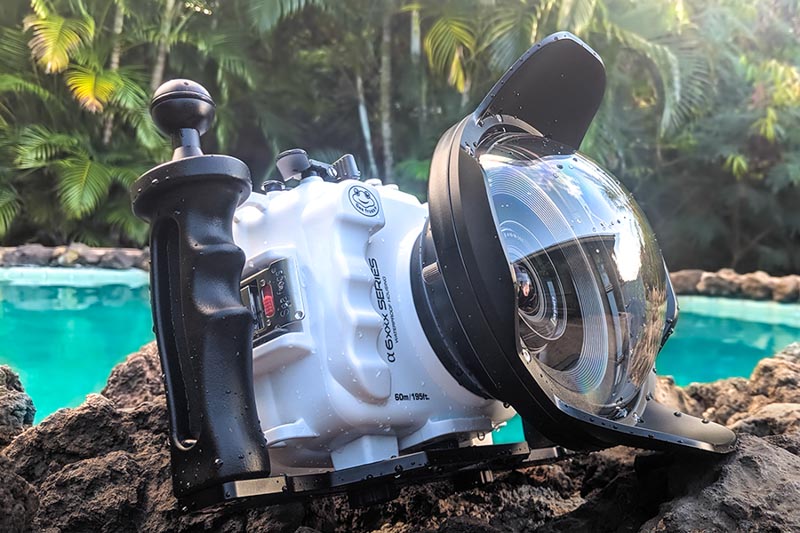 Optional Vacuum Test
The pre-dive vacuum leak test system is an optional, added measure of confidence ensuring that the housing is properly sealed and water tight. The entire test takes less than 10 minutes to complete. Simply replace the vacuum protection cap located on top of the housing with the vacuum alarm interface. Press the button until the red light flashes. Using the vacuum pump, pull the air from the housing until the flashing light turns from red to green. If the indicator light turns back to red during the recommended 5 minute wait then the seal is compromised and the housing is not water tight. Return to the setup process and check each connection again.
An added bonus is the vacuum pump system comes equipped with three interfaces (10mm, 14mm and 16mm) to fit most Seafrogs, Meikon and Nauticam housings.
*Note that the vacuum pump system is not waterproof and must be removed before entering the water.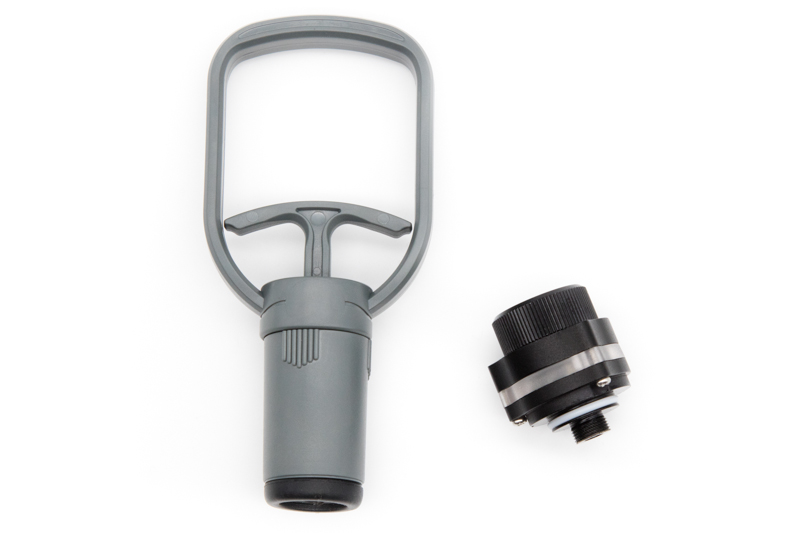 Mounting onto the Dual Handle Tray
Lastly, mount the housing onto the tray as the last step. It's a tight fit between the handles so having optimal working room for operating the hinge locks properly prior to mounting is recommended. The housing attaches onto the tray with two ¼' screws that slide back and forth for the perfect positioning. I preferred to place the housing slightly to the right making it easier to reach and operate the shutter release lever.
Pre-Dive Tip: Check each connection between ball mounts to handles and tray to handles ensuring they are secure.
Surf Photography with Pistol Grip
The Salted Line housing is diverse and fun when it comes to all water sports. It can adapt to wide over/under split shots with the 6" acrylic dome to underwater macro photography with the dual handle tray or even surf photography with the optional pistol grip with an integrated shutter release button.
Simply attach the pistol grip to the base of the housing after feeding the trigger release sync cord through the hole into the housing. The water tight seal is secured by an oring and 4 screws. It seems a little heavy to carry it around topside but it does float in the water. The best part is that the shutter release button is located literally at your finger tips on the pistol grip. How cool is that? Maybe in the future Salted Line will install a shutter release button on the grip of the dual handle tray for diving. Wouldn't that be nice?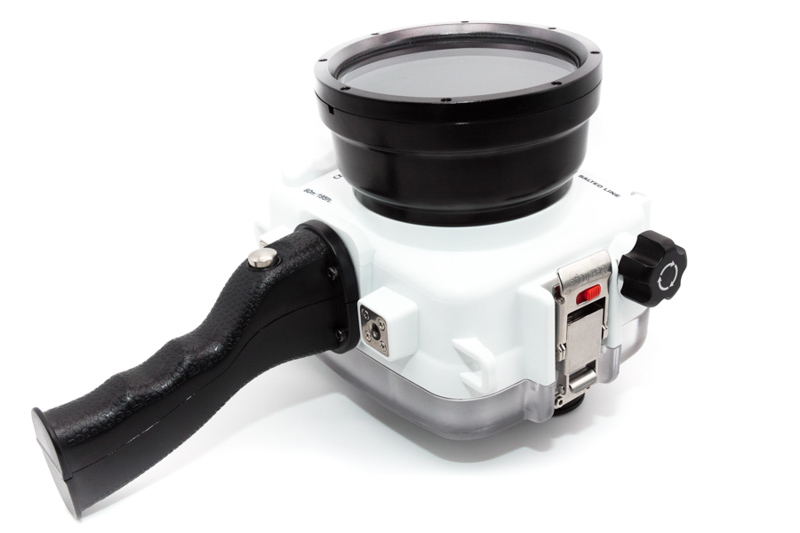 Conclusion
There are several housing manufacturers to choose from when it comes to outfitting your Sony camera for underwater use. The most considered factors are durability, accessibility of controls, size and cost. Salted Line's housing is a great housing option available today for Sony Alpha mirrorless cameras.
SUPPORT THE UNDERWATER PHOTOGRAPHY GUIDE:
The Best Service & Prices on u/w Photo Gear
Visit Bluewater Photo & Video for all your underwater photography and video gear. Click, or call the team at (310) 633-5052 for expert advice!
---
The Best Pricing, Service & Expert Advice to Book your Dive Trips
Bluewater Travel is your full-service scuba travel agency. Let our expert advisers plan and book your next dive vacation. Run by divers, for divers.
---