Nauticam EMWL (Extended Macro Wide Angle) Lens Review
A lens for wide angle macro photography from a bugeye perspective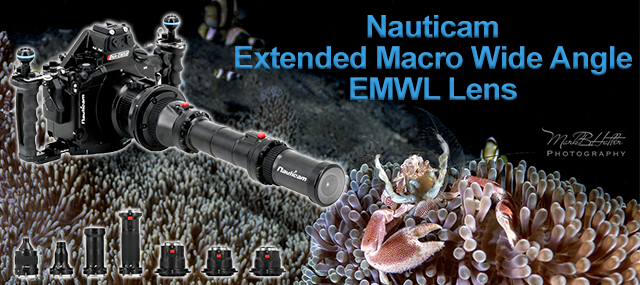 The Nauticam EMWL (extended macro wide lens) is a unique optical tool for underwater macro and wide angle photographers. It uses a series of complex lens elements to prove an extremely unique "bug eye" wide angle macro perspective - with a wide angle field of view. The EMWL consists of three optical elements:
The Focusing Unit - the focusing unit attaches directly to your port. It allows your macro lens to focus on our subject. There are currently four focuing units available. Unit 87201 is for Nikon and Micro Four Thirds Systems. Unit 87202 is for Canon cameras. Unit 87203 is for Sony camera, and unit 87205 is for Fujifilm.
Compatible lenses include the Nikon F mount 105mm macro lens, Olympus 60mm macro lens, Canon EF 100mm macro lnes, Canon EF 60mm macro lens, Sony 90mm macro lens, and Fujifilm GF 120mm macro lens.

The Relay Lens - The relay lens attaches to the front of the focusing unit. This lens inverts your image so that you can see it properly, "right-side-up," in your camera. All focusing units use the same relay lens.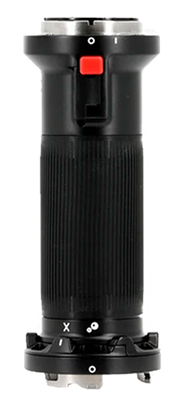 The Objective Lens - The objective lens is the final lens in the train and attaches to the front of the relay lens. It includes 9 lens elements in 6 groups. There are three focusing ranges available on the lens: infinity to 55mm, 55mm to 25mm, and 25mm to 15mm. Each objective lens available produces a different field of view. Currently there is a 160 degree, 130 degree, 100 degree, and 60 degree objective lens. For a true, wide angle, bugeye look, we recommend the new 160 degree objective lens.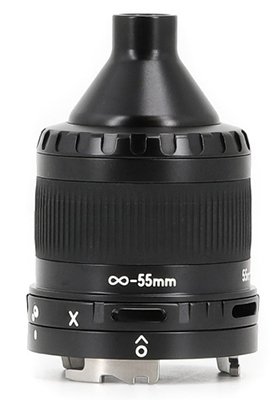 Recommended Accessories
Nauticam EMWL Review by Mark Hatter
Another creative variant I've been intrigued with is a technique called "wide angle-macro" shooting. This technique combines the one-to-one magnification of macro with its inherent shallow depth of field and the expanded subject field of view associated with wide angle shooting with its inherent broad depth of field.
One way to achieve this wide angle-macro image capture is to employ a very close focusing fisheye lens (like the Sigma 16mm f2.8 Fisheye) behind a mini-dome port. The small radius of the mini dome allows the shooter to get inches closer to subjects than a super-dome would allow. And the Sigma 16mm fisheye lens can focus nearly at the surface of the dome's glass.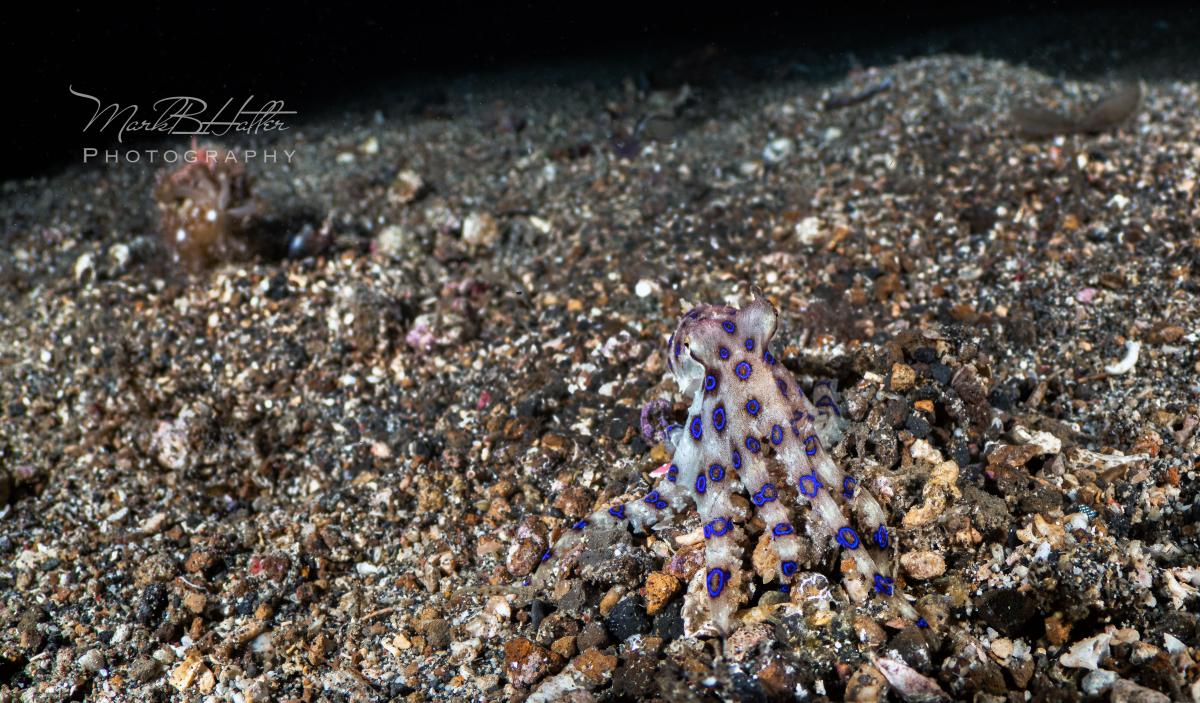 Image 1: A blue spotted octopus photographed with the Nauticam EMWL and Nikon D850
However, in order to use this combination, the lens sun-shades on the Sigma required a custom modification; they needed to be cut down as they interfere with the inside of the mini-dome due to its small internal volume.
I owned this combination a few years back after carefully making the sun-shade modification in my garage with a Dremel tool. This kit did indeed allow me the benefit of close focus (nearly one to one) while also providing the broad subject area and great depth of field expected from a fisheye lens.
It was a good setup in theory, but was troublesome to employ in actual application. My ability to properly light my subjects proved difficult at best, the subject placed nearly at the dome's glass resulted in a physical strobe interference with the port and a harsh/shadowy illumination of the main subject. And, if the subject was more mobile than a sedentary nudi, putting a large camera system with bulky strobes in the face of anything that could move quickly, was impossible.
As a result, my shots were left un-inspiring. So I abandoned attempts to shoot wide angle-macro, sold my Sigma 16 and mini-dome and, moved to snoot shooting. However, my intrigue with shooting wide angle-macro photography never waned and was rekindled with the release of Nauticam's Extended Wide Angle Macro lens assembly, a.k.a the EMWL.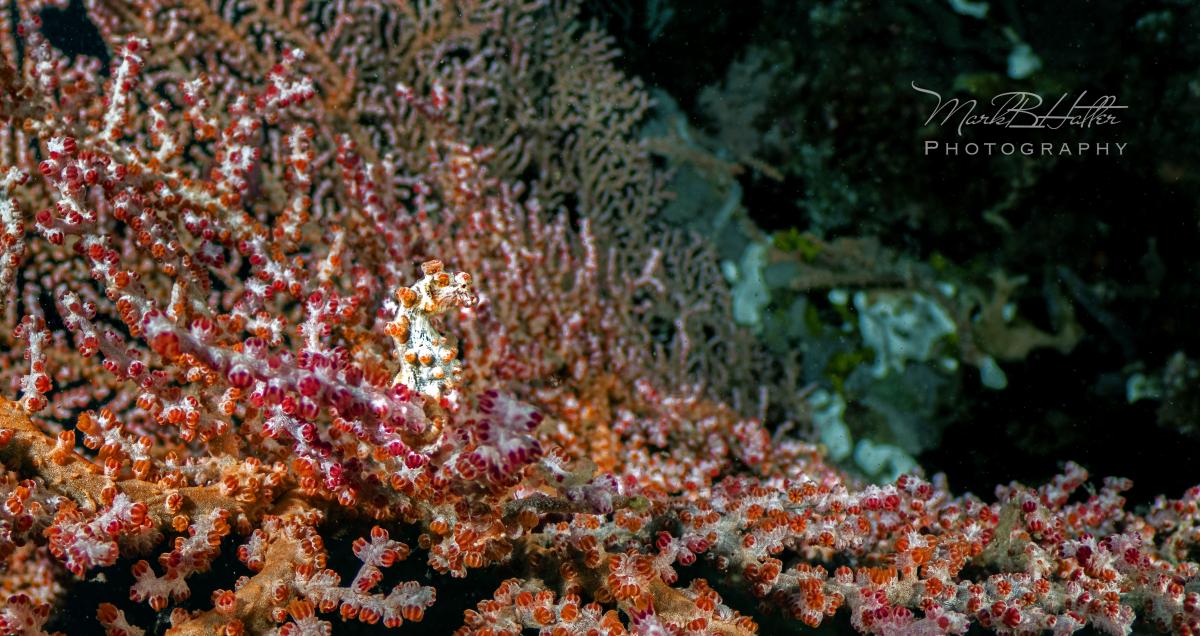 Image 2: A pygmy seahorse photographed with the Nauticam EMWL
The EMWL is a series of three wet lenses attached to the housing's macro port using Nauticam's 67mm adapter ring as an interface (an adapter ring is also available for 77mm threaded ports). Nauticam's design is made specifically for Nikon, Canon, Sony, Panasonic and Olympus macro lenses with each camera/lens brand requiring a specific focusing unit (the first lens element of three in the optical train) to operate. The final lens in the train is an objective lens that establishes the field of view - with 60, 100, 130, and 160 degrees being an option.
The EMWL is an engineering marvel and a physical behemoth. The physics required to achieve Nauticam's approach to wide angle-macro photography results in a LOT of glass packaged in an assembly that looks more like some futuristic cosmic ray-gun than an underwater optic.
Consequently, it should be no surprise that the cost of an EMWL, with just one of four available lens sets, is nearly the cost of a seven day destination diving trip. Moreover, with so much glass packaged in beautifully finished metal cans, it should be no surprise that the EMWL is heavy!
But still…I wanted one. So, during the dark days of COVID lockdown, I used my impossible-to-use travel bank account to purchase an EMWL with the 130 degree objective lens (Nauticam offers a 60, 100 and a new 160 degree objective lens as well).
---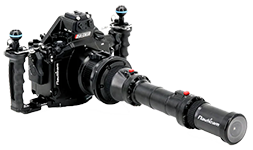 Purchase the Nauticam Extended Macro Wide Angle EMWL Lens at Bluewater Photo

---
The 130 degree lens, the widest objective lens available at the time of my purchase, seemed just about right for the type of images I'd hope to achieve. And, the prospect of having the subject "stand-off" coupled with flexible illumination options, due to the optic's design, was exciting.
When my system arrived and was assembled on the living room floor, I realized immediately that I would need a new scheme to both support and balance the system for underwater. The assembled system's weight and length creates a strong moment arm at the port/adapter ring interface. Without structurally supporting/locking down the lens assembly the EMWL will break the adapter ring and fall off.
Therefore, to structurally support and lock in place the lens assembly to the housing port, Nauticam's EMWL ball arm adapter, which clamps on the relay lens barrel, is required. Additionally, I purchased a pair of Ultralight Control Systems (ULCS) triple clamps, which then allowed me to mount a pair of Inon Z240 strobes directly to the EMWL ball arm adapter via the third hole in the ULCS clamp.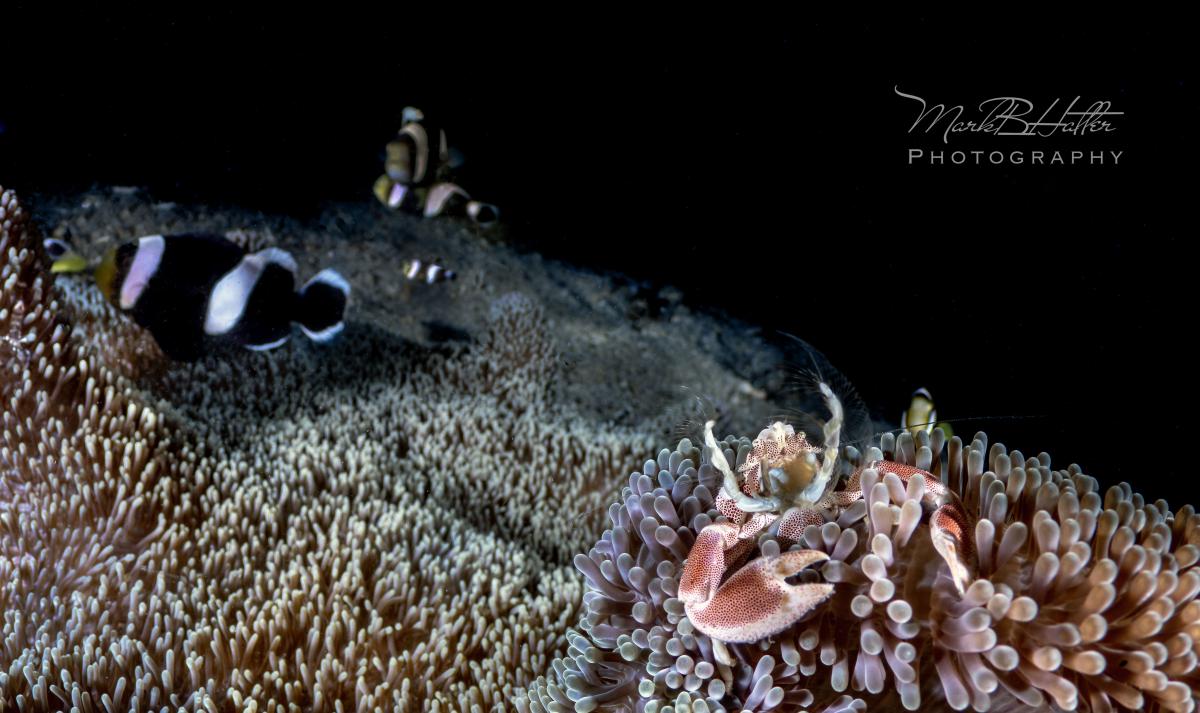 Image 3: An anemone community photographed by Mark Hatter with the Nikon D850 and the Nauticam EMWL
To achieve neutral buoyancy with the new rig I went through all of my buoyancy schemes I had on hand, including flotation collars in conjunction with floatation arms, testing each approach in my pool, but found them all lacking. I eventually settled on purchasing four buoyancy arms which finally provided neural buoyancy for my system in freshwater. With my camera housing mounted to an underwater tripod plate, it was just enough weight added to the system to make it neutral buoyant in salt water.
While unwieldy on land, the balanced EMWL underwater, all tricked out, is super stable. So much so, I found I could shoot the kit with one hand, providing a tremendous advantage.
Although I pool tested my EMWL extensively before my first post-COVID trip to Blue Heron Bridge (BHB) in south Florida, using it underwater for real-life shooting demonstrated that I had a learning curve to overcome. Getting proper lighting dialed in with a pair of Inon Z240 strobes was not difficult and the optic's wide field of view captured a lot more than the main macro subject. My shots generally appeared fine in the camera's LCD and histogram. They were sharp and offered a much greater depth of focus than a standard macro shooting kit.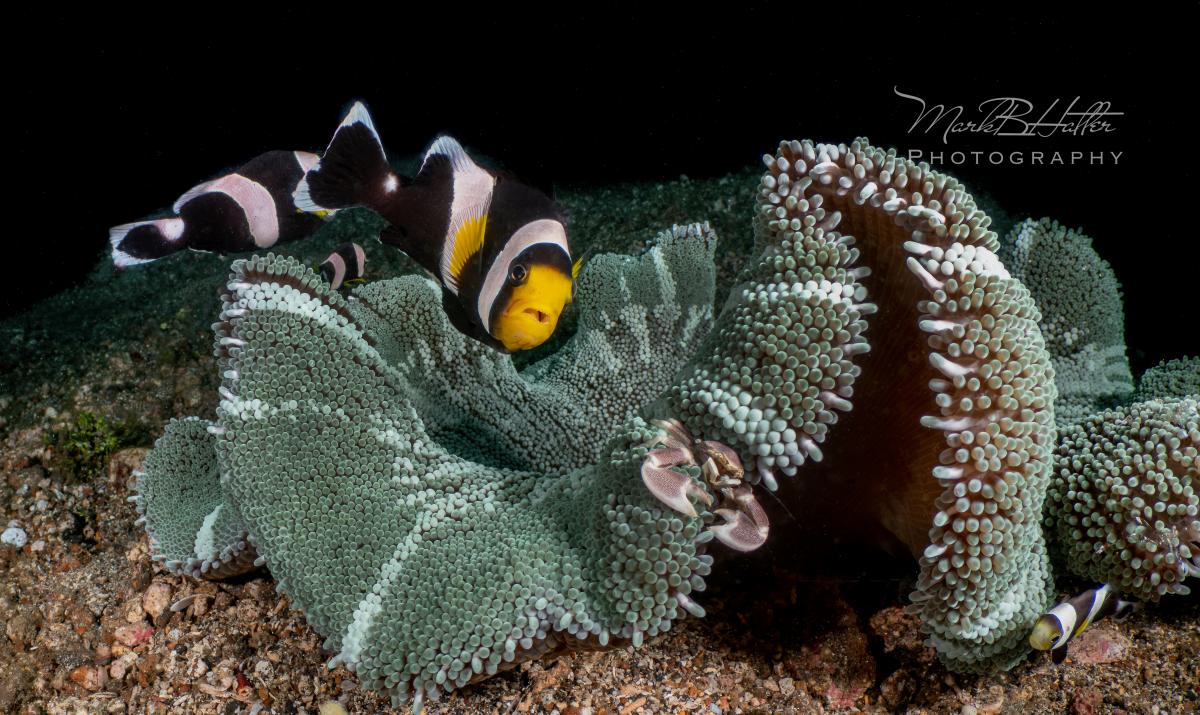 Image 4: Anemone community photographed by Mark Hatter with the Nikon D850 and the Nauticam EMWL
However, post processing on the computer revealed a wide angle capture of pronounced backscatter competing with the one-to-one main subject. In addition, the new perspective enabled when shooting the EMWL meant I needed to think more creatively to take advantage of the wide angle and greater depth of field capability.
In March I took my daughter to Fiji and figured the house reef at Voli Voli Resort would give me the chance to improve my shooting results with the EMWL. Alas, a tropical storm before our arrival had mucked up the house reef leaving the visibility even worse than at BHB.
Nevertheless, I shot the EMWL extensively in murky water, learning several important things which enabled me to fully explore the benefits and advantages of the EMWL on a trip to Lembeh Strait last month.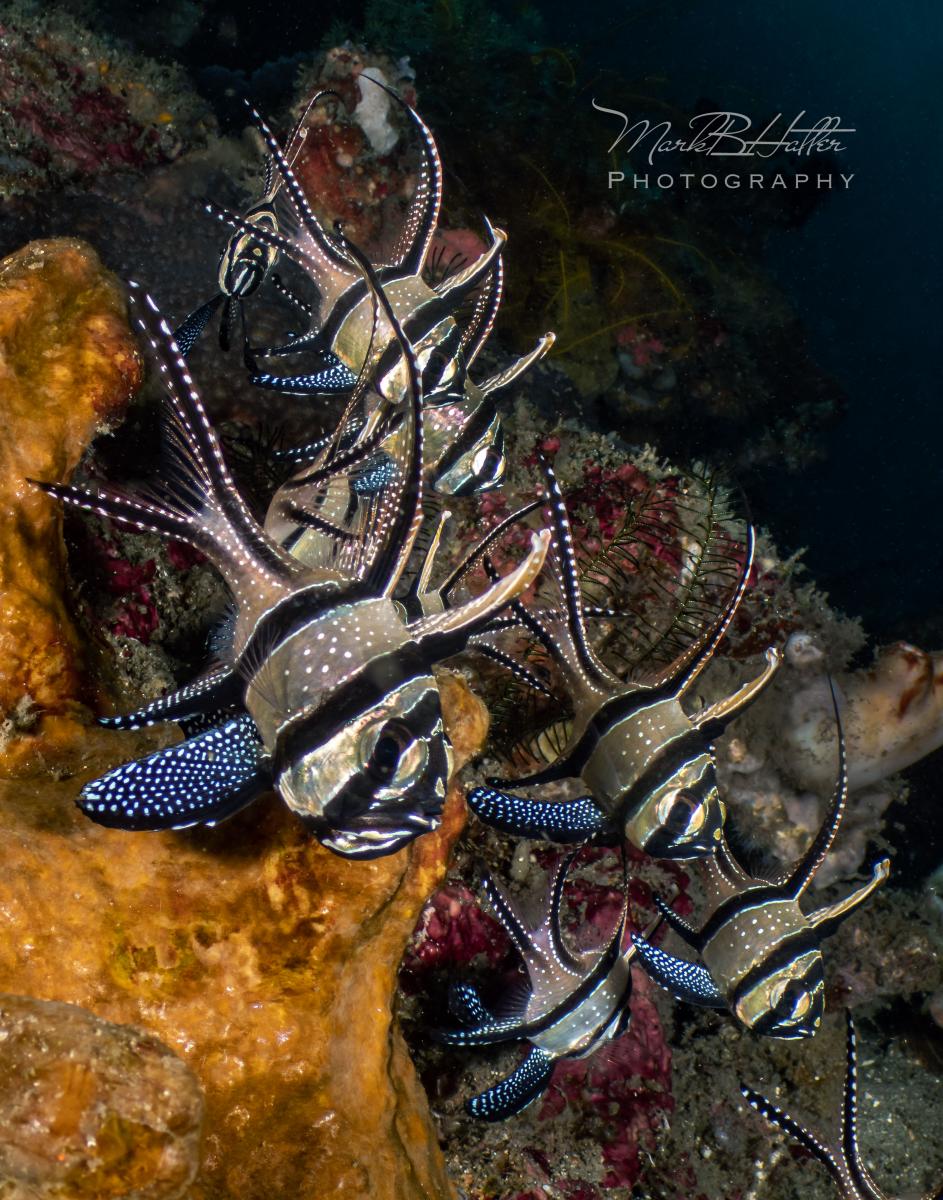 Image 5: Cardinalfish photographed with the Nauticam EMWL
1. The EMWL will focus so close that it will almost touch the front objective lens element providing a nearly one-to-one magnification of the subject while also providing a much wider subject field (image 1, image 2).
2. However, as you focus on subjects closer to the objective lens element, the narrower your depth of focus will become (image 3). As always, smallest apertures offer the best depth of field.
3. As you move the main subject away from the front of the objective lens, depth of field increases considerably. Images 3 and 4 demonstrate this; image 3 shows the main subject porcelain crab at nearly one-to-one with the secondary subject anemonefish out of focus. The crab in image 3 was shot almost touching the lens element. Image 4 shows the secondary subject anemonefish in sharp focus with the main subject porcelain crab. The crab in image 4 was shot about 2 inches from the lens element.
4. Bokeh on secondary subject elements beyond the focal plane is a bit harsh, likely from light having to travel through so many lens elements (image 1, image 2, image 3). Still, the ability to place wide angle elements in a scene out of focus using bokeh can make for a compelling macro wide-angle image.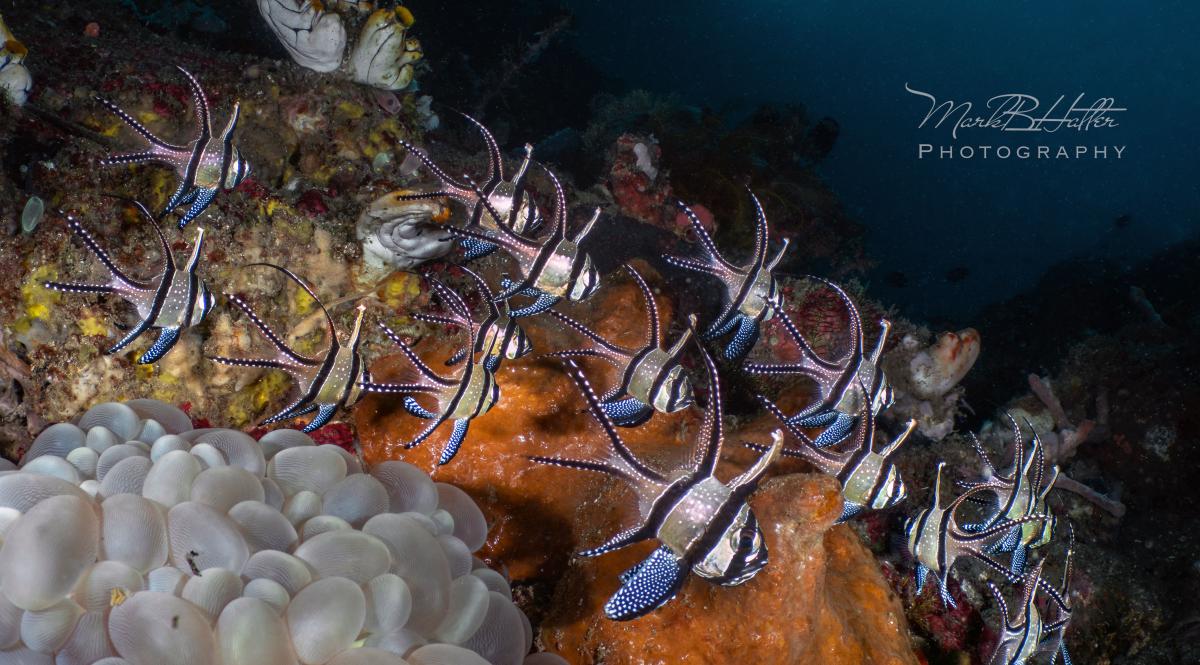 Image 6: Cardinalfish Photographed with the Nauticam EMWL
5. I found the spot where decent macro magnification of the main subject occurs and close background elements become sharp to start at about 1 inch from the objective lens. Depth of field increases as the subject is placed further away from the objective lens element.
6. Lighting is easy and angle adjustable with a pair of smaller strobes mounted on the EMWL ball arm clamp. Although I have yet to try it, snooting could easily be used to control backscatter in low-vis situations or to create dramatic lighting effects.
7. The standoff enabled by the long lens assembly allowed me to get much closer to skittish subjects (image 5, image 6).
8. Classic stationary subjects can be portrayed in a new perspective using the wide angle capture of the EMWL, something that cannot be achieved with standard macro lenses (image 7).
I'm excited to to continue exploring the full capability of my EMWL as I find it multidimensional over my standard macro kit. To be sure, the EMWL is a specialty optic but its potential, in my opinion, has been worth the cost and the effort.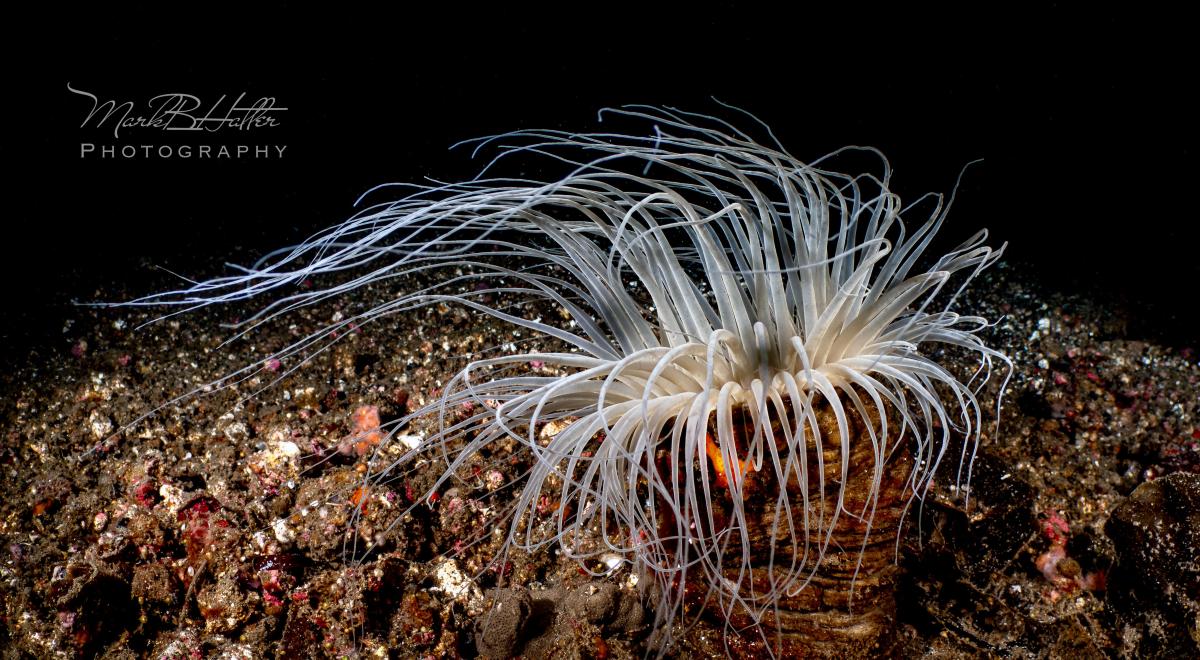 Image 7: An anemone photographed with the Nauticam EMWL
SUPPORT THE UNDERWATER PHOTOGRAPHY GUIDE:
The Best Service & Prices on u/w Photo Gear
Visit Bluewater Photo & Video for all your underwater photography and video gear. Click, or call the team at (310) 633-5052 for expert advice!
---
The Best Pricing, Service & Expert Advice to Book your Dive Trips
Bluewater Travel is your full-service scuba travel agency. Let our expert advisers plan and book your next dive vacation. Run by divers, for divers.
---