Canon G7X II Best Underwater Settings
The best photo and video settings for shooting the Canon G7 X Mark II underwater, including depth of field, shutter speed for strobes and more
The Canon G7 X Mark II is a powerful compact camera capable of creating some exceptional underwater photo and video... with the right settings, of course.
It's one of our favorite compact cameras, built around a large 1" image sensor and a great lens. A fast processor enables lighting-quick autofocus for both photo and video shooting. The small size of the compact system is the perfect compromise between easy travel and excellent image quality.
This guide discusses the best settings for capturing traditional underwater imagery, and while these settings can bring home award-winning images, we also encourage you to experiment with new settings and adjustments.
If you haven't yet, be sure to read our complete Canon G7 X II Review for Underwater.
Jump to section:
Canon G7X Mk II Specs | Menu Setup
Best Photo Settings | Best Video Settings
Canon G7 X Mark II Specs
Bright f/1.8 (w) - f/2.8 (t), 4.2x (24-100mm equivalent) optical zoom lens with IS and 9-blade iris diaphram
1-inch 20.1 megapixel CMOS sensor
New DIGIC 7 image processor
Multi-angle 3.0 inch capacitive touch panel display
1080p Full HD video recording
In-camera RAW conversion/editing (customize and view edits prior to sharing from camera)
WiFi and NFC built-in
U.S.A. retail price: $699.99
Canon G7 X II Menu Setup
*Note: These are settings we suggest changing from the camera default as shipped. If we have not mentioned it, then the default setting is where it should be for basic underwater photo and video.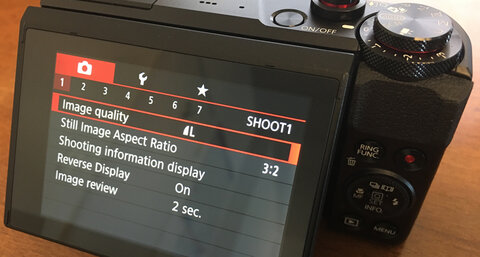 Shoot Menu
Note that advanced menu items are not visible in Auto mode.
TAB 1
Image Quality: RAW. If you do not post-process your photos, then set this to JPEG with the L / smooth icon.
TAB 2
Face ID Settings -> Face ID: Off. We haven't tested how well this works with marine life, so leave it off for now. Certainly turn it back in if tracking (human) subjects topside.
TAB 3
The default is single AF and 1-point AF, which I recommend as a general default. This means that the camera will find and lock focus and shoot each time you push the shutter. Alternatively, you can experiment with Continuous AF and ;-)+Tracking AF.
TAB 4
AF-assist Beam: Off. Underwater, we use a focus light instead.
TAB 5
Flash Settings -> Red-Eye Lamp: Off.
TAB 7
Movie rec. size: For advanced video shooters only, you can change the default from 1080p30 to 1080p60 in order to open up the possibility of slow motion during post-processing.
Auto slow shutter: For advanced video shooters only, turn A-SLOW to OFF. Because you are editing multiple clips together on one timeline, you do not want the camera to automatically slow down the framerate during some shots and not others. Beginners will enjoy leaving A-SLOW ON, as it will enable brighter video shooting in dark conditions.
Setup Menu
For most shooters, the setup menu does not need to be adjusted. All the settings accessed here are specific to individual shooter preferences or local region (i.e. NTSC vs. PAL). Tab 4 contains Wireless settings, which are very useful if you're syncing to your mobile device for faster online sharing of images/video. Copyright info is also useful, but I add all copyright info during import into Lightroom.
MyMenu
This green star menu allows you to move commonly used menu items into one single folder. When I shot Canon compacts and DSLRs underwater, I would put all my common settings here and then leave the camera on this menu when diving. Then, if you need to adjust a deep menu setting, you simply tap the menu button and everything is right there. Very fast, very efficient.
Best Underwater Photo Settings
There are many photo effects we can create through different settings combos, along with infinite room for experimentation. Changing settings to create an effect underwater can quickly become a daunting and even frustrating task (we're underwater, after all), so I always recommend that divers have a default settings combo to fall back on as starting point when things get confusing. These settings are a starting point for shooting with the Canon G7 X II, so write them on the back of your hand, tape them to the housing or simply memorize them.
We are also assuming use of one of two strobes. If you're shooting with a dive or video light, be sure to read our article on Underwater Constant Lighting.
Macro Settings
Mode: Manual
ISO: 125
Aperture: f/9
Shutter Speed: 1/250
These settings are a great starting point for shooting larger subjects like fish down to small subjects like nudibranchs. The small aperture (f/9) creates enough depth of field to ensure that most of the subject will be in focus, while the shutter speed blocks out all of the blue/green ambient light in favor of the powerful strobe light. The low ISO ensures best image quality with minimal noise (graininess).
Strobes: Your strobe(s) should be positioned close to the housing, near the subject. Read more about underwater strobe positioning. If you are shooting strobes on manual power, try starting at 1/2 power and then adjust from there. You will find that lighter subjects will require less strobe power than darker subjects, and vice versa. If you are shooting your strobes through TTL (automatic) then you're already set.
Read our Easy Ways to Eliminate Backscatter.
Diopter: Are you shooting with a macro diopter like the Bluewater +7 or Nauticam CMC? If so, use these same settings, except stop your aperture down to f/11. You may need to increase strobe power by 1/3 stop.
Wide-Angle Settings
Mode: Manual
ISO: 200
Aperture: f/5.6
Shutter Speed: 1/125
These settings are a solid starting point for shooting wide-angle underwater, including reefscapes, divers and big animals. The aperture creates the depth of field we need while creating a nice blue color in the water, while the shutter speed lets enough ambient light into the camera to properly expose the scene. The ISO is also slightly more sensitive than for macro in order to pick up more ambient light without introducing much visible noise.
Note that specialized settings combos are required for scenes like sunbursts, split-shots and fast action.
Strobes: If shooting with a single strobe, position this at a diagonal above the housing, ensuring the front of the strobe is at least several centimeters behind the housing port. If shooting with two strobes, these should also be behind the port, but extended to the side of the housing. Manual shooters should start with their strobes on 1/2 power and adjust from there. If the subject is more than 2 meters away, then turn off your strobes to minimize risk of backscatter (since the strobe light won't travel that far anyways). Read more about strobe positioning.
Wet Lenses: No need to adjust settings when shooting with a wet wide-angle lens. If your housing/lens combo requires zooming in slightly to avoid vignetting, then always remember to do this when setting up these defaults.
Phew - that's a lot! Join me on an underwater photo workshop to learn how to apply these settings, the photography concepts behind them, and how to react in changing shooting conditions. Great photos go beyond just the settings.
Best Settings for Underwater Video
The Canon G7X II allows you to start recording video at any moment. It's as simple as pushing the red button. That's it! I recommend this automatic video method for everyone except the very serious video shooters who really want to control the effect of each shot. If you fall into this latter camp, then the settings below are for you.
Macro Video
Mode: Movie
Shutter Speed: 1/125 (*assuming 1080p60fps)
Aperture: f/8
ISO: 200
Video Light(s): Close to housing and subject.
Wide-Angle Video
Mode: Movie
Shutter Speed: 1/60
Aperture: f/5
ISO: 400
Video Light(s): Behind port, out to side of camera.
How to Set Manual White Balance
Manual white balance is an important setting for serious underwater video shooters. While the Canon G7 X Mk II doesn't have one-touch white balance, it is still a simple process to set a manual white balance. Practice this a few times and it will become second nature.
Take a photo of a white or neutral gray subject that fills the frame: palm of hand, white sand, white coral, white balance card, dive slate, white fin, etc.
Press Menu and navigate to: Shoot Menu tab 6.
Click Custom WB and navigate to your white balance image.
Click Set, then Ok.
Exit the menu.
In your camera settings, make sure you have changed the default Auto WB to Custom WB.
Shoot away.
Great Accessories
These are some accessories that will take your Canon G7 X II photo and video to the next level.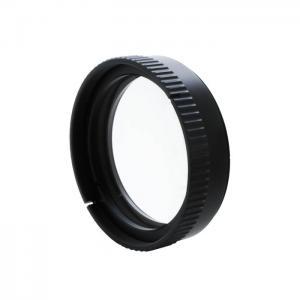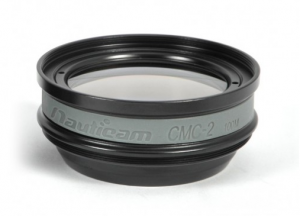 Nauticam Compact Macro Converter (CMC-2)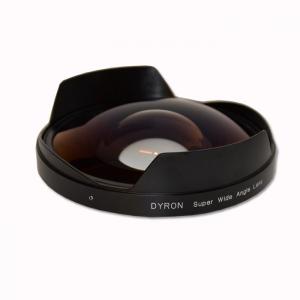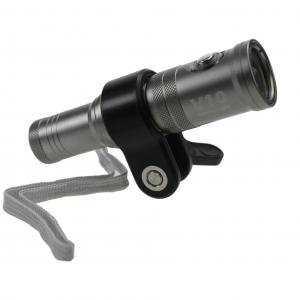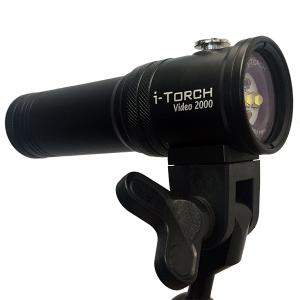 Dual I-Torch Video 2000 Video Lights
Canon G7X II Underwater Housings
Interested in the best underwater housing options for the Canon G7 X Mk II? Visit the Best Canon G7 X II Housings section of our in-depth camera review article.
Recommended G7X II Housings:
An ornate ghost pipefish poses for a portrait with the Canon G7 X II in Fantasea G7XII housing in the Lembeh Strait, Indonesia. ISO 125, f/8, 1/200. Shot with a single SeaLife Sea Dragon flash. Photo: Brent Durand
SUPPORT THE UNDERWATER PHOTOGRAPHY GUIDE:
The Best Service & Prices on u/w Photo Gear
Visit Bluewater Photo & Video for all your underwater photography and video gear. Click, or call the team at (310) 633-5052 for expert advice!
---
The Best Pricing, Service & Expert Advice to Book your Dive Trips
Bluewater Travel is your full-service scuba travel agency. Let our expert advisers plan and book your next dive vacation. Run by divers, for divers.
---