Diving Belize
Diving Belize
Dive sites, marine life and underwater photography tips
Article by Todd Winner, Brooke Olsen and Scott Gietler. Photos by Todd Winner and Ross Overstreet
Belize offers typical good Caribbean diving, with big colorful sponges – tube fans and barrel sponges, combined with an excellent tropical rain forest, exotic birds and Mayan ruins. The reef in Belize is part of the coral reef that stretches from Cancun, Mexico to Honduras, and is the 2nd largest barrier reef in the world.
Belize Marine Life
In Belize you will see the typical caribbean sea life, usually small fish, including the following:
Nurse Sharks – A lot of the dive shops will bring chum into the water to bring the nurse sharks around. These can be quite large (over 5 feet in length) but are very docile and much more interested in the frozen chum that the divemaster carries with him than you.
Eagle Rays - you may see a couple
Whale Sharks - April and May are good times for seeing a whale shark, they pass through the area called Gladden Spit, so you'll have to make a trip there to have a chance of seeing them.
Eagle ray, photo by Ross Overstreet. Fuji E900 underwater camera

Toadfish - there's a species endemic to Belize
Great barracudas - you will usually see a few Great Barracudas. They often like to hang out under boats.
Great barracuda, underwater in Belize. Photo by Ross overstreet

Groupers - if you are lucky, you may see a large goliath grouper
Large Grouper, photo by Ross Overstreet
Slipper Lobsters – These are very unique creatures often found crawling on the reef.
Slipper Lobster in Belize, photo by Ross Overstreet

Jawfish, Eels, Trumpetfish will be seen
You will also see Turtles, Tarpon, schools of jacks, flamingo tongue cowrie, basket stars, and other Caribbean marine life. My friend watched another diver continuously be harassed by a remora on a safety stop - I guess the remora can try to attach itself to a diver, and it can hurt!
Large Tarpon, 4ft long, photo by Ross Overstreet
Great Barracuda. Photo by Todd Winner.
Famous dive sites in Belize
Typical diving in Belize
Most dives are typical, easy Caribbean diving - with deeper reefs at 80-100ft deep, and shallow reefs at 20-40ft deep. Unlike diving in Cozumel, there is very little drift diving, and very little shore diving.
Belize's Blue Hole dive site
There's not much at the Blue Hole, other than a large blue hole. The hole is 400ft deep, and 1,000ft wide. It's mainly an experience dive (diving deep). It's quite a far ride on a boat, and many divers find it boring. Some people enjoy it simply because of the depth - 140ft, and they may be suffering from narcosis. The site is a large circle tube in the coral reef, and there is not much to see until 140ft. Because the tube is 1,000ft wide, you don't realize you are in a tube, you just follow a wall down. At 140ft depth, there are some undercuts, stalagmites, and a few fish.
When you first arrive at the blue hole by boat, you aren't even aware that you are at the site. From the air, the blue hole looks like it is surrounded by a horseshoe shaped land mass. The mass is there – it's just under a few feet of water so it isn't as visible from the boat. After you hit a sandy ledge at about 40ft you slide off into darkness where you can admire giant stalactites hanging under the ledge. In the hole you will hit a thermocline, dropping temperatures to around 75-77 degrees but the change is so sudden that it will feel much colder.
The two wall dives that follow the 2.5 hour trip to the Blue Hole really make the trip worthwhile. The Blue Hole is in the middle of an area called Lighthouse Reef Atoll. . We dove at Half Moon Wall, a large wall dive covered in giant sponges.
Half Moon Caye
After the dive at Half Moon Wall, we had lunch at one of the most beautiful places on earth – Half Moon Caye. When you think of paradise on earth, this spot is it. A small tropical island, this is home to many bird species, including the redfooted booby birds. Even if you are not a bird watcher, you'll love the white sandy beaches and warm shallow water surrounding the Caye. There is even opportunity for some great snorkeling right near the dock where the boats park.
We dove with Amigos Del Mar out to the site. The crew works really hard to change out tanks, point out marine life and provide fresh fruit, sandwiches and other snacks in between dives.
Turneffe Atoll

This is one of the better, if not the best dive sites / dive areas in Belize. Turneffe Atoll is a large offshore atoll reef, with a wide variety of dive sites. The white-spotted toadfish, eagle rays, tarpon, green morays, groupers, nurse sharks, jacks, snappers, and reef sharks can all be seen here if you are lucky enough. It was at the Tarpoon Wall on Turneffe Atoll that one of the author's saw the spotted drumfish and flamingo tongue cowries. One friend of mine said "Turneffe was amazing. Insane vis and lots of big fish." The Elbow is one of the best dive sites at Turneffe Atoll. There are a couple of really nice resorts there, such as Turneffe Island Resort and Turneffe Flats.
Hol Chan Marine Reserve

Hol Chan is Belize's first and oldest marine reserve. There are four zones to the reserve, comprising of the The Reef, The Mangroves, Shark Ray Alley and The Seagrass Beds. The Reef is a great site for night diving. You'll see plenty of string rays, spotted lobster, sleeping parrot fish, hermit crabs and tons of moray eels out hunting.
In Shark Ray Alley you will come across the large nurse sharks as well as groupers.
Shore Diving in Belize
Because of a fringing reef, Belize offers snorkeling but almost no shore diving. If anyone knows of there you can do good shore diving, let me know.
Underwater Photography Tips
Belize has a good mix of macro of wide-angle. Most diving is easy reef diving, and night dives are also offered.
Diving Belize facts - Getting There

Some cities offer direct flights to Belize city or you can fly through Houston or Dallas to Belize City.
Where to Stay in Belize
Ambergris Caye
If you love small island life, I recommend staying on the island of Ambergris Caye. A "Caye" is an island of coral sand. Once at Belize city, you can either take a small propeller plane to Ambergris or go by boat. The boat ride is over an hour long and the small prop plane takes 15 minutes and is quite a ride. I definitely recommend the plane for both the speed and the unique opportunity to see the reef from above.
Ambergris Caye sits right on the edge of some of the most beautiful dive sites in Belize, including Hol Chan Marine Reserve and Shark Ray Alley. The road is not very suitable for cars, so most people use the water taxis to get from downtown Ambergris Caye to their resorts . You can rent bikes and easily bike around mot of the island but you should bring water and sun block since you can go long stretches without seeing a restaurant or grocery store.
San Pedro and Costa Maya
San Pedro and Costa Maya are both on the island of Ambergris Caye.
Another friend of mine who dove in Belize commented "If doing again, I would split my time between San Pedro and Costa Maya. By the way, There is no night life at Costa Maya. There may be a little in San Pedro but its still a quiet town. Costa Maya resort which is about 6 mi outside of San Pedro has a dive operation onsite. Most dive sites are only a 10 min boat ride from the resort"
In the South
Southern Belize is more remote and offers more outdoor activities like jungle tours, birdwatching, and at certain times of the years whale sharks. Hamanasi is one of the better run dive resorts in that area.
Costa Maya pier in Belize, photo by Ross Overstreet
Belize Liveaboard & Dive Resort Options
Our sister company
Bluewater Travel
has lots of experience booking trips to Belize and 40+ other amazing scuba diving destinations. So if you want help planning your trip:
For the best Belize options, visit the Belize liveaboard & dive resort page on our sister website: Bluewater Travel:
When to go

Belize is pretty diveable all year round, although Nov – April is considered to be the dry season – I'd go in April or May if I had my choice of any month for the best all-around conditions.

Visibility

Generally very good and clear, 40-80ft

Water Temps

High 70's December to April, low 80's May to November.

Where to Stay

In Belize you can stay at a land-based resort, or take a liveaboard. The reef covers a large area so liveaboards will cover a wider range of dive sites.
Belize Underwater Photos
Purple coral, photo by Ross Overstreet
Large Corbia, 4-6ft long
They don't look it, but these schooling fish in Belize were pretty large. Photo by Ross Overstreet
Further Reading
About the Authors
Todd Winner has won dozens of underwater photography competitions, and recently published the book Shipwrecks of Truk Lagoon. View his underwater photography at www.toddwinner.com
Ross Overstreet always has a good time traveling, whether it's on his own boat, or traveling to Maui, Belize, or Seattle. You can view his photography website at www.ross-o.smugmug.com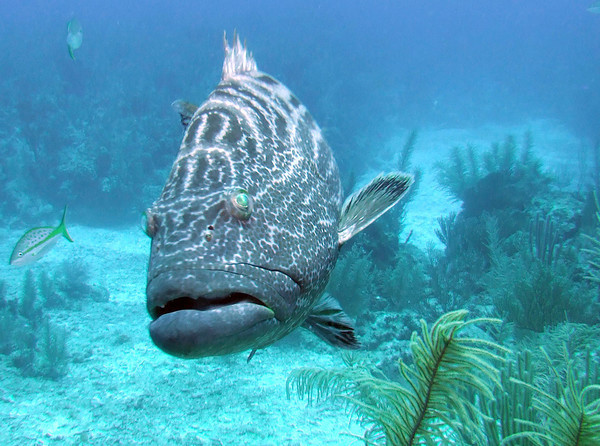 SUPPORT THE UNDERWATER PHOTOGRAPHY GUIDE:
The Best Service & Prices on u/w Photo Gear
Visit Bluewater Photo & Video for all your underwater photography and video gear. Click, or call the team at (310) 633-5052 for expert advice!
---
The Best Pricing, Service & Expert Advice to Book your Dive Trips
Bluewater Travel is your full-service scuba travel agency. Let our expert advisers plan and book your next dive vacation. Run by divers, for divers.
---