GoPro Hero 8 Black Review
A first look at the GoPro 8's underwater performance including hypersmooth image stabilization, new mod capabilities, improved HDR photos, and 4K video @ 60p
It's probably safe to say that the GoPro HERO 8 Black is the top GoPro action camera for underwater photo and video. Somehow GoPro manages to release a new and improved product every year for the same low price of $399.99. In fact, autumn is turning out to be the unofficial GoPro season.
Although the wild rumors of high frame rates and magical features that have been circling the internet for the past few months didn't quite turn out, the GoPro 8 is looking like a solid upgrade from the GoPro 7. In fact, there are enough new features for scuba divers and snorkelers, that it might even make sense to upgrade. Particularly, HyperSmooth image stabilization 2.0, TimeWarp 2.0 and improved HDR photography with the option for RAW files are all exciting features for underwater creatives.
The GoPro line of action camera is undoubtedly the most popular underwater camera used both by enthusiasts and industry professionals. The GoPro HERO 8's release is only going to help solidify its status as the universal camera for capturing action, whether it's above or below the oceans we all love.
The staff at the Underwater Photography Guide had the opportunity to head to Malibu, California with members of the GoPro team to test out the new GoPro Hero 8 Black. We got to take the camera scuba diving, snorkeling, and surfing - an underwater photographer's paradise!
Purchase: GoPro HERO 8 Black
Availability: Now
U.S. MSRP: $399.99
Shop GoPro Packages, GoPro Accessories and more on Bluewater Photo for all the housing, accessory and shooting tips you need to bring home excellent underwater video.
---
Jump to Section:
GoPro HERO 8 Black Specs | Key Features | Design & Dimensions
Recommended GoPro Settings | GoPro HERO 8 Accessories
GoPro HERO 8 Sample Video | Conclusion | Full GoPro Tutorial Series
---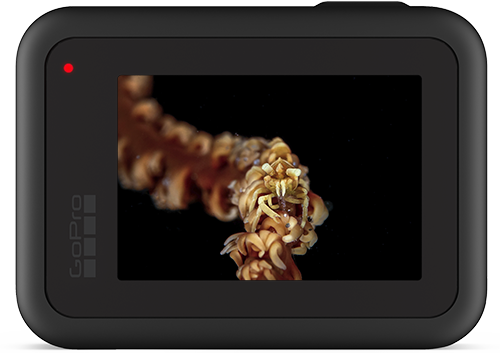 GoPro HERO 8 Black Specifications
Key Upgrades from GoPro HERO 7 Black
HyperSmooth Video Stabilization 2.0 - it's supposed to be better!
TimeWarp 2.0 - you now have better control over the speed of the timewarp or can set it to automatic
Night Lapse Video
Improved HDR photos with the option to capture RAW files
New mountable accessory system called "Mods"
Smaller body design with a new side door for changing batteries
14 voice control commands. The GoPro can understand multiple languages!
LiveBurst feature that records 1.5 seconds before and after your shot so you can choose the best photo
Built-in mounting for topside use (rather than having to add the mounting cage)
GoPro HERO 8 Black Complete Specs & Features
12 MP CMOS 1/2.3 inch sensor (likely the same as on the HERO 7)
SuperPhoto mode with Improved HDR
RAW file photo capability
HyperSmooth video stabilization 2.0
Rugged + Waterproof to 33ft (10m)
Live Streaming in 1080p
TimeWarp 2.0 video
8X Slo-Mo
Touch Screen
14 Voice control commands
GPS Performance stickers
Touch Zoom to "Change Lenses", i.e. the field of view
LiveBurst recording
Photo Timer
Exposure Control
ProTune
Advanced Metadata
Removeable Battery (with a new side door to replace battery quickly)
Not Compatible with the Super Suit. Must use the GoPro Hero 8 Protective Housing - waterproof to 60m
Compatible with mods for vloggers, pro filmakers, and creators. Optional mods include flashes, microphones, LCD screens and more

Video Resolution (same as HERO 7):

4K Video @ 60/50/30/24fps
2.7K Video @ 120/60/50/30/24fps
1440p Video @ 120/60/30/24fps
1080p Video @ 240/120/60/30/24fps
720p Video @ 60fps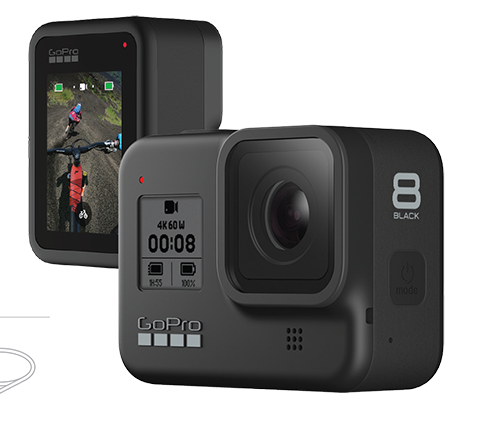 GoPro 8 Key Features
Hypersmooth Image Stabilization 2.0
Like with the GoPro HERO 7 Black, hypersmooth image stabilization is by far the most exciting feature, especially for underwater photographers and videographers. Smooth, unshaky video is essential for people operating their cameras in 3D underwater environments. Hypersmooth stabilization has been updated to be more powerful, as well as to have multiple levels of stabilization. It also includes a feature called Boost which allows you to level the horizon in-app.
With the GoPro HERO 7, you were limited to certain resolutions and framerates that you could use with hypersmooth image stabilization. Now with the GoPro HERO 8, you can use hypersmooth at any resolution or framerate. For the "average Joe" videographer, this feature could very well be a gimbal-killer. Purists will still probably opt for a gimbal so that they don't scrifice any cropping, but the new hypersmooth function really does work well. Shots that had no business being smooth, came out as if they were on a gimbal when they were just hand held. We did some hiking on the rocks around Malibu and the footage looked extremely stable.
Here is a sample of Hypermooth Image Stabilization from the GoPro HERO 7:
TimeWarp 2.0
TimeWarp was another popular feature that was debuted with the GoPro HERO 7. It allows you to take smooth, hand-held timelapse video while moving around. TImeWarp 2.0 includes an automatic speed selection for even more creative effects.
Improved Photo Mode
The GoPro HERO 8 features improved photos with better HDR. Moreover, you can now capture photos with RAW files. This will be a big deal for underwater photographers who intend to adjust whitebalance in post processing. JPEGs are difficult to edit and it's often impossible to fully recover underwater colors. RAW files are easier to edit and adjust white balance and exposure. Photos with the GoPro can now be edited from being washed out and blue to nice and colorful (to the limitations of the photo). Since the lack of RAW image format was one of the biggest things holding back using previous GoPro models for underwater photography, this could be a real game changer!
Live Burst Mode
Live burst photo mode is a new function to help you capture the perfect photo of the exact peak of the action moment. In Live Burst mode, when you hit the record button, it will capture the 1.5 seconds prior to pressing the button, as well as the 1.5 seconds after, at 30 frames per second (ie 90 frames in total). It also lets you use the photos as a 3 second 4k video clip.
This means if you are, for example, photographing a sea lion, and you see it blowing bubbles, as long as you hit the shutter within 1.5 seconds of seeing the bubbles, it will capture that moment the sea lion started blowing the bubbles. Very cool!
Design & Dimensions
The GoPro 8 (W: 66.3 mm; H: 48.6 mm; D: 28.3 mm) is a bit longer, a bit taller and a bit thinner than the GoPro 7 Black (W: 62.3 mm; H: 44.9 mm D: 33 mm). Overall they both take up the same amount of volume. Additionally, a change has been made with the lens cover design. Rather than the removable lens cover of the GoPro 7, the GoPro 8 has a built-in lens cover which cannot be removed. This means you have to be more careful protecting the lens cover, as it cannot be replaced.
We think this has both positives and negatives. We know for many people the removable lens could be a chore as you had to take it off every time you wanted to put it into an underwater housing. However; I liked having the removable protective lens as I knew if I ever cracked that piece of glass, my gopro lens was still intact and all I needed to do was replace that protective lens. The new Hero 8 instead features high impact gorilla glass over it's lens. While this new tech is extremely durable and highly unlikely to break, if it does ever break by any chance you need to replace the camera.
Speaking of lenses, gopro has also changed the nomenclature and function of their various viewing modes. In the past you had the option of Linear, wide, superview. Now there is Narrow, linear, wide, and superview and you can change between them while shooting. They also give you the focal length which is a nice touch.
One other design change is around how the GoPro mounting works on land. There are now two folding mounting rings built-in to the bottom of the GoPro body, which means there's no need to use the "cage" for any topside GoPro mounting.
Dive Housing & Filter Use
Since the dimensions and the lens cover design have changed, this means the GoPro 8 has a new dive housing design, and the old super suit for the previous GoPro models cannot be used with the 8. Although not ideal for people with old housings, the advantage of this setup is that you don't have to mess around with taking off and putting on the lens cover every time you want to take your GoPro underwater.
It remains to be seen whether old GoPro filters and flip systems will fit onto the new housing. Stay tuned for more info on this once we get the new dive housing to test things out.
Battery Compatibility
You can use old GoPro 7 batteries with the GoPro 8, and GoPro 8 batteries will work with older GoPro models.
Mods for Topside
Some of the most interesting developments for the GoPro 8 are clearly aimed at vloggers. GoPro has designed three "mods" which can be added to the GoPro:
Media mod: Get premium shotgun-mic performance, 3.5mm mic and HDMI-out ports, and two cold-shoe mounts—all in one.
Display mod: A flip-up screen for framing your shots—so you can vlog like you mean it.
Light mod: Get powerful LED lighting for HERO8 Black, attach it to a GoPro mount or use it alone.
Yes, it would be great to have the LED lighting underwater, but it requires the media mod to use it, and the media mod is not waterproof. You can see what the mods look like on the GoPro site.
Recommended GoPro HERO 8 Settings
Since the resolution and framerate options are the same as for the GoPro 7, we continue to recommend shooting in 2.7K at 60 fps, wide field of view, with hypersmooth image stabilization on. However, if you want the very best resolution, and more importantly have a computer which can handle 4K video (both processing power and hard drive space), then shooting at 4K/60 fps with hypersmooth stabilization is an excellent choice, and will give you more options for editing.
Once we see what options there are for changing modes, this recommendation may change for shooting macro video.
GoPro HERO 8 Presets
One of the features we are most excited about the Hero 8 are the shooting presets. The camera will come with 4 presets preconfigured labeled Cinema, Action, Standard, and slow-mo. These various presets will make it easier for you to set your settings based on the look you want. Cinema shoots in 16:9 aspect ratio and the standard 24fps while slow mo jacks up the frame rate. Action boosts your stabilization so whether you're riding mountain bikes at breakneck speed or flying off kickers on your board, your shot is stable. No longer do you have to adjust your settings manually for every situation you might find yourself and your gopro in. On top of that, for people who like to be in control, you can save up to 10 presets. This is awesome for travelers. You can now switch effortlessly from your underwater settings to your topside settings with a few simple taps. This was great for me as I always have to adjust my settings when I go from snorkeling/diving to hiking etc. Having presets makes it much easier to switch between your activities.
GoPro HERO 8 Black Sample Video
We were able to take some of the first underwater footage with the GoPro HERO 8 in Malibu, California - a world renowned hub for underwater and surf photo and video. We're looking forward to making some detailed tests and comparisons with the GoPro HERO7 after the official release of the camera!
GoPro HERO 8 Recommended Accessories
As mentioned above, with new dimensions and the non-removable lens cover, the GoPro 8 requires a new underwater housing. Old GoPro underwater casings will not fit. The GoPro 8 is waterproof to 10 m/33 ft, so for any dive use you will want this underwater casing (which is rated down to 60 m, well beyond recreational depths).
SeaLife Aquapod
Capture your best selfie yet with the extendable Aquapod. Made by SeaLife, the Aquapod is designed for underwater use. Not only can you capture that selfie, but you can get the camera closer to your subject, whether it is something small or something skittish that you can't approach. The aquapod can also be quite useful for immersing the GoPro into the water from a small boat.
GoPro Multigrip Handle
Adding a handle like the Beneath the Surface Multigrip handle adds stability and is an easy way to hold your GoPro while diving, or any other activity. Often, if handholding your GoPro, you'll see your fingers wrap around into the picture. This problem is solved with the handle.
GoPro Tray and Handles
Attaching your GoPro 8 to a tray and handles will make the camera easier to hold on to and much, much more stable underwater. In addition, the handles serve as a mounting point for video lights. Below are a few of our favorities:
Ultralight Tray & Handles for GoPro
Beneath the Surface Angled Double GoPro Tray
Video Lights
Bring color back into the picture with the use of video lights. Even a high-powered light will only illuminate a subject a few feet in front of you, so these are most useful for macro and close focus wide-angle video. Adding a video light to your GoPro setup will allow you to shoot professional-quality video on your next dive! Below are a few of our favorites:
Be sure to visit Bluewater Photo to learn about more video lights, whether professional high-lumen or small and affordable.
Macromate Mini +15 Diopter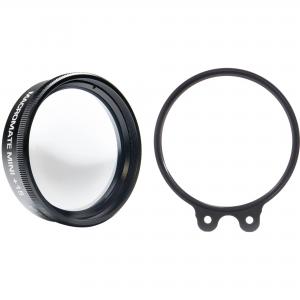 Note: We are not sure yet if GoPro filters for the 7 will fit on the 8. Stay tuned for more information. If they do not fit, then we expect a Flip8 to be released sometime soon.
When attached with the Flip7 one-filter setup or Flip7 two-filter setup, the MacroMate Mini +15 flip diopter allows for your GoPro to take some striking underwater macro footage. Getting close really adds personality, color and detail to many of the smaller-sized critters on the reef. This diopter allows you to get only a few inches from your subject, perfect for golfball to baseball-sized subjects! Check out our Go Pro macro tutorial for more information.
Conclusion
For underwater photo and video, the GoPro HERO 8 Black has some excellent improvements over the GoPro HERO 7 Black. In particular, HyperSmooth image stabilization 2.0 and Timewarp 2.0 will be very useful features. However, the video resolution, photo resolution, and frame rates are the same as the GoPro HERO 7. It's likely that there will not be very many differences in image and video quality underwater. If you are a big fan of GoPro or shooting any model less than the HERO 7, this is probably going to be a great upgrade.
If you do have one of those older models (ie the 6 or prior), you can also consider upgrading to the GoPro 7, which is now going for a discounted price. Check out our detailed review here.
Many of the updates to the GoPro 8 are for topside use, mostly for vlog use. Those alone may be a good reason to upgrade, if that happens to be something you are interested in.
While we feel the hero 8 is more like a hero 7 2.0 rather than a completely new camera, that doesn't mean it isn't worth the $399 price tag. If you're caught between buying a hero 7 for $329 and buying the new Hero 8 for $399, we think it's definitely worth the extra $70 for the features. You'll get improved stabilization, camera presets, and an overall simpler camera to use. The hero 8 is the ultimate travel camera. With the mods you can capture your journeys easily and without a big luggage footprint. The hero 8 offers tons of options in an insanely small package. GoPro continues to innovate the action camera game.
GoPro Camera Reviews
GoPro Tutorials
SUPPORT THE UNDERWATER PHOTOGRAPHY GUIDE:
The Best Service & Prices on u/w Photo Gear
Visit Bluewater Photo & Video for all your underwater photography and video gear. Click, or call the team at (310) 633-5052 for expert advice!
---
The Best Pricing, Service & Expert Advice to Book your Dive Trips
Bluewater Travel is your full-service scuba travel agency. Let our expert advisers plan and book your next dive vacation. Run by divers, for divers.
---