Diving Cabilao, Bohol: A Wall Diving Underwater Photography Tutorial
Exploring a quiet, off-the-beaten-track Philippines dive destination, with beautiful wide angle scenery and some nice macro
Last month I had the honor of being invited by renowned underwater photographer Jerome Kim to join him on his 4th annual Underwater Dream Tour. On this tour, he invites a small group of underwater photographers to travel with him to four dive destinations on the Philippines. The last stop of the tour was a place most people have never heard of: Cabilao. It may sound kind of like Anilao, but it's definitely a very different type of destination!
Philippines Island Hopping
We travelled to Cabilao by boat from Dauin, with Sea Explorers Philippines, an outfit who have a number of different resorts around the islands of Cebu, Bohol, and Negros. They offer some cool island-hopping packages, where they will take you to different dive destinations to give you a good variety of places to dive.
We stopped at Sumilon Island along the way, where we had a wall dive with a very nice shallow reef, covered in colorful fish. It was a prime destination for some wide angle reefscapes, as we had a nice blue sky and bright sun overhead.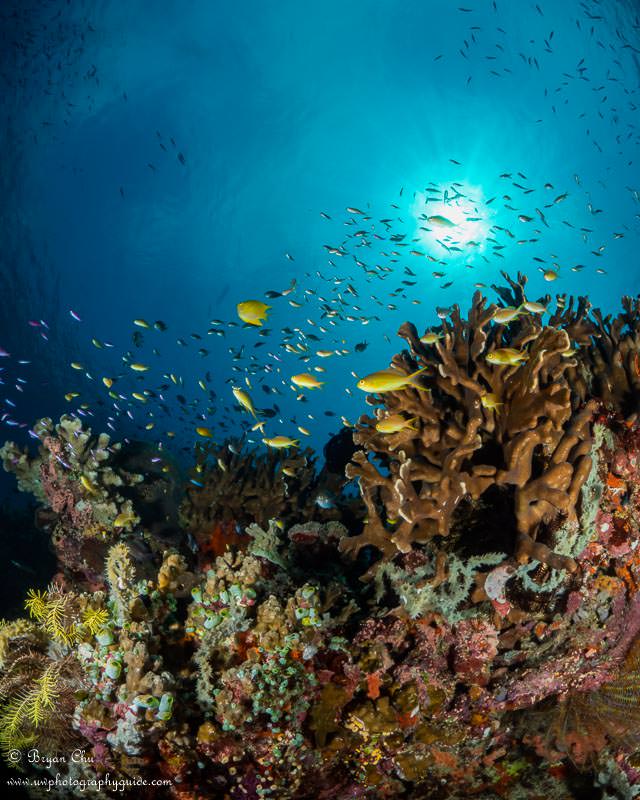 Then, a couple of hours later, we cruised in to Pura Vida Cabilao resort, our destination for the next 5 days. Cabilao is a beautiful, very quiet island, with some dive resorts, and some boats, but much less busy than places like Anilao or Malapascua.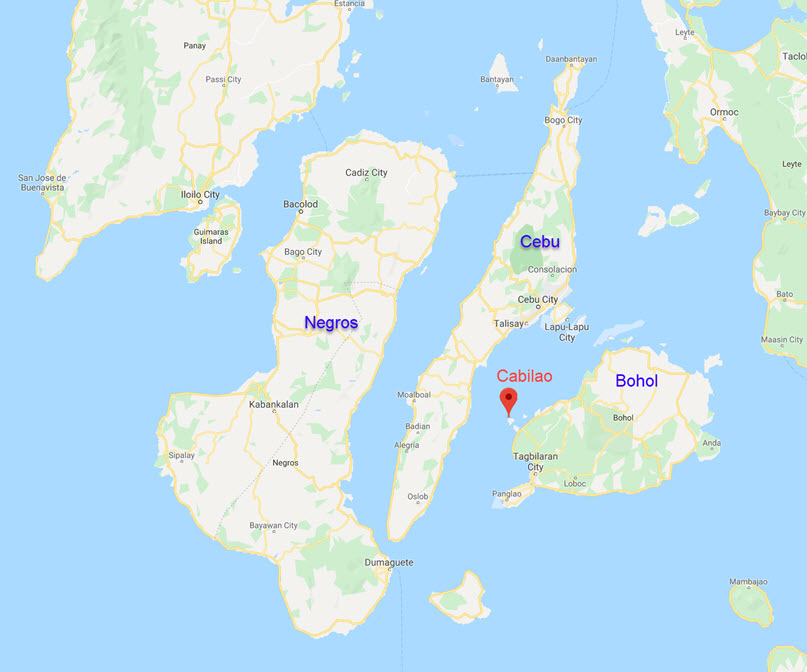 Dive Sites
We dove most of the dive sites during our time there. Every dive briefing mentioned the same things: a steep wall with lots of gorgonians and colorful soft corals, a nice shallow reef with hard corals, and lots of colorful fish. There were also some sites with some great macro critters; most notably, a couple of varieties of pygmy seahorses.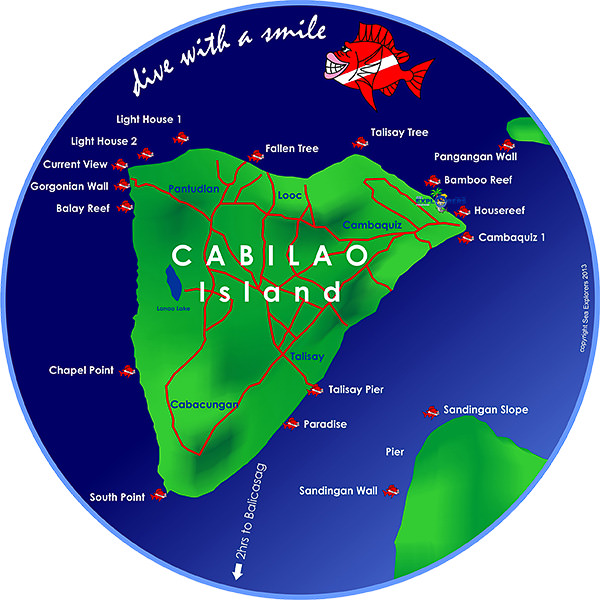 Although this may not sound like a ton of variety in underwater scenery, I really enjoyed all 14 of my dives at Cabilao, and certainly did not get bored of the sights. For an underwater photographer who loves shooting wide angle reefscapes, this place is a bonanza of opportunities, with all kinds of colorful bits and pieces just waiting to be woven together into that perfect wide angle composition!
Wall Diving Highlights
1. Gorgonians Galore
Most places I have been diving, you see a smattering of gorgonians, and sometimes a few different colors. Cabilao's walls provided as many gorgonians as one could possibly want, in all kinds of different varieties and colors. I especially loved some of the white gorgonians, which I found stood out beautifully in photos.

Here are my tips for getting the best out of your gorgonian shots.
Use as wide of a lens as you have - fisheye is best. This lets you get really close to the gorgonian while also tying in a sunburst and/or dive model.
Shoot upwards at a sharp angle - because gorgonians are typically deeper down on walls, if you aren't shooting vertically, you will get very dark water behind the subject, and not much else for your background. I find photos are almost always best with some nice bright blue color, which comes from shooting up above you. This means you'll need to manage your bubbles
Use a dive model, a sunburst, or both - gorgonians are beautiful, but a photo of just a gorgonian is just one point of interest. To get a great wide angle photo, you need either two very strong points of interest, or three solid ones
Find a gorgonian that is angled somewhat downwards, so you can get a good profile of it while shooting upwards. I often find that gorgonians which are fully vertical look strange when shooting from below
Shoot in portrait orientation, to allow you to tie together the bright blue surface water with the gorgonian and your other points of interest
When shooting portrait orientation, rotate your strobes so they are out to the sides of the portrait for best, even lighting. If you leave them in typical landscape orientation, when you turn your camera sideways you will have one above and one below. That can work if you balance out the strobe power, typically by turning up the upper strobe...but it just doesn't look as good as when you have your strobes out to the sides, and can create shadows if you get really close to the gorgonian (which you should always be aiming to do, especially if shooting a sunburst).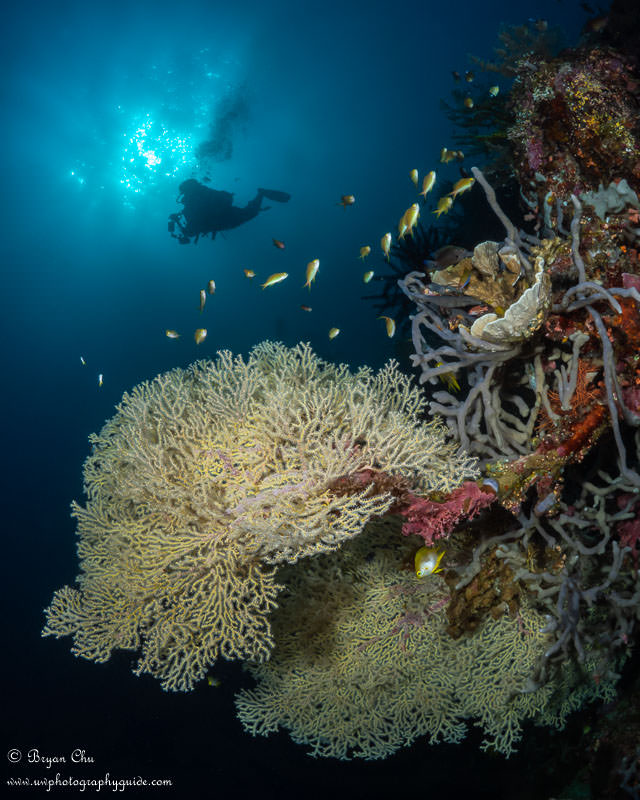 2. Fish Explosions!
Cabilao's reefs are covered in clouds of beautiful, bright-colored fish. My favorites are the always awesome anthias, their bright orange contrasting perfectly with the blue water, but there were a whole variety of vibrant species, creating a riot of flashing colors. Envisioning beautiful reefscape photos with bright blue water, and clouds of colorful fish, I waited until I found a great reef foreground surrounded by fish. I approached slowly, then went about adjusting my settings and shooting test shots, until I got a well-lit, nicely exposed image.
Success? No. The problem was, as I lumbered about firing my strobes and breathing out clouds of bubbles, I scared all the fish away, and all I came away with was a nicely exposed reef scene, devoid of interest and with some bubbles in it. I can be a bit of a slow learner, so it took me a couple more tries before I realized I needed a different approach.
After I spotted my next target cloud of fish, I set up my exposure and lighting on a similar piece of reef a few metres away, getting everything dialed in. Then I took a deep breath, and swam slowly and calmly towards my target reef scene. I inched closer and closer, pushing my camera ahead of me while looking over top of it, to make sure I got everything in the right place without running my dome port into a rock. Once I was close enough, I hit the trigger, setting off my strobes, and then breathed out. The fish all darted away, but I had a very nice "fish explosion" shot as a result. I used this technique to good effect a number of times, as it also kept bubbles out of my photos (which are almost all shot from a 45 degree angle up to a pretty much fully vertical camera angle).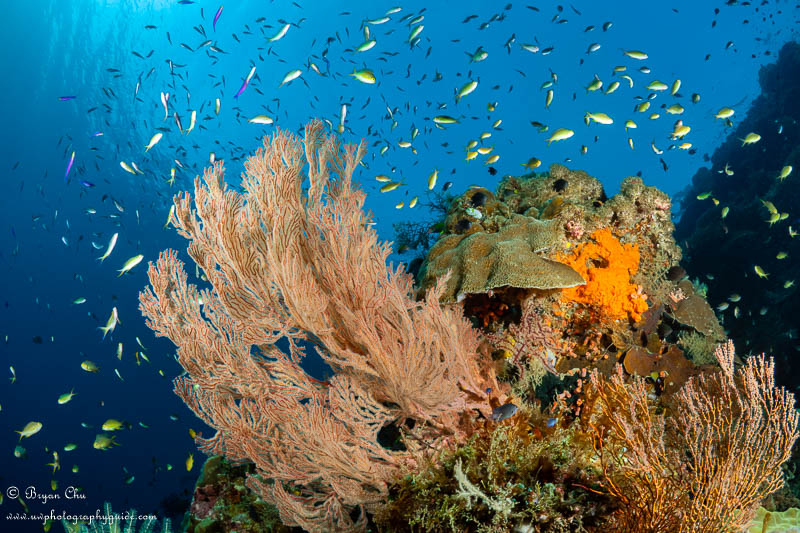 Along with the "fish explosion" photo, getting fish in movement really amps up any reefscape photo. Fish will often swim over the reef in schools, so always be on the lookout. Spend some time following their patterns and getting to see how they move about the reef. Then you may be able to swim a certain path to create this movement yourself, or capitalize on another diver spooking them. Just make sure you are regularly shooting test shots, so your settings are all ready to take advantage of any opportunities that arrive!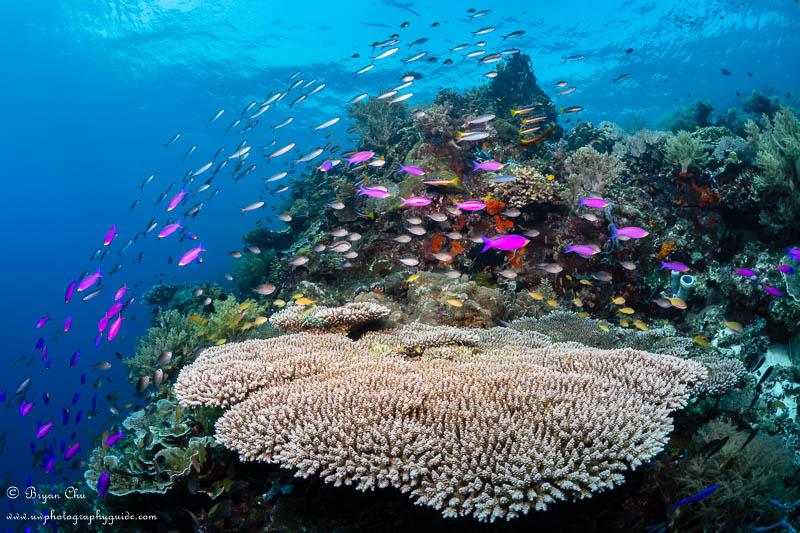 3. Deep Reef Scenes
Typically, I find I get my favourite reef shots when shooting very shallow, as that typically has the nicest light and the clearest water. However, especially somewhere like Cabilao with strong sun and good visibility, the sun can be overpowering near the surface. Going deeper tames the power of the sun, while also making for some really cool-looking and more unique sunball patterns.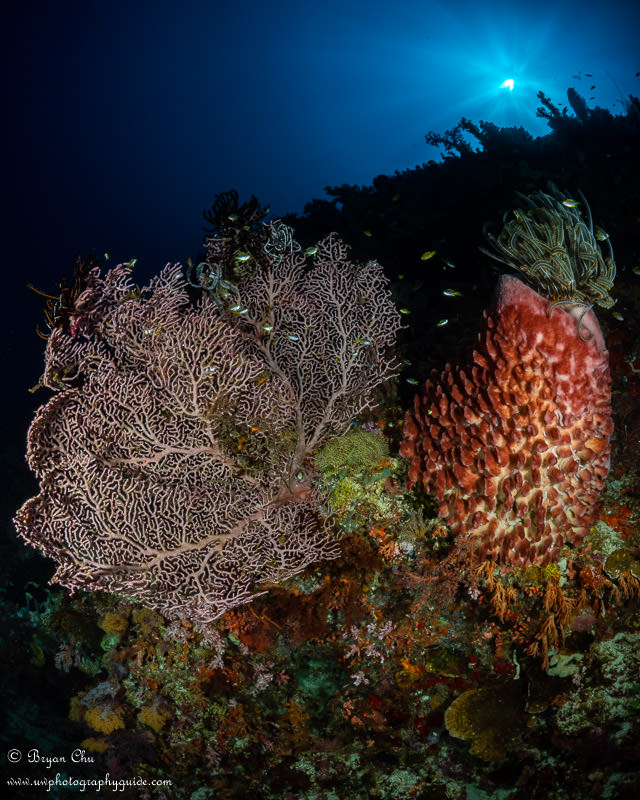 Again, make sure to be shooting upwards at a strong angle, and make good use of portrait orientation!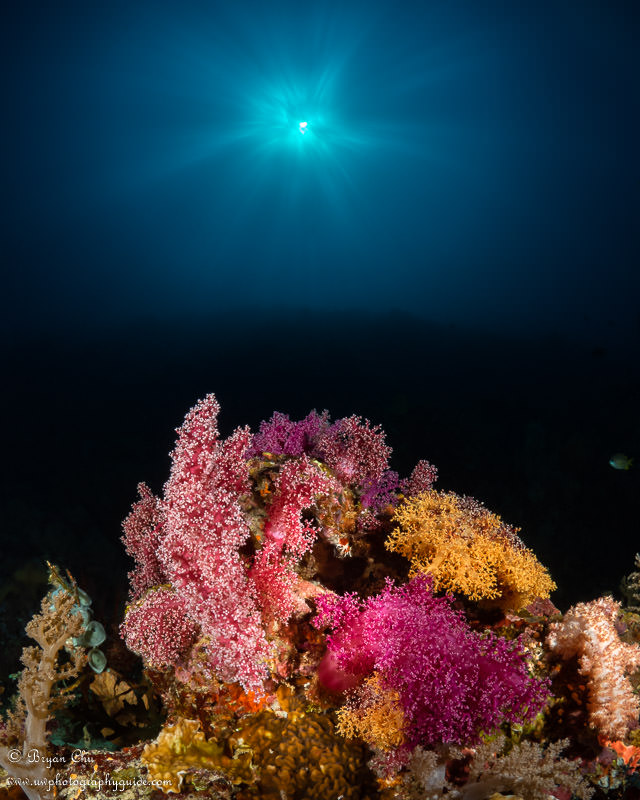 4. Showcase the Colors
Cabilao has so many soft corals, it's not a question of whether you will find a nice colorful clump, but which clump is the best. I like to try to find yellow, orange and red colors, which contrast very nicely with blue water. To maximize the colors, make sure to get very close and blast them with the strobes (again, I like my strobes on either side of my camera when shooting in portrait orientation). Shoot up for the nice light blue, and don't forget to shift a bit of the hue in lightroom from aqua towards blue, if the water ends up looking too green-y.
The soft corals are typically best deeper down, so they lack the colorful clouds of fish that populate the shallow reefs. However, even if you can just get a couple of fish close in on the shot, it can add a bit more interest to the scene!
Pangangan wall was the prettiest wall I saw in Cabilao, and I would venture to say, the prettiest wall I have ever dove. So make sure to hit this site up if you visit Cabilao!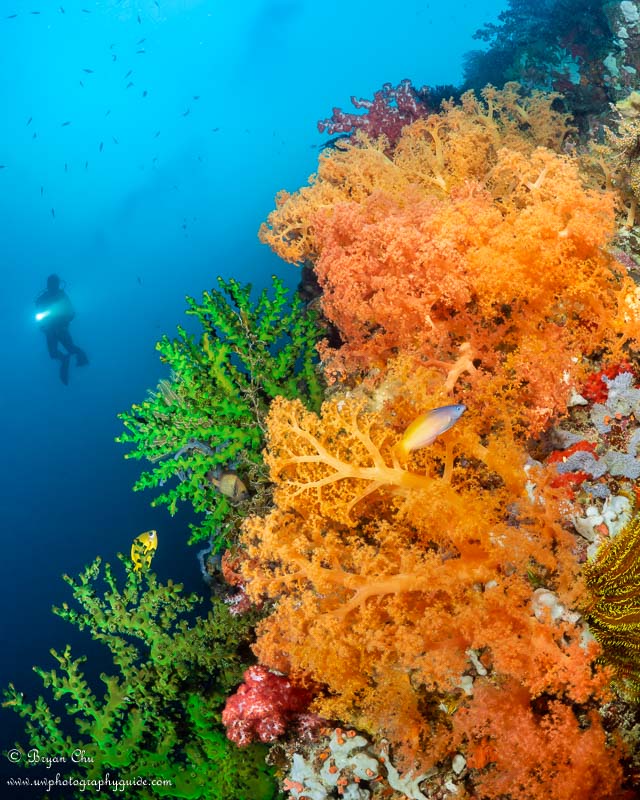 Don't forget to look underneath stuff too. Sponges and fans often hang down from overhangs. Yes, sometimes wedging yourself in behind the subject and shooting out through the window can make a cool shot, but I often find the best shot is a vertical shot straight up, with a dive model or sunburst in the blue, and the sponges off to the side.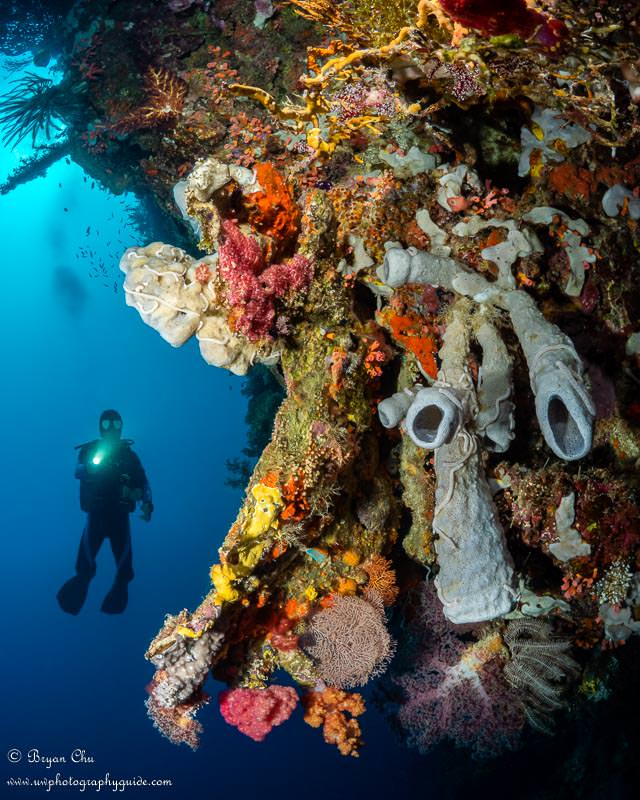 Don't Forget the Macro Lens
Although there were a large variety of wide angle shots to take, there are also some nice macro subjects. Anywhere with so many gorgonians is bound to have some pygmy seahorses, and fortunately our dive guides knew exactly where to find them.
Pygmy Seahorses
I typically dislike photographing pygmy seahorses, as they often accumulate lineups of photographers. The best shots are when the polyps of the sea fan are out, which means that there's some kind of current, and the sea fan has not been disturbed (for example by a diver or guide manipulating it to get a photo of the seahorse's face).
Additionally, pygmy seahorses are shy and like to face away from the camera, meaning it can take a lot of time to get a good image. And if they are harassed by photographers all day long, they can become very stressed, ultimately having a large negative impact on their health. So I try to be unobtrusive, only taking a photo if it's properly lined up (to minimize strobe flashes), and giving them time and space to do their thing without stressing them out. This takes a lot of time...fortunately, because Cabilao is not super busy, you can take a bit more time than usual!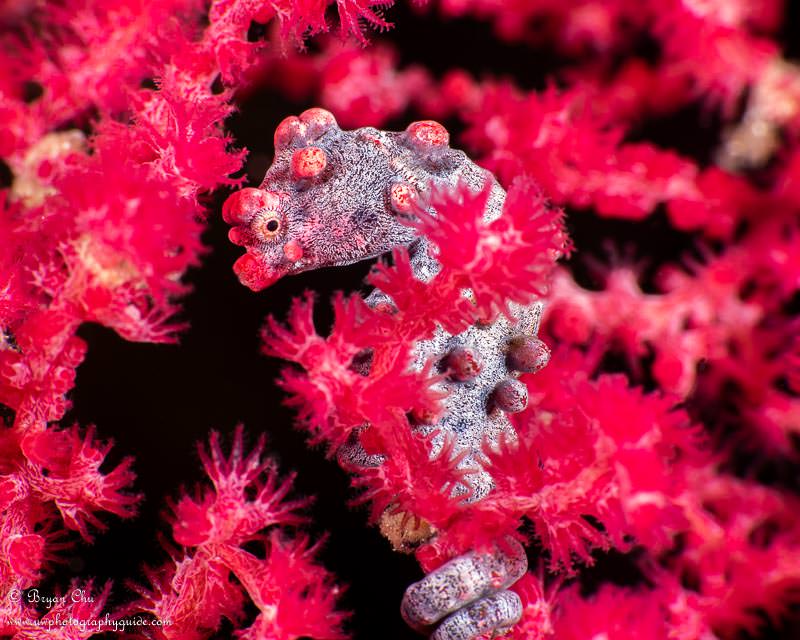 Sometimes, if the current is not really flowing, the sea fan polyps will be in, and there's nothing that can be done to coaxe them out. Though that does make it easier to get a line on tiny seahorses like Denise's pygmy seahorse, which is smaller than the bargibanti.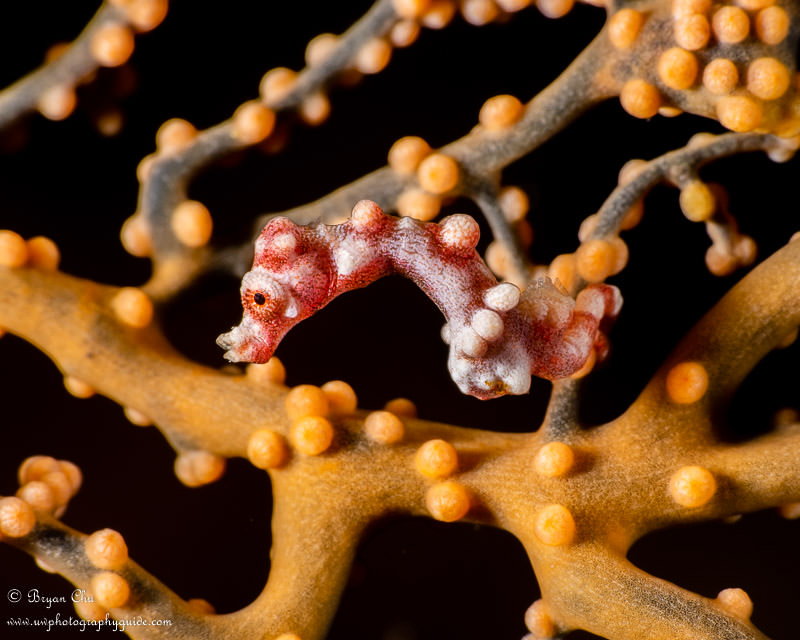 Frogfish
There were a number of frogfish, including this really cute juvenile warty frogfish. I waited for at least 20 minutes for a yawn from this little fellow, but none were forthcoming. But there was definitely some good frogfish action to be had around Cabilao, and they are always fun!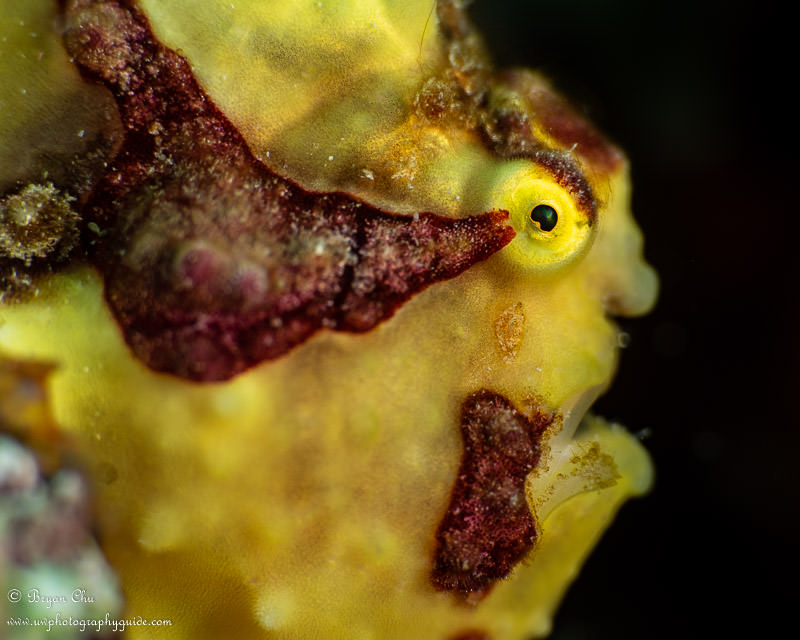 Showing Common Subjects in a Special Way
One of my favourite macro photography techniques involves spending lots of time with common subjects, to try to show them in a special way. My usual tool for this is extremely shallow depth of field, combined with finding a really nice background.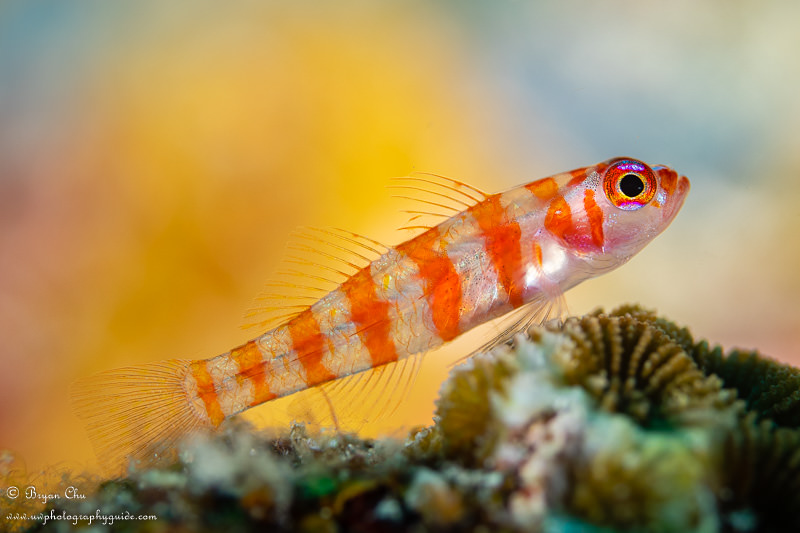 Using a really shallow depth of field really draws the viewer directly to the subject, by removing distracting backgrounds and making the key points of interest (typically, the eyes or rhinophores) pop out of the image.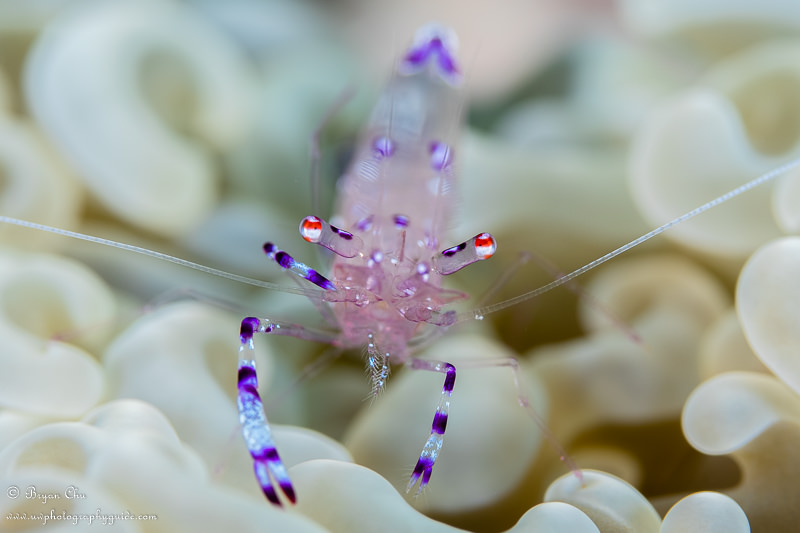 This technique is especially effective with semi-transparent anemone shrimp. Shooting with any significant amount of depth of field almost always leads to a confusing photo, as the background tends to overwhelm the details of the shrimp, making the photo too busy. But blurring out the busy anemone and the transparent body makes for a much more exciting image!
Final Thoughts
Cabilao is a lovely and very quiet, down-to-earth dive location. I really enjoyed my time there, and found it very productive for underwater photography, especially wide angle reef scenes. The walls were awesome, especially Pangangan Wall. Current View Point also delivered well, but there's no point in trying to single out too many sites, because almost all of them provided the raw material for some great wide angle images.
We were there during the early fall, which is off season for macro life...the best macro critters arrive with cool water. But there was still lots of macro fodder, if you had some patience. And having denise's and bargibanti pygmy seahorses is pretty cool!
Getting around in the Philippines, especially off the beaten track, can be a time consuming and sometimes painful experience (more mentally painful than physical). The island hopping tours offered by Sea Explorers are a great way to see multiple dive destinations on a nice boat, without having to deal with the nightmarish logistics on your own.
---

Book Your Philippines Dive Trip

---
Our sister company Bluewater Dive Travel has lots of experience booking dive trips to the Philippines. So if you want help planning your trip, drop them a line at info@bluewaterdivetravel.com!
Thanks for reading and I hope you found this useful! As always, if you have any questions about the destination, gear or techniques, feel free to drop me a line at bryan AT uwphotographyguide DOT com.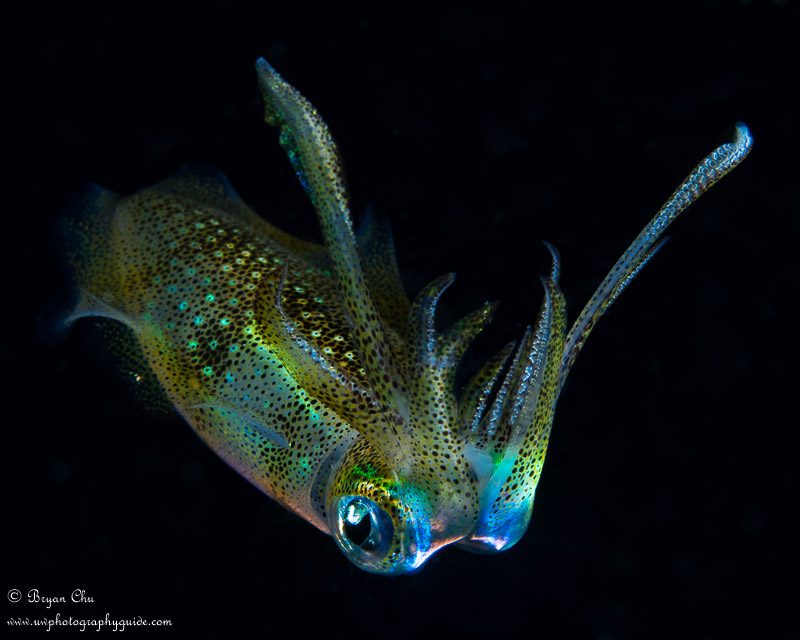 SUPPORT THE UNDERWATER PHOTOGRAPHY GUIDE:
The Best Service & Prices on u/w Photo Gear
Visit Bluewater Photo & Video for all your underwater photography and video gear. Click, or call the team at (310) 633-5052 for expert advice!
---
The Best Pricing, Service & Expert Advice to Book your Dive Trips
Bluewater Travel is your full-service scuba travel agency. Let our expert advisers plan and book your next dive vacation. Run by divers, for divers.
---