Best Underwater Housing Brands
A review of the best underwater camera housings for the underwater photographer.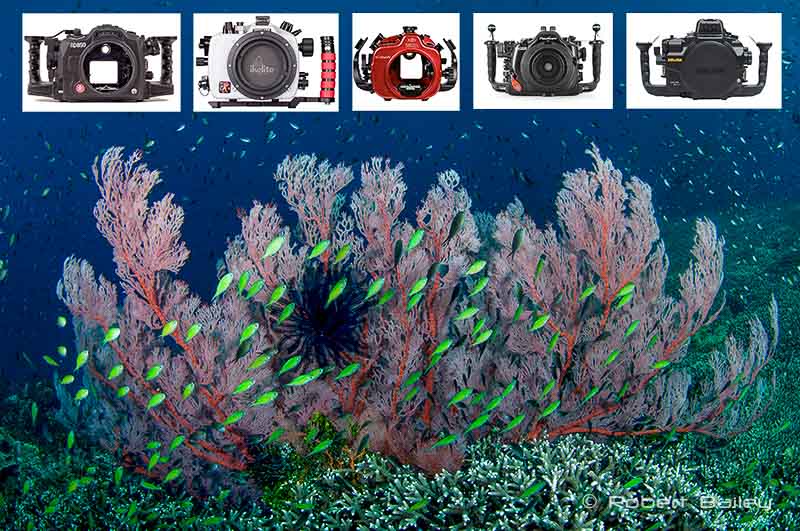 Underwater photographers in days gone by had to invent their own camera housing solutions, because they didn't exist. Today we surf the web, and are daunted by the myriad of choices available to us. Manufacturers have already anticipated our needs, and they try to out do each other on one aspect or another, in hopes of attracting a buyer. At the end of the day all manufacturers of underwater camera housings set out to perform the same basic functions. In the first place creating a box, or a bag to keep your camera dry. Secondly allowing access to as many controls as possible so you can exploit your camera's capabilities, and make the best underwater photographs possible.
We're discerning as consumers, we tend to look beyond the basics, we expect more. Manufacturers of underwater housings target various parts of the market. They strive to incorporate ease of use (both above and below), superior ergonomics, price point, compact form factor, lighter weight to save on travel costs, leak detectors, enhanced viewfinders, professional duty durability, or a combination of all of the aforementioned into their products.
The ultimate goal of a housing, aside from the basics, is to help us get the most out our cameras while we're underwater. Each manufacturer has its own history, and its own nuances. Some manufacturers use high tech polycarbonate to keep costs and weight down, while others use solid blocks of milled aluminum, and guarantee top craftsmanship, and durability.
UWPG will take a look at a few brands of underwater housings that dominate today's market, and why they do.
Aquatica Housings
AQUATICA manufactures an extensive line of underwater housings for today's finest digital cameras. The company also manufactures the world renowned Technical Lighting Control (TLC) strobe arms, trays and accessories. AQUATICA and TLC are the brands preferred by some of the top professional underwater photographers and are well known for their optical quality and superior level of craftsmanship.
Located in Montreal, Quebec, Canada, AQUATICA was founded in 1982. They have extensive experience gained in their own harsh environment which Canada is well known for. Combine that with expertise acquired over more than 30 years in the industry, they've gained a worldwide reputation as a leader and innovator in the field of underwater photography.
Every housing at Aquatica is milled from a solid block of aluminum to strict tolerances allowing them to perform well in some of the most rugged underwater conditions on the planet. All housings feature double o-ring seals on knobs and levers assure that they withstand pressures exceeding 100 m (300 feet). Their housings can also be fitted with a deep-water spring package increasing their depth ratings up to 152 m (500 feet). Aquatica housings are anodized to military grade specifications, and powder-coated with special environment-resistant paint. The end result is a highly refined hand crafted tool when placed in the hands of a skilled underwater photographer helps to produce award winning images to a professional standard.
Aquatica incorporates inventive ergonomics that allow for easy camera installation, camera and menu access to the equally innovative port locking mechanism. Aquatica has been providing value in underwater housings for over two decades.
Their current housing range covers cameras by Canon, Nikon, Sony, Panasonic and Olympus. They produce housings for DSLRs, mirrorless, video cameras, along with a multitude of housing accessories.
---

Aquatica Sony A7R III Underwater Housing with Dual Nikonos Bulkhead
Aquatica Sony A7R IV Underwater Housing
Aquatica Nikon D850 Underwater Housing
Aquatica Nikon D500 Underwater Housing
Aquatica Canon EOS R5 Underwater Housing
Aquatica Canon 1DX Mark III Underwater Housing
---
Ikelite Housings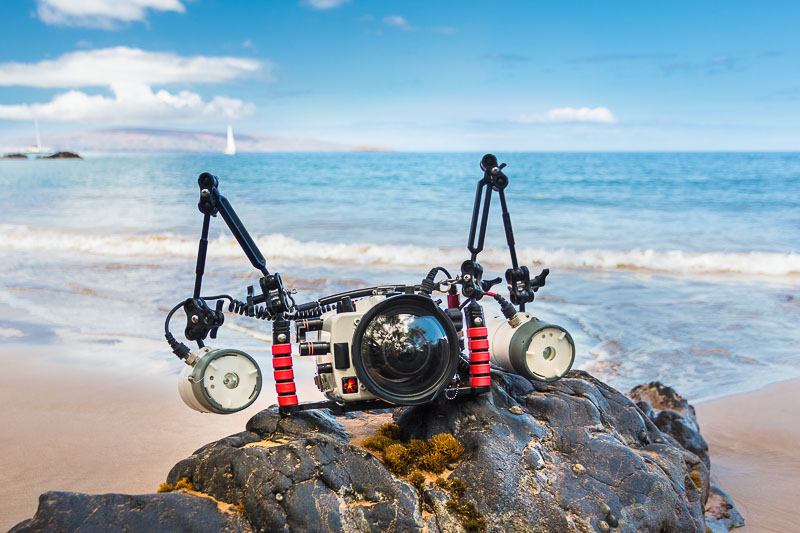 Ikelite have been producing underwater housings and accessories for over 50 years, and are one of the most popular brands on the market. They're renowned in the industry for their excellent service and support. They've come out with many firsts over the years, with products that are now common place in the scuba market place. At one time or another most of us that have been around for a while will have owned or used Ikelite products. Part of the reason for that is they produce affordable housings for compact, DLSR, and mirrorless systems. Ikelite housings are constructed of ABS-PC polycarbonate. Many of the Ikelite housings are clear which is reassuring if you have a leak. Many Ikelite housings include TTL adapters when married up with Ikelite strobes can be useful when doing macro work. Being as popular as they are, parts are readily available world-wide.
Ikelite housings are available for broad range of camera brands including Canon, Fujifilm, Nikon, Panasonic, Olympus, and this is far from an being exhaustive list. If you're just starting out Ikelite products are definitely worth checking out.
---

Ikelite Olympus TG-6 Underwater Housing
Ikelite Sony RX100 VI and RX100 VII Underwater Housing
Ikelite Panasonic LX10, LX15 Underwater Housing
Ikelite Mirrorless Housings
Ikelite Olympus E-M1 Mark III Underwater Housing
Ikelite Sony A6100, A6300, A6400, A6500 Underwater Housing
Ikelite Sony A7R III, A7 III, A9 Underwater Housing, 200DL
Ikelite DSLR Housings
Ikelite Nikon D780 Underwater Housing
Ikelite Nikon D500 50DL Underwater Housing
Ikelite Canon 5D Mark IV Dry Lock Housing 200DL
Ikelite Canon 7D Mark II 200DL Underwater Housing
---
Marelux Housings
Marelux underwater housings are new to the market. They are making high-quality housings from an aluminum alloy that's durable and lightweight. After thoroughly testing their Canon EOS R5 housing for several weeks, we have found them to be made to the same high standard other high-end underwater housings are made to. Marelux isn't a new company. They have a lot of experience in manufacturing other consumer electronics, and it's this experience that has enabled their engineers to develop such a great line of underwater housings.
Despite being comparable to other top-of-the-line underwater camera housings, Marelux housings are priced very competitively. For anodized aluminium housings, they are very affordable compared to their competitors. In addition to their great prices, they also come in six unique color options, including Burgundy, Yale Blue, Black, Mocha, Olive Green, and Silver Grey. If you're a little more price-conscious, the Black housing retails for $200 less than the others.
---

Marelux Canon EOS R5 Underwater Housing
Marelux Sony A1 Underwater Housing
Marelux Sony A7 IV Underwater Housing
Marelux Sony FX3 Underwater Housing
Marelux Nikon Z6II/ Z7II Underwater Housing
Marelux Sony A7R IV Underwater Housing
Marelux Sony A7R III/A7III Underwater Housing
Marelux Canon EOS R6 Underwater Housing
Marelux ALEXA Mini LF/ALEXA Mini Cinema Camera Housing
---
Isotta Housings
Isotta is a family-owned company intent on making the highest-quality aluminum housings designed, manufactured, and tested in Italy. They are by no means newcomers to the industry, with four decades of experience manufacturing underwater photography equipment. Bluewater photo has nicknamed Isotta the "Ferrari of the Sea" due to the signature red finish, high quality design, and robust materials.
Isotta began as a photo studio run by 18 year old Egidio Isotta on the shore of Garda Lake, Northern Italy in 1967. By 1980, Isotta developed his first underwater strobe, the Isomat 33, with his signature red color. The success of this strobe led to the foundation of the Isotecnic company. Since 2006, Isotta has been directed by Elisa Isotta and her husband Andrea where they remain at the forefront of the world's underwater housing manufacturers.
There are plenty of reasons to love Isotta underwater housings. All housing are made in Italy and all materials are sourced in Italy. Whether it's cars or housings, Italian manufacturers have a history of only producing the highest quality products. Each part of each housing in manually inspected in all phases of production with a final pressure test in a hyperbaric chamber to 100 meters. Each housing has a double o-ring seal on each button and moveable parts. This ensures that it is watertight to 100 meters (328 ft). Housings are machined from a block of durable and lightweight aluminum using a CNC (computerized numerical control machine) for reduced weight and size. They are deburred, lathed, and polished by hand. The housings then go through an anodization process to create a robust surface resistant to corrosion.
---

Isotta Compact Housings
Isotta Olympus TG5, TG6 Underwater Housing
Isotta Canon G7X Mark III Underwater Housing
Isotta Mirrorless Housings
Isotta Nikon Z7, Z6 Underwater Housing
Isotta Sony A7R IV Underwater Housing
Isotta DSLR Housings
Isotta Nikon D780 Underwater Housing
Isotta Nikon D850 Underwater Housing
---
Nauticam Housings
Nauticam started out in Hong Kong with only a couple of mid-range aluminum housings for the Nikon D90, and D700. Today they're considered to be a top manufacturer of high-end underwater photographic equipment. They're renowned for bringing products to market faster than any of their competitors, and in my opinion are the most responsive to the demands from consumers. Nauticam is a leader in underwater photography gear, including housings, ports, wet wide-angle and macro lenses, and accessories. They've pioneered several innovations, such as their patented port-lock system, and their optional vacuum system.
Nauticam housings range from compact camera housings to high-end cinema gear. They also manufacture some of the best quality wet macro and wide-angle lenses on the market. Bluewater Photo carry the entire line of Nauticam products, and most items are in stock.
They support a wider range of cameras and lenses than other manufacturers, including many high end cinema cameras. Their housings generally support a wide-range of lenses and adapters. The team at Bluewater Photo can help you correctly configure a system to meet your needs.
---

Nauticam DSLR Housings
Nauticam Nikon D6 Underwater Housing
Nauticam Nikon D780 Underwater Housing
Nauticam Canon 1DX Mark III Underwater Housing
Nauticam Mirrorless Housings
Nauticam Nikon Z7V Underwater Housing
Nauticam Olympus E-M5 Mark III Underwater Housing
Nauticam Sony A6600 Underwater Housing
Nauticam Compact Camera Housings
Nauticam Canon G5X II Underwater Housing
Nauticam Sony RX100 VII Pro Package
Nauticam Olympus TG-6 Underwater Housing
---
Sea & Sea Housings
Sea & Sea have been around since the early 1970's and are a solid mid-range to high-end choice, with some excellent housings for the Nikon D850, Nikon Z7, and the Canon EOS R. New versions for lower-end DSLRs like the Canon T6i are polycarbonate, and allow the strobe to fire via fiber optics, called the RDX series for the nikon D40/D60. They also produce a variety of underwater photo products to support their housings. Personally I've been using Sea & Sea housings for years, and find them well built, very realiable, and easy to use. I don't think the ergonomics are quite up to Nauticam standards, but they're not far off. I do find them to be more simply built then Nauticam housings, and I am sometimes left wondering if Nauticam housings are slightly over engineered.
The aluminum MDX series housings support fiber optics and optional TTL converters. If you're using fiber optics, an optional converter is required, and these can be bit painful if you're not using Sea & Sea strobes, as they don't don't comment on whether they've been tested with the Sea & Sea YS converter. They're now being released with Leak Sentinel vacuum systems as optional extras, which from experience work very well.
Sea & Sea has done a great job keeping their underwater housings smaller compared to other manufacturers. They produce a limited range for compact cameras, have a good line up for popular mirrorless and DSLR cameras.
---

Sea & Sea Compact Housings
Sea & Sea Sony RX-100 III, IV, V, VA Housing
Sea & Sea Mirrorless Housings
Sea & Sea Sony MDX-a6300 & a6500 Underwater Housing
Sea & Sea Sony A7R III Underwater Housing
Sea & Sea Canon EOS R5 Underwater Housing
Sea & Sea Nikon Z7 Underwater Housing
Sea & Sea DSLR Housings
Sea & Sea Nikon D780 Underwater Housing
Sea & Sea Canon 5D Mark IV Underwater Housing
Sea & Sea Canon 80D Underwater Housing
Sea & Sea Nikon D850 Underwater Housing
---
Don't hesitate to reach out to the team if you have questions, and need help configuring a system.
SUPPORT THE UNDERWATER PHOTOGRAPHY GUIDE:
The Best Service & Prices on u/w Photo Gear
Visit Bluewater Photo & Video for all your underwater photography and video gear. Click, or call the team at (310) 633-5052 for expert advice!
---
The Best Pricing, Service & Expert Advice to Book your Dive Trips
Bluewater Travel is your full-service scuba travel agency. Let our expert advisers plan and book your next dive vacation. Run by divers, for divers.
---