Nikon Z30: Initial Thoughts & Review
Could this be the best bang-for-your-buck APS-C camera to date?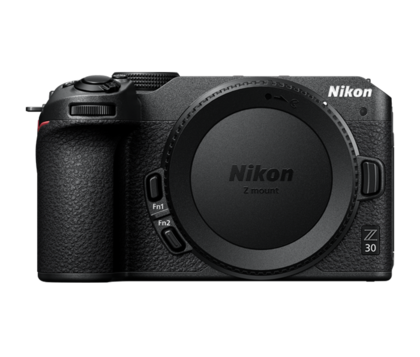 The Nikon Z30 is Nikon's newest release and will likely be on the radar of content creators who value solid photo & video shooting capabilities in lightweight, compact packages. Much like the Canon EOS M50, the Nikon Z30 is firmly aimed at vloggers and other casual content creators and comes with the obligatory flip-out, rotating screen so you can easily film yourself.
But the Z30 also represents a viable option for people looking for a solid, affordable camera in a compact package, whether for travel or underwater photography.
While it's not necessarily applicable to shooting underwater in a housing, the flip-out screen is the star of the show. Since this is primarily aimed at vloggers, having a flip-out touch screen to help in framing yourself and the ability to access settings at the same time is invaluable. The Nikon Z30 shoots 4K video, but only up to a maximum of 30 fps, which is ok, but it can shoot 1080 at 120 fps to capture that super smooth slow motion video footage. A downside, especially for people who like to color grade their video footage, is the lack of a log profile.
Availability: August 2022
US MSRP: $709.95
---
Feel free to email the friendly Bluewater Photo staff at sales@bluewaterphotostore.com to keep up to date on new housing releases for this camera!
---
Key Specifications
APS-C CMOS sensor
Expeed 6 processor
22 megapixels
4K 30p
1080/120p
5568 x 3712 maximum resolution
100 - 51200 ISO (expands to 204,800)
No In-Body Image Stabilization
SD/SDHC/SDXC card (UHS-I supported) compatible
USB-C charging port
Micro HDMI output
No headphone output
Weight: 14.29 oz (405 g)
Size: 5.04 x 2.91 x 2.36″ (128 x 74 x 60 mm)
Nikon Z30 for Underwater Photo & Video
The Z30 doesn't come with an EVF, which isn't great for stills, but this may not be a problem for video shooters. However, the lack of an EVF makes little difference for underwater photographers when shooting with a housing anyway so may not be a major concern for most people reading this. The autofocus on the Z30 is good; it can track subjects accurately, and the AF system is acceptable for the target market this camera is aimed at. Topside, the eye tracking functionality works well even on fast-moving subjects.
One of the biggest drawbacks of the Nikon Z30 is the lack of In-Body Image Stabilization (IBIS) which makes shooting smooth video and getting sharp macro results a little harder.
As the Nikon Z30 is a relatively new camera, there aren't any underwater housing options currently available. However, there are several housings we expect to launch from the likes of Nauticam, Ikelite, and Marelux that are, as you'd expect from these brands, going to be excellent options.
Keep an eye on our dedicated Nikon Z30 underwater housing buyers guide, where we'll list new housings as they become available.
Perhaps the Nikon Z30's biggest draw when it comes to underwater photography is its size and weight. Lacking an EVF and generally being compact, the overall size of a Z30 underwater setup is much smaller than some of its counterparts. It's also the smallest and lightest of all the Z-Series cameras from Nikon.
Conclusions
When a housing does become available, it is likely that the Nikon Z30 could become a favorite for underwater photo and video. It's been many years since we've seen an affordably priced entry-level interchangeable lens camera. It's certainly a breadth of fresh air to see a camera with potential for incredible image quality that is relatively affordable to bring underwater. One thing is for sure - we can't wait to get in the water with it.
SUPPORT THE UNDERWATER PHOTOGRAPHY GUIDE:
The Best Service & Prices on u/w Photo Gear
Visit Bluewater Photo & Video for all your underwater photography and video gear. Click, or call the team at (310) 633-5052 for expert advice!
---
The Best Pricing, Service & Expert Advice to Book your Dive Trips
Bluewater Travel is your full-service scuba travel agency. Let our expert advisers plan and book your next dive vacation. Run by divers, for divers.
---