Ikelite DS 230 Strobe Review
Ikelite's newest strobe just might be the best one they've ever created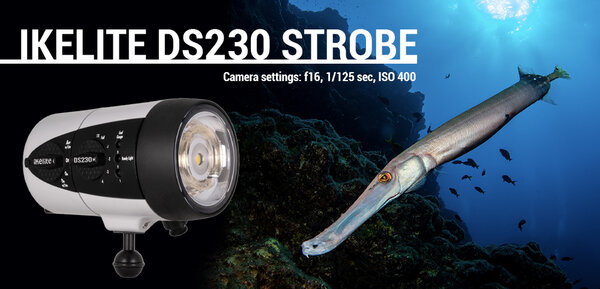 You might have seen them around at dive sites. Those big white things that underwater photographers seem to carry around and make your dive seem like a dance party. Ikelite DS series strobes are a staple for professional underwater photographers that need high power underwater flashes with quick recycle times and accurate TTL. What if I told you they've gotten even better? Well, they have. Over the last month I've had the unique pleasure of being the first to bring the new Ikelite DS 230 underwater strobe diving in the deep blue waters of Socorro, Mexico. As Ikelite's newest flagship strobe, the DS230 represents the best of all Ikelite has to offer with more power, a better beam, better ergonomics, and a smaller strobe. In full disclosure, Ikelite graciously tried to get me a strobe in time for my underwater photo workshop, so the prototype that I used did not yet have the video light feature that will be available in the full-production model. The quality of light that you see below, is exactly the quality of light you can expect when the strobes come out at Bluewater Photo in late March, 2022.
Ikelite DS 230 Availability: Late March, 2022 at Bluewater Photo
Ikelite DS230 US MSRP: $1495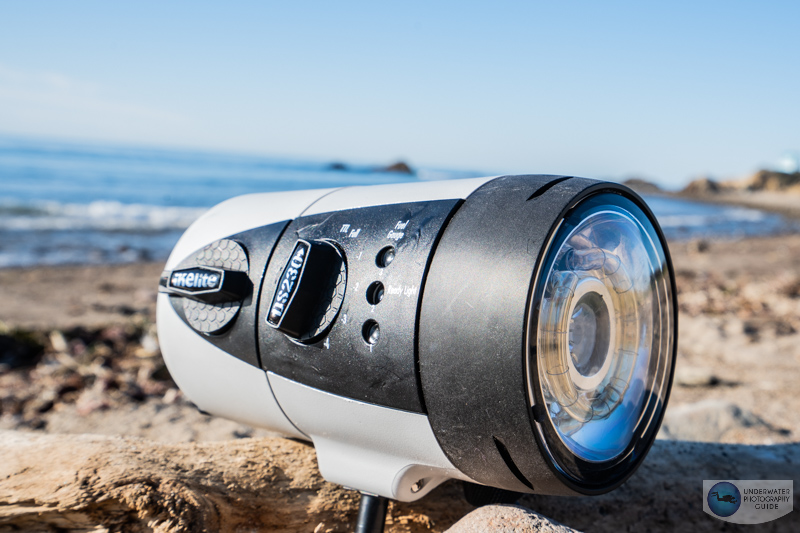 ---
Support our content and get your Iklite DS 230 Strobe at Bluewater Photo!
---
Ikelite DS230 Strobe Specifications
Max Power: 213 Ws
Beam Angle: 120 degrees without a diffuser
Beam Color Temperature: 5000K
Recycling time: .1 to 1.2 seconds (max power)
Video/modeling light: 2500 lumens / 205 lumens
Guide number at 1m (ISO 100): 32 at full power
Battery Life - Flashes per charge (at max power): 300
Electrical sync connection: Ikelite ICS 5-pin bulkhead
Battery 7.2V 3300 mAh NiMH rechargeable battery pack
Depth rating: 100 meters (330 feet)
Weight: 2.7 pounds
Dimensions: 3.6" D X 7" L
New and Improved Ikelite DS230 Features
More Power!
The Ikelite DS230 is a direct upgrade to Ikelite's highest end strobe model, the Ikelite DS161. So what's new? First off, the power on the DS230 has been increased 33% from 160 Ws to 213 Ws. Having more power in a strobe is essential when creating dramatic wide angle photos, shooting into the sun. Although it sounds counterintuitive, in the sun you need enough artificial light to match the exposure of the surrounding ambient light. So the more light, the better.
I found the power difference to be noticeable especially when I was shooting photos of sharks directly into the sun. I was able to get just a little more artificial light on their bodies, which really brought out the details and textures on their undersides. And when I gave away a strobe to one of our guests and shot with just one strobe, I was still able to capture well lit shots in shallow water with just one strobe. So if you're new to underwater photography and considering your first strobe, you just might be able to get away with one strobe with the DS230. You can add a second strobe for creative effect later on, thus future-proofing your system. But for the professional photographers out there who need two strobes, you won't be disappointed with the DS230s - they have more than enough light for any situation.
You may have noticed that I don't mention Guide Number in this review. That's because guide numbers are variable depending on how one strobe manufacturer tests the strobe to the next. While it's a good general indicator of strobe power, Ikelite gives us the actual power of the strobe - 213 Ws.
An Ultra-Wide 120 Degree Beam Angle with Exceptional Light Quality
When I first spoke to Ikelite about the new DS230s, they suggested that I try shooting the strobes without diffusers. Having never purposefully shot strobes without diffusers, I have to admit, I was a little skeptical. After all, wouldn't the strobes just create hotspots and weird shadows in my image? But having faith in their advice, I decided to leave my dome diffusers at home to save a little space in my luggage. Looking back, this was a risky move - sharks are notoriously reflective and diffusers are a great way to even out the lighting. But in the end, the DS230s performed even better without diffusers than my DS161s with diffusers! This is because Ikelite redesigned the circular flash tube and front end of the strobe to produce an ultra-wide, 120 degree beam with soft, even light. Without diffusers, I didn't have to worry about losing additional stops of light, and the quality of the beam is just gorgeous. Check out this comparison of a silvertip shark in Socorro photographed last year with my dual DS 160s and dome diffusers & the Nikon Z7 II camera vs a silvertip shark at the same site with dual Ikelite DS230 strobes and no diffusers. See the hotspot I woefully tried to edit out in lightroom in the first photo?
Now take a look at the incredibly beautiful and quality of the beam with the DS230 strobes without diffusers in this second photo. This is the same species of shark at the same dive site.
A Cooler Color Temperature
Another feature of the beam quality can be seen in the comparison above - color temperature. I've always been of the opinion that Ikelite strobes run a little warm to my personal taste. That's no problem at all - I just do a couple of white balance edits in lightroom and I'm good. But with a slightly cooler color temperature of 5000K, the DS230s are just right for me. I find the colors on my subjects to be a little more true to life while still maintaining the vibrant blues of the ambient light that Ikelite strobes produce so well.
A Quicker Recycle Time
I didn't think I would notice the quicker recycle time on the DS230s. The DS160s and 161s were already very fast and you only gain .3 seconds at max power with a recycle time of 1.2 seconds. But what I ended up noticing was that the exposures were more consistent when shooting burst shots - even at high powers. Instead of having a couple of frames where the strobes fired, but at a lower exposure before fully recycling, I ended up getting exposures with consistent power between each frame. At lower powers, the strobes are even faster, getting to as short as a .1 second recycle time. I did most of my shooting in Socorro at 3-5 fps and the strobes had no problem keeping up - for the most part.
Battery Life
Because these strobes output more power than their predecessors, the battery life is a little shorter - rated for 300 shots at max power. Keep in mind, if you shoot below max power you can get thousands of shots before running out of battery. I had no trouble doing a full day of diving, shooting 300-400 shots and coming back with plenty of battery. Fortunately, for those that need to consistently shoot at max power, there is a battery level indicator on the side of the strobe.
Ergonomics and Size
Yes, it's a little weird to talk about the ergonomics of a strobe. There are just two switches right? But one of the biggest complaints I used to hear with older Ikelite DS strobes is that they were difficult to adjust with thick gloves in cold water. Those days are gone. Ikelite has updated all of their strobe models with easy to hold and easy to use switches. I love them. If you're shooting manual mode on your strobes, you'll have no problem adjusting your power levels.
Another complaint I've heard about Ikelite strobes is that they are large. This is because the high capacity battery pack needs to be large for lots of power and quick recycle times. Despite being a more powerful strobe, Ikelite actually managed to cut down on the size of the DS230s and they are noticeably shorter. I loved traveling with the reduced size and think they are now a more compelling case for professional photographers that are worried about size.
TTL Compatibility
The Ikelite DS230s are backward compatible with Ikelite TTL converters and can even be adapted to other housing brands like Nauticam, Aquatica, Marelux, Isotta, and Sea & Sea. But with better switches for manual control you don't need a TTL converter right? Wrong. TTL converters allow your camera to tell the strobes exactly what power to fire. This means you don't have to touch your strobes no matter the distance of the subject to the strobes. I'm a firm believer in using TTL for quick action subjects as you'll never be able to rotate dials on the strobe faster than a moving fish. My shots throughout the trip were consistently accurate using Sony TTL with the Sony A7 IV and the Ikelite DS230 strobes. Combined with fast recycle times and a high quality beam, I rarely missed a shot. This allowed me to enjoy my dive. In fact, some of the guests at the workshop commented on how I never took photos. It wasn't that I didn't take photos. It was that I didn't have to take a lot.
Conclusions
When I first found out about the DS230s I was admittedly skeptical. The DS161s and DS160s were already great. Would the DS230 really justify the higher price tag? After a week of diving with the 230s, I get it. Everything is better. The beam is just beautiful with a nice color temperature, a soft, wide beam angle, and more power. I can honestly say my photos improved from having this strobe in my arsenal - even when I shot with just one.
Of course, going into the review I tried to think of some cons to even things out. The only one that came up had to do with a minor, noncritical, circuitry feature on the prototype strobe that has since been adjusted and my complaint no longer applies in the full-production model. So with that, I can honestly say that I have no complaints. Underwater photography is all about lighting, and with the Ikelite DS230s, things are looking pretty good for underwater photographers.
SUPPORT THE UNDERWATER PHOTOGRAPHY GUIDE:
The Best Service & Prices on u/w Photo Gear
Visit Bluewater Photo & Video for all your underwater photography and video gear. Click, or call the team at (310) 633-5052 for expert advice!
---
The Best Pricing, Service & Expert Advice to Book your Dive Trips
Bluewater Travel is your full-service scuba travel agency. Let our expert advisers plan and book your next dive vacation. Run by divers, for divers.
---