Diving Réunion Island
You've been Missing out on Humpbacks, Dolphins, Wrecks and Incredible Macro!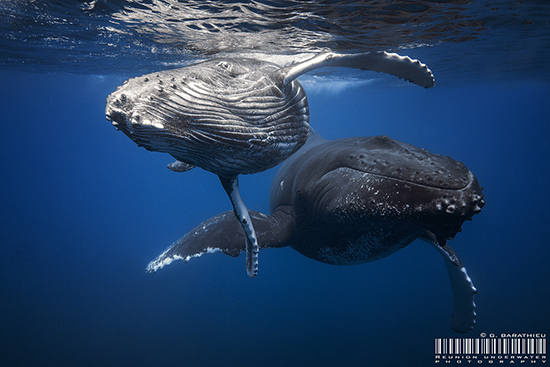 Réunion is a French island in the Indian Ocean, about 530 miles east of Madagascar. It is volcanic in origin and one of the volcanoes is actually still active, and known as the "Piton de la Fournaise". The volcano is a major tourist attraction and is located within the Réunion National Park, which is a UNESCO World Heritage site.
Réunion Island is young, meaning the lagoons are small and not very deep. But what the lagoons lack is made up for in the open ocean. Since the island rises out of deep water, it's a magnet for whales and boasts healthy reefs teeming with colorful fish. The water temperature varies from 23 C (73 F) in winter to 30 C (86 F) in summer.
Above the surface, Réunon is covered in steep mountains, and as a result, is known worldwide for its hiking trails. The locals are laid-back and welcoming. Getting to Réunion is easy – there are daily flights from Paris, which take about 11 hours.
A stunning Indian Ocean sunset from Réunion.
When to Visit Réunion
Réunion is a great dive destination year-round! But if you want to see humpback whales, winter is the best season (June to October). Every year, the humpbacks come to breed and give birth near our shores, with the most action happening from mid-August to mid-September.
Dive conditions are generally better during the summer, with the highest visibility and warmest water... but it's the rainy season so there are some rough days. That said, visibility is very good 80% of the year and dolphins can be found around the island all year.
A sea turtle flies by.
A pod of dolphins plays just outside the barrier reef.
Why Should You Dive Here?
1) Because Réunion is relatively unknown in the diving community, even though it's home to so much marine life and relatively easy to reach (especially for Europeans).
2) Because in the morning you can swim with whales or dolphins and in the afternoon you can shoot nudibranchs and other macro subjects and then enjoy a cocktail on the beach during sunset.
Moving in close to a ray.
The Diving in Réunion
Réunion offers a wide variety of dive sites. Just beyond the reef there are large flats, beautiful steep walls and shipwrecks. Photographers will tend to shoot wide-angle in the morning because conditions are calmer. In the afternoon, macro and the shallower dive sites will delight you with their wealth of corals, sponges, reef fish and critters. This is a great opportunity to work on ambient light underwater photography.
The greatest coral and marine life biodiversity is found on the west coast. There are also lava flows on the south side of the island, which are visited by some dive centers. These sites are exposed to current, however, and for experienced divers only.
We also have some wreck diving at Réunion. The most famous is the Hai Siang at 55m deep (181ft). When the ship sunk it landed on its side, but then was righted by a cyclone. It's a very fun dive with a descent straight through the blue water column. Photographers can set up wide-angle or possibly ultra wide-angle (14mm).
Other popular deep wrecks include The Navarra at 50m (164ft), The Sea Venture at 45m (148ft) and Antonio Lorenzo at 38m (125ft). These are deep dives that require special training, however the photo potential is incredible. There are also some great wrecks in shallower water covered with abundant marine growth, fish and other exciting critters.
The macro diving is world-class at Réunion Island, with a wide range of biodiversity. The dive sites are usually found on the outer slopes of the barrier coral reefs, but you can also find some extraordinary encounters in the lagoons. Harlequin shrimp are observed in lagoon by free divers, so it's certain that scuba divers can find them. There are also many colorful nudibranchs waiting to be found and photographed.
The wreck diving in Réunion is world-class.
A beautiful photo of a deadly scene.
Réunion's Most Popular Dive Sites
The Caves of Maharani: An original site in about 15m (49ft), which includes a series of cracks and caves adorned with skylights. On this dive, wide-angle is preferable in the morning when the position of the sun is best. Divers regularly see kingfish over one meter in length, making close passes while hunting. Lionfish are under the overhangs waiting for unsuspecting prey.
Passe de l'Ermitage: A cleaning station and meeting point for turtles and eagle rays. The turtles visit the cleaning station daily while also using the lagoon for shelter at night. The extensive seagrass beds provide an abundant food source.
Grand Tombant de la Point au Sel: This is one of the best dives at the island, but reserved for experienced divers since the current can be violent and unpredictable. There are great wide-angle opportunities with regular sightings of huge schools of jacks and pelagic fish (swordfish, marlin, tuna). Less frequently, divers will encounter a whale shark, hammerhead sharks or manta rays.
Cap la Houssaye: THE site for macro photography. On a regular dive you will see nudibranchs, mantis shrimp and ghost pipefish as well as turtles, barracuda and more. There is a huge meadow with sea slugs of all kinds, but beware of scorpion fish camouflaged on the bottom as they await passing prey. Visibility is average but this is not a problem for macro.
Réunion offers a wide variety of diving mixed with stunning topside landscapes. This small French island should be on every underwater photographer's destination list!
Interested in travel to Reunion Island?
Bluewater Travel can help you book the perfect dive experience.
Squid will always entertain underwater photographers at night.
A whale dives after taking a breath.
Further Reading
SUPPORT THE UNDERWATER PHOTOGRAPHY GUIDE:
The Best Service & Prices on u/w Photo Gear
Visit Bluewater Photo & Video for all your underwater photography and video gear. Click, or call the team at (310) 633-5052 for expert advice!
---
The Best Pricing, Service & Expert Advice to Book your Dive Trips
Bluewater Travel is your full-service scuba travel agency. Let our expert advisers plan and book your next dive vacation. Run by divers, for divers.
---