Panasonic S1H is Certified for Netflix
The Panasonic S1H has become the first mirrorless camera approved for use in Netflix productions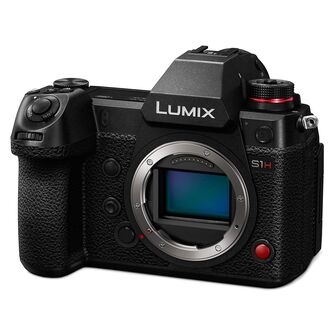 There's some good news out there for aspiring documentary film makers and Panasonic users - the Panasonic S1H has recently been certified for Netflix! The S1H is the first video/stills hybrid camera as well as the first mirrorless camera to be accepted by the platform. This means that getting your underwater video on Netflix is just a little bit more feasible as the Panasonic S1H is more of a consumer priced camera at $4,000 than a professional cinema camera.
Netflix Certification Requirements
So what does it take to get Netflix certified? As the world's leading streaming service, Netflix holds content shown on its site to stringent technological standards. Here's what Netflix requires from cameras used on its platform:
A true UHD 4K sensor
10-bit data capture, greater than 240 Mb/s
Log recording capability
Timecode jamming
Dynamic range - in this case, more than 14 stops with V-Log
Pixel-for-pixel readout
When looking at the Panasonic S1H specifically, the S1H supports pixel-for-pixel readout in DCI and UHD 4K with the full width of its sensor and in Super 35 mode. It also supports pixel-for-pixel readout in 4K @ 60fps. Because Netflix doesn't allow line-skipping, the S1H is limited to use in 4K - the camera is not certified at higher resolutions for netflix.
Check out the full Netflix Pasasonic S1H Camera Production Guide here.
---
Purchase the Panasonic S1H camera and housings at Bluewater Photo:
Panasonic Lumix S1H Camera Body
Nauticam Panasonic S1H Housing
---
About the Panasonic S1H
Unlike with the Panasonic S1 and S1R, the S1H is promising a long list of powerful specs. The S1H could be the future of underwater videography. At an estimated retail price of $4000, the S1H is on the expensive side for a camera body. But it is also the first interchangeable lens camera that can capture 6K video. Real underwater cinema set ups that can shoot more than 4K video start to reach prices that exceed the price of many cars. So this is an economical option for any underwater videographer looking to capture the finest details the oceans have to offer. Moreover, 4K @ 60p with 10 bit recording promises beautiful color tones between shadows and highlights. And the V-log picture profile has our mouths watering. Being able to capture 14+ stops of details is a dream for any underwater videographer facing difficult lighting conditions where a single scene can include bright sun and dark abyss.
Panasonic S1H Specifications
• 6K @ 24 fps (3:2 aspect ratio) – world's first interchangeable lens camera that can do this
• 5.9K @ 30fps
• 4K @ 60 fps with 10 bit recording
• Accommodates 4:3 Anamorphic mode shooting as well as a variety of recording formats
• Larger than S1 and S1R to keep from overheating
• 225-area DFD contrast-detect autofocus system
• Sensor-shift image stabilization
• 5.760K-dot 120Hz OLED EVF (electronic viewfinder)
• V-log picture profile with 14+ stops of dynamic range
• No limit on recording time (but the camera may stop recording if it overheats)
Check out our Panasonic S1H review here.
SUPPORT THE UNDERWATER PHOTOGRAPHY GUIDE:
The Best Service & Prices on u/w Photo Gear
Visit Bluewater Photo & Video for all your underwater photography and video gear. Click, or call the team at (310) 633-5052 for expert advice!
---
The Best Pricing, Service & Expert Advice to Book your Dive Trips
Bluewater Travel is your full-service scuba travel agency. Let our expert advisers plan and book your next dive vacation. Run by divers, for divers.
---