Master Class Tutorial - Great Mandarin Fish Underwater Photos
Scott reveals the ten secrets to getting beautiful photos of mating Mandarin Fish underwater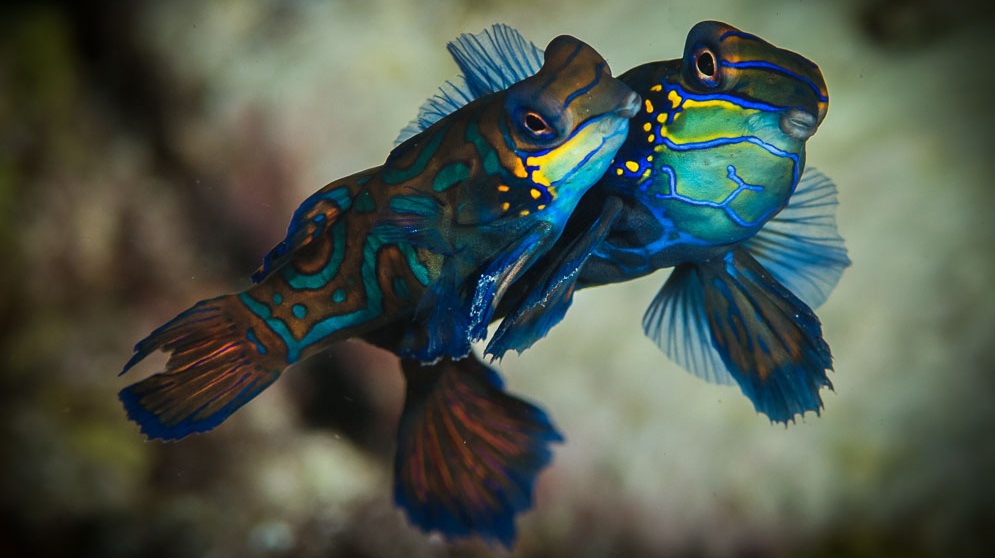 Mandarin Fish Photos - An Introduction
Welcome to the 2nd article in a series of Master Class tutorials on the Underwater Photography Guide. Today we are going to talk about photographing mandarin fish, which I consider to be one of the most difficult underwater subjects to photograph. Mandarin fish pose many challenges: they are shy, difficult to find, difficult to focus on, and the peak of the action moment only lasts for a brief second.
Mandarin fish generally mate almost every night at sunset, rising over the reef for a mere second or two before releasing their eggs and "fleeing the scene". Many of my mandarin fish photos have simply ended up being eggs with no fish in the photo.
In this article, I want to set expectations accordingly. Getting a great mandarin fish photo often involves a lot of time and effort in terms of research, practice, equipment purchases, and repeated dives. But I am confident that if you put in the work and follow these steps, eventually you will take a photo you will be very proud of.
#1 - Go Where The Mandarin Fish Are
Many dive resorts around the world have reliable dive sites with mandarin fish. Examples are Anilao, Lembeh, Dumaguete, Yap, Cebu, Sipadan, Wakatobi and Palau.
#2 - Get The Right Camera / Lens
You'll want to use the best underwater camera setup you can afford, in order to quickly focus in low light on the mandarin fish. With a compact camera, this type of photo will be very difficult, although using a Sony RX100 series or Canon G7X series camera will be better than using other compact cameras.
The next step up is a mirrorless camera with an Olympus 60mm macro lens. You can also use the Sony 90mm macro lens if you have a Sony mirrorless camera, but it is not known as the fastest focusing lens on the market.
However, the best option by far is a newer model NIkon or Canon dSLR with a 100mm or 105mm macro lens. Full frame cameras will give you more room for error with respect to composition, than a cropped sensor camera.
COMPACT CAMERA - Sony RX100 Series, Canon G7X
MIRRORLESS CAMERA - Nikon Z7 or Canon EOS R For fastest UW focus
DSLR - Nikon or Canon Full Frame with 100mm / 105mm lens
#3 - Get A Red Focus Light
This is perhaps the most important advice. Without a good red light, your goal of a great mandarin fish photo becomes significantly more difficult. I use the Sola 800 photo light (mention this article for an additional discount from the Bluewater Photo staff). Some strobes like the Sea & Sea YS-D2J models come with a red filter to place over their built in focus lights. Mandarin fish do not like white light, and if you repeatedly shine a white light on them, it is likely that they will never leave the reef to mate.
#4 - Learn How To Find Your Own Mandarin Fish
It is not difficult to learn the habitat of mandarin fish and where to find them on the dive site. They usually live in dead Acropora coral in shallow water. The dive guides will usually get you to the dive site before sunset, giving you time to slowly swim around the coral and look for some mandarin fish. Before the sun sets, they will be sitting still or moving slowly inside the coral. Your objective is the largest, fattest mandarin fish you can find - I've generally had the best overall luck with these.
#5 - Taking The Practice Shots
After finding your mandarin fish, you want to take some practice shots. These shots should not have the mandarin fish in them. Instead, you should take a photo of coral about 2 or 3 feet away, the same distance your great mandarin fish photo will hopefully be. I generally shoot at F9, ISO 400, 1/250th with my dSLR. Strobes should be pointed slightly outward, and the strobe power turned down so the coral is correctly exposed.
#6 - Watch The Activity
Your mandarin fish needs to find a mate. As sunset approaches, the mandarin fish and its mate will do a dance in the coral, hopping around and possibly eluding you. Keep a careful eye on your fish. The activity will gradually increase, and your pair of fish will get closer and closer together. You need to be ready for them to rise up and mate at any time.
#7 - Get The Right Angle and Background
The problem with shooting fish in dead coral, is that the coral is often in the photo and it does not make for a pretty background. Ideally you would find a pair of fish that are at a "high point" in the coral, so when they rise up, there is not coral directly behind them. It will help to get low, get close and shoot up. If there is coral in the background, you want it to be out of focus as much as possible. Using a long lens or zooming in if you have a compact, getting as close to the fish as possible, having the coral as far away as possible, and shooting at a fairly wide-open aperture will all help blur the coral in the background.
#8 - Be Kind and Give The Fish Space
Mandarin fish do not like lots of attention. They don't like divers getting close or hovering over them. They hate strobes. They hate dive lights. They don't like bubbles. They tolerate a little bit of red light. The more space, privacy and peace & quiet you can give them, the more likely they are to "do the act" and not be rushed doing it. You have to find the right balance between giving them space, and keeping an eye on them while they move around and increase their activity so you don't lose them or miss the moment.
#9 - Pray To The Underwater Photo Gods
Even if you do everything right, the underwater gods may not favor your photo. Do not despair if the fish do not mate, or if they mate so quickly you miss the shot. I would plan on at least 2 dives on the site, on 2 different nights, so you get familiar with where the fish live, how active they become before they rise up, and have a better chance that they will mate on at least one of the 2 nights.
When the mandarin fish are about to mate, I like to watch the fish through the viewfinder, keeping my eye on the viewfinder and my finger on the shutter. Note that the first time you do a mandarin fish dive, it will be difficult for you to know when this moment will occur. That is why it is important to do the dive more than once.
They will rise up for 2 to 3 seconds, release the eggs, and then disappear. If you press the shutter too early, the fish will be too low, with too much coral in the background. You need patience to wait for them to rise up. As soon as they stop rising, that is the moment to take the photo. Take the photo too early, and they might separate before mating.
#10 - Book Your Trip!
You won't get a great mandarin fish shot reading this article. :) Here's some great opportunities to get a great shot
SUPPORT THE UNDERWATER PHOTOGRAPHY GUIDE:
The Best Service & Prices on u/w Photo Gear
Visit Bluewater Photo & Video for all your underwater photography and video gear. Click, or call the team at (310) 633-5052 for expert advice!
---
The Best Pricing, Service & Expert Advice to Book your Dive Trips
Bluewater Travel is your full-service scuba travel agency. Let our expert advisers plan and book your next dive vacation. Run by divers, for divers.
---