Aberrations & distortions
Sigma 8-16mm chromatic aberration, vignetting, barrel distortion, flare
Chromatic Aberrations
I found the chromatic aberrations to be quick well controlled on this lens. My Nikon D300 automatically tries to correct chromatic aberrations in the JPEG files, so I tested this on my Nikon D80, and they weren't bad. You'll notice them if you see a very dark object with a bright background. Stopping down did not seem to make a noticeable difference.
In this 100% crop, the chromatic aberration is barely noticeable. Sure, there can be more extreme examples, but this is typical in an outdoor photo.
Vignetting
All wide-angle lenses suffer from some degree of natural vignetting, which simply means that the corners appear darker than the rest of the photo. The sigma 8-16mm lens is no exception, and there can be significant vignetting when shooting wide-open at 8mm. You will see a lose of more than a stop of light in the corners, compared to the center of the photo. Stopping down at shooting at F8 helps to reduce the vignetting. Of course, this can be corrected in software and I don't consider it to be a big issue.
For example, I did a very quick test using Adobe Camera Raw, lens correction tab, and at F4.5 setting the vignetting slidebar to +80, +30 cured the vignetting. At F8, +50, +30 seemed to do the trick.
This is an evenly lit section of my wall, shot at 8mm focal length wide-open. There's vignetting in the upper left & right corners (cropped photo showing only top of the wall).
 A quick use of the Camera Raw lens correction tool gets rid of the vignetting. As you stop down to F8 and F11, less of the vignette slider bar is needed.
Barrel Distortion
Barrel distortion is to be expected in ultra-wide angle lenses like this one. I did not find the barrel distortion that bad at 8mm, it's measured at about 3%, and goes away as you zoom in past 10mm. This is easily correctable in software like photoshop or PTLens.
Barrel distortion with the Sigma 8-16mm wide angle lens. It's most noticeable in the bending of the black bar in the lower left corner. 
Flare and Ghosting
The petal-type hood offers little protection against flare and ghosting from the sun, and because the lens is so wide it's difficult to block the sun with your hand. Still, I didn't find the flare to be too bad, and sometimes changing the angle slightly when shooting towards the sun can make the flare go away.
 A small amount of flare in the left side of the screen. Great performance in such difficult conditions with the Sigma 8-16 Wide Angle Lens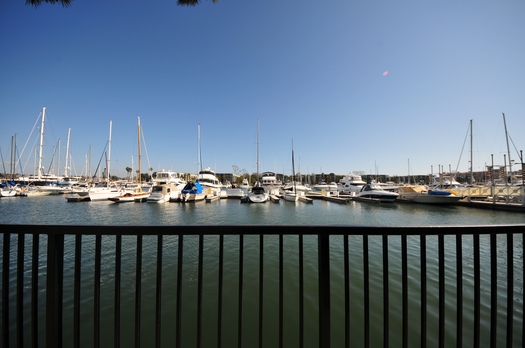 SUPPORT THE UNDERWATER PHOTOGRAPHY GUIDE:
The Best Service & Prices on u/w Photo Gear
Visit Bluewater Photo & Video for all your underwater photography and video gear. Click, or call the team at (310) 633-5052 for expert advice!
---
The Best Pricing, Service & Expert Advice to Book your Dive Trips
Bluewater Travel is your full-service scuba travel agency. Let our expert advisers plan and book your next dive vacation. Run by divers, for divers.
---