Socorro 2019 Trip Recap
Recounting an Epic Socorro Photo & Video trip in March of 2019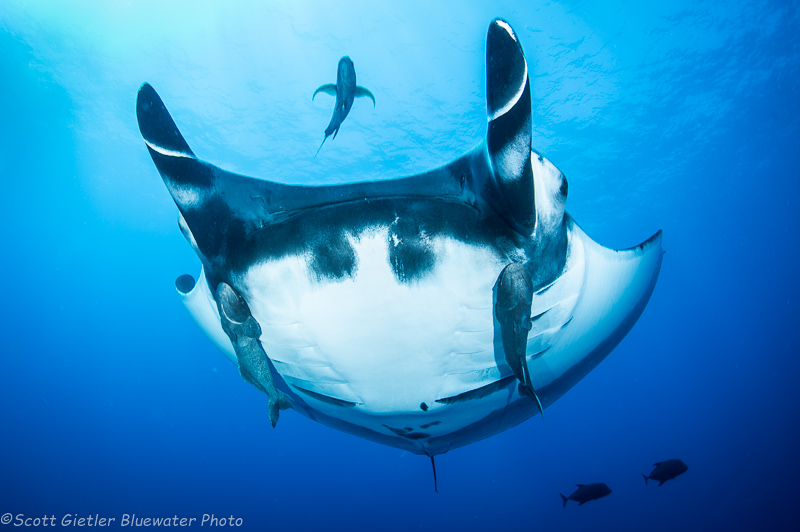 Our Socorro trip during March 2019 exceeded all of our expectations. Sharks were out in large numbers, and came closer than we ever thought possible. Manta Rays were in abundance, larger than life and some allowed repeated close encounters. We also had some exciting, yet quick, dolphin encounters.
We boarded the Rocio Del Mar liveaboard at 8AM, departed the dock at 10AM, and after 26 hours of a very smooth crossing we were getting ready for our first dive.
The Destination
The Socorro Island and the Revillagigedos Archipelago can be found 250 miles south of Cabo San Lucas, Mexico - at the tip of the Baja peninsula. Sometimes referred to as the Mexican Galapagos, this remote archipelago is a magnet for a large assortment of oceanic giants - ranging from manta rays to whale sharks to humpback whales to hammerhead sharks to dolpins and more! It's remoteness buffered the effects of human developement and maintained the wonder of ancient seas.
Who should dive here?
You won't find tiny critters and colorful reefs here, but rather an assorment of large, inquisitive pelagic creatures of the deep. If you've always wanted to swim with whales, dolphins, rays, and sharks - this is your once in a lifetime chance! Make sure you bring your wide and fisheye lenses, you're going to need them. And there's no need to worry about visibility - on a good day at Roca Partida or the Boiler visibility can be up to 200 feet!
The following photos are in chronological order from the trip.

We saw mating turtles during the checkout dive - plus a Manta. A great start!

Schooling hammerheads on dive #2. This is when we knew we were in for a good trip!

Silvertips were everywhere at San Benedicto.

Half a second later, the dolphin got the fish. Almost the entire group got to enjoy this surprise early-morning dolphin hunting encounter.

More Silvertips coming in close. On several dives on San Benedicto, Silvertips and Galapagos sharks were everywhere. We also saw a Tiger Shark on this dive.
Shark action was much better on this than in other years, some sites seemed to always have Galapagos or Silvertip sharks trying to get cleaned, often with a Tiger or Hammerhead off in the distance.

Roca Partida was beautiful.

Now I switched to my fisheye lens - my favorite lens for epic shots. School of jacks at Roca Partida

Whitetips like to pile on top of each other at Roca Partida.

The manta ray interactions with the divers was incredible, and were the highlight of the trip.

Manta Ray Silhouette - F14, ISO 200, 1/250th.
A Smooth Ride Home
After 20 dives in Socorro, we had a smooth 26-hour ride back to Cabo. The Rocio Del Mar was a well-run operation with a great chef, a very good dive operation and a well-trained crew. Being able to get my tank on easily, and getting on/off the panga easily is an important criteria for myself, and the Rocio scored an "A" in both of these categories.
Cameras and domes were treated with care, and I felt like we were always brought to the best areas of the dive sites.
Which Lens to Use Underwater?
One common topic that came up during the trip was "which lens should I use?" It was usually between a fisheye and a rectilinear zoom like the micro-four thirds Panasonic 7-14mm, or the full-frame Nikon 16-35mm. But people also used mid-range lenses like the micro-four thirds Olympus 12-40mm.
What I found out was that there was really no wrong lens to use. A wide-angle zoom worked well for sharks, but a fisheye lens could produce some epic close-up shots with a lot of detail. The mid-range lens produced some great tight shots and shark portraits. For Manta Rays and Schools of fish, I did often prefer the fisheye because I could get so close to those subjects.
Gear Used
Dual YS-D2J strobes
Nikon D810, D850, Z7 cameras
Tokina 10-17mm fisheye lens, Nikon 16-35mm F4 wide-angle zoom
Zen glass mini-dome ports
Sea & Sea + Nauticam underwater housings
Beneath the Surface compressed floats
For underwater video, guests used gear ranging from the GoPro Hero 7, the Paralenz all the way to the Canon C200 Cinema camera. The C200 is a serious cinema camera capabily of great dynamic range, color depth and focus isolation.
The GoPro Hero 7 performed exceptionally, with some guests commenting on how much better it was than previous GoPro versions. The Paralenz really surprised me with its ease of use, and the incredible amount of data that it produced such as depth and temperature during the videos, and the graphical displays of the dives.
Trip Stats
Total # of dives: 20 dives
Dives per Day: 2 dives the first day, 3-4 dives a day after that
Water temp: 75 degrees on most dives
# of Manta Ray photos taken by Scott: 1,048!
# of drones lost to the ocean gods: One
# of cameras flooded: Zero
Favorite snack on the trip: Snickers
# of tiger sharks spotted: Two
# of short fills: Zero!
Winner of best dive deck dancer award: Axel (Dive Guide)
Top ten things we loved about Socorro
#1 – Ridiculously easy to get to from the USA. Simply take the short flight to San Jose del Cabo, Mexico.
#2 – Friendliest giant Manta Rays in the world – need I say more?
#3 – Water temps stay in the 70's, which means you never have to freeze your butt off
#4 – Wide selection of liveaboard boats
#5 – Photo / video opportunities lend themselves well to beginner and advanced shooters alike, with basic or advanced gear.
#6 – Sharks, dolphins, whale sharks, whales, baitballs, oversized yellowfin tuna, and the manta rays. Yes, all in one place.
#7 – Cabo San Lucas is a great place to spend a night or two before or after the trip
#8 – Given the Socorro Islands are in the middle of nowhere, the crossings are generally gentle
#9 – The islands are patrolled so they are relatively free of fishing boats
#10 – Mexican food is delicious!
Join us on one of our photo workshops to Socorro!
Join us on this 8-night Socorro trip on Nautilus Under Sea for giant mantas, sharks, dolphins and more! Fly into San José Del Cabo, Mexico for amazing liveaboard diving in the beautiful Socorro Islands. Trip led by Erik Lukas.
December 8 - 16, 2019
8 Nights for:
Quad Stateroom -

$2,895* /

Double Stateroom -
$3,195*
Superior Suite -

$3,695* /
Premium Suite -
$4,295*
*Prices do not include 5% Mexican VAT & $65 port fee. Port fee is payable onboard.
*IVA tax has been harmonized at 16% across Mexico. The original 11% tax is included in your trip fee. The 5% increase in tax is shown separately.
The Hotel CostaBaja Resort & Spa -

$2,087 p.p
La Concha Beach Resort -

$1,803 p.p.
Hotel Catedral La Paz -

$1,670 p.p.
Experience the best place in the world for mantas, sharks, dolphins, and humpbacks, on the Rocio del Mar! Fly into San José Del Cabo, Mexico for amazing liveaboard diving in the beautiful Socorro Islands.
March 18 - 27, 2020
Led by Katie Yonker
9 Nights for

$3,895
The Hotel CostaBaja Resort & Spa -

$2,087 p.p
La Concha Beach Resort -

$1,803 p.p.
Hotel Catedral La Paz -

$1,670 p.p.
SUPPORT THE UNDERWATER PHOTOGRAPHY GUIDE:
The Best Service & Prices on u/w Photo Gear
Visit Bluewater Photo & Video for all your underwater photography and video gear. Click, or call the team at (310) 633-5052 for expert advice!
---
The Best Pricing, Service & Expert Advice to Book your Dive Trips
Bluewater Travel is your full-service scuba travel agency. Let our expert advisers plan and book your next dive vacation. Run by divers, for divers.
---