Canon EOS R Review
The Canon EOS R features a full-frame, 30.3 megapixel sensor and the best underwater auto focus and ergonomics of any full-frame mirrorless camera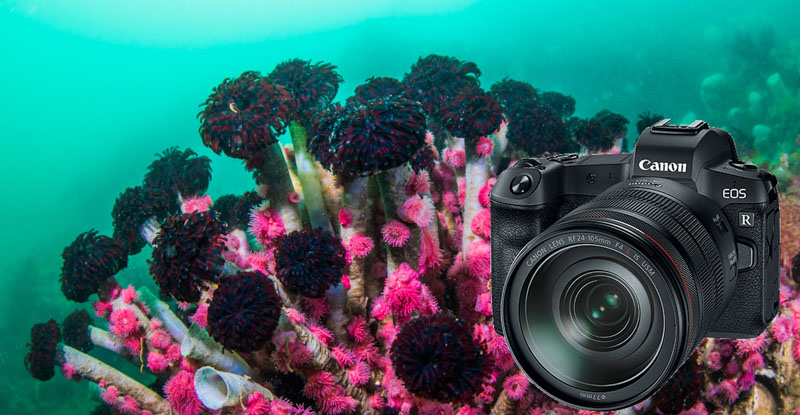 When the Canon EOS R made its debut as Canon's flagship full-frame mirrorless camera, the world's largest camera manufacturer solidified a global shift away from DSLRs to professional mirrorless cameras. The development of a new RF mount and RF lenses was a testament to Canon's commitment. Because of this, many photographers expected something amazing to come out of Canon's flagship full-frame mirrorless camera.
Then the specs sheet and design were released, and many were left confused and disappointed. Some aspects of this camera are indeed enigmatic. But as with anything in photography, specs sheets often lie…. After taking the Canon EOS R underwater we've found that it is the world's most useable underwater mirrorless camera with image quality matching Canon's high-end DSLR systems, like the Canon 5D Mark IV. It certainly has its kinks that need to be worked out, but the EOS R is still a market-crushing, full-frame mirrorless model.
For underwater photographers the Canon EOS R has two features that really make it stand out – a 30.3 megapixel full-frame CMOS sensor and market-crushing Dual Pixel autofocus capability with 5,655 autofocus points. Does it outperform other full-frame mirrorless rivals like the Sony A7R III, Nikon Z6/Z7, and Panasonic S1/S1R? It's hard to say. As with any other camera there are pros and cons. Our Canon EOS R review determined that the EOS R is the most useable underwater full-frame mirrorless cameras available. If you are a Canon user, this is a very viable mirrorless option – especially for DSLR users with existing EF lenses. The world is going mirrorless so it might be time to make the switch.
Status: Available Now
U.S. MSRP: $1,999.00 (Body Only)
---
Bluewater Photo Canon EOS R Housings:
Ikelite Canon EOS R Underwater Housing
Sea & Sea Canon EOS R Underwater Housing
Nauticam Canon EOS R Underwater Housing
Aquatica Canon EOS R Underwater Housing
Ikelite Canon EOS RP Underwater Housing
* Be sure to check out our Sea & Sea EOS R Underwater Housing Review
---
Jump to a Section
EOS R Specs | New RF Lens Mount | Underwater Performance
Customization Tips | Autofocus | Image Quality
Underwater Video Performance | Pros and Cons
Recommended Lenses and Housings | Who should buy? | Conclusion
---
Key Canon EOS R Specifications
• 30.3 MP, full-frame CMOS sensor (36.0mm X 24.0mm)
• Native ISO range of 100 - 40000 (expandable range: 50 – 102400)
• Dual pixel autofocus system with 5,655 autofocus points!
• Approximately 88 X 100% AF area coverage
• Autofocus tracking
• 1/200 sec flash sync speed
• 8 fps burst shooting (5 fps in AF servo mode)
• C-Log video color profile available in 10 bit (external recording) or 8 bit (internal recording)
• 4K video @ 30fps with a 1.8x crop, 1080p @ 60fps
• OLED 3.6 million dot electronic viewfinder with 100% coverage
• New Canon RF lens mount (adapters for EF/EF-S lenses available)
• Fully articulated 3.2" TFT LCD
• No In-Body Image Stabilization
• Battery life: 370 shots per charge (CIPA) with LCD, 350 shots with EFF
• Single SD card slot with UHS-II compatibility
• Weight: 660g (1.5 lb), 135.8 X 98.3 X 84.4 mm
Compared to rival cameras on the market like the Sony A7R III, Nikon Z6/Z7, and Panasonic S1/S1R, the specs are a little lackluster. It's not that there's any one spec that is particularly bad, it's just that many things could be improved. The native ISO could be lower, the sync speed could be higher, the shooting speed could be quicker, and there could be in-body image-stabilization. But honestly, those changes would not make a huge difference in the final image. Specs aren't everything, and this camera is clearly capable – on the specs sheet, and more so underwater.
New RF Lens Mount System
With the release of a new flagship system comes the opportunity to redesign the future of lenses. Similar to Nikon's strategy, Canon decided to produce a large 54mm lens mount with a relatively small flange distance for higher quality optics. Canon also worked on updating their communication system between the camera and lens. All RF lenses also include a control ring on the lens barrel. Although this could be nice for topside photos, most underwater photographers will find this to be a dud feature requiring extra gear on the port or housing. It's better to use the control dials already available on the camera.
Although Canon's RF lenses are better choices than Nikon's first Z mount lenses, there are not many viable options for underwater photography quite yet. 2019 looks a little more promising with a Canon RF 15-35mm f/2.8L on the horizon as a potential candidate for wide angle underwater photography. But as for a good macro option? There isn't anything on the roadmap yet, but the Canon RF 35mm f/1.8 IS Macro could be a possible semi-macro option.
EF- EOS R Mount Adapter
Fortunately for us underwater photographers, Canon sells an EF-EOS R mount adapter that allows you to use all EF and EF-S lenses with the EOS R. This is amazing news as there are tons of high-quality lens options to choose from EF mount lenses for underwater photography. For our underwater review, we used the Canon EF 100mm f/2.8 L Macro lens for macro photography and the Canon 8-15mm f/4 L circular fisheye lens for wide angle photography. Both are tried and true lenses for Canon's full frame DSLR systems used by countless underwater photographers. For faster AF speed, the Canon EF-S 60mm f/2.8 macro is great. All lenses that we tested seemed to work seamlessly with the adapter.
There are two EF-EOS R adapters – one with an additional control ring and one without. For underwater photographers it's sufficient to just get the adapter without the control ring for the low price of $99.
Underwater Performance
The Canon EOS R stands out for being the most useable underwater full-frame mirrorless camera on the market. A combination of ergonomics, build, autofocus speed/modes, and a nice EVF really make the EOS R an enticing option for someone looking to jump into the full-frame mirrorless world. The underwater image quality is top-tier, but it's not quite up to par with some of its competitors due to a lack of a few important features like in-body image-stabilization (IBIS).
Build
The Canon EOS R (660g) is very similar in size to it's competitors like the Nikon Z6/Z7 (675g), Sony A7R III (657g), and Panasonic S1/S1R (1,021g). Although mirrorless cameras tend to be smaller than DSLR's, full-frame mirrorless cameras are only slightly smaller – especially underwater. This is because many full-frame mirrorless cameras, including the EOS R, use lens mounts that are the same size as full-frame DSLR lens mounts. Larger lens mounts mean larger ports and typically larger housings. So if you were thinking about switching from a DSLR, don't expect much of a size reduction underwater, even if there is a slight benefit. The 5D Mark IV is only 230g heavier than the EOS R. The EOS R is weather sealed which provides a little extra protection in the event of a flood.
Ergonomics
The EOS R really outshines its competitors in underwater ergonomics. In fact, Canon claims that the EOS R is the most customizable ever built by Canon. You can change 14 different camera controls for still shooting. Because it's so easy to customize the buttons to suit a housing and functions that are important for underwater use, I found the camera had a very short learning curve. In fact, it was second nature by the third dive. Like the info menu on the Z6/Z7, the Q menu on the Canon EOS R allows for easy access to almost all the important settings you need during your dive.
However, the EOS R's topside ergonomics leave a lot of be desired. In fact, this has been the source of frequent complaints by photographers. Canon added a touch-sensitive multi-function bar that left a lot of photographers confused and often gets in the way of camera functionality unless you set it to turn on after holding it for a few seconds. Although it's not very useful above water, it can't be accessed at all underwater. So as an underwater photographer you don't have to worry about it. There is also no joystick on the back panel to toggle between autofocus points. Again, as an underwater photographer the key pad is fine for this function, but it can be an inconvenience for topside shoots.
Tips for customization
1. C.Fn4 menu: Set an accessible button (depends on your housing) to change one shot AF <> servo AF. This lets you quickly change between autofocus settings in order to access useful settings like AF tracking and single AF.
2. C.Fn4 menu: Set the up, left, right, and down control keys to AF point selection so you can control where your autofocus point is
3. Set the Q button to display all useful underwater settings. This includes, white balance, ISO, autofocus mode, and autofocus area selection
4. C.fn4 menu: If necessary (despite the Q button customization), set an accessible button to change ISO. It's preferred to use the Q button as it can be annoying holding down a button and turning a dial to change ISO underwater
More tips for settings and customization will be thoroughly covered in our Canon EOS R underwater settings article.
Electronic Viewfinder (EVF)
When mirrors are removed from full-frame cameras, it becomes impossible to have an optical viewfinder. As a result, full-frame mirrorless cameras have an electronic viewfinder which shows a live video feed. Although they lack the dynamic range capability of an optical viewfinder, electronic viewfinders have become increasingly useful due to their ability to show settings, image playback, and anything else the LCD could show in live-view. This means you can do a whole dive, take your shots, change your settings, and view them, without taking your eye off the viewfinder.
When using the EVF on the EOS R, we found that it was not quite as good as the Nikon Z7 which boasts the world's best EVF. However, it's still a solid piece of equipment with no noticeable lag during every day use. Canon also offers a cool little trick where they insert the frames you capture in burst shooting modes back into the EVF for a continuous feed without blackout.
Card Slots
Canon is in step with other flagship full-frame mirrorless cameras – it only offers one UHS-II compatible card slot. This is an unfortunate decision for any underwater photographer who likes to back up their images on two cards or for underwater videographers shooting in 4K. Rather than an oversight, this is probably an indication that the design was not fully optimized by the release date.
Battery Life
The EOS R's battery life is in line with other full-frame mirrorless cameras at 370 shots per charge. Although it isn't as good as a DSLR, I found that it was, in truth, more than 370 shots, and enough for about three dives. I would recommend changing out the battery every two to three dives to be safe and to let the camera sleep between shots. It's very quick when waking up again.
Autofocus: The World's Best Mirrorless Autofocus System
The highlight of the Canon EOS R is its dual pixel autofocus system. Not only does it boast the most focus points in the world – 5,655 – it offers 0.05s locking speed, a minimum lowlight sensitivity of -6EV @ f/1.2, and very effective autofocus tracking. After testing this system, we found this to be the best full-frame mirrorless autofocus system on the market for underwater photography. The EOS R's 5,655 AF points cover 88% X 100% of the frame – a huge upgrade for DSLR shooters and one of the benefits of shooting mirrorless. It's almost not necessary to reframe your shot after you lock on focus, because you can just choose the point you need.
Lowlight autofocus: -6 EV lowlight autofocus sensitivity is absolutely spectacular. This is especially beneficial to photographers diving in limited visibility or at night. In fact, when we took the EOS R underwater, we almost felt like we didn't even need a focus light. The focus snapped quick and perfectly every time.
Autofocus Tracking: We found the EOS R's tracking priority autofocus to be the most effective underwater autofocus we've used. In fact, I personally thought it was better than Nikon's 3D AF tracking system on the Nikon D850. Tracking priority AF is available in Canon's servo (continuous) AF mode. Normally I shoot single AF, but with the EOS R, I used servo AF with tracking priority almost the whole time. The AF tracking was very fast, accurate, and it expanded the AF area based on how the camera and subject was moving. Because I was diving in situation of very high current, I was able to take shots with the Canon EOS R that wouldn't have been possible without AF tracking. The single autofocus was also very fast and accurate, but I began to feel that the camera did a better job using tracking priority than I could ever do manually.
Image Quality
Image quality is where Canon needs to catch up, ever so slightly, with its EOS R line. This is mostly due to a lack of features rather than the camera's actual performance. Don't get me wrong – the image quality is professional and excellent. However, the technology has room for further improvement.
Resolution
The Canon EOS R's resolution is not high nor low for a full-frame mirrorless camera. At 30.3 MP, it is very acceptable for all applications as well as large prints, but not the highest on the market. The Nikon Z7 boasts 45.7 MP which is excellent for getting extreme crops if you're a macro photographer. The frustrating thing about the Canon EOS R line is that instead of releasing a new model with higher resolution, they released a new model, the Canon EOS RP with lower resolution – 26.2 MP.

Dynamic Range
The dynamic range on the Canon EOS R is great and on par with competitors, but it could be better for underwater photographers. For one thing, the sync speed is only 1/200s and the native ISO is 100. Underwater photographers need high sync speeds and low base ISOs in order to properly expose situations with high dynamic range like sunballs. It's our hope that the next camera in the line-up will have a base ISO of 64 and sync speed of 1/250, as we might expect from a camera like this.
RAW File and "Canon Colors"
As with any other camera, I found Canon's RAW file and color science unique. The RAW files usually took a little more effort to edit than with files from Nikon, Olympus, and Sony. This is because the colors are a little flatter and softer than with other full-frame mirrorless systems I've shot. I found that if I was using lightroom, I would use the "saturation" tool which saturates all colors rather than the "vibrance" tool that targets more muted tones. The saturation tool was more responsive. People are very opinionated about their "Canon Colors," but I personally have little opinion one way or another on the color – it's just different. For video, I must say "Canon Colors" on the EOS R are perfect for bringing out red tones and the auto white balance adjusts quite nicely with a video light.
No In-Body Image-Stabilization (IBIS)
One of the greatest developments in photography has been the development of In-Body Image-Stabilization. So much so that it has become somewhat of a gold standard for full-frame mirrorless systems. The Canon EOS R is notable among the genre for having no IBIS whatsoever. Although many of Canon's lenses are stabilized, this could be a deal breaker for underwater photographers. In underwater photography you need the extra stabilization due to a large number of low light situations where you're limited by low sync speeds, crazy three-dimensional movement, and fast subjects. Recovering as many stops of exposure as possible is essential. Personally, I found that a few of my shots could have been crisper if the camera had IBIS.
Although the video on the EOS R is great for the general user, it's a bit of a let-down for dedicated underwater videographers.
Canon offers a C-Log color profile that flattens out highlights and shadows to capture more details to be brought out later through color grading. This is in line with offerings from of Log profiles from all manufacturers. Much to the pleasure of underwater videographers, canon is one of the few manufacturers that offers a Log profile with internal recording. This saves divers from buying a housing for an external recorder to capture a Log profile.
From an engineering standpoint, 4K video in a high-resolution full-frame camera is a difficult endeavor. The problem is that engineers need to downscale their resolution from 30.3 MP to 8 MP (4K). There are different methods of doing this and each one takes a certain amount of processing power and results in a certain level of quality. Due to a lack of processing ability, Canon chose the method that resulted in the least processing power and largest reduction in quality – cropping. Canon decided to offer 4K at a 1.8X crop factor. Many videographers found the reduction in quality unacceptable – especially since you're shooting a full-frame camera in order to use the full-frame sensor. But for general use, we still found the underwater footage to be top notch.
Moreover, there is a lack of In-Body Image-Stabilization (IBIS) in the Canon EOS R, whereas every other competing brand offers IBIS. Although Canon offers a number of stabilized lenses, a lack of IBIS could be a deal breaker for many dedicated underwater videographers.
While the camera itself is very customizable and ergonomic, we found the video controls to be a little more confusing. It was hard to switch between stills and photos without using the control dial – which isn't always ideal in a tight situation.
If you are a Canon user wishing to shoot casual video, the 4k is still excellent. Its more professional than you would get in 4K mode on an action cam like the Paralenz or GoPro. But underwater videographers should look at the Nikon Z6 or Sony A7R III for underwater video instead of the Canon EOS R. In fact, the Nikon Z6 just might be the best full-frame underwater video camera on the market. And with the Z6, there is no crop factor at 4K. For the first time ever, Nikon may have just surpassed Canon for video.
Pros and Cons of the Canon EOS R for Underwater Users
Pros
• Best underwater autofocus system for a full-frame mirrorless cameras
• Autofocus tracking is amazing – lightyears ahead of the Nikon Z6 and Z7, and better than the Sony A7R III due to enhanced autofocus speed
• Amazing low light autofocus ability (down to -6 ev @ f/1.2)
• Very ergonomic camera underwater
• The most customizable Canon camera on the market
• High resolution 30.3 MP CMOS sensor
• 5,655 AF points
• C-Log picture profile can be recorded internally (at 8bit)
• Adapter for EF and EF-S lenses is available with full compatibility
Cons
• No ultra-high resolution sensor option available yet in the EOS R line (unlike the Sony A7R III and Nikon Z7)
• Dynamic range performance could be improved – native ISO is 100 and it has a 1/200s sync speed
• Just one card slot
• No in-body image-stabilization (IBIS)
• 4K video is only available with a 1.8X crop which reduces quality
Lens Options for Underwater Photography
Because the RF lens mount is so new, there are a couple RF lenses that could be viable for both wide angle and macro photography in the future (e.g., Canon RF 15-35mm f/2.8L for wide and RF 35mm f/1.8 IS Macro for semi-macro and portraits) – but nothing quite as good as the available EF and EF-S lenses with the EF-EOS R adapter.
Recommended Underwater Lenses with the EF-EOS R adapter
Macro
Macro lenses enable to you get close up shots of little critters.
Canon EF-S 60mm f/2.8 Macro: This is a great all-around macro lens. It is easier to use than the 100mm macro lens and focuses quicker. However, it has less working distance than the 100mm so it is more difficult to get shots of skittish subjects. This is the recommended lens for blackwater diving.
Canon EF 100mm f/2.8L Macro IS: This is the best macro lens for small and shy subjects due to a larger working distance. It's also an essential tool for supermacro photography when combined with a macro diopter. We tested this lens with the Canon EOS R and loved how sharp the photos were and the working distance for skittish subjects. If you are new to macro photography, it would be better to start with the 60mm macro for faster autofocus speeds.
Nauticam Super Macro Converter: The Nauticam super macro converter (SMC-1) is a wet diopter that can help capture sharp macro and super macro images. It's the strongest, sharpest diopter on the market. If you are a super macro photographer, this diopter is best used with the Canon 100 mm f/2.8 macro.
Wide Angle Fisheye
Wide angle fisheye lenses allow for an ultra-wide field of view but result in a distorted image. The distortion is reduced underwater to the angle of refraction of light through the water.
Canon 8-15mm f/4L circular fisheye: This is going to be the best choice for a full-frame fisheye lens. At 8mm, the lens vignettes over itself creating a cool, artistic, circular fisheye affect. For traditional fisheye images, just zoom into 15mm and you will capture beautiful ultra-wide angle shots without vignetting. We tested this lens with the Canon EOS R and loved its functionality and quick autofocus with autofocus tracking.
Rectilinear Wide Angle
Rectilinear wide angle lenses retain a wide field of view but do not exhibit the distortion found on fisheye lenses. They are great for large animals like sharks and reefscapes.
Canon 16-35 f/2.8 III Ultra-Wide Zoom lens: This lens is the best choice for those who are buying their first wide-angle lens and don't have a strict budget. Most underwater shooters use rectilinear wide-angle lenses for shooting subjects that don't come close enough to fill the frame with a wide fisheye lens: sharks, whales, sea lions, dolphins, etc.
Canon 16-35mm f/2.8L II Wide-Angle Lens: This has been the most popular rectilinear wide-angle lens for Canon full frame. This lens sat at the top of the selection for the last few years in terms of corner sharpness, speed, and price... although that will change as more new shooters purchase the version III.
Canon 11-24mm f/4L Ultra Wide-Angle Lens: Want the widest lens you can buy? The Canon 11-24mm offers a much wider field of view than the 16mm. This perspective is great for reefscapes, massive wrecks and very wide shots where you do not want the distortion of a fisheye lens. The downside is that this lens is larger, heavier and more expensive than the other wide-angle lens choices.
Because the release of the Canon EOS R was so anticipated, many housing manufactures were much quicker than usual at coming out with EOS R housings. This gave us the opportunity to test the Sea & Sea EOS R underwater housing for this review, as Sea & Sea was earlier than usual with their housing for the EOS R.
Available housings for the EOS R include the Nauticam EOS R housing, Ikelite EOS R housing, and Sea & Sea EOS R housing. Aquatica will be announcing their Canon EOS R housing soon. Ikelite offers a Canon EOS RP housing, for users of the smaller full-frame mirrorless offering.
Be sure to check out the Bluewater Buyer's Guide to Canon EOS R Underwater Housings.
Professional underwater photographers love Nauticam for their top notch and high quality underwater housings. The housing is built with aircraft grade aluminum and is robust and built to last. The EOS R housing lives up to Nauticam's standards of ergonomics. All controls are within fingers distance from your hand and easily used with gloves. The housing includes a patented port locking system, housing locking latches, stainless steel handle brackets, and supports HDMI output and flash triggering.
The Nauticam EOS R housing is available now at Bluewater Photo!
Ikelite offers the most affordable Canon EOS R housing, which is the only housing less expensive than the camera itself. Manufactured in the USA, and made of a corrosion-free ABS-PC (polycarbonate) blend, this housing is both durable and light, making it great for travel. This housing offers full control of the camera, with controls designed specifically for ease of use, and is great for all budgets and shooting styles! We highly recommend using this housing with the Ikelite CT2K Canon TTL kit and compatible Ikelite strobes to take full advantage of the EOS R's fast shooting speeds.
The Ikelite EOS R housing is available now at Bluewater Photo!
Sea & Sea is known for high quality aluminum underwater housings. We took the EOS R diving with this housing and loved it. It's very ergonomic, light in the water, and can take a beating. There are a few features unique to Sea & Sea that make this housing very useful, such as glow in the dark buttons with control labels which makes night and low light photography a breeze. The housing also features 2 gears for zoom and focus dials, a clear window for the camera's control panel, and a port lock system.
The Sea & Sea EOS R housing is available now at Bluewater Photo!
Aquatica is known for top quality housings, which are machined from a solid block of aluminum, that stand up to the roughest ocean conditions. Their control shafts and buttons are made of the finest grade stainless steel to ensure reliable performance.
The underwater housing for the Canon EOS R has not been announced yet and we will be updating the details as soon as it has been announced.
The Aquatica EOS R housing has not been announced yet, but is available for pre-order at Bluewater Photo!
Should you invest in the Canon EOS R?
Although the EOS R's specs sheet has taken a beating on the internet, I can't help but say time and time again that specs aren't everything. The EOS R is still a top-of-the-line professional camera and performs as such. If you are a Canon shooter with all the necessary EF and EF-S glass, the Canon EOS R is a no-brainier. Mirrorless is the future of photography and this camera offers more than sufficient incentives for an upgrade from a DSLR and compact system. Personally, I would take the EOS R with EF glass over the Sony A7R III and EF glass w/ metabones adapter any day.
However, if you are looking for a full-frame mirrorless system without brand loyalty, your search should be more nuanced. The important features for each system are dependent on the photographer behind the lens. If you want amazing autofocus and AF tracking, the Canon EOS R is going to be the system for you. Autofocus and ergonomics is where the Canon EOS R shines. If resolution is a priority, you may want to wait until Canon releases a higher resolution camera in the EOS R line or go with the Nikon Z7 or Sony A7R III. For video, I would consider the Nikon Z6 over the Canon EOS R. The Panasonic S1/S1R has yet to be used underwater at the time of this review, but it also sounds quite promising for video.
Regardless, based on our underwater tests, it's going to be hard to find many things wrong with the Canon EOS R when it comes to underwater performance and the art that is produced.
Conclusion
When used for underwater photography, the Canon EOS R performs far better than what can be deduced from the specs sheet. The EOS R's underwater ergonomics and autofocus system is far better than competing full-frame mirrorless offerings. It really doesn't get easier to capture great professional, full-frame photos. Customizability on this camera far surpasses its competitors giving users the opportunity to really choose the shooting style that feels right for them.
Image quality from the EOS R is on-par with Canon's highly successful DLSR – the 5D Mark IV. A 30.3 MP resolution is going to be more than enough for most underwater photographers, and its dynamic range performance is excellent, despite having room for improvement. If you're a fan of Canon for "Canon Colors," then you'll love the EOS R.
The Canon EOS R does struggle with less ergonomic video controls and a 1.8X crop in 4K video mode. However, the Canon's color science and a C-Log picture profile that can be recorded internally still make it an enticing option for video – especially for casual shooters.
With the EF-EOS R lens adapter and a wide range of housing options, the Canon EOS R is already compatible with a wide selection of lenses and underwater housings. So investing in the EOS R is not going to be a waiting game for underwater options; anyone can go for a dive and shoot with it now. And even if you don't think the EOS R is the right camera for you, it's worth noting. The future of photography is mirrorless.
SUPPORT THE UNDERWATER PHOTOGRAPHY GUIDE:
The Best Service & Prices on u/w Photo Gear
Visit Bluewater Photo & Video for all your underwater photography and video gear. Click, or call the team at (310) 633-5052 for expert advice!
---
The Best Pricing, Service & Expert Advice to Book your Dive Trips
Bluewater Travel is your full-service scuba travel agency. Let our expert advisers plan and book your next dive vacation. Run by divers, for divers.
---