Shooting Stills with the Panasonic GH4
The GH4 is known for 4K Video, but Let's Look at its Still Photo Capabilities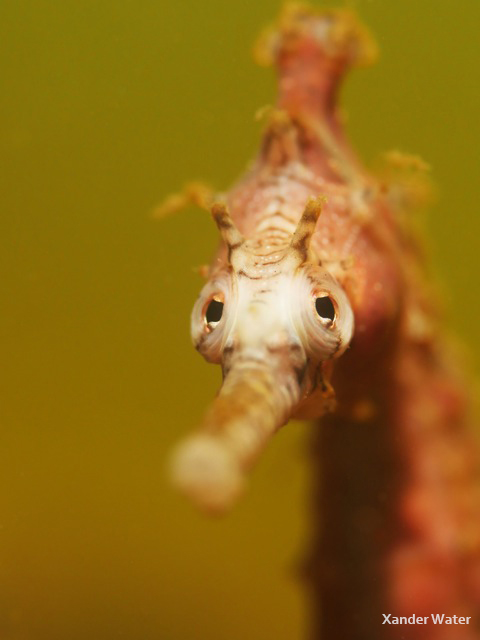 Pink "tiger snout" Seahorse, shot with GH4 & 2x strobes while snorkeling in Western Australia.
The Panasonic GH4 is mostly known for being the first affordable camera that can shoot 4K (Ultra HD) video. Many people are discussing the video capabilities, and the photographic side of the camera is easily overlooked. In this report I am going to focus on using this camera for stills underwater.
If you haven't yet, you can view some GH4 4K underwater video footage and learn the best settings for underwater use on the Bluewater Photo blog.
Panasonic GH4 Specs
16.05 MP Digital Live MOS Sensor
UHD 4K 3840x2160 at 30p/24p
3.0" 1,036k-Dot OLED Touchscreen Monitor
2,359K-Dot OLED Live View Finder
Support for 59.94p, 23.98p, 50p, & 24p
4:2:2 8-Bit or 10-Bit HDMI Output
High-Speed 49-Point Autofocus
Magnesium Alloy, Weather-Sealed Body
The Olympus 60mm lens with open aperture provides nice soft backgrounds.
60mm macro lens, 1/250, F3.2, ISO100, slight crop
When I first had a play with the camera I was really enjoying how the camera feels in my hand. The make quality is very solid, and the buttons feel good and are laid out well. The menu is easy to navigate. I have never been convinced by the need of touch screens on cameras, but I am finding it often useful when using the camera on land. For example: tapping the screen to pinpoint focus is super quick, and saves some menu navigation for example. Although I do not use any 'intelligent auto' functions, I was surprised that when my girlfriend was photographing her food, the camera automatically selected the 'food mode'. That is pretty intelligent!
I come from a compact camera background, and after using the Canon G9, Canon S95 and RX100 I wanted to upgrade to an interchangeable lens system. Although I was giving up the small size, light weight of a compact setup and versatility with wet-lenses, I am thoroughly enjoying the benefits the GH4 offers. This camera feels like a state of the art piece of equipment: the focus is fast and accurate, the camera works smoothly and he functions are precise. The viewfinder is very bright and clear. The size and weight feels like it is only about half of my Nikon D7000 dSLR.
An often shy Leafy Filefish (aka Prickly Leather Jacket) looking into my 3.5" mini dome.
8mm Fisheye, 1/250, F10, ISO200, slight crop
Panasonic GH4 Underwater Housing
To take this camera underwater I bought the Nauticam GH4 housing with vacuum system. The Nauticam housing is a dream to use and the added vacuum system offers great peace of mind. Strobewise I am using 2 INON S2000's on small size UltraLight arms. Underwater the setup is slightly negatively buoyant, but it does not need float arms in my opinion. I removed one handle of of the housing, mounting one of my strobe arms to the M5 mounting point on the housing. I do not use the left hand handle and this way I can position the camera lower to the sea bed when taking portrait style photos. This often makes just the difference in getting a better perspective or background. Also, my setup weighs a little bit less and is smaller. I can just fit my whole setup in a 8 litre air tight food storage container.
GH4 Wide-Angle Photography
For wide-angle underwater I choose the Panasonic 8mm Fisheye with 4.33" and 3.5" Nauticam ports. I love to shoot Close-Focus Wide-Angle, and this lens is perfect for that with its close focus distance.
The lens is very sharp, including the corners, and both ports provide excellent image quality. The benefit of the larger 4.33" dome port is the corner sharpness. The smaller 3.5" mini dome port is less good for general wide-angle shooting, but the small size lets you get that little bit closer to a CFWA subject for a dramatic perspective.
Weed beds and sea grass meadows on Garden Island.
8mm Fisheye with 4.33" dome, 1/125, F6.3, ISO100
GH4 Macro Photography
The Olympus 60mm lens and Nauticam 65 port is my choice for macro. Results are sharp and there is no chromatic aberration.
About the Photos
All photos in this article were shot with the GH4 in full manual mode with 2x strobes on manual. All photos taken on snorkel in max 2 meters of water in the Swan River Estuary and Garden Island in Western Australia.
Natural light in .5 meter of water, natually "snooted" by exactly one little ray of sunlight coming through a jetty.
60mm Macro lens, 1/100, F2.8, ISO250
Floating sargassum weed at Garden Island.
8mm Fisheye lens with 4.33" dome, 1/250, F10, ISO160
Sea horse swimming under a boat house.
60mm Macro lens, 1/250, F5, ISO400
Tiger snout seahorse under a jetty in 1 meter of water.
60mm Macro lens, 1/250, F2.8, ISO200
Panasonic GH4 with Nauticam housing and flat macro port for Olympus 60mm macro.
Panasonic GH4 Articles
Panasonic GH4 Underwater Video Settings
Tutorials for Underwater Video
SUPPORT THE UNDERWATER PHOTOGRAPHY GUIDE:
The Best Service & Prices on u/w Photo Gear
Visit Bluewater Photo & Video for all your underwater photography and video gear. Click, or call the team at (310) 633-5052 for expert advice!
---
The Best Pricing, Service & Expert Advice to Book your Dive Trips
Bluewater Travel is your full-service scuba travel agency. Let our expert advisers plan and book your next dive vacation. Run by divers, for divers.
---