Anatomy of a Shark Dive
Analyzing depth, light and camera angles for Caribbean reef sharks based on a digital dive profile

Shark diving attracts bubble blowers from all over the world. These seasonally timed dives can almost guarantee seeing at least one or two sharks in close proximity - a far more exhillarating experience (albeit less natural) than crossing a shark during a traditional dive.
Baited shark dives take two forms. The first is using chum to attract sharks, who linger based on curiousity of a meal or promise of an easy snack. This is a great way to support shark tourism and resulting benefits without shifting the sharks' behavior much. The second is shark feeding, which is popular with larger species and presents photographers with some high-adrenaline photo opportunities.
Shark diving is new to me. I've had some spine-tingling natural encounters with sharks while snorkeling and freediving, plus regular scuba encounters with whitetips and blacktips, but had never jumped in the water with reef sharks baited in via chum. Our Caribbean reef shark dives in Bimini, Bahamas during Bluewater Photo's recent small group photo trip certainly changed that. Sure, these aren't great whites or great hammerheads or tiger sharks, but they're still very impressive and majestic fish capable of radical behavior changes.
Our first reef shark dive was on a windy day that kept us away from dolphins north of Bimini, so we didn't have excellent vis and were shooting through big shifts in light as clouds passed overhead. I took a COSMIQ dive computer down on the dive and later paired the log with my photos in the Deepblu dive log and social app (via bluetooth) to share the data you see below for each shot.
---
The Gear:
Bluewater Photo's rental Canon 7D Mk II and housing
8" acrylic dome port
Tokina 10-17mm fisheye lens
Dual Sea&Sea YS-D1 strobes
---
The Shark Dive Begins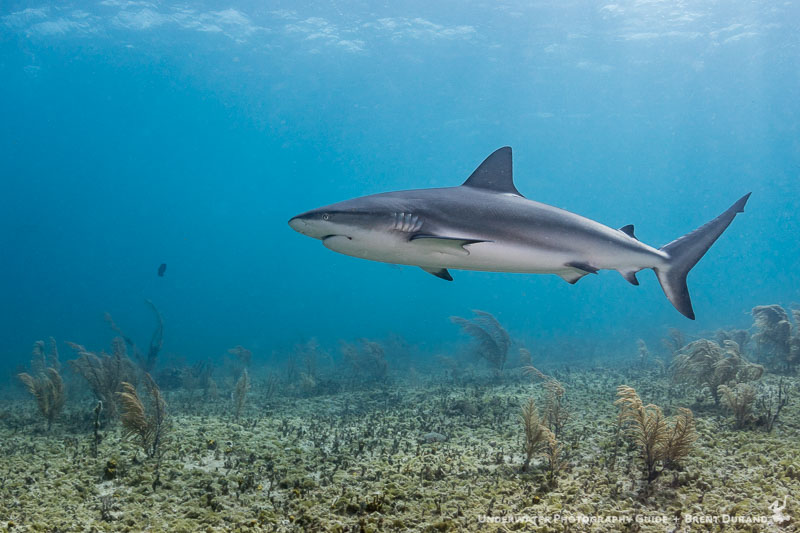 Shot: Dialing in the settings as I observed the sharks' swim patterns. I wanted some shark-on-the-reef shots to show the slow-swimming peacefulness of the sharks.
Position: Near the bottom, away from the boat/bucket with sun to my right.
Settings: 14mm focal length, ISO 200, f/8, 1/200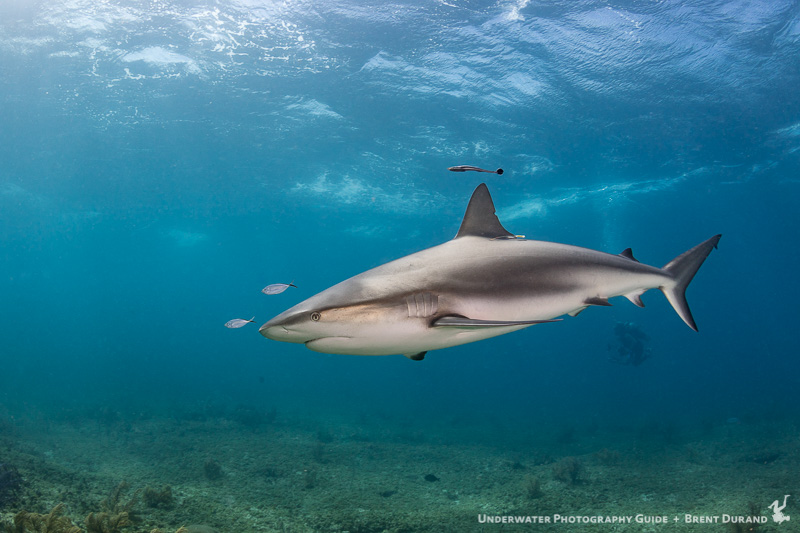 Shot: Still working on shark-on-the-reef shots away from the group. This shark came in from the side on a high line, allowing me to shoot up and capture some of the ocean surface.
Position: Near the bottom away from the boat, sun above left.
Settings: 14mm focal length, ISO 200, f/8, 1/250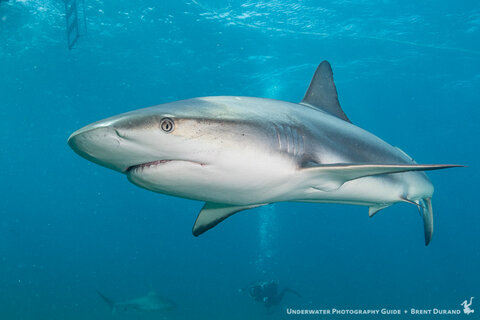 Shot: The sharks stopped swimming laps where I had been, so I moved close to the boat to work on some portraits using a slightly closer focal length. The sun is behind cloud cover in this one, resulting in dark water.
Position: Near the bottom, with boat and chum bucket on left, sun roughly at my back.
Settings: 17mm focal length, ISO 200, f/8, 1/250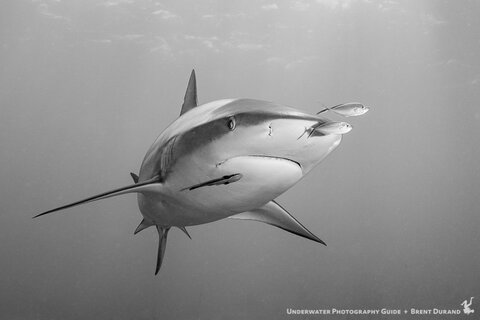 Shot: Hanging in the water column now to try and take advantage of the sharks swimming closer to surface while making some very close passes.
Position: Mid-water, shooting away from boat for clean background.
Settings: 17mm focal length, ISO 200, f/8, 1/200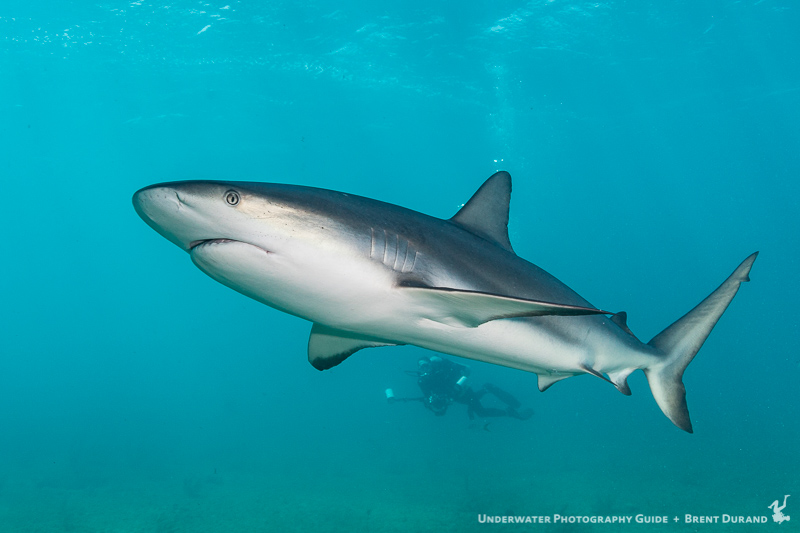 Shot: Another portrait shot. I try to take advantage of divers in the frame, but can't take credit for not clipping the diver/shark. Notice the monotonous tone of the water - the result of a cloud passing in front of the sun again.
Position: Back near the bottom to try and shoot up at the sharks.
Settings: 17mm focal length, ISO 320, f/8, 1/250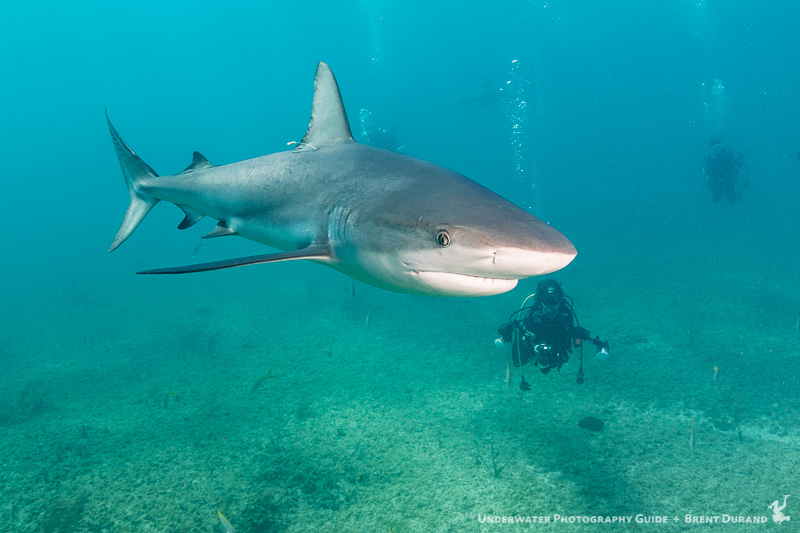 Shot: This shark was making a close pass so I took a shot even though the perspective was downward. The trick was to wait to fire the shot until the shark was at the closest point with tail photogenically curved.
Position: Mid-water column again to intercept the sharks' swim patterns.
Settings: 17mm focal length, ISO 320, f/8, 1/250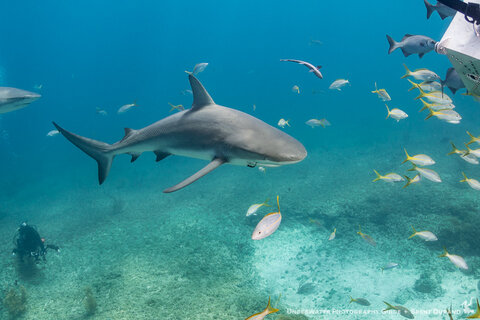 Shot: Working on depicting the full scene, telling the story of the dive. Still shooting dark water because of cloud cover. I opened up the exposure a bit in order to shoot at a downward angle.
Position: Shallow, mid-water near the chum bucket.
Settings: 17mm focal length, ISO 320, f/6.3, 1/200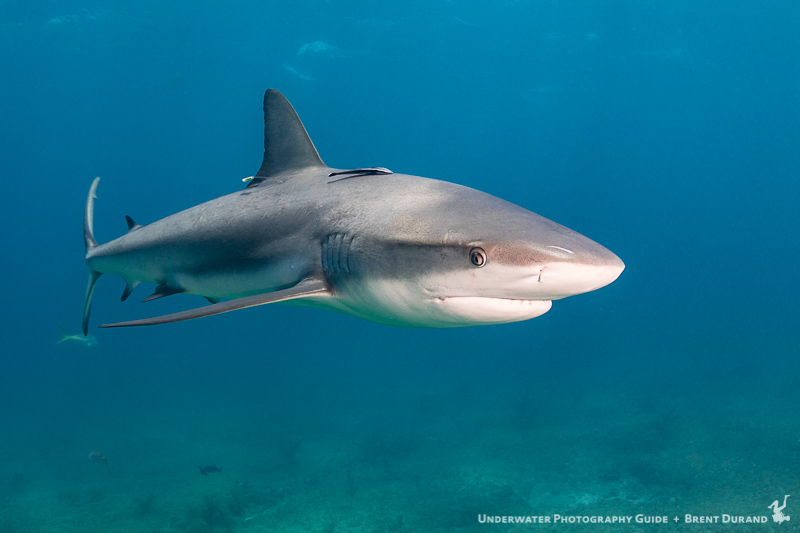 Shot: Another shark portrait away from the boat. Notice the cloud cover and bland water again. I was still trying to shoot the big picture, but had to take advantage of this close pass framed out into the blue.
Position: Mid-water, facing away from the boat.
Settings: 17mm focal length, ISO 250, f/6.3, 1/200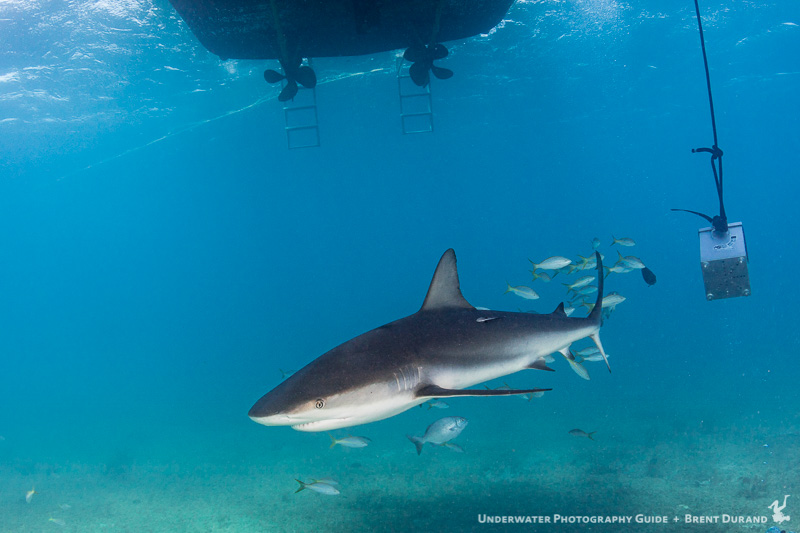 Shot: Another storytelling shot, intentially shooting towards the boat and bucket as the shark reached its closest point of the pass (while still at approach angle/perspective).
Position: Mid-water under the boat. Sun is overhead and at my left. *Note: never dive under the boat unless very comfortable with buoyancy skills.
Settings: 17mm focal length, ISO 200, f/6.3, 1/250
There we have it. Our second Caribbean reef shark dive was a couple days later in much nicer conditions, but I'll save those photos for another time.
Want to join a group dive trip or photo workshop? Check out our full dive trip schedule.
SUPPORT THE UNDERWATER PHOTOGRAPHY GUIDE:
The Best Service & Prices on u/w Photo Gear
Visit Bluewater Photo & Video for all your underwater photography and video gear. Click, or call the team at (310) 633-5052 for expert advice!
---
The Best Pricing, Service & Expert Advice to Book your Dive Trips
Bluewater Travel is your full-service scuba travel agency. Let our expert advisers plan and book your next dive vacation. Run by divers, for divers.
---