Ikelite underwater camera housings
No discussion of underwater photography would be complete, without mentioning Ikelite underwater camera housings. Ikelite manufactures affordable housings for compact underwater cameras, and dSLR cameras. Read my underwater housing reviews here.
Choosing an Underwater Housing
Compact camera housings
If you own a compact underwater camera, you have a choice of an OEM housing, Ikelite housing, and sometimes a higher-end housing such as Fix or Patima. Ikelite housings are often build better than OEM housings such as Canon, Olympus or Sony - although I find Fuji underwater housings to be exceptional. Ikelite housings are more expensive, larger, heavier. Ikelite has a recent line of compact underwater housings, such as their Canon S90 underwater housing. These housings are getting great reviews for their low price and small size. Fix or Patima housings often have better ergonomics, and allow you to switch lenses, but they can be much more expensive.
DSLR housings
Ikelite housings are the most affordable underwater housings for dSLR users, and have been used by professionals for years. Other choices like Sea & Sea, Nexus, Seatool and Subal are more expensive but may offer better ergonomics and access to more camera controls. Choosing the right housing can be difficult, I suggest you try them out first.
Choosing an underwater Camera
Compact cameras are small and easy to travel with. A compact camera setup underwater with wide-angle macro and wet lenses, and two strobes can take very good photos. People who are very serious about photography usually end up getting a dSLR so they can attach different lenses as their photography grows over time.
Ikelite underwater camera housings - pros and cons
Ikelite underwater housing advantages
Many Ikelite housings offer TTL with Ikelite brand strobes. TTL can be very useful, especially for macro underwater photography. Ikelite TTL works well, and I hear of very few problems with it.

Ikelite housings are clear, allowing the underwater photographer to see inside the housing in case there is a leak.

Ikelite has a very good reputation for customer service. Housings have good depth ratings, and parts are readily available, new or used, worldwide.
Ikelite underwater housing disadvantages
Controls are sometimes difficult to use, especially compared to more expensive housings. I'm not a big fan of their handles on their dSLR housings, I think they are too tall.
Ikelite dSLR housings have a reputation for being prone to "user error" in allowing floods, especially with dome ports, although they have made recent changes to correct this in late 2009.
In some compact cameras like the Fuji F10 or Canon G10, the Ikelite housing partially blocks the internal flash, which means use for macro shots will be limited without an external strobe.
For some compact cameras, the Ikelite housing does not offer the best wet lens support. If you want to serious macro or wide-angle underwater photography, and want to use a compact camera, make sure you understand your wet lens options, and which housings support them. Your local underwater photography store will have the latest information.
Further reading
Ikelite underwater camera housings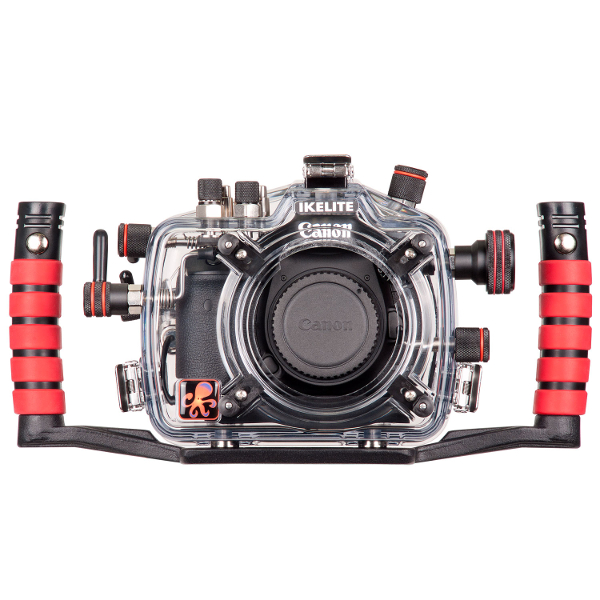 SUPPORT THE UNDERWATER PHOTOGRAPHY GUIDE:
The Best Service & Prices on u/w Photo Gear
Visit Bluewater Photo & Video for all your underwater photography and video gear. Click, or call the team at (310) 633-5052 for expert advice!
---
The Best Pricing, Service & Expert Advice to Book your Dive Trips
Bluewater Travel is your full-service scuba travel agency. Let our expert advisers plan and book your next dive vacation. Run by divers, for divers.
---