Story Behind the Shot: Chew With Your Mouth Closed!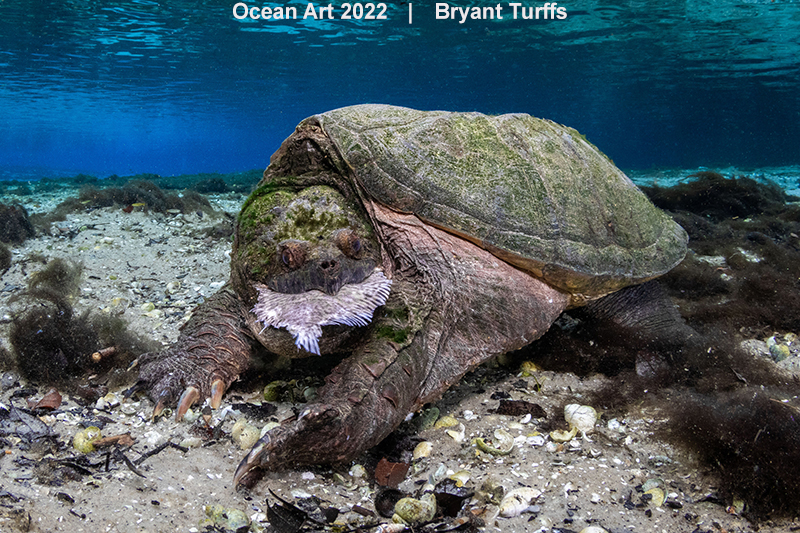 The 2nd Place photo for the "Marine Life Behavior" in the Ocean Art 2022 Competition was taken at the Ocala, Florida. See all Ocean Art 2022 Winners Here
Camera System
Bryant Turffs used a Canon 7D Mark II camera with a Tokina 10-17mm Fisheye Lens inside an Ikelite Housing. The housing is a lightweight underwater housing made from white ABS-PC blend material which makes it durable and robust. To illuminate the subject, he used two (2) Ikelite DS160 strobes.

The Shot
"I captured this image while exploring a freshwater spring and river. Although I set out looking for manatees, my attention was captured by this common snapping turtle. I spent several hours observing her at a respectful distance and moving in to make images now and again. This individual is apparently blind and did not seem to mind my presence. She went about her business alternately resting, breathing, and foraging. Eventually, she came across a dead flatfish, commonly known as a hog-choker. The fish's name comes from the tendency for its spines to get caught in pigs throats when scavenged. The spines, however, were no match for this turtle. She positioned the fish in her mouth and began to scrape away the spines with her forelimbs, as depicted here. Once satisfied she swallowed the remaining fish whole. Common snapping turtles play an important role, scavenging carrion from aquatic ecosystems in the South Eastern United States. The species is, however, omnivorous, and will consume vegetation and live prey too.
Encounters like this one reinforce, for me, the need to be a patient observer and keen explorer. This species was not my target on this day, and it took a prolonged period to capture this behavior. I made this image with a Canon 7dmkii and Tokina fisheye in an Ikelite 200DL housing. The 10-17mm fisheye was perfect for this subject as it allowed me to zoom into fill the frame with this medium sized subject and still capture her environment. The image was made with dual Ikelite DS160 strobes and dome diffusers. I used balanced lighting to highlight the beautiful clear water and bring out the details of the subject."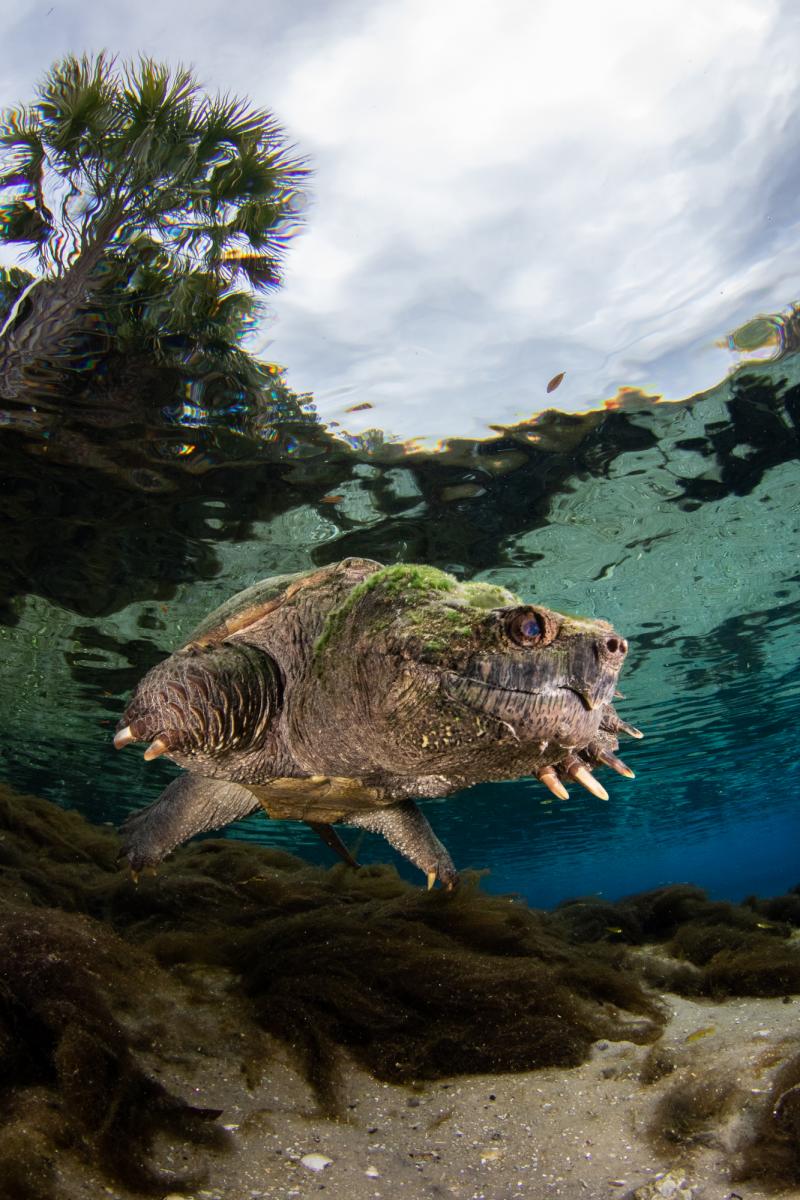 What Does Winning Ocean Art 2022 Mean to You?
"I'm honored to have been recognized in this years Ocean Art Competition. As I am sure is the case for most of my fellow entrants, I have entered competitions in the past, with images that I have been proud of and emotionally attached to, to no avail. Over the last year, I have put in a bit extra reading not only on the technical side of photography, but also the aesthetic elements of a good photo. Underwater photography, however, is still a challenging medium. All the preparation in the world cannot guarantee that you will find a good subject in good conditions and be lucky enough to witness an interesting behavior. As such, I am gratified to have had this lucky encounter and to have been able to capture it well enough to achieve recognition from this esteemed judging panel. Thank you to the competition organizers for an enjoyable experience and to the participants for continually pushing the limits of our discipline. I look forward to next year!"
About Bryant Turffs
Bryant Turffs is a native Floridian, maritime and dive industry professional, writer, photographer, and adventurer. Bryant's work has been awarded and featured in National Geographic, Oceanographic Magazine, and Florida Environmental Outreach. He co-founded the Florida Manta Project, the first dedicated long term study of manta rays in Florida. Bryant is also an ambassador for Ikelite. Check out more of Bryant's work at his website!
SUPPORT THE UNDERWATER PHOTOGRAPHY GUIDE:
The Best Service & Prices on u/w Photo Gear
Visit Bluewater Photo & Video for all your underwater photography and video gear. Click, or call the team at (310) 633-5052 for expert advice!
---
The Best Pricing, Service & Expert Advice to Book your Dive Trips
Bluewater Travel is your full-service scuba travel agency. Let our expert advisers plan and book your next dive vacation. Run by divers, for divers.
---