Dolphin Play in Bimini
An amazing experience playing with a pod of spotted dolphins in Bimini
Since I was a kid, the water and dolphins have been an important aspect of my life. I begged my parents to allow me to order the Jacques Cousteau book that would change my young life. Decades after befriending that book and watching every episode of The Undersea World of Jacques Cousteau, I had photographed humpback whales underwater, manatees and beautiful reef scenes, but one of my favorite cetaceans had still eluded me.
One day my email inbox lit up with an opportunity to do a small group photography trip to Bimini with Bluewater Dive Travel, and spend time with spotted dolphins. I had heard about the pod of Stenella frontalis that lived in the beautiful waters near the small island, so it was with great excitement that I signed up for the trip.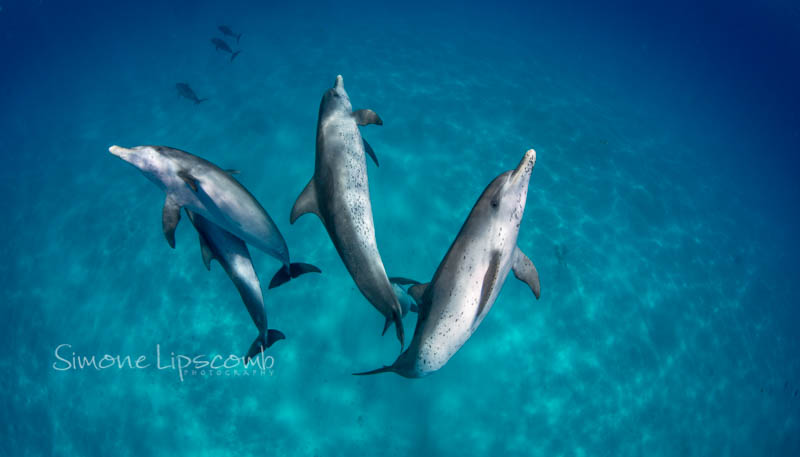 First Encounter
Arranging travel to Bimini was more challenging than some trips, but it only made the adventure more fun. The payoff for a little extra effort was completely worth it once I was surrounded by five mother and calf pairs on our first day out!
Just like most wild animals, there is no guarantee of where the animals will appear or even if they will show up for a photo shoot. Our captain, Neal Watson, Jr, knew the pod well and no more than 40 minutes after leaving the dock, our group was approaching it.
After I slid off the back deck of the boat with my camera kit I found myself away from other humans and almost instantly surrounded by mother and calf pairs. So fast was their approach that I hardly had time to check my exposure, make adjustments and point my housing in their direction. And then there was the moment of awe that the mothers trusted me with their babies, and a general feeling of my mind being blown. Somehow I managed to click off a few frames before they swam off. I spit out my snorkel and squealed with delight.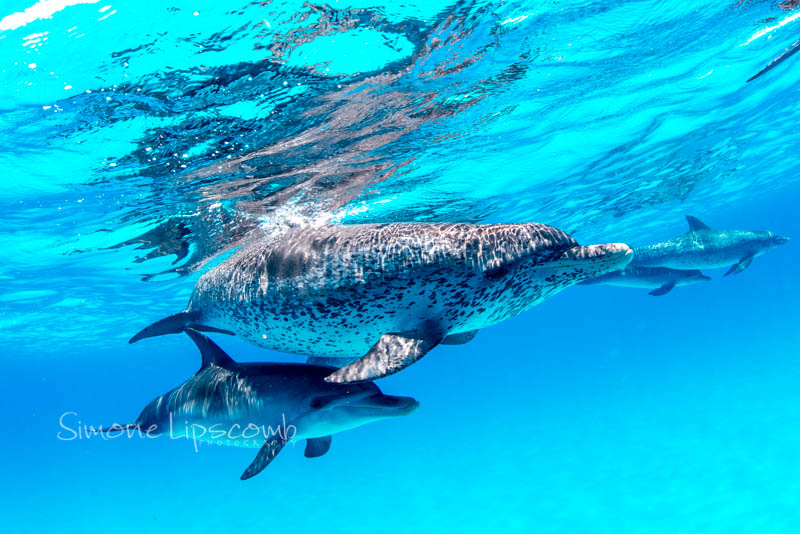 Another Encounter
On another in-water encounter I felt a nudge against my arm as I swam. I thought it was one of the other photographers in the group and was wondering why they were so close. As I turned my head to see who was there, the eyes of a mother dolphin smiled at me and urged me on. Another one came to my left side and I found myself swimming with two adult dolphins pressing against both of my sides. My arms were holding the housing in front and I had to guess at what I was capturing as I turned the housing to either side. They were giving me no space to turn around and pushed me forward with their group.
Somehow I managed to take photographs of the encounter and remember the feeling of their strong, sleek bodies against mine as we swam as one sea family. The others moved faster than I could but the large female circled back for me and pushed against my body as if to say, swim faster sister….keep up!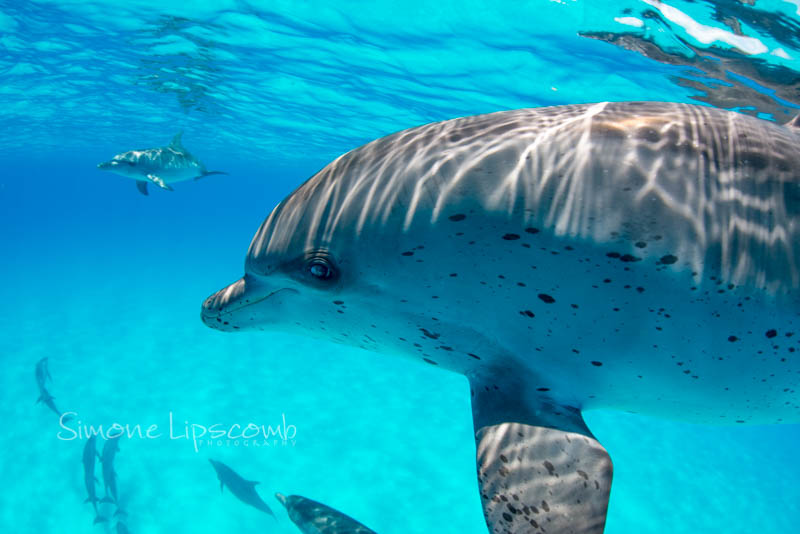 Dolphin Group Dynamics
Group dynamics are an important consideration when interacting with social animals such as spotted dolphins. At one point three male bottlenose dolphins swam among the large spotted dolphin pod. The 'boys' were quite amorous and swam around trying to entice spotted females. I'm guessing my eyes were rather large as the persistent bottlenose 'boys' flirted. The females bit and slapped with their flukes but it seemed only to excite the males into greater pursuit, even visiting some of us human females with inquiring eyes and nudges.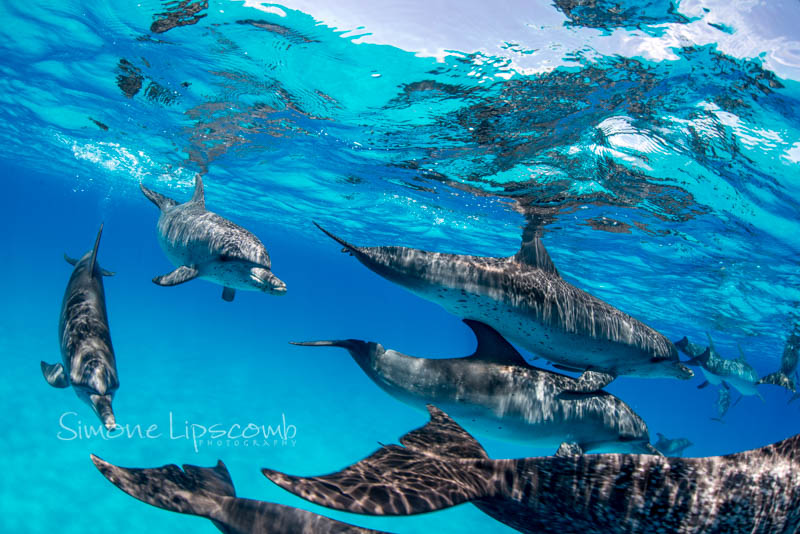 Staying Present while Photographing
The sheer joy of twirling and somersaulting with a pod of engaging dolphins has remained fresh in my mind and heart. There's always the goal of wanting to capture great photographs, coupled with the intent to stay present, enjoy the experience, and actually learn from it. As both a writer and photographer the experience really cannot be segregated into two parts. It can be challenging to stay present with the experience while making sure my f-stop, shutter speed, and ISO are properly adjusted.
The photographer in me wants to ensure the shot is free of humans, fins, hands, and boats and that I'm not facing the sun. Shooting at or near the surface while snorkeling ensures better lighting and no need for strobes, but it also means direct sunlight can be a real shot-killer.
As a rule I tend to get away from the group of humans as much as possible. Depending on the animals I'm working with this can be easy or, in the case of humpback whales, not so easy because the groups must be kept close together to ensure mother and calf are not disturbed by our presence. With the dolphins of Bimini, it was quite easy to swim away from other humans to be alone with dolphins.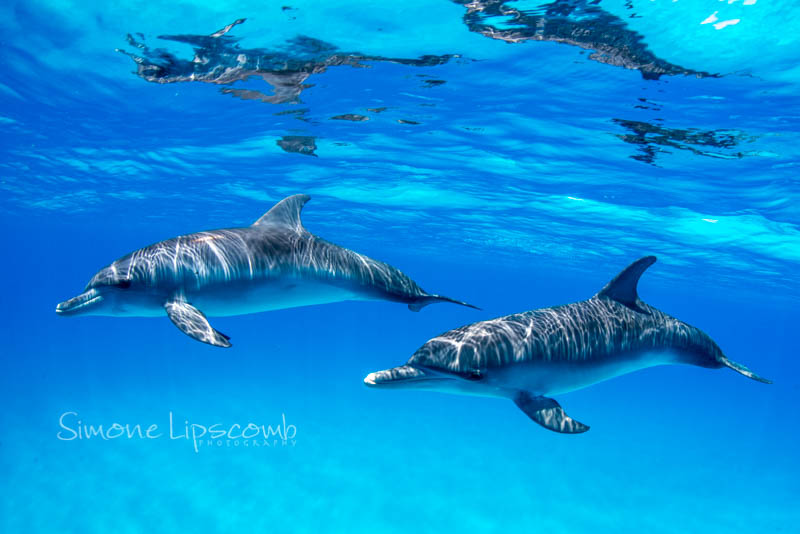 Quieting the Mind
Another valuable asset to have as a wildlife photographer is the ability to quiet the mind. Wildlife respond well to individuals who are still, quiet, respectful, and aware of their own personal space. When I'm photographing manatees, I float as still as a log meandering downriver and have had incredible face-to-face photographic encounters and calves that laid on my shoulder or chewed my hair. With dolphins there is active swimming involved so the log-trick didn't work, but the ability to clear my mind and be completely present in a centered way definitely gave me closer access to their pod's innermost experiences.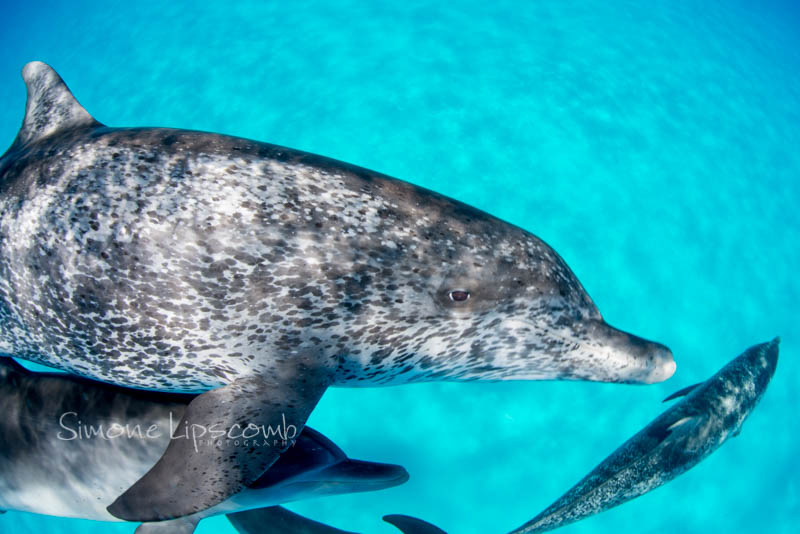 One day a headache was challenging me but I slid into the water with hope I could forget it for a while. Several dolphins swam past me and one large, heavily-spotted female stopped and approached me. She was within two feet and began to use her sonar. The clicks and buzzes were very loud and I could feel them inside my head. It felt as if they were bouncing around inside my cranium.
She swam off, circled back and repeated the same process with her buzzes and clicks. Finally she moved away and glanced back as if to invite me to follow her. I answered her suggestion and found myself once again surrounded by the pod. Over thirty dolphins were swimming, darting, twirling around me.
After a while the dolphins swam off and I returned to the boat. After handing my camera to the crew, I climbed the ladder and realized my headache was gone. I called that dolphin the matriarchal shaman of the pod.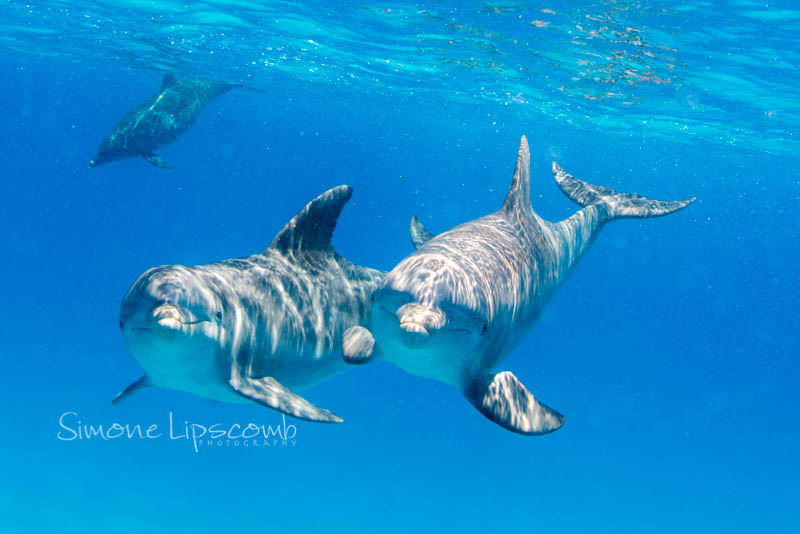 Every wildlife encounter is life-changing but these found their way into a book of my stories and photographs, Cosmic Whales: Mystical Stories from the Sea (editor's note: you can find Simone's books here). The three days of encounters with Bimini's friendly dolphins now weave their magic to those unable to visit them in person.
My Gear and Technique
I shoot with a Nikon D800 with a Sigma 15mm fisheye lens in an Aquatica housing. If I use strobes the Ikelite DS160 Sun Strobes are my choice. Settings for the dolphin encounters depended on sun, clouds….that would appear then disappear…and water clarity. In general, the range of settings was ISO 400 with 1/125 or 1/160 sec at f10 or f11 to 1/250 sec at f14. I like to play with f stop and shutter speed to create different effects and encourage photographers to play with their settings.
I approach photography with a very intuitive creativity and rarely try to figure out the logistics of settings in the water. I allow my fingers to roll the adjustment knobs on my housing without filtering it through the left-brain. There are many photographers who adhere to a strict formula and approach from a very left-brained method. Each way is completely acceptable. My rule of thumb is to do whatever works for you.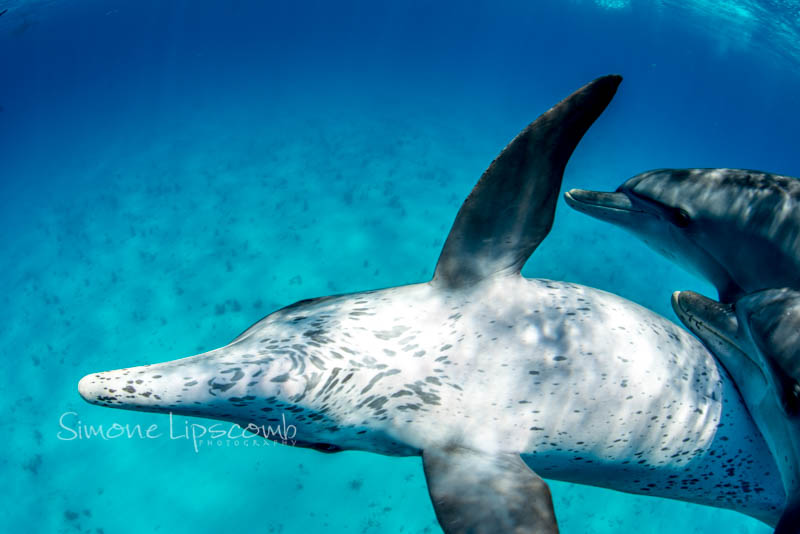 My One Request for You
There is one request I make of all underwater photographers: Enter the water with utmost respect for the wildlife you might encounter and your fellow human adventurers. No shot is worth stressing wildlife…ever. Likewise, no encounter is worth pushing others out of the way to beat the crowd. With respect as our intention, only good things will result from our time in the underwater realm.
Gear Links
Related Articles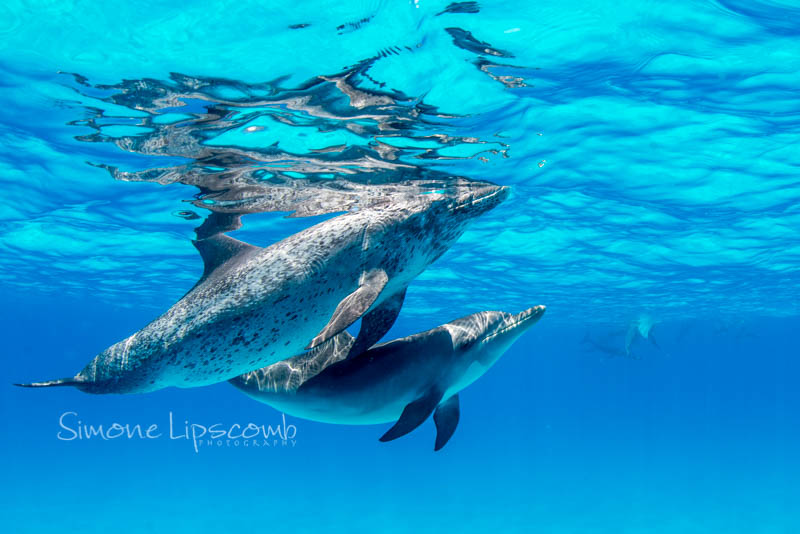 SUPPORT THE UNDERWATER PHOTOGRAPHY GUIDE:
The Best Service & Prices on u/w Photo Gear
Visit Bluewater Photo & Video for all your underwater photography and video gear. Click, or call the team at (310) 633-5052 for expert advice!
---
The Best Pricing, Service & Expert Advice to Book your Dive Trips
Bluewater Travel is your full-service scuba travel agency. Let our expert advisers plan and book your next dive vacation. Run by divers, for divers.
---