Story Behind the Shot: E.T. The Extra-Terrestrial
Extra terestrial critter living inside a sea squirt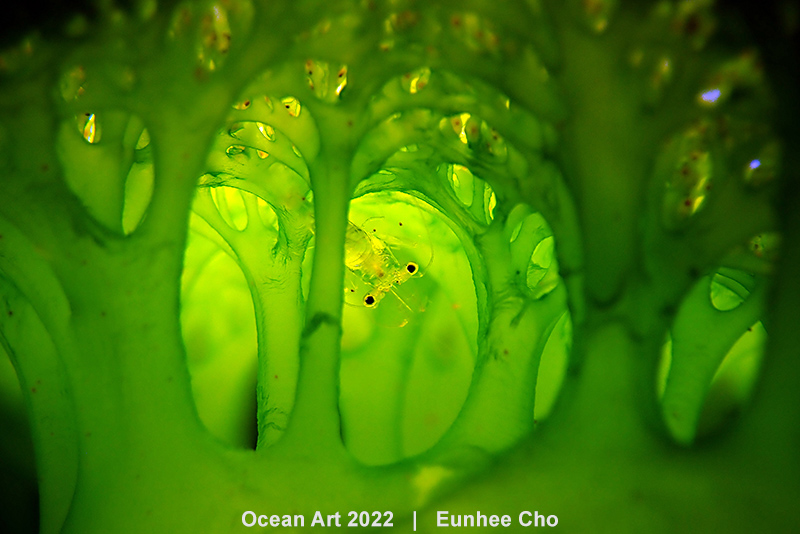 The winning photo for the "Compact Camera Macro" in the Ocean Art 2022 Competition was taken at Dauin, Negros Oriental, Philippines. See all Ocean Art 2022 Winners Here
The Story
I saw the shrimp in the picture in a sixth sea squirt at 18 meters deep. I was anxious because I had to take a picture of the shrimp before the sea squirt narrowed its entrance, but luckily and mysteriously, the shrimp did not hide or run away, but rather corrected its posture toward me and looked straight at my camera. The key was proper lighting, and having experience filming shrimp in sea squirts, I was able to quickly control the sea squirt in a way that it wouldn't react to the heat and the lights would effectively reach the shrimp. I was able to take only three pictures over a short time. The entrance to the sea squirt was soon closed and I didn't take any more pictures, so there are no step-by-step photos that can explain the process and history.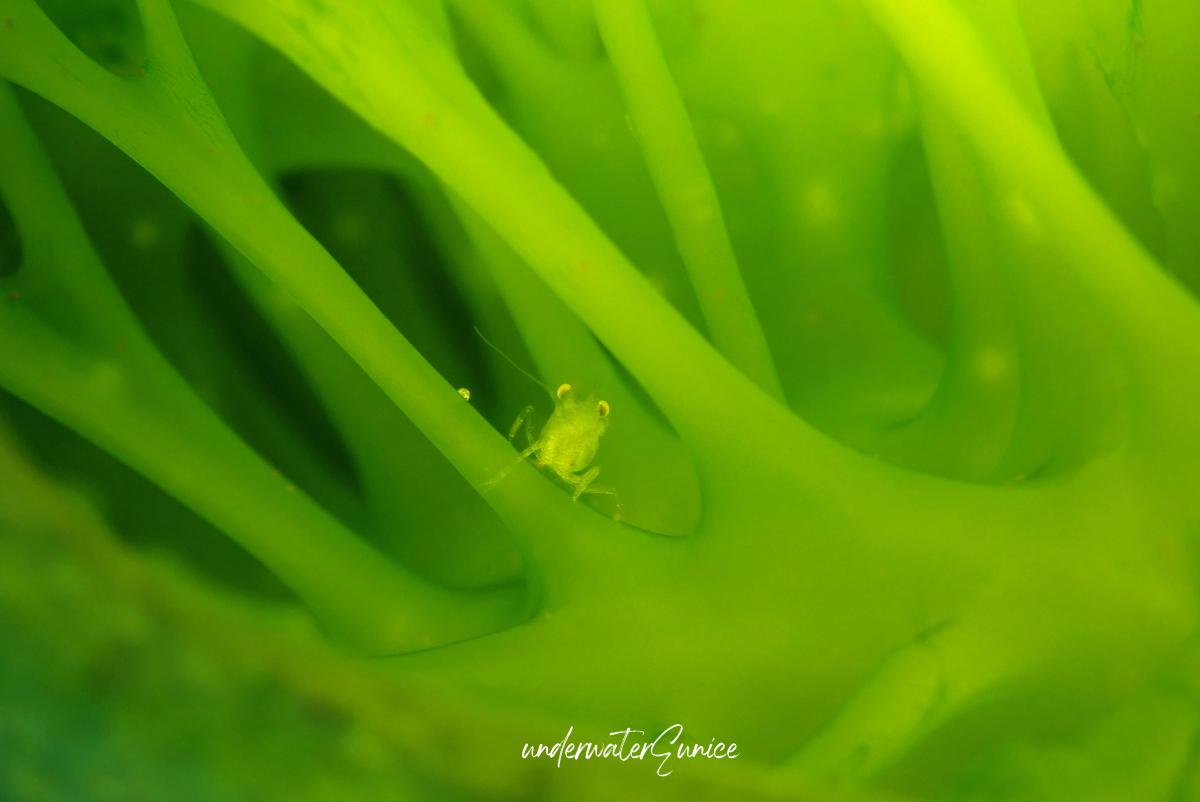 I feel that peeping into the little cave of sea squirts and sponge corals is more thrilling than cave diving. My desire for exploration grows because I have less than a 50% chance of meeting life living in it, and even if I meet it, the hot-hating sea squirt narrows the entrance right away. Filming in a short time without strengthening the light brings me a spirit of challenge. By repeating this process hundreds of times, my expertise in filming shrimp in sea squirts has been strengthened.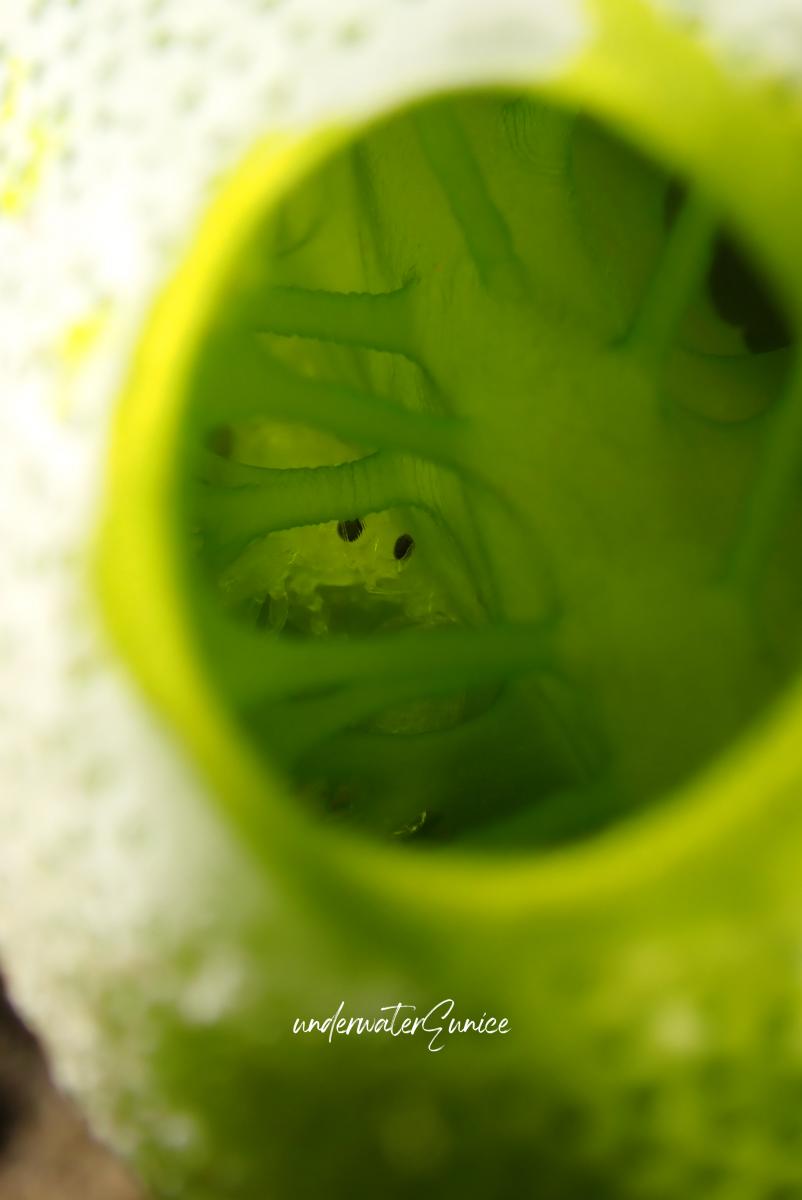 Three Tips To Successfully Shoot A Shrimp Inside a Sea Squirt
1. Find a Sea Squirt: Find a sea squirt that is not too big, but the right size. As big as it is, it may have a good structure for photography, but there is a slim chance of life inside.
2. Finding a Shrimp: Look for it without lighting. You should use the weakest light possible so that the sea squirt won't close and the shrimp won't hide from the light.
3. Light Control: Light the furthest part of the sea squirt from you, adjust slowly and do not to get close. This generally requires training for fast control.
What Does Winning Ocean Art 2022 Mean to You?
I highly recommend divers to take pictures. This is because I believe that taking pictures underwater can create opportunities to share not only the photographer's own enjoyment but also the beauty of the sea with people around and interested in protecting the sea & the environment. I do suggest a compact camera so that it is small and can be easily taken to dive trips. Next year, I hope I can enjoy this competition with students who are recommended or taught underwater photography by me this year.
About Eun-hee Cho
Eun-hee Cho learned diving in Korea in 2013 and has been in the water ever since. Eun-hee, a qualified SDI TDI instructor, moved to the Philippines Dumaguete-Dauin in 2017 while working on underwater photography and studied marine biology at Silliman University. She usually uses compact cameras because she believes that the more users of compact cameras that anyone can easily access and enjoy, the more widely the beauty of the sea, and that it will make them interested in protecting the marine environment. Follow her in Facebook and Instagram
Further Reading
SUPPORT THE UNDERWATER PHOTOGRAPHY GUIDE:
The Best Service & Prices on u/w Photo Gear
Visit Bluewater Photo & Video for all your underwater photography and video gear. Click, or call the team at (310) 633-5052 for expert advice!
---
The Best Pricing, Service & Expert Advice to Book your Dive Trips
Bluewater Travel is your full-service scuba travel agency. Let our expert advisers plan and book your next dive vacation. Run by divers, for divers.
---