What's in the Camera Bag: Ron Watkins
Take an inside look at the camera and housing gear used by underwater photographer Ron Watkins
Currently I shoot with my Nikon D800 full frame DSLR camera system in a Sea&Sea housing and utilize various wide and macro lenses and ports. I also travel with a second Nikon D300 camera body and Sea&Sea housing as a backup. I have been shooting with Sea&Sea housings, strobes and ports since my first DSLR Nikon D200 camera and found the reliability and ease of use very good. Here are my Wide Angle and Macro setups.
Wide Angle Gear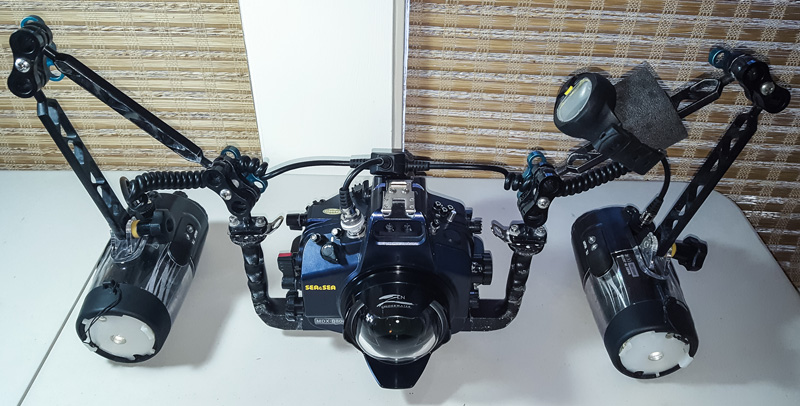 This setup with the Zen mini dome and Tokina 10-17mm fisheye lens is perfect for close focus wide angle shots and when you want a less bulky setup. With a full frame DSLR, you can only shoot the Tokina in the 15-17mm range as it is meant for a cropped sensor but is still really crisp around the edges with this glass dome port. Also notice the spare dive computer conveniently mounted on the Ultralight Control Systems arm which makes it easier to monitor your dive.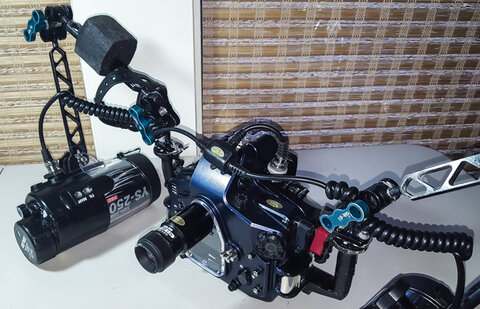 The 1.2X magnifying viewfinder is an essential addition if you want to better see your subject and all of the camera settings. It also allows you to hold the camera away from your mask, is less stressful on your neck and much easier to see through than the stock housing viewfinders. The 180 degree viewfinder is shown, but I also like using the 45 degree viewfinder, especially for macro photography because it allows you to get your camera lower and allows you to look down instead of straight.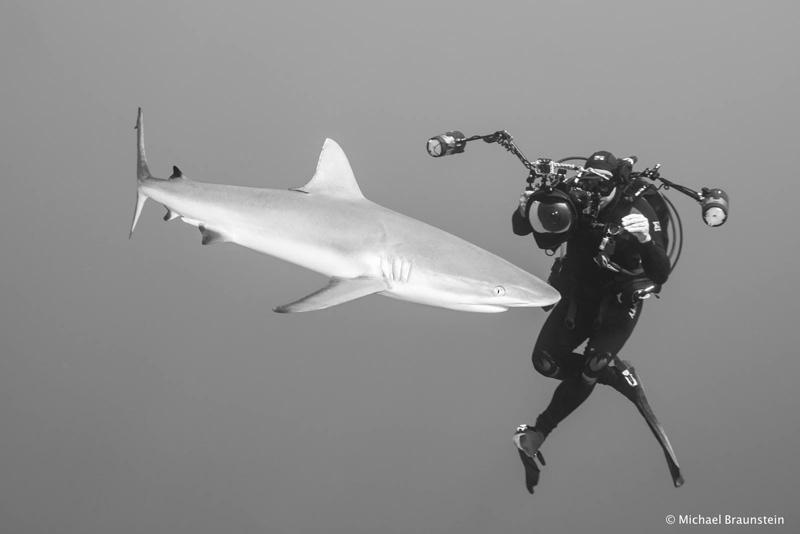 The Nikon 16-35mm lens with the large 8" dome that I am using in this picture is excellent for sharks, sea lions and other fast moving subjects. It focuses fast and the range allows you to shoot skittish sharks as well as ones that like to bump your camera. The YS250 strobes are large and heavy to travel with, but the recycle rate and power on these big boys make them a secret weapon on fast moving subjects where you want to shoot in continuous mode.
Macro Gear
Nikon D800

Nikon 105mm lens

Sea&Sea MDX-D800 Housing

Dual Sea&Sea YS-250 Pro Strobes

5-pin Sync cord, NX port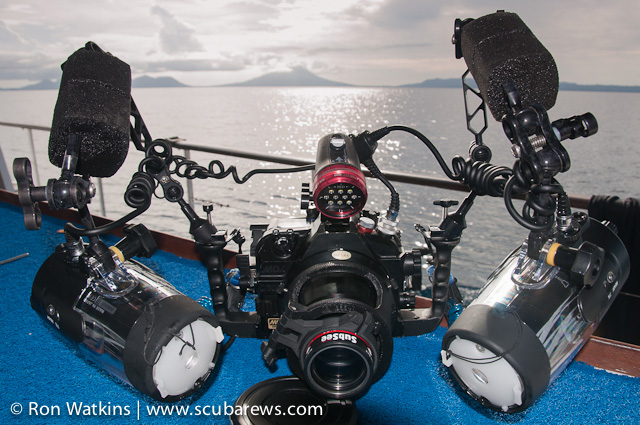 Shown here is my Nikon D300 Setup with 45 degree viewfinder, which if I am shooting a lot of both wide and macro on a trip, I leave setup for macro and dedicate the D800 to wide, which minimizes lens and port change overs. A Sola light with amber light setting is a must if you want to get good shots of skittish macro subjects and keep their pupils open and dilated. The YS250 strobes are overkill for this macro setup, but if I am traveling, I only bring one set of strobes and have gotten used to these bulky ones. I even have snoots that go over the YS250 strobes. I also have to use several floats to counter balance the density of this setup - and even then it is still negative.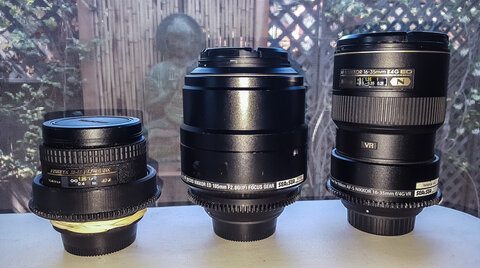 The three lenses that are on my carry-on camera bag: Left to right Tokina 10-17m fisheye, Nikkor 105mm macro, Nikkor 16-35mm wide-angle.
I use zoom rings on the wide angle lenses and a manual focus clamshell gear on the 105 for total control. Note the rubberband on the 10-17 below the gear. I have had problems and know several others that have had an issue with the dial part of the lens that the gear rests on sliding off the lens, so this rubber band prevents that.
Enjoy the rest of our What's in the Camera Bag series:
Brook Peterson | Ken Kiefer | Mike Bartick | Serge Abourjeily
SUPPORT THE UNDERWATER PHOTOGRAPHY GUIDE:
The Best Service & Prices on u/w Photo Gear
Visit Bluewater Photo & Video for all your underwater photography and video gear. Click, or call the team at (310) 633-5052 for expert advice!
---
The Best Pricing, Service & Expert Advice to Book your Dive Trips
Bluewater Travel is your full-service scuba travel agency. Let our expert advisers plan and book your next dive vacation. Run by divers, for divers.
---