Diving Dumaguete
Muck-diving in the Philipines
Dumaguete is the largest city and the capital of Negros Oriental, a province in the Philippines. The city itself is quite large with more than 125,000 inhabitants. Dumaguete is reached by plane from Manila to Sibulan Airport and is served by Air Philippines, Cebu Airlines and Philippine Airlines. The best diving is a bit south of the main city off of the resorts around Dauin. A map of the area shows the airport a bit north of Dumaguete and the coast southward from Dumaguete to Dauin.
We stayed at the Atmosphere Resort which is a bit south of Dauin on the map. There are two main areas of diving in Dumaguete, off the beaches between Dumaguete and Latasan and off of Apo Island. The main dive sites are shown in the map below.
Dumaguete Marine Life
The diversity of the diving in the Dumaguete area is quite impressive ranging from Mandarin Fish at the house reef, to a variety of muck type sites to clear water with
big schools of fish at Apo Island. Apo Island is a short 40 minute boat ride from the Dauin resorts and has a variety of sites. The island itself is one of the world's best known marine sanctuaries and there have been quite a few scientific studies of the local fish and coral life. There are two resorts on the Island; the Apo Island Beach Resort with 9 cottages and Liberty's Community Lodge with 14 rooms.
You will see a great variety of macro life around Dumaguete, including squid, cuttlefish, many frogfish and pipefish species, seahorses, ambon scorpionfish, eels, many nudibranchs and much more.

Dumaguete and Dauin Dive Sites
Since we are more critter than wide angle people, the rest of the dives we did in Dumaguete were more aimed at getting a look at the wide variety of critters to be found there. The house reef at Atmosphere was very neat, with flamboyant cuttlefish and their own Mandarin Fish dive site.
Ducomi Pier - Closed
Most of the dive sites are along the coast from the pier southward. Before we left for the Philippines, we did a bunch of research on Dumaguete/Dauin and were looking forward to diving the Ducomi Pier which is one of the premier muck dives in the world. When we arrived at Atmosphere however we were a bit disappointed to learn that the pier was closed to divers since the city had recently cleaned off all the pilings and had stopped allowing divers to visit the pier.
In spite of that, there was excellent macro life in abundance along the coastline. The house reef at Atmosphere resort had a Mandarin Fish reef and at dawn and dusk you could see them mating. We were lucky enough to capture a pair of mandarins right after mating and you can clearly see the eggs that the female has just ejected.
The major sites that we visited were Dauin and Dauin North where we saw some marvelous Nembrotha nudibranchs, The Cars where there were a few sunken VWs and a small truck where we saw some very cool harlequin ghost pipefish
We visited San Miguel several times. It is a bunch of tires that have been turned into an artificial reef. It is quite small, great for two divers with an incredible variety of tiny stuff.
Other interesting sites were Atlantis, where we saw a bunch of nudis and some baby shrimp fish.
Overall, Dumaguete is a great place for a combined macro, muck and coral wall experience. Atmosphere, the resort that we stayed at was great, with an incredible house reef and great diving both at Apo Island and along the main island sandy slopes. Great macro stuff at most sites. We highly recommend a visit.
Diving Apo Island
The diving at Apo Island is quite distinct from that of the main island dive sites. We dove Chapel Point, Cogon and The Sanctuary. Gorgeous steep walls with extremely healthy hard coral, large moray eels, clownfish and shrimp gobies were in the sand. We also saw some blue ribbon eels, some Nembrothas and a tiny sea snake. At Cogon, we found a huge school of Jacks that let us enter the school for a very cool experience. Lots of Anthias, as well as juvenile damsel fish. The visibility at Apo was very nice, more than 30 meters in most spots and it is the place in Dumaguete to go to see big schools of fish, really healthy hard coral walls and a few critters. If you are a wide angle shooter, this is the place in Dumaguete for you. Below is a picture of a false clownfish family from Apo Island.
Dumaguete Facts
When to Visit Dumaguete - Best Time
Oct - May is the best time, the Philippines can get monsoons from June to September.
Getting there
Getting to Dumaguete is easy, simply fly to Manila, and take a short 45 minute flight to Dumaguete, where your resort will pick you up.
Visibility and Water Temps
Visibility is generally 30-40ft along the shore, and 60-90ft out at Apo Island.
Dumaguete Dive Resort Options
Further Reading
Muck-diving in the Philipines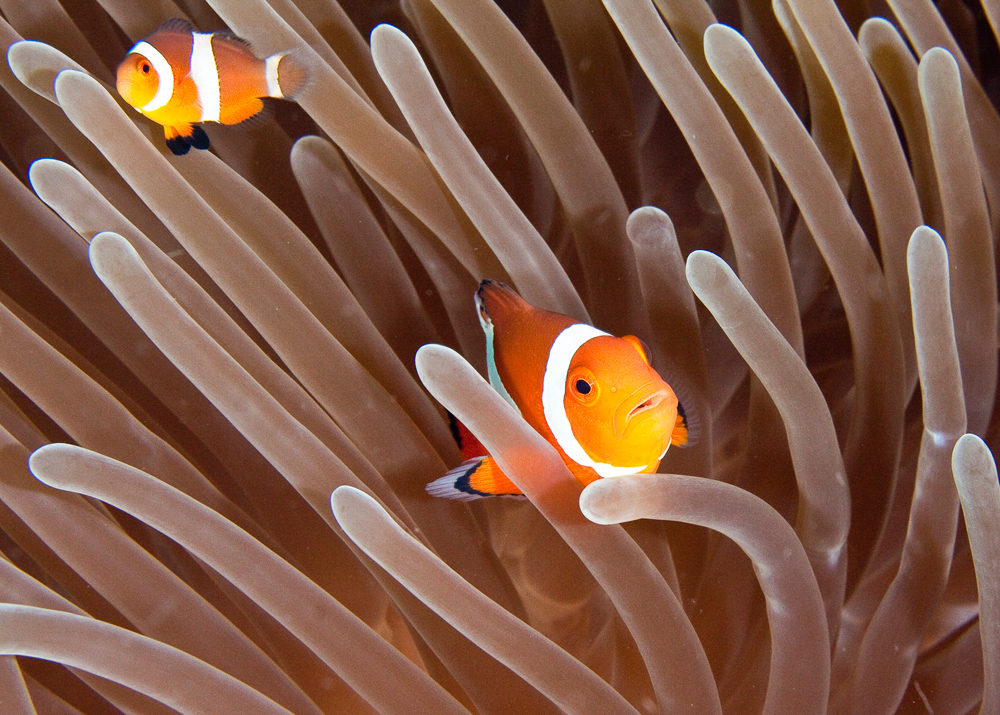 SUPPORT THE UNDERWATER PHOTOGRAPHY GUIDE:
The Best Service & Prices on u/w Photo Gear
Visit Bluewater Photo & Video for all your underwater photography and video gear. Click, or call the team at (310) 633-5052 for expert advice!
---
The Best Pricing, Service & Expert Advice to Book your Dive Trips
Bluewater Travel is your full-service scuba travel agency. Let our expert advisers plan and book your next dive vacation. Run by divers, for divers.
---