Wet Lenses for Underwater Photography
Review of wet lenses for compact and dSLR housings
Introduction to Wet Lenses
Compact camera users can purchase "wet lenses", also called add-on lenses, that add macro and wide angle ability. Dyron Inon, and Reefnet make some of the better quality wet lenses. Wet lenses can be added and removed underwater. There are several ways to attach a wet lens to your camera, include a bayonet mount, which simply rotates and locks on, a "quick adapt" mount that snaps on in one motion, and a 67mm screw mount. The screw mount must be screwed on, which takes a little longer, but some people feel it is more secure. Many people prefer the quick-adapt mount or bayonet mount for its ease of putting on and off underwater.
Not every housing supports wet lenses, and the quality is different for each camera/housing combination. Contact your local underwater camera shop or our partner site Bluewater Photo for the best information on your housing.
If you are a beginner in underwater photography, you may want to watch my video tutorial on wet lenses.
Nauticam Wet Wide-angle Lenses
The Nauticam WWL-1, which stands for "wet wide-angle" is know as the "king of the hill" of wet wide-angle lenses. It is very sharp, on the heavy side, and has full zoom-through capability. It works well with compact cameras like the Sony RX100 V / VA, or mirrorless cameras like the E-M1 Mark II, Sony A6500 or Sony A7r III.
This high-end piece of glass has important custom accessories like the Nauticam bayonet system, a hard cover, and most important a custom buoyancy collar that goes around the bottom of the lens. A friend of ours was using this lens with his Sony A6500 on a Moorea Humpback Whale trip, and he was getting excellent results.
The WACP and MWL are other notable wet wide angle lenses - each with a different purpose. Check out the differences between the Nauticam WACP, MWL, and WWL wet wide angle lenses.
Inon Wet Lenses UFL-165, UWL-100, UCL-165
Inon is a Japanese company with a great reputation for making wet lenses for compact underwater cameras. Inon wet lenses are made of optical glass.
AD mount, Bayonet mount and threaded filters.
Many compact housings such as Ikelite and Olympus already come with a screw mount, also known as a threaded mount. Wet lenses must be "screwed on" to this mount.
Alternatively, for other compact housings such as Sony, Canon, Olympus or Fuji you can usually purchase the appropriate Inon mount adapter.
The Inon AD mount base is a bayonet mount. Inon bayonet mount lenses are also called "AD" lenses. Bayonet mounts simply twist on, which is easier underwater than screwing on a lens. You push them in, turn them a quarter turn until they "click". Most people prefer bayonet mounts, but only certain underwater housings will work with them. This mount base is optimized for a 35mm focal length.
The Inon 28AD mount base is also a bayonet mount, but it is different than the AD mount base. This mount base is meant for cameras that have a 28mm focal length at their widest point.
The Inon M67 mount base is a threaded screw mount that attaches to many compact camera housings that do not take the Inon AD mount base. Once this mount is attached, you can screw on Inon M67 wet lenses, or any other wet lens with a 67mm threaded attachment.
When you purchase a wet lens, make sure its mount matches the mount you have on your housing, or your adapter. Please keep in mind that not all camera/housing combinations support all wet lenses, this is why you must think ahead and make sure your camera/housing will support the type of photography that you want to do.
People who use wet lenses usually purchase a lens caddy, which holds their wet lenses while diving.
Inon UFL-165 AD Fisheye Lens
This wet lens is your best choice for an underwater wide-angle wet lens, but only works with limited cameras that are 35mm at their widest, for example the Canon A570 or Canon SD990. The UFL-165 is a fisheye lens that will give you up to a 165 degree field of view. You can practically focus on the dome port of this lens. This lens is removable underwater, which means you can shoot macro and wide-angle on the same dive if you have the appropriate wet lenses. Many underwater photographers greatly enjoy this flexibility.
Inon UFL-165AD Fisheye Lens
Many photographers choose their camera based on whether it will accept this lens or not. This lens is the widest out there, and can take great wide-angle photos, allowing the underwater photographer to approach the subject very closely. Unfortunately, many recent point and shoot cameras will not work with this lens because they are too wide, and this lens is optimized to work with cameras that are 35mm wide, such as the Canon A570, Fuji F30, Canon SD990, Oly SP350, Fuji E900.
This lens only works with housings with an AD bayonet mount, hence the lens is called the UFL-165 AD fisheye lens. It does not work with the 28AD mount base.
Inon UWL-100 Wide Angle Lens
This wet lens (also called the Inon WAL100) is not quite as wide as the UFL-165 fisheye lens or UWL-04 fisheye lens, but is still a very good choice for wide-angle. Best when used with the optional Inon dome port. The Inon UWL-100 will give you up to a 100 degree field of view, and up to a 150 degree field of view underwater when used with the optional dome port. There are 2 versions (mount types), the 28AD version and a 67mm threaded version.
To make matters even more confusing, the Inon UWL-100 67mm version also has two mount types, "type 1" and "type 2". Most housings take type 2, which screws directly onto the housing. Some older Canon and Olympus housings take Type 1.
Photo by Edvin Eng with Panasonic Lumix LX3, Inon UWL-100 and dome unit
Inon UCL-165AD Close-up Lens
This lens is a high-quality dual element diopter for macro that allows your camera to focus closer to the subject. Two of these are commonly stacked together for supermacro photography. This lens acts as a +6 diopter underwater, which is fairly strong. With a diopter you lose the ability to focus at infinity, which shouldn't be a problem when shooting macro.
Inon also makes UCL-165 M67 diopters, which just have a different mount, and screw onto any housing with 67mm threads.
When using this dioper, for best results you should zoom in slightly. Zooming in about half-way is ideal. On a compact camera shoot at F8 for maximum depth of field.
Photo by Edvin eng, taken with Canon G9 & stacked UCL-165 macro lenses
Photo by Edvin Eng, with Panasonic Lumix LX3 & Stacked UCL-165 M67 macro lenses
The Inon Wet lens caddy is in the upper right corner
UWL-04 Fisheye Lens
Designed for use with compact cameras such as the Canon S90, Canon S95, Canon S100, Canon S110, Canon G10 & G11, and Canon G12 with the Recsea or FIX housings. Offers a 130 degree field of view. Note that you must switch portson land to do wide-angle on the G10/G11/G12/G15 housings.
The UWL-04 fisheye lens has 52mm threads. This unit, which has a dome included, has been used by some people instead of the Inon UWL-100 + dome unit - and is less expensive than the Inon combination.
This combination has no vignetting on the Recsea S95, FIX S95, Recsea/Fix G10/G11/G12 housings, and the Recsea/Nauticam RX-100 housings.
Dyron Macro Lenses
Dyron is a french company that makes a range of excellent quality wet macro lenses made with optical glass.
Here is a review of the Dyron Double Macro M77 lens.
They have great macro lenses with a 67mm thread, and adapters that fit the majority of underwater housings, including housings made by Canon, Ikelite, Fisheye and Recsea. The Dyron 2-element 67mm macro lens is a sharp lens that is very popular..
Fantasea Bigeye Lens
Fantasea makes a dome port that restores the original angle of view on many compact cameras. Remember, when shooting from behind a flat port, which is the default on all compact camera underwater housings, you lose 25% of the angle of view, which is not good for wide-angle! I know there are versions available for Canon G10, G11 and Canon G12 housings, and there are 46mm and 67mm threaded versions for some Ikelite housings.
Bluewater WA-110 Wide Angle Lens
Bluewater Photo has a great wide-angle lens that works well with most compact camera housings. Results will vary depending on the camera, but in general the lens is very sharp and very wide, with a 100 or 110 degree angle of view. This lens has a flat port, not a dome port. This lens comes with a 67mm threaded mount. Results with S95, S100, S110, RX-100, LX5 and LX7 are excellent.
Sea & Sea Wet Lenses
Sea & Sea produces add-on wet lenses for their DX-1G and DX-2G underwater cameras. The results that I've seen look fairly good, and it allows you to shoot macro and wide-angle on the same dive, although the wide-angle is not as wide as a fisheye.
Subsee macro lenses
Reefnet makes excellent quality macro lenses known as the Subsee +5 and Subsee +10 diopters. They have 67mm threaded mounts, and are very popular with dSLR users, especially when paired with a 100mm lens.
Further Reading
Wet Lenses for Underwater Photography
Review of wet lenses for compact and dSLR housings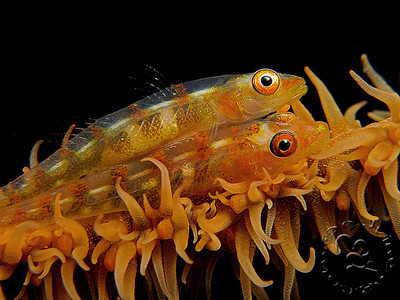 SUPPORT THE UNDERWATER PHOTOGRAPHY GUIDE:
The Best Service & Prices on u/w Photo Gear
Visit Bluewater Photo & Video for all your underwater photography and video gear. Click, or call the team at (310) 633-5052 for expert advice!
---
The Best Pricing, Service & Expert Advice to Book your Dive Trips
Bluewater Travel is your full-service scuba travel agency. Let our expert advisers plan and book your next dive vacation. Run by divers, for divers.
---