3 Tips for GoPro Underwater Video
Improve your GoPro underwater video with these easy tips to bring home excellent footage.

The GoPro HERO7 is one of the most popular cameras for shooting underwater video. Compact size, incredible resolution, a variety of framerates, an LCD display, and an affordable price in relation to other video systems have all helped GoPro earn this position in the market. GoPro Hero cameras can shoot macro, wide-angle, and anything in between, and can be used in ambient light, with underwater filters, or with video lights. This versatility makes the GoPro a great option as a primary video tool or as an accessory to larger, more manual video systems.
In this tutorial we take a look at three tips for improving your underwater video in-camera, no matter which GoPro model you're shooting. If you are knew to the GoPro, be sure to check out our beginner's guide to GoPro underwater video.
Be sure to check out our GoPro HERO7 Review, GoPro HERO6 Review, and GoPro HERO5 Review. These tips will help you shoot with the Paralenz Dive Camera as well, so be sure the check out the Paralenz Dive Camera Review.
1. Keep Steady
The concept seems simple, but it's very easy to forget that we're filming video during the most exciting moments underwater. Because the GoPro has such a wide field of view and automatic settings, divers often take for granted that we'll get the subject in the frame and lose focus on the fact that we are trying to record the best video clip possible. This is totally fine for casual videographers, but a serious video shooter will remain cognizant of the final product they want from their GoPro, remaining as steady as possible to produce a well-composed and shake-free video clip.
Yes, this concentration on keeping the camera steady takes away from the experience with the subject, but this is the tradeoff as a beginner. Experienced videographers will slowly learn to blend their experience with the animal and capturing exceptional video into one seemless process.
One trick to recording steady GoPro footage is to use a wide GoPro tray and handle setup. I have often dived with the rig below on my BCD to shoot video in between DSLR still photos.
This is my tray and handle setup, cobbled together from Ultralight Control Systems components. Having a wide rig keeps the camera much more stable in the water.
---
You can see a wide range of GoPro mounts on Bluewater Photo, including trays, handles and accessories.
---
2. Remember your Handles
Video handles are essential for all clips, and often necessary for editing GoPro underwater footage. What are they? Video handles are the extra footage before and after the section of the clip we want to show that we cut out of the final video. We don't clearly see these frames in the edited video, however they are seen by the editing software and are needed for transitions where the first clip and second clip are overlapping or being blended together. In other words, we will not use the handles for cut transitions where the clip abruptly switches to the next clip, but we will use them during fades, dissolves and other transitions that show more passage of time or indicate change of scene.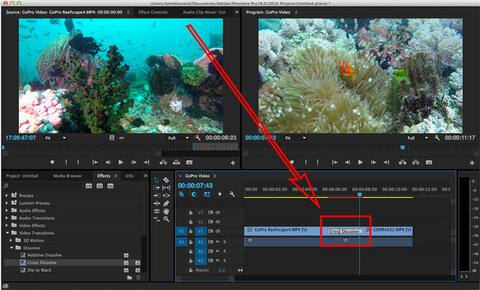 3. Shoot with the Sun Behind You
This is one of the secrets of underwater photography and videography. GoPro cameras perform their best in great light conditions, so it's important to be aware of the best conditions anytime we're shooting below the surface. When the sun is at your back you will see more light on objects in your field of view, creating a more pleasing image than shooting backlit silhouettes. Shooting with the sun at your back also reduces backscatter and haziness in the water. With more light, the GoPro will shoot at a lower ISO and filters will have the light they need to help create a more realistic white balance. If using the GoPro Hero's low light mode, shooting with the sun at your back will help keep the camera from dropping the recording framerate (which could present an issue during post-processing). This sun rule applies for both shallow and deep water diving.
Here is a video of playful sea lions that demonstrates these 3 techniques.
Conclusion
In short, improving our GoPro video can be as simple as paying more attention to each shot we take. Once we find the subject, it's important to make sure to keep the camera steady, start and stop recording with enough room on either side of the action to create handles, and always make sure the sun is at our back so that the subject is well lit. Now let's see those underwater videos! Feel free share them on our Facebook page or tag the Underwater Photography Guide.
Be sure to read our GoPro HERO7 Review.
Check out another action camera made specifically for diving: Paralenz Dive Camera Review
GoPro Tutorial Series and Reviews
SUPPORT THE UNDERWATER PHOTOGRAPHY GUIDE:
The Best Service & Prices on u/w Photo Gear
Visit Bluewater Photo & Video for all your underwater photography and video gear. Click, or call the team at (310) 633-5052 for expert advice!
---
The Best Pricing, Service & Expert Advice to Book your Dive Trips
Bluewater Travel is your full-service scuba travel agency. Let our expert advisers plan and book your next dive vacation. Run by divers, for divers.
---