Lighting your Subject Underwater
Underwater Lighting
To advance in underwater photography, it helps to have a thorough understanding of lighting and the properties of water, which we will review below.
Properties of Water
Shooting underwater has its challenges, due to the properties of water. Understanding these properties is essential to understand the basics of underwater photography.
The refractive index of water is different than air, which makes judging distances difficult. Objects viewed through your mask can appear 25% larger than they really are, due to the refractive index difference.

Water absorbs light. Light levels quickly drop as you get deeper in water. In addition, red is absorbed faster than blues. See loss of color underwater section

Water sucks contrast and sharpness in photos. This is why you must always get as close as possible to your subject.
Quality of Light
The light that creates your exposure will come from your strobes, dive lights, focus lights, and the sun. People often talk about the "quality" of light, which depends on these 4 factors listed below, no matter what the source is:
Amount of light. It is generally more difficult to shoot in low light, although low light can be helpful for some creative effects such as panning or showing motion.

Color of the light

Direction of light

Amount of diffusion or softness
All of these are discussed in more detail in the chapter subsections.
Strobe Positioning
Be sure to check out our tutorial series on Underwater Strobe Positioning.
Ambient Light
Read our series of articles focusing on Ambient Light, and blending ambient light with strobe lighting.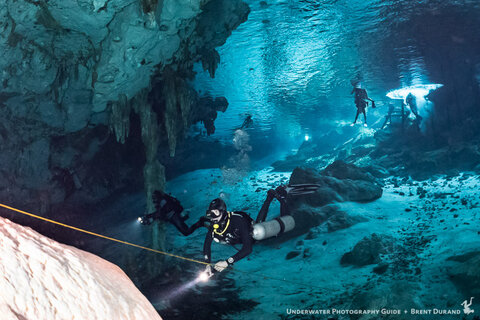 A mixture of ambient and strobe lighting brings life to this image shot in the Yucatan Cenotes, Mexico. Sony a7R II with Sony 28mm lens + fisheye converter. ISO 6400, f/4.5, 1/25.
Lighting your Subject Underwater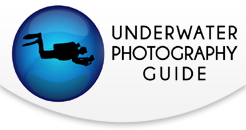 SUPPORT THE UNDERWATER PHOTOGRAPHY GUIDE:
The Best Service & Prices on u/w Photo Gear
Visit Bluewater Photo & Video for all your underwater photography and video gear. Click, or call the team at (310) 633-5052 for expert advice!
---
The Best Pricing, Service & Expert Advice to Book your Dive Trips
Bluewater Travel is your full-service scuba travel agency. Let our expert advisers plan and book your next dive vacation. Run by divers, for divers.
---