OM systems OM-5 Initial Thoughts and Review
The OM-5 is OM Systems' first consumer oriented micro four thirds camera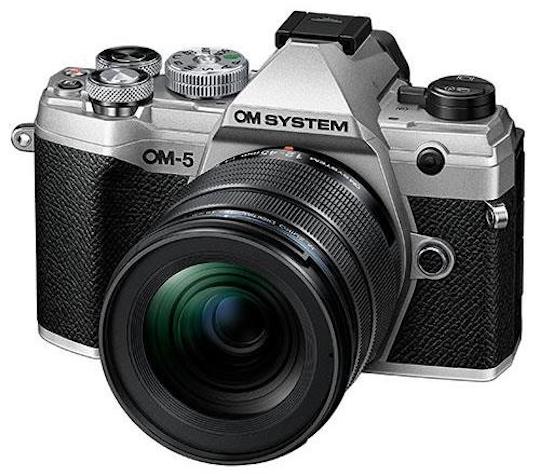 Earlier in the year, OM Systems released its first camera, the OM System OM-1, after acquiring the Olympus brand. The OM-1 carried the famous Olympus logo across the front despite the takeover by OM Systems. They did, however, let us know this would be the last time their cameras carried the Olympus branding.
Fast forward a few months to today, and OM Systems have just announced the OM Systems OM-5, a brand new micro four-thirds camera in their revamped lineup. The OM-5 is now adorned with their new OM Systems logo across the front of the viewfinder, marking a clean break and a new chapter in the company's history. The OM-5 is looking to be quite similar to the E-M5 Mark III. Most importantly, the price point of $1200 for the body of the camera is a little more "consumer" than the OM-1.
Quick Specs
20MP MFT sensor
121 hybrid AF points
10 fps burst with manual shutter, 30fps with electronic shutter
50MP high-resolution mode
2.36M-dot OLED viewfinder with 60 fps refresh rate
Weather sealed
Articulating touchscreen
4K/30p video
What's new (or what's not)?
The OM Systems OM-5 comes with a 20MP CMOS sensor. However, it's the same 20MP sensor found in cameras like the E-M5 III, which is a little disappointing if we're being honest. And on top of that, the body is almost exactly the same as the E-M5 III. So our first impressions are that not much is new, at least on the surface.
The body, buttons and controls are the same as the old E-M5 III. Having said that, the ergonomics and control layout of the OM Systems OM-5 (and by default the E-M5 III) are excellent. The dials are in easy-to-access places, and the camera overall feels great in hand.
Another set of features the OM-5 inherits from the older E-M5 III are the ports. Much like the rest of the body, it has all the same ports as the E-M5, including the USB Micro B port used for charging, which means the camera charges very slowly by modern standards.
One of the biggest improvements in the OM-5 is its weather resistance. It has much better environmental sealing, allowing you to use it worry-free in challenging weather conditions. It's now rated IPX 53, which is very good and a welcome change.
Perhaps most disappointingly, the OM-5 has the old menu system from the E-M III too. The reason why this is so disappointing is that the OM-1, which came out before the OM-5, featured a brand-new menu system that was really great to use. It even lets you know why certain settings were grayed out and unavailable and what you need to do to reactivate them. So it's super disappointing to see the latest camera from OM System reverting back to the older, much less intuitive menu system.
Autofocus System
The OM Systems OM-1 does have face-detection AF that is relatively accurate, especially for a camera in this price range, but we don't get other subject tracking modes like animal, planes, train and cars - as you would see in similarly priced cameras.
Continuous autofocus using a zone or a box works well, but it's an outdated method now, and other mirrorless cameras from other brands can track subjects much more effectively.
A nice AF feature new to the OM-5 is the start autofocus feature that takes the guesswork out of focusing on stars and does it for you. Focusing on stars is challenging, so it's nice that there's a built-in feature for this if astrophotography is your thing.
Computational Modes
One of the best features of OM Systems cameras is the computational photo modes. This is when the camera takes the photo and applies what is effectively some digital editing to achieve a certain result. For example, the Live ND mode will take two frames at different exposures and combine them to achieve a similar result as you would get if you used a physical ND filter and shot at a slower shutter speed. And you can even do this handheld.
Hi-Res mode is another useful computational mode that lets you shoot up to 80MP using a tripod and 50MP handheld.
In-body Image Stabilization
The OM-5 provides 6 stops of IBIS, which is a lot for a camera in this price range. That's even increased in some circumstances to 7.5 stops if you use a lens compatible with Sync IS. Olympus cameras have always been great at capturing smooth footage thanks to their great IBIS, and the OM-5 is no different.
Video
Again, as with many other features, the OM-5 has almost the same video capabilities as the E-M5 III. It does now have OM-Log and unlimited recording time, but outside of that, most of the features are the same.
One unique feature that some people will find more useful than others is that the OM-5 can be used as a universal webcam. Just plug it into your computer via USB, and you have a very high-quality webcam for use at home.
OM System OM-5 for Underwater Photography
As the body of the OM-5 is almost identical to the E-M5 III, there is a high chance that underwater housings for the E-M5 III will be compatible with the OM-5. We have yet to confirm this, but we will update this article once we know more.
Overall, we wouldn't recommend the OM Systems OM-5 for underwater photography, in the same way we wouldn't recommend the OM-1 either. There are much better full-frame and APS-C cameras out there for the same price, and sometimes even less, such as the Sony a6100, Canon EOS R10 or Fuji X-S10. There's no logical reason you'd opt for a micro four thirds camera like the OM-5.
The only reason you may want to consider the OM-5 is if you are already a MFT shooter and have built up a collection of MFT lenses. If that's the case and you're already invested in the system, then this might make sense. Though if you currently have an E-M5 Mark III we wouldn't recommend upgrading. MFT users could also consider buying an Olympus OM-D E-M5 Mark III body for as little as $899. But in pretty much all other circumstances, you'd be better off going with a full-frame or APS-C alternative.
Best Lenses for Underwater Use
Fisheye Lenses
Wide-Angle & Versatile Lenses
Macro Lens
Conclusion
Unfortunately, the OM-5 is far too similar to the E-M5 III for it to feel like a new, innovative camera. It is, in many ways, the same camera, and the E-M5 III wasn't exactly groundbreaking when it was released all those years ago.
If you are already invested in a micro four thirds system and have a collection of lenses, consider what the OM-5 can offer you and if it's worth the update. Otherwise, this camera isn't for the vast majority of people.
We're looking forward to seeing what OM Systems can do with Olympus's legacy, but the OM-5 isn't quite hitting the mark right now.
SUPPORT THE UNDERWATER PHOTOGRAPHY GUIDE:
The Best Service & Prices on u/w Photo Gear
Visit Bluewater Photo & Video for all your underwater photography and video gear. Click, or call the team at (310) 633-5052 for expert advice!
---
The Best Pricing, Service & Expert Advice to Book your Dive Trips
Bluewater Travel is your full-service scuba travel agency. Let our expert advisers plan and book your next dive vacation. Run by divers, for divers.
---