Nikon Z 105mm Macro Lens Review
Could this be Nikon's best macro lens? Sharpest, sure. But is it fast enough?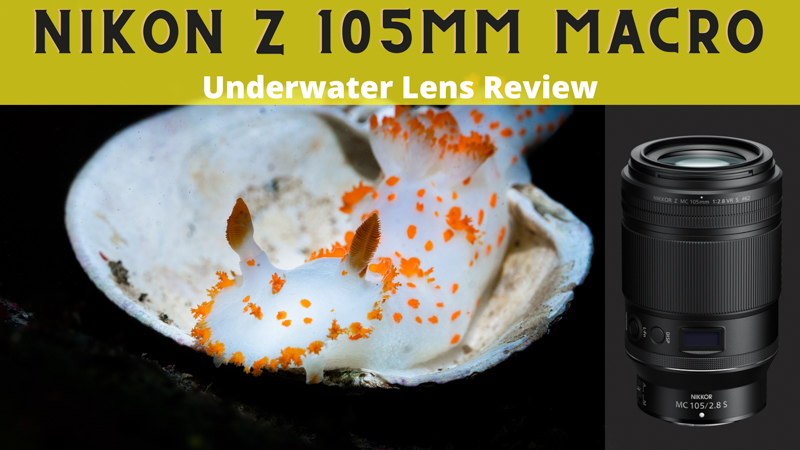 The Nikon Z 105mm f/2.8 macro lens is Nikon's newest Z mount macro lens for Nikon Z series mirrorless cameras. For underwater photographers who have been waiting for a Z mount macro lens, it represents one of the most exciting lenses in the Z mount lineup. The Nikon Z mount was introduced in 2018 with Nikon's first full frame mirrorless camera. It has a wider diameter and shorter flange distance than Nikon's legacy F-mount used on their DSLRs. This results in sharper images, especially in the corners of an image, and reduces abberation. The new mount also gives Nikon the opportunity to make lenses with wider apertures. And while the new Nikon Z 105mm macro has some improvements from the Nikon F 105mm macro, only a dive with lens can determine if it's worth the upgrade. So I decided to trade in my F mount 105mm for the new Nikon Z mount 105mm macro and took the lens diving with my Nikon Z6 camera in some of my favorite coldwater macro locations.
Availability: Available but in limited supply due to supply chain shortages
U.S. MSRP: $999.95
Nikon Z MC 105mm f/2.8 VR S Macro Lens Specifications
16 optical lens elements in 11 groups
maximum aperture: f/2.8
minimum aperture: f/32
focus limiting switch with two positions: Full (infinity to 0.29m) and 0.5m to 0.29m
Super Integrated coating, fluorine coating, nano crystal coat, ARNEO coat
fluorine coating
Control ring
Dust and weather resistant
4.5 stops of optical stabilization (VR reduction)
quieter autofocus
Minimum Focusing Distance: 0.96 ft (0.29m)
Dimensions: 5.6" L X 3.4" D
Weight: 22.3 oz (630g)
Z mount
Build Quality
The Nikon Z 105mm is 120 grams lighter than the F mount lens. It's also shorter when factoring the F mount lens and FTZ adapter on a mirrorless Z camera. This means that we can expect most housing companies to require a different set of port and extension combinations for the Z mount lens vs the F mount lens. If you need help finding the right port combination for the Nikon Z 105mm macro lens, send an email to Bluewater Photo and they'll be happy to help you out! Overall, I though the lens felt noticeably lighter in my hands and was quite happy with how easy it was to carry around on trips.
This being said, I am very disappointed in the weather proofing. On a short backpacking trip in a dry mid-summer's heatwave, the lens managed to fog up internally. So if you are planning on using this lens topside after a dive, be very careful to keep it away from water and high humidity.
One minor improvement that has helped me immensly is the focus limiter switch is not located adjacent to the mount. This allows the rest of the lens to protect the switch from being it by a port accidentally upon installation in the housing. So I never had to worry that I may have accidentally hit the limiter switch and not be able to focus on the full focusing range.
There is a built in control ring on the lens for an additional control. This control ring will likely not be compatible with underwater housings, but be sure to contact the experts at Bluewater Photo to help you figure this out. Finally, an LCD display on the lens can show you aperture, reproduction ratio, or distance form the subject. Though it isn't useful for underwater photography, it is aesthetically pleasing.
Autofocus Speed
On paper, this lens should focus faster than the Nikon F mount 105mm macro with the FTZ adapter. Above water it might. I found it to handle topside situations quite well, and it's very nice that the internal autofocus motor is virtually silent. But in limited lighting situations, like underwater, I found that the lens focused somewhat slowly. It's still lightyears ahead of what could be done with older DSLR cameras, but it's not up to par with modern focusing systems. Now, the Nikon z series cameras are partly to blame for this, and I do expect cameras designed after the Nikon Z9 to focus very quickly. But if you are a dedicated macro photographer and haven't chosen a camera, please consider the Canon R5 with the Canon RF 100mm macro or any Sony camera with the Sony 90mm macro.
What's apparent to me is that the Nikon Z 105mm is slower and smoother than the F 105mm when it wracks focus along its full focusing range. This is great if you shoot video, and looks quite cinematic. But as a photographer, this made me disappointed enough to were I considered trading the lens back. I will be using the focus limiter on future dives to help increase focusing speeds so that the lens doesn't wrack so much. I also noticed that the Z 105mm can get stuck on a single focusing plane at times which can be quite annoying. So overall, when it comes to focusing speed with a modern Nikon Z camera - my grade is a B -
Image Quality
A+. The redeeming feature of the Nikon Z 105mm is the quality of the images it produces. In fact, I think the Z 105mm macro is the sharpest telephoto macro that I have shot underwater - it's sharper than the Nikon F 105mm macro, Canon 100mm RF macro, and the Sony 90mm macro. Even some topside side-by-side comparisons for the F mount vs the Z mount lens confirm the Z mount is sharper. The optical quality of the bokeh is different from the original F mount lens as well. It's a little softer and more blended which creates more background seperation from the subject. Whether or not, this is your style is up to you. In-focus subjects themselves are rendered sharper than the original lens.
Underwater it is a little more difficult to notice the improved image quality than it is above water. This is because the Nikon Z 105mm appears to be sharper at wider apertures, whereas most of my underwater macro photos are with smaller apertures. That being said, I do still notice the difference.
The Nano crystal coat and ARNEO coat on the lens reduces some ghostand flaring affects. This can be good for photographers shooting in high contrast situations - partcularly when you're trying to snoot a white subject against a black background. Though I've noticed minimal chromatic aberration from the original F mount lens, the Z mount 105mm macro produces even less.
Conclusions
My first dives with the Nikon 105mm macro have left me wondering what to do with this lens. At times I want to trade it back for my F mount 105mm. Other times, I'm extatic with the images. I would say that for underwater photographers, the focus speed is sub par but still useable. I do miss more shots with the Nikon Z 105mm than I would the Canon 100mm, but at the same time, I don't think I miss enough to not take a serious look at the image quality. The images I've captured with the Nikon 105mm are just incredible. I didn't think my F mount lens could get any sharper, but I've managed to captured details and textures that I have not in other macro lenses. My personal philosophy as a photographer is to capture the best images I possibly can without a care for how many I might miss. So the Nikon Z 105mm is the perfect lens for me. I could not get better image quality with any other macro lens. Whether it's the right lens for you depends on if you're will to sacrifice speed for beauty. So is this Nikon's best telephoto macro lens? Maybe. It's certainly the sharpest.
SUPPORT THE UNDERWATER PHOTOGRAPHY GUIDE:
The Best Service & Prices on u/w Photo Gear
Visit Bluewater Photo & Video for all your underwater photography and video gear. Click, or call the team at (310) 633-5052 for expert advice!
---
The Best Pricing, Service & Expert Advice to Book your Dive Trips
Bluewater Travel is your full-service scuba travel agency. Let our expert advisers plan and book your next dive vacation. Run by divers, for divers.
---