Nikon 8-15mm f3.5-4.5 Full Frame Fisheye Lens Pre-Review
Nikon 8-15mm f3.5-4.5 full frame fisheye preview and initial thoughts
It was a long time coming, but Nikon has finally released another full frame (FX) fisheye, this time an 8-15mm 3.5/4.5 zoom. Full frame Canon shooters will be familiar with this lens as Canon has long had the Canon 8-15mm f4L Fisheye lens.
The lens does not telescope so retains the same barrel length throughout the zoom range. It also has Nikon's optical coating for increased optical performance
In reality, on full frame, this new Nikon lens (like the Canon counterpart) is really only an 8mm circular fisheye, or a 15mm fisheye. Any focal length between that will have vignetting, so you would have to crop, meaning you'd be better off just zooming all the way to 15mm.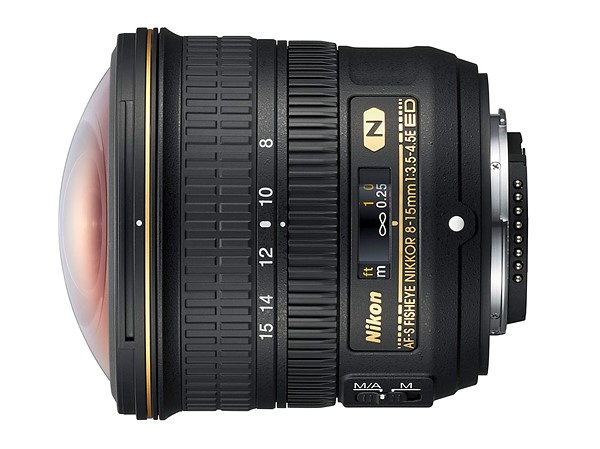 The 8mm circle is a nice addition to a portfolio but can quickly become gimmicky so shooters should keep this in mind. I would wager most users will keep the lens at the 15mm focal length.
The lack of a lens hood and the small size of the lens overall means that it can be used behind very small dome ports (4") as long as the photographer remembers that the lens will have to be stopped down to keep corners acceptably sharp. The smaller the dome, the closer the virtual image (which is what the lens is actually focusing on, so the distortion will be greater, requiring greater depth of field). It will have to be stopped down behind a big dome as well (such is the nature of a fisheye lens on full frame) but the bigger the dome, the better the corners at any aperture (due to the virtual image being further away). One of the biggest advantages of fisheyes is how close they can focus. The minimum focus distance of the new 8-15 is 6.3". This means it will focus right on the glass of whatever dome port the lens is used behind so if a 4" dome is used, the close focus wide angle opportunities should be fantastic if the photographer can get the lighting correct.
For split shots, reefscapes, or any image where important subject matter lies in the corners of the frame, photographers will benefit much more in terms of overall image quality by using a larger dome. Somewhere in the 8-9 inch range (or bigger).
The full frame fisheye options for Nikon now consist of the dated Nikon 16mm f2.8, the Sigma 15mm f2.8 fisheye, the Tokina 10-17 f3.5 fisheye (only between 15mm and 17mm), the Nikon 8-15mm f3.5-4.5, and (if you can find one) the Nikonos 13mm. Optically, I expect the 8-15mm to be superior to all other options with the exception of the Nikonos 13mm which is a water contact lens and specifically designed to shoot underwater. It should be a fantastic lens for underwater use and I expect it to be extremely popular among full frame shooters. I doubt DX users would find any real benefit over the Tokina, with the possible exception that this new lens should handle chromatic aberration far better than the Tokina. The Tokina is renowned for having less than stellar control over chromatic aberration (especially in high contrast areas of an image). I can't wait to get it in the water and put it through its paces!
There is no exact release date available yet, but the lens is slated to be released sometime this month (June 2017).
For any questions on this lens, port selection, or any underwater photography questions in general, please email me.
Using the Nikon 8-15mm fisheye underwater with a teleconverter
We expect many underwater photographers will wish to use the Nikon 8-15mm fisheye lens with a telecoverter on a full frame camera, giving them the equivalent of the Tokina 10-17mm on a cropped sensor camera - making the lens a 11mm - 21mm fisheye. We will be testing both the Kenko 1.4x teleconverter and the new Nikon 1.4x teleconverter, however use of these teleconverters will depend on manufacturers making the appropriate zoom gear. In the past, Nauticam has made zoom gears for using the Canon 8-15mm fisheye lens with a 1.4x teleconverter, and 3rd party manufacturers have made Sea & Sea versions.
Nikon 8-15mm Lens Specifications:
Physical
Weight: 485 g
Diameter: 78 mm
Length: 83 mm
General
Mount Type: Nikon F-Bayonet
Focal Length Range: 8-15mm
Lens Mount: Nikon F (FX)
Max Format Size: FX/35mm
Optics
Elements: 15
Groups: 13
Three ED with two aspherical elements, Nano Crystal and fluorine coatings
Aperture
Maximum Aperture: f/ 3.5-4.5
Minimum Aperture: f/ 29
Sample Circular Fisheye Photos at 8mm (full frame)
Photos taken with a Canon full-frame dSLR (5D Mark II & Mark III), Canon 8-15mm fisheye at 8mm, 6 inch glass dome port. We expect photos with the Nikon 8-15mm fisheye to look similar at 8mm, when used on a full-frame camera.
Sample Fisheye photos at 15mm (Full Frame)
Photos taken with the Nikon D810, Tokina 10-17mm fisheye lens at 15mm, Zen 4-inch glass mini-dome. Photos taken with a fisheye lens on a cropped sensor dSLR at 10mm would look identical.
Related Articles:
SUPPORT THE UNDERWATER PHOTOGRAPHY GUIDE:
The Best Service & Prices on u/w Photo Gear
Visit Bluewater Photo & Video for all your underwater photography and video gear. Click, or call the team at (310) 633-5052 for expert advice!
---
The Best Pricing, Service & Expert Advice to Book your Dive Trips
Bluewater Travel is your full-service scuba travel agency. Let our expert advisers plan and book your next dive vacation. Run by divers, for divers.
---