Aquatica A5D MkIII Housing Review
Ergonomics, Proven Technology & Full Functionality in a Fantastic Housing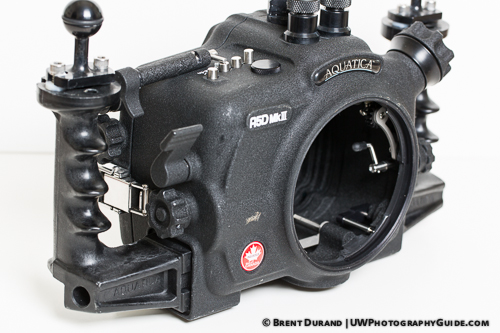 The Aquatica A5D Mk III is an excellent housing option for Canon's 5D Mark III camera. I've been using the housing for the past three months on Southern California beach, kayak and boat dives as well as trips to Northern California and La Paz.
The 5D Mark III is Canon's flagship prosumer DSLR; boasting a full frame sensor, sophisticated AF system and high ISO performance among many other features. It's also the best DSLR for shooting video, with a higher bit rate than competitors (note: keep an eye on Canon's new Dual Pixel CMOS AF technology introduced with the 70D). If you're not familiar with the 5D Mark III, check out Todd Winner's in-depth camera review.
Aquatica Housing Overview
The A5D Mk III is constructed with aircraft grade aluminum and premium stainless steel. It is anodized with Aquatica's trademark military-grade powder coating, which serves to protect the housing against corrosion (along with included zinc anodes). Aquatica has a long history of making housings and blends this experience with industry-leading design that takes full advantage of the 5D Mark III's features.
The A5D Mk III is supported by Aquatica's wide range of ports and accessories, making it a great investment for divers who use a variety of lenses. This is particularly important for divers who want manual focus capability when shooting video on popular lenses.
The housing features 3 bulkheads for extreme versatility with accessories, including strobes, external monitor, triggering device and/or sound recording devices. The ergonomics have been optimized for both photo and video shooters. Examples include shifting the AF-ON and/or FE-lock buttons to a lever accessed by the right thumb (used for back button focus), angled menu buttons, oversized Set and Record buttons, and a new gear system to allow smooth zooming while shooting video.
SPECS
Machined from aircraft grade aluminum and premium stainless steel

Simple internal mechanics are proven and reliable

Excellent ergonomics optimized for photo and video shooting

3 Bulkheads for versatility with accessories

Depth rated to 300ft/90m with optional upgrade to 425ft/130m

Wide range of lens and port options

Secure port lock system
Comparisons
The Aquatica A5D Mk III housing is designed with the "hard working professional in mind, who truly understands reliability in the field." This is very apparent with the three bulkheads. No matter what direction your photography/videography takes you, the A5D Mk III is ready. The oversized zoom gear is extremely helpful for smooth zoom while shooting video, and all the oversized knobs feel excellent with 5mil gloves or bare fingers.
The A5D Mk III also allows you to change lenses and ports without taking the camera out of the housing, which is critical for fast lens changes out in the field (rocking dive boats, etc). The back plate latches are also very tough and do not get stuck.
Aquatica has tried to keep camera buttons in similar positions as on the camera body, however with ergonomic shifts for easy reach (like the AF-ON lever). As someone who shoots my camera on land as much as underwater, it makes for an easy transition between the camera and housing, even when shooting at night and operating the housing by touch alone.
In the Lab
Handling the A5D Mk III feels great. The camera is easy to insert and remove from the housing and the guide pins for mounting the back plate are very helpful. All buttons are easy to reach, yet not located where they'll get bumped by accident (I have a habit of turning off my strobes every time I reposition them). Adjusting the control knobs is fast, easy and precise.
The zoom actuating pinion gear and lens release lever pull out to allow the camera/lens to easily be removed from the housing with zoom gear attached.
Aquatica's port system feels extremely secure, especially with the port-lock system. As the manual indicates, it's much easier to install the port when the housing back is open (due to air pressure). If the housing back is closed, it can be difficult to maintain the pressure needed to pivot the bayonet mount while also pushing the button to disengage the port-lock system. Port extensions feel nice and secure.
I use a diopter for supermacro, and the diopter adapter locks onto the macro port with ease.
The accessory mount on top of the housing (ball mount for focus light or GoPro) is a little close to the bulkhead when the sync cord is attached, but it's not an issue if you position the clamp a little bit sideways.
In the Water
My first dives with the A5D Mk III were in Mendocino, California. The housing ergonomics felt great with 5mil gloves and it was easy to change settings while shooting in manual. The housing is the slightest bit negative with the macro port and extension for the 100mm 2.8 L (with 6x Stix floats on my strobe arms). The 9.25" megadome had some float at the front, but that's standard on any housing with large dome. Car wheel balancing weights could be a quick fix.
One of the first things I noticed was the need for the optional ISO lever (moving access to the ISO button to your right forefinger or thumb (yes, you can choose either)). Once added, I had fingertip access to all frequently used controls.
Best of all, the housing took abuse during a week of camping, diving and kayaking with minimal maintenance (not recommended) and has performed like new for the past three months with several dives a week. During the UWPG La Paz workshop I used the housing without gloves and it felt just as nice.
Pros
Tough & still in same weight class as others

Ability to change lenses and ports with camera inside housing

Oversized knobs for easy settings adjustments

Hassle-free back plate clamps

Aquatica ports support a huge range of lenses (including manual focus)

Great ergonomics for photo and video shooting
Cons
Can only fire strobes with sync cords (5D Mk3 has no pop-up flash)
Conclusion
Any 5D Mark 3 shooter in the market for an underwater housing needs to consider the Aquatica housing. All housings have some pros and cons depending on the photographer's style of shooting and needs and the Aquatica 5D Mk3 stands out in the ways described above. It's an excellent housing that will keep even the most demanding photographers and videographers in the water.
Video Review
Filmed a year later on location in Papua New Guinea
Further Reading
SUPPORT THE UNDERWATER PHOTOGRAPHY GUIDE:
The Best Service & Prices on u/w Photo Gear
Visit Bluewater Photo & Video for all your underwater photography and video gear. Click, or call the team at (310) 633-5052 for expert advice!
---
The Best Pricing, Service & Expert Advice to Book your Dive Trips
Bluewater Travel is your full-service scuba travel agency. Let our expert advisers plan and book your next dive vacation. Run by divers, for divers.
---