Sea & Sea Canon EOS R Underwater Housing Review
Sea & Sea makes a high-quality, aluminum Canon EOS R underwater housing complete with glow in the dark buttons, a port locking system, RF lens compatibility, and more!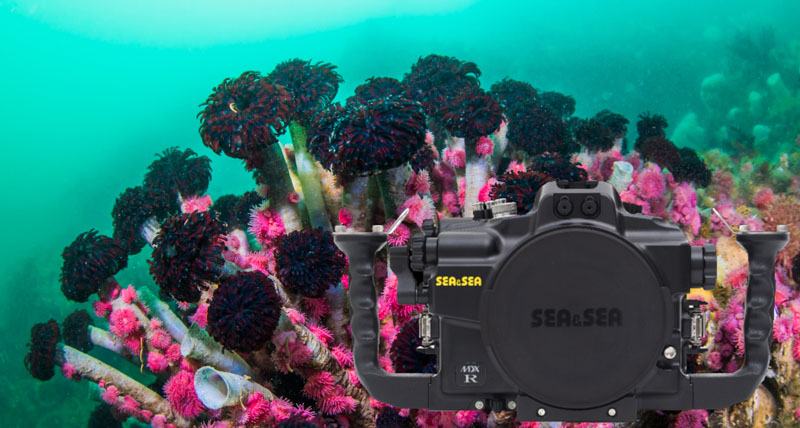 The Canon EOS R is distinguished as the most usable full-frame mirrorless camera for underwater photography. It has the best underwater ergonomics, the quickest and most accurate autofocus, and the most customizability of any other full-frame mirrorless camera. Although it's video specs might be a little lackluster and it might not cram in as many megapixels as the Nikon Z7 of Sony A7R III, it is a formidable underwater camera capable of stellar imagery.
With uncharacteristic speed, Sea & Sea was one of the first housing manufacturers to release a housing for the EOS R. In fact, the world's first Canon EOS R underwater review was shot with the Sea & Sea EOS R underwater housing. After multiple dives with the Sea & Sea EOS R housing, the staff at the Underwater Photography Guide is pleased to say that this housing is what makes the underwater ergonomics of the Canon EOS R the best in the field. It takes an already excellent camera, adapts it for use in the world's harshest oceanic environments, and makes it even easier to use. Despite the Canon EOS R's, large, DSLR-sizes lens mount – the RF mount – Sea & Sea managed to develop a housing that is even more compact and light than a DSLR housing. The housing works with Sea & Sea's popular MDX-series ports and gears as well as the EF-RF lens adapters. Additional ergonomic decisions make it a breeze to shoot underwater.
Status: Available Now
U.S. MSRP: $3,495.95
---
The Sea & Sea EOS R Housing is available now at Bluewater Photo!
---
The Canon EOS R clearly a hard-hitting, professional camera, but it can be a little undistinguished when it comes down to specs. It's not that there is anything blatantly terrible. But many of the specs will be surpassed by competition such as the Nikon Z6/Z7, the Sony A7R III, the Panasonic S1/S1R, the Canon 5D MK IV, and the Nikon D850. But the differences can be so small, many photographers and even videographers will not notice the difference. When it comes to harsh and complex underwater environments, we're often talking about performance. And that's where the Canon EOS R really shines….in a good housing of course.
• 30.3 MP, full-frame CMOS sensor (36.0mm X 24.0mm)
• Native ISO range of 100 - 40000 (expandable range: 50 – 102400)
• Dual pixel autofocus system with 5,655 autofocus points!
• Approximately 88 X 100% AF area coverage
• Autofocus tracking
• 1/200 sec flash sync speed
• 8 fps burst shooting (5 fps in AF servo mode)
• C-Log video color profile available in 10 bit (external recording) or 8 bit (internal recording)
• 4K video @ 30fps with a 1.8x crop, 1080p @ 60fps
• OLED 3.6 million dot electronic viewfinder with 100% coverage
• New Canon RF lens mount (adapters for EF/EF-S lenses available)
• Fully articulated 3.2" TFT LCD
• No In-Body Image Stabilization
• Battery life: 370 shots per charge (CIPA) with LCD, 350 shots with EFF
• Single SD card slot with UHS-II compatibility
• Weight: 660g (1.5 lb), 135.8 X 98.3 X 84.4 mm
New RF Lens Mount/MDX Ports
Similar to the Nikon Z-series, Canon decided to keep it's new full-frame mirrorless lens mount, the RF mount, large at 54mm. Because of this, we can expect most RF lenses to be the size of EF glass. In fact, with relatively few RF lens options currently out, it's a good idea to use EF lenses with the relatively-cheap EF-EOS R mount adapter, which works seamlessly with EF and EF=S lenses.
DSLR-sized glass means DSLR-sized ports. Therefor, Sea & Sea, like many other housing manufacturers, decided to keep their MDX DSLR ports compatible with the EOS R housing. This is great news if you are already invested in Canon or Sea & Sea. You can now move your EF lenses and MDX ports over to the Canon EOS R underwater system. It's not so great news if you're looking to upgrade to full-frame mirrorless for the size reduction from DSLR cameras. It's not much of a reduction due to the added size from the ports. However, this is the case with most full-frame mirrorless cameras and housing out there.
Canon Underwater Housings
Canon cameras are becoming increasingly popular for underwater use, in the compact, mirrorless, and dSLR spaces. The G7X III and 5d Mark IV cameras and housings are very popular, and the new EOS R5 and R6 are going to be top underwater choices for 2021.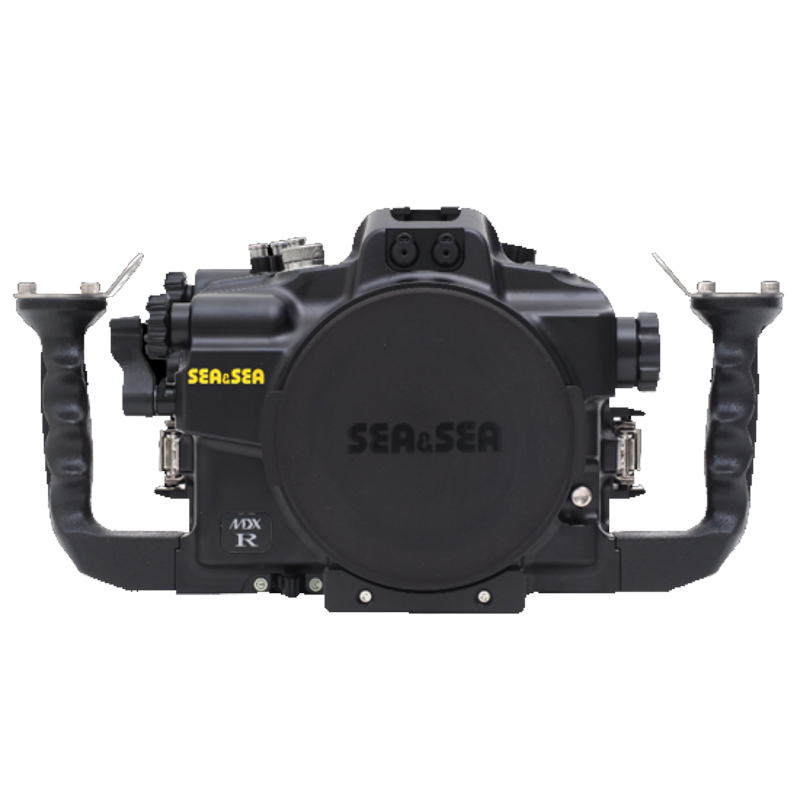 Sea & Sea is known for its high-quality aluminum housings and optimized ergonomics. They are truly built to be indestructible and feel that way when you are diving with them. The housing fits seamlessly with the camera and I noticed no quirks or bugs that might come up with cheaper ecosystems.
• Depth rating: 100m/328 ft
• Electronic sync cord 2-pin connector for use of conventional hardwired sync cable (manual mode only)
• Compatibility with Optical YS converter for converting hotshoe TTL signal to LED that can be used with fiber optic cables – compatible with Sea & Sea YS-D1, YS-01, and YS-110a strobes
• Designed for RF mount lenses – 2 gears for zoom and focus dials.
• Clear window to view camera's control panel
• Port lock system
• Lens-lock release button for easy lens changes (no need to open housing)
• Pulling out the Focuz/Zoom dial gives sufficient room inside the housing for easy accommodation of large diameter lenses
• Glow in the dark buttons!
• Standard optical viewfinder 0.5x
• Weight: 2.9kg
• Dimensions: 342 x 174 x 159 mm / 13.5 x 6.9 x 6.3 inches
An optional vacuum valve can be added to the housing to help create a vacuum seal and protect against floods. A 180 degree or 45 degree magnified external viewfinder really helps make use of the Canon EOS R's high-functioning electronic viewfinder. It's essentially for anyone who wants to shoot through the viewfinder and doesn't have the best eyes.
Build
The Sea & Sea EOS R housing is an attractive option for anyone looking for the absolute best protection for their camera. Although polycarbonate housings have improved in recent years, aluminum is still the material of choice for top-of-the-line housing manufacturers. The Sea & Sea housing fits the camera snuggly, making it less bulky than some competitors. I found that there was just the right amount of space in the housing to keep it compact but leave air for increased buoyancy. Underwater, it is surprisingly light and I didn't feel tired at the end of the dive as I might with DSLR housings and heavier DSLR cameras. Topside, it is about 100 grams lighter than the Canon 5D Mark IV housing by Sea & Sea. This isn't a huge difference, but still a nice improvement.
Ergonomics
The same way the EOS R is the most usable full-frame mirrorless camera on the market, the Sea & Sea housing is also the most usable. In fact, I would go as far to say it accentuates the EOS R's controls. This might sound a little weird so let me explain…
Topside, there are a few issues with the Canon EOS R's ergonomics including the lack of a joystick and a touch-sensitive multi-function bar to replace it. Above-water, the multi-function bar is more of a hinderance than an aid. However, underwater with the Sea & Sea housing the multi-function bar is ignored and that's actually a benefit. It was easy to customize the EOS R's d-pad to control AF point selection. Combined with excellent autofocus tracking, it was easy to get sharp, in-focus photos right on the eyes of subjects. The action on the housing's buttons and the d-pad is great – not too loose and not too stiff. There was never a moment where I pressed a button and the camera didn't respond immediately. All controls were within fingers-reach, and I very rarely had to move my hands from the handles to activate a control. Overall, the Sea & Sea Canon EOS R housing enables full control and functionality of the camera.
The EOS R is built to be used by anyone. Unlike other competing cameras, button placement makes the camera feel minimalistic and all controls are very apparent and accessible. This translates to an easy-to-use, intuitive housing system. With 14 different buttons that can be customized, the EOS R is perhaps the most customizable mirrorless camera. So it's important to note, that customization is necessary to use this camera underwater at full efficiency. Here are a few tips for customizing your Canon EOS R to work well with the Sea & Sea housing:
Tips for customization (for better ergonomics)
1. C.Fn4 menu: Set an accessible button (depends on your housing) to change one shot AF <> servo AF. This lets you quickly change between autofocus settings in order to access useful settings like AF tracking and single AF.
2. C.Fn4 menu: Set the up, left, right, and down control keys to AF point selection so you can control where your autofocus point is
3. Set the Q button to display all useful underwater settings. This includes, white balance, ISO, autofocus mode, and autofocus area selection
4. C.fn4 menu: If necessary (despite the Q button customization), set an accessible button to change ISO. It's preferred to use the Q button as it can be annoying holding down a button and turning a dial to change ISO underwater
More tips for settings and customization will be thoroughly covered in our Canon EOS R underwater settings article.
Port and Port Lock System
As mentioned before, the housing is used with Sea & Sea's MDX port system. This is great if you are transitioning from a Sea & Sea DSLR housing, as you can migrate your ports. It's also great because you can use EF lenses with the MDX port as well as the EF-EOS R adapter. I find Sea & Sea's ports to be of the highest optical quality and had no complaints of any of the ports I used with the Canon 8-15 mm fisheye lens and the Canon 100 mm macro lens.
Changing ports and lenses is very easy with the Sea & Sea housing. I've found that the ports slid on easier than any other housing manufacturer I've used. After screwing on your port, there is an easy-to-use port lock mechanism that ensures the port will not turn or loosen. It's placed towards the bottom of the front part of the housing to ensure that it won't be unlocked accidentally. When changing lenses, there is no need to take the camera out of the housing due to a lens-lock release button – even with the EF-EOS R adapter! This is a huge advantage to some of the competing housings on the market. All you need to due is remove the port, remove the lens/EF-EOS R adapter, and replace the lens with your new lens and port. The camera stays safe inside the housing throughout the process. It's an excellent feature for anyone doing a lot of boat diving without ample space to work on a camera.
Glow in the dark Buttons!
My inner child is speaking when I say that my favorite aspect of this housing is glow in the dark buttons. But seriously, it's an ingenious idea. Each button on the housing is labeled and glows in the dark. Not only is this great for the fact that you don't need to remember where camera controls are, it also means you can see the buttons in any diving conditions. It's particularly useful for night dives or limited visibility. As a cold water diver I couldn't help but appreciate this. All buttons and controls on this housing moved very smoothly and never had any issues with controlling the camera. It made shooting the EOS R a breeze.
Control Panel Visibility
Another nice feature is the visibility of the Canon EOS R's upper control panel. Sea & Sea included an additional window for this purpose. If you have a magnified viewfinder, the window is made almost obsolete by the face that the Canon EOS R has a great electronic viewfinder. However, when I didn't have my eyes glued to the viewfinder, it was great to glance as the upper control panel and immediately know my settings in tight situations.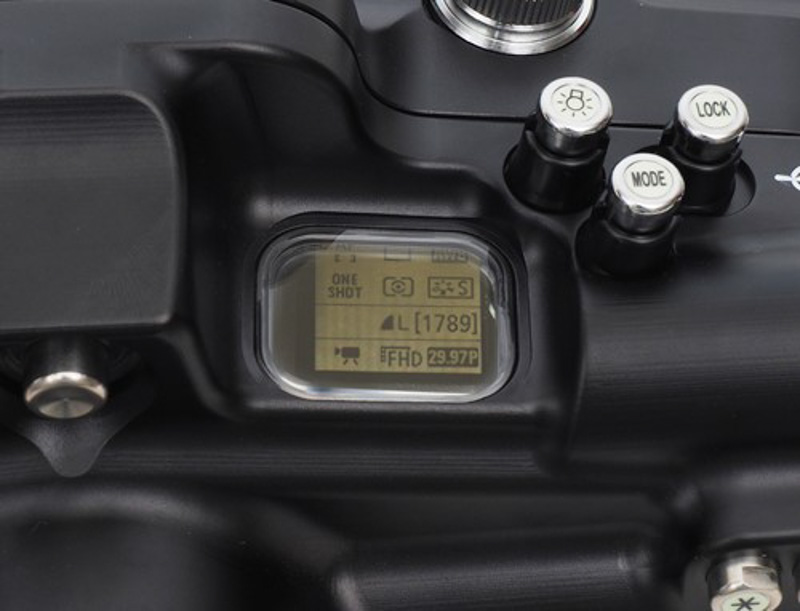 Focus/Zoom dial designed for RF lenses
I was surprised to see that the housing included two gears on the focus/zoom dial. I soon learned that this is to accommodate both RF lenses and EF lenses w/ the EF-EOS R adapter. I didn't have a chance to use any RF lenses, but it worked great with EF lenses! The zoom gear on the Canon 8-15 was very functional and very smooth. It's probably one of the smoothest zoom/zoom-gear mechanisms I've shot with on a housing.
Recommended Housing Accessories
Vacuum valves offer additional protection for your expensive EOS R camera underwater. A vacuum seal further ensures that water will not get into the housing. You can also check the pressure of the seal throughout the day to make sure that the pressure is maintained. If it is not the same over a period of time, then the seal is not secure and you will catch a potential leak before it happens.
This housing is compatible with Sea & Sea's optical YS converter which is similar to an ultra-smart flash trigger. The optical YS converter hooks up to your camera's hotshoe. Then your camera will send a TTL signal to the converter which outputs and LED signal to your strobes. This means quick recycle times, low camera battery usage, and accurate TTL. You can also use the optical TTL converter to fire your strobes manually.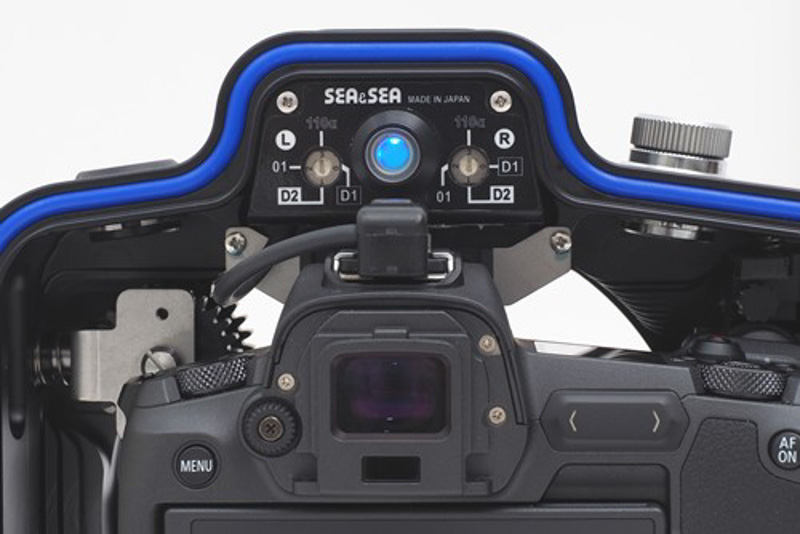 If you want to take full advantage of the Canon EOS R's electronic viewfinder, we highly recommend using a magnified 45 degree or 180 degree viewfinder. Sea & Sea makes sturdy magnified viewfinders for use with their housings. It really helps to see your settings and playback images on the viewfinder when you're trying to look through a mask in rough water, or if you have bad eyes. The one downside of these magnified viewfinders is the slight vignetting you get from using them. It makes it harder to see certain parts of the electronic viewfinder, but not impossible. Although it's more difficult to get used to, I favor the 45 degree viewfinder, especially for macro photography where you need to get in tight corners. The 180 degree viewfinder is great if you do a lot of wide angle photography or wall diving where you can put your face directly behind the housing.
Underwater photography is incomplete without good color and lighting. Underwater strobes help bring back color into your image, and they can be used to create dramatic effects/shadows. While any strobes can work great with this housing, Sea & Sea makes top-of-the-line, compact, professional strobes. In fact, they are perhaps the leading company in the field of underwater lighting. I personally used my old Sea & Sea YS-D1s when shooting this review. The YS-D2Js are the newest and greatest in the line of Sea & Sea's strobes and I highly recommend using those with this housing. If you have the optical TTL converter you can bring TTL functionality to your Sea & Sea strobes for quick adjustments and proper exposures at a moment's notice.
Pros
• The highest quality aluminum for industry-leading durability
• Glow in the dark buttons! Complete with labels and the right amount of tension on the buttons (beautiful ergonomics)
• Slightly smaller and lighter than MDX Canon DSLR housings
• No need to take eye off viewfinder during the whole dive when using the magnified viewfinder and EVF
• Great underwater trim, not too heavy underwater
• Can be used with EF lenses w/ EF-EOS R adapter
• Sync cord or fiberoptic attachment with optional YS converter
• Port lock and port system is easy to use
• No need to remove camera body from housing when changing lenses!
Cons
• Some vingetting when using magnified viewfinders
• Slightly heavier underwater than polycarbonate housings
• MDX ports are DSLR-sized (will be the same situation with every housing manufacturer). Not the mirrorless camera for people looking for a smaller set up than a DSLR
Sea & Sea often caters itself to photographers as the highest-end of underwater housings. Well, the Canon EOS R is on the highest end of mirrorless cameras. So it's a good match of camera to housing. Especially considering the fact a system like this could last a good ten years of excellent photographic production. The development of new RF lenses will only continue to make this housings and camera combo a great combination. This housing is great for photographers who:
1. Want the "best money can buy" for their Canon EOS R
2. Need the most durable housing for their Canon EOS R
3. Need quick, ergonomic controls
4. Do a lot of night diving and want to make use of those glow in the dark buttons
5. Have Sea & Sea strobes and want to make use of the optional optical TTL converter
6. Are Canon DSLR users that want to switch to full-frame mirrorless
7. Don't mind spending more money for the highest quality housing
Conclusion
The Sea & Sea underwater housing for the Canon EOS R full frame mirrorless camera is going to be one of the best that money can buy. For a Camera that is spearheading the full-frame mirrorless revolution, this is the right housing. I wouldn't want anything less. Not only will it last forever, but the ergonomics will not fail you when you're taking that split-second shot. After taking this housing out for multiple dives, we found that it accentuated the EOS R's already-excellent ergonomics, and it felt great underwater with no real kinks to complain about. It's not going to be the world's smallest mirrorless system, but it's the right size housing for the camera. Furthermore, it was easy-to-use topside, with lens and port changes being a breeze (no need to take the camera out of the housing!). Additional features like glow in the dark buttons, a visible upper control panel, a port lock system, and compatibility with magnified viewfinders and optical TTL converters only makes for a better shooting experience. I was left not wanting anything more from the system. The shots speak for themselves.
SUPPORT THE UNDERWATER PHOTOGRAPHY GUIDE:
The Best Service & Prices on u/w Photo Gear
Visit Bluewater Photo & Video for all your underwater photography and video gear. Click, or call the team at (310) 633-5052 for expert advice!
---
The Best Pricing, Service & Expert Advice to Book your Dive Trips
Bluewater Travel is your full-service scuba travel agency. Let our expert advisers plan and book your next dive vacation. Run by divers, for divers.
---