Hanifaru Bay Manta Ray Feeding
Whale sharks and Manta Rays like you've never seen them, in the Maldives
Lying 400 miles south of India, the Maldives are an idyllic paradise, with clear blue water and great visibility. Northwest of Male, the capital of the Maldives lies the Baa Atoll, where Hanifaru Bay is.
I almost fell off my seat when I watched the footage from Hanifaru Bay in the Maldives a couple of months ago. Holy c**p I thought, I've never seen big animal action like that anywhere.
We're talking dozens and dozens of huge manta rays feeding. Up to 200 mantas at a time. Not just Mantas, but also whale sharks, opening their huge mouths and gulping in food. Still underwater photography cannot properly capture the beauty of the marine life here, you need to see underwater video.
Many underwater photographers have recently excellent video with the Canon 5DMKII and Canon 7d of the manta rays and whale sharks at Hanifaru Bay, using a wide fisheye lens like the Tokina 10-17mm lens.
Maldives and Hanifaru Bay Marine Life
There's not a lot in the area other than the Mantas and the Whale sharks. Even then, when they do enter the bay, it will be for an hour or two at a time. Quite a distance away there are areas of the Maldives with beautiful soft corals and schools of fish, although macro subjects are generally not as common as southeast Asia.
When the manta rays don't enter the bay, you can still see them on many dives at cleaning stations, but they will be more skittish than when they are feeding.
Best Time to Visit Hanifaru Bay
"Feeding season" is considered to be from May to November, but I think the best time to visit is late July to early October. Conditions have to be just right for the whale sharks and manta rays to enter the bay, so I would go for at least 10 days to ensure you see the "action". In that time period you should get at least a couple days where the pelagics enter the bay.
Getting to the Maldives
Most people fly through Singapore or Dubai, and stay overnight in a hotel in the Maldives capital, Male. I've heard you can get more baggage allowance going on the Dubai flights. The next morning your boat or resort will pick you up.
Underwater Photography Tips
Shoot wide. Use a fisheye lens like the Tokina 10-17mm, or a rectilinear lens in the 10-20mm range. Take video. Even better, take wide video with a fisheye lens. Leave your macro lenses at home
If you are at a Manta cleaning station, never chase or charge the manta rays, it won't work. Wait for them to come to you. Don't rise up to their level.
Manta Ray Underwater Photos from the Maldives
Manta rays feeding underwater, photo by Tony Frank. Nikon D300, Tokina 10-17mm fisheye at 10mm, F13, 1/100th, ISO 400
Diving with Manta Rays in the Maldives. F8, 1/80th, ISO 200
Underwater Videos from Hanifaru Bay
Showing great Manta Ray and Whale Shark Action
Tips on how to dive the Maldives
I can't believe the different opinions people have had of the Maldives. Some people have a fantastic time, and some people have an ok time. The quality of the resorts, boats and dive sites can vary tremendously. It's important to research the Maldives very carefully, including when and where you go. Some dive operations and boats mainly cater to inexperienced divers, and some areas of the Maldives have extensive coral bleaching. The Maldives can offer a fantastic topside and underwater experience but be sure to spend extra time researching the boat/resort, and the dive areas that will be covered on your trip.
Interested in diving the Maldives?
Our sister company Bluewater Travel has lots of experience booking dive trips to the Maldives. So if you want help planning your trip:
Further Reading
Hanifaru Bay Manta Ray Feeding
Whale sharks and Manta Rays like you've never seen them, in the Maldives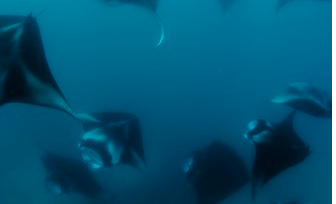 SUPPORT THE UNDERWATER PHOTOGRAPHY GUIDE:
The Best Service & Prices on u/w Photo Gear
Visit Bluewater Photo & Video for all your underwater photography and video gear. Click, or call the team at (310) 633-5052 for expert advice!
---
The Best Pricing, Service & Expert Advice to Book your Dive Trips
Bluewater Travel is your full-service scuba travel agency. Let our expert advisers plan and book your next dive vacation. Run by divers, for divers.
---