GoPro HERO 11: Initial Thoughts & Review
GoPro just announced the HERO 11, but is it worth the upgrade for underwater video?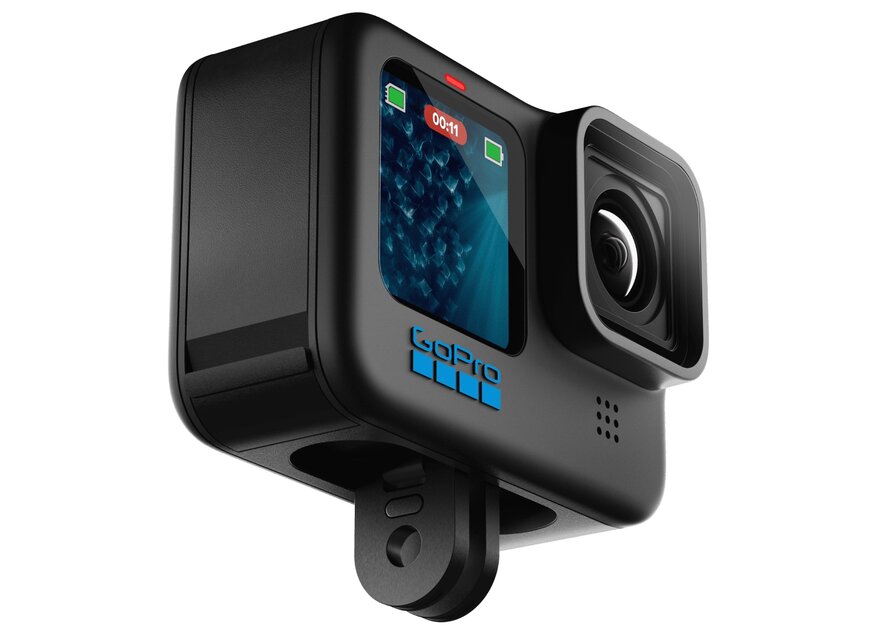 GoPro has just announced its latest model, the HERO 11 Black. The ever-popular action camera manufacturer has bought some significant upgrades over previous models with new aspect ratios, an all-new sensor, and a heavier focus on social media sharing - especially on short-form video platforms for TikTok and Instagram's reels feed. It comes in two sizes, the regular HERO 11 Black size and the HERO 11 Black Mini.
We're going to take a look at all of these new features and discuss whether the GoPro HERO 11 Black is a worthy upgrade from the HERO 10 and how suitable it is as an addition to a regular camera or if it could even replace a regular camera in certain situations.
---
Jump to a Section
GoPro HERO11 Black Specs | Key Features
GoPro 11 for Underwater Video | GoPro QR Codes | GoPro Hero11 Accessories
Conclusions | GoPro Reviews & Tutorials
---
Quick Specs
27MP
5.3K60 / 4K120
Digital Lenses: Hyperview, Superview, Wide, Linear & Linear+Horizon Lock
Aspect Ratio: 16:9, 4:3, 8:7
In-camera horizon lock
Hypersmooth video stabilization
H.265 (HEVC) video file format
10-bit HEVC
Up to 120 MBPS
8x slow-mo at 2.7K
Up to 2x touch zoom (GoPro HERO 11 Black only)
Looping video (GoPro HERO 11 Black only)
New Sensor
One of the biggest changes from the HERO 10 to the HERO 11 is the new sensor. It's a type 1/1.9 8x7 (6.4 x 5.6) sensor, which means an almost square aspect ratio, a significant change for a camera known for its wide-angle aesthetics. This change is because the 8:7 aspect ratio allows for photos and videos to be cropped into a vertical video, maintaining a tall, full-height image that gives you the full range on the top and bottom. You can, of course, use more traditional aspect ratios like 16:9 and 4:3 if you prefer to stick to what you know with the GoPro HERO 11.
Aspect Ratios
If you shoot in the 16:9 aspect ratio, you get three different fields of view, or "digital lenses", as GoPro calls them. First, you get the regular "wide" field of view, then "superview", and finally "hyperview".
The "wide" field of view is very similar to the field of view in most other GoPros. A great all-around versatile mode for capturing actions.
The "superview" mode makes use of the new sensor and the additional range on the top and bottom of the frame to give you a wide-angle shot, but with more on the top and bottom.
"Hyperview" is a new, very wide angle that uses the sensor's full height and squashes it down into a 16:9 aspect ratio making shots look incredibly wide and allowing you to get as much in the frame as possible.
Video Quality and Stabilization
The 5.3K60 video footage is as sharp and detailed as you'd expect from a GoPro. You can shoot high-quality videos with the HERO 11 Black. In 4K120, the footage retains a lot of its sharpness but can be slowed down to get that smooth slow-mo 120fps that we all know and love. It's important to note, that higher resolutions and frame rates (like 5.3K/60p) use a codec that may not be readable by some computers. If you find your footage to look pixelated straight out of the camera, you'll want to re-export it in H.264.
The stabilization is where the GoPro really shines and stands out above its competitors. With Hypersmooth video stabilization turned on, you can easily strap the camera to a helmet or chest strap and run or bike along rough ground and get super smooth footage.
Horizon Lock
GoPros have had a horizon-level feature in them for a while now. It helps keep the horizon level when the camera is moving around a little. It does a good job, but is limited in its effectiveness when you begin moving the camera around a lot.
The all-new horizon lock on the GoPro HERO 11 literally locks the horizon in place, even if you rotate the camera 360 degrees. It's like having it attached to a gimbal that can rotate 360 degrees; the picture stays the right way up perfectly. This is possible thanks again to the new, almost square sensor, which enables it to retain the same aspect ratio regardless of its orientation.
This could turn out to be one of the HERO 11's biggest selling points.
GoPro HERO 11 Black for Underwater Video
The GoPro HERO 11 is waterproof up to 33ft/10m (both the HERO 11 regular and mini) straight out of the box, which is great for snorkeling and other watersports or situations where you expect the camera to get wet. There's no need for an additional housing if you're not planning on going deeper than 33ft./10m.
However, if you plan to dive deeper than 33ft./10m with the GoPro HERO 11, there will undoubtedly be plenty of underwater housings to choose from once the camera is released in late October. There is even the possibility that HERO 10 housings will be compatible with this new release since the body size and shape are largely the same as its predecessor. In fact, the initial reports we have from our customers suggest that Hero11 Black cameras are compatible in HERO10 Black housings. If you have any questions about housing options for the HERO 11, please reach out to the friendly team at Bluewater Photo by emailing sales@bluewaterphotostore.com.
The HERO 11 can capture stunning underwater video that competes with anything big rig setups can do, especially considering the price point. The action cameras have gotten so good that Bluewater Travel has been running dedicated GoPro video and photo workshops which have been a massive success.
While stabilization isn't as important underwater as it is topside, being able to shoot 120fps means you can slow your footage down and get that cinematic feeling which is an excellent way to capture underwater footage. Or, if you want to slow your footage down even more, the 2.7K/240P mode lets you do so and still captures an incredible amount of detail and retains a lot of sharpness.
GoPro QR Codes from Bluewater Photo
GoPros are great compact underwater cameras. As we've already mentioned, you can get high-quality photos and videos from them, but the downside is that you can't access the settings while underwater because of the touch screen. To solve this issue, Bluewater Photo now has QR codes in stock that allow you to hold them in front of the camera to change to one of the pre-made video settings. Click here to check out the new GoPro QR codes.
Top GoPro HERO11 Accessories
SeaLife Aquapod
Capture your best selfie yet with the extendable Aquapod. Made by SeaLife, the Aquapod is designed for underwater use. Not only can you capture that selfie, but you can get the camera closer to your subject, whether it is something small or something skittish that you can't approach. The aquapod can also be quite useful for immersing the GoPro into the water from a small boat.
GoPro Multigrip Handle
Adding a handle like the Beneath the Surface Multigrip handle adds stability and is an easy way to hold your GoPro while diving, or any other activity. Often, if handholding your GoPro, you'll see your fingers wrap around into the picture. This problem is solved with the handle.
GoPro Tray and Handles
Attaching your GoPro 11 to a tray and handles will make the camera easier to hold on to and much, much more stable underwater. In addition, the handles serve as a mounting point for video lights. Below are a few of our favorites:
Ultralight GoPro Wing Tray & Handles for GoPro
Beneath the Surface Angled Double GoPro Tray
Video Lights
Bring color back into the picture with the use of video lights. Even a high-powered light will only illuminate a subject a few feet in front of you, so these are most useful for macro and close focus wide-angle video. Adding a video light to your GoPro setup will allow you to shoot professional-quality video on your next dive! Below are a few of our favorites:
Light & Motion dual Light Value Package
Be sure to visit Bluewater Photo to learn about more video lights, whether professional high-lumen or small and affordable.
Conclusion
The GoPro HERO 11 Black and GoPro HERO 11 Back Mini are excellent options for anyone who's looking to buy their first action camera or upgrade from an older one. One of the standout features is the horizon lock which could become very useful to underwater divers who want to maintain straight shots even in challenging conditions.
They're great for traveling and will suit the needs of most amateur underwater photographers and videographers. Having said that, if you want the best possible quality photos and videos, you're still better off with a mirrorless camera like the Canon R5 and a housing.
GoPro Camera Reviews
GoPro Tutorials
SUPPORT THE UNDERWATER PHOTOGRAPHY GUIDE:
The Best Service & Prices on u/w Photo Gear
Visit Bluewater Photo & Video for all your underwater photography and video gear. Click, or call the team at (310) 633-5052 for expert advice!
---
The Best Pricing, Service & Expert Advice to Book your Dive Trips
Bluewater Travel is your full-service scuba travel agency. Let our expert advisers plan and book your next dive vacation. Run by divers, for divers.
---