Top Ten Focus Lights
An overview of focus lights for underwater photography.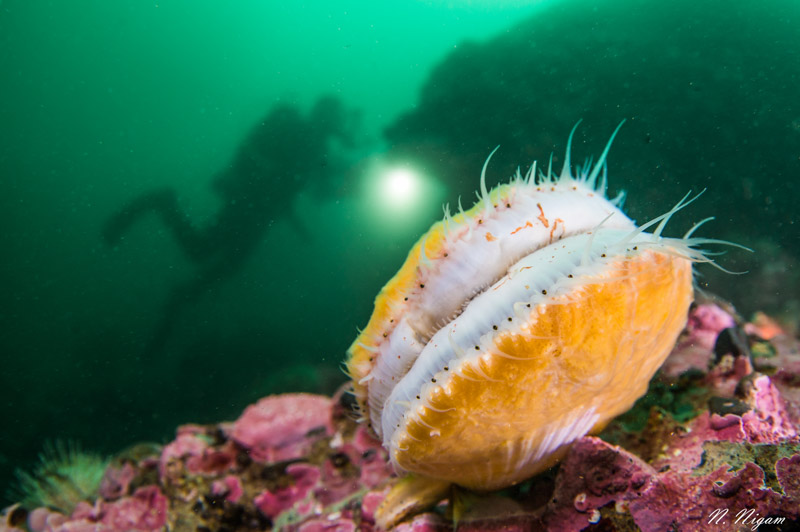 Let there be light!
Focus lights serve to make life easier for underwater photographers. This is particularly true when working in low light conditions, or at night when your camera's auto-focus system may struggle to lock onto subjects quickly. Supermacro and macro photographers will definitely find they make focusing easier. Focus lights in some cases can double as the primary or back up light on a night dive. They can be used off camera for back lighting static subjects like hairy frogfish for example, or be handheld in the case of blackwater photography. Be creative and try using one as the sole light source in your photographs.
Focus lights come with a range of power outputs, and beam angles to suit most needs. They can be attached direcly to your housing cold-shoe, or strobe arms using tri-clamps. A multitude of options are available including: different mounts, interchangeable heads, incremental power settings, red setting (used when illuminating shy creatures), beam options (wide or narrow), SOS setting for attracting attention, auto-flash off, and auto-off to prevent overheating. Some are designed for topside, as well as underwater use. Focus lights these days are like the Swiss Army Knife for underwater photographers, and can certainly function as multi-purpose tools.
The team at UWPG have put together a list of our favourite lights from top manufacturers that cover all available options, and a range of budgets.
1. Big Blue 1200 Lumen Underwater Extra Wide Focus Light AL1200XWP-II
This light ticks a lot of boxes, and comes at a reasonable price. With 1200 lumens, four adjustable power settings, and a maximum burn time of 20 hours, it's got a lot going for it. Constructed of corrosion free anodized aluminum, equipped with tempered glass, and dual o-rings, it's good to a depth of 330 feet (100 meters). The light comes with a YS mount, and a lanyard. It also includes two removable filters (red / yellow), and a spare set of o-rings. The weight with the lithium battery is 84g and it measures 122 x 35mm. The battery is airline approved. You're getting a lot for your money with this package.
Key Specs:
1200 Lumen Output
120 Degree Beam angle
Color Temperature 6500K
4 power settings
---
Big Blue 1200 Lumen Underwater Extra Wide Focus Light AL1200XWP-II
---
2. Bluewater Photo 1000 Lumen Focus Light
An exclusive offer from Bluewater Photo by Kraken Sports. This compact, and robust light has a 1000 lumens of power. The team tested this in the cool waters of the Pacific Northwest. They were impressed with its compactness, and ease of use. This light comes with a unique snoot narrowing the beam for a spot light effect. Combined with a red setting makes it great choice for macro work. The red setting helps to settle shy creatures who don't see the red light spectrum. A 1000 lumens of power, gives you the option to use it as a backup light on night dives. The test team were creative on one dive, they used the light all on its own without strobes, and got some decent results. It includes both a ball and YS mount. A versatile package at an attractive price point.
Key Specs:
1000 Lumens
Snoot for narrow beam work
Red Setting
Backup light for night diving
---
Bluewater Photo 1000 Lumen Focus Light
---
3. Light & Motion GoBe 1000 Wide FC
Go Everywhere! The Light & Motion GoBe Light is designed to take you from hiking trails to the seabed with an innovative design that is fully waterproof to 120m (394ft). Special passive cooling allows it to work on land too. The Light & Motion GoBe 1000 features a smooth 60° beam angle, and features new Fast Charge technology to shorten the recharge time between activities. The package includes a lanyard, and a USB charging cable. An imaging kit is available which includes a photo ball and Locline mount. At full-power of 1000 lumens you get 1.5 hours of burn time, while at the lowest 'Camp' setting (125 lumens) it will last you up to 24 hours. The SOS setting will run for 36 hours. They are several light heads available. A versatile tool for the budget minded who are looking for a multi-purpose light.
Key specs:
1000 lumen output
Smooth 60 degree flood beam excels as a compact video light or to illuminate a wide area
FC (Fast Charge) Technology fully charges GoBe in a mere 3 hours (2 Amp Charger Required)
Interchangeable light heads
---
Light & Motion GoBe 1000 Wide FC
---
4.Ikelite Tough Tray with Gamma Light
The Ikelite Gamma II Light is a great focus light with 350 lumens, and a depth rating of 400 feet! Additionally, its tight beam angle of 10° can act as a snoot for macro photography. It has a color temperature of 6500K, and a lengthy 10 hour burn time. Constructed of aircraft-grade anodized aluminum, with a twin o-ring seal system to ensure its water-tightness. It is powered by 2 CRI 123 batteries and only weighs 4 oz.
The Tough Tray is the perfect partner for your waterproof digital camera. Add the Tough Tray with Gamma II for better stability while snorkelling or diving. A diffuser which is included which attaches to the front of the Gamma for smoother, and even illumination. The light is also available on its own.
Key Specs:
10 hour burn time
Includes diffuser
Compatible with many models (Nikon Coolpix, Olympus Stylus, Panasonic Lumix cameras)
---
Ikelite Tough Tray with Gamma Light
---
5. Kraken Sports Hydra 1200+ WSR
The Kraken Hydra 1200+ WSR features 1200 lumens of flood, 800 lumens for spot, a red beam, and SOS function. Thus is can be used as a minor video light, or focus light depending on what you're trying to achieve. Additionally, it includes various mounting options which give you some flexibility on how you to fasten it to your underwater rig. One cool option that Kraken added is the Auto-Flash off feature which is an improvement over it's predecessor the 1000. Sadly, they removed the tripod and Go-Pro mount. It still includes the YS mount however.
Key Specs:
Functions as both video and focus light
Auto-Flash off
Red setting
SOS functionality
---
---
6. Light & Motion Sola 1200 Photo
The Light & Motion Sola 1200 photo light is the latest advancement to the SOLA line-up. It's still half the size of other lights in its class. It's more powerful than any focus light at comparable prices. Its wide flood beam doubles as a decent video light which pairs up nicely with the latest video cameras. The red light gives you more stealth to illuminate skittish marine life.
The Sola 1200 photo lights are hermetically sealed so you need not worry about flooding. The controls work via a magnetic tap switch that lets you make quick power changes and locks for travel. Three indicator lights behind the bezel readout show the power, and battery charge level.
Light and Motion offer a broad assortment of mounting options. For photography the 1" ball mount gives you the option to mount your photo light on your housing, or you can use with Ultralight arms. For videographers the LocLine mount works with 1/2" Locline flex arm systems. The YS Mount allows for connection on YS style flex arms. The wrist mount has a comfortable neoprene padded plate with locking light release, and adjustable straps Two sizes available: Large & Small.
Key Specs:
Hermitcally sealed - so no flooding
Half the size of other lights
Mulitple mounting options
Magnetic switch for ease of use
---
Light & Motion Sola 1200 Photo Light
---
7. Inon LF800-N 5 Degree Dive Light
With a maximum 800 lumen output, and 5 degrees of coverage the LF800-N offers an distinctive optical system. It essentially condenses the spread of the beam which produces super narrow beam with sharp edge. This light is well suited as a pointer for a dive guide, a searchlight in poor visibility, or a constant light source for both photography, and videography. This light will show a defined beam, and work well as a prop for your underwater model.
Key Specs:
Super narrow beam
Great choice for an underwater model
Well suited as an underwater pointer
---
Inon LF800-N 5 Degree Dive Light
---
8.Fix Neo Mini 1000 SWR Focus Light
The Fix Neo Mini 1000 SWR Focus Light is a compact, and lightweight focus light packed with cool features. Like its big brothers it has three beam settings: spot, wide and red. This makes it useful for both macro and video work. If also incorporates an auto-flash off function, helping to avoid hotspots in your photos. Operation is all done with a single control button. The intelligent battery display lets you see exacly how much burn time remains. It benefits from a standard micro USB charger which gives you options to charge from not only the wall, but a laptop as well. It can also be used topside too as its auto-power reduction mode kicks in when the light starts to get too warm.
Key Specs:
3 beams in one
Auto-Flash off
Red beam
Auto-power reduction for use on land.
Standard USB micro-charger allows for laptop charging
---
Fix Neo Mini 1000 SWR Focus Light
---
9. FIX Neo 1500 DX II SWR Video Light
The FIX Neo 1500 DX II is an awesome light, and packs more technology than any other light on the market. One thing I love about this light is the incremental power setting combined with the ability to switch from wide to spot with one click. You can to switch to red regardless of what beam you're using. The incremental power setting can be used in 25% increments, or for more fine tuning 1% steps are also available. The battery display shows real time remaining, thus avoiding guess work. The battery can be charged in the light body which makes life easier when you're in the field. With the incremental power setting you can get burn times up to 999 minutes. Charging time is around two hours, and spare batteries are available. This light can also accept different heads, like the blue head if you're interested in doing fluorescent work. Both the body and the light head are sealed, so if you do flood, you'll only affect the battery. Great bit of equipment for the serious photographer / videographer. The Neo 1500 DX II SWR includes a YS mount, ball mount, GoPro Mount, Loc-Line adapter, and a handle to hold the light.
The FIX Neo FR1 Remote Control unit is a small controller for the FIX Neo DX light systems. Take control of your lights within thumb's reach. The remote control unit can be mounted to the handle systems of most DSLR housings, trays and strobe arms. The remote connects to the lights via standard fiber optics cables which are optional extras. The remote can control up to four lights, offers the same control as the on-board controls, and comes as a separate accessory.
Key Specs:
Wide or Spot Beam

Red Setting

SOS Setting

Incremental power adjustments

Remote Control available

Replacement batteries available

Sealed head, and body

Auto-Power reduction circuit for topside use

Can be used with different heads
---
FIX Neo 1500 DX II SWR Video Light
---
10.FIX Neo 1200 DX UV Light, BLUE / Phosphor Filter
To take advantage of photographing or filming fluorescence you need an excitor light. This beauty delivers 1200 lumens of output by way of 6 ultra-high intensity blue LEDS. You do lose the red setting with this head, but other an than that the specs are indentical to the FIX Neo 1500 DX II SWR. So needless to say this light is packed with technology.
Key Specs:
Wide or Spot Beam

6 Blue Ultra-High LEDs

SOS Setting

Incremental power adjustments

Remote Control available

Replacement batteries available

Sealed head, and body

Auto-Power reduction circuit for topside use

Can be used with different heads
---
FIX Neo 1200 DX UV Light, BLUE with Phosphor Filter
---
SUPPORT THE UNDERWATER PHOTOGRAPHY GUIDE:
The Best Service & Prices on u/w Photo Gear
Visit Bluewater Photo & Video for all your underwater photography and video gear. Click, or call the team at (310) 633-5052 for expert advice!
---
The Best Pricing, Service & Expert Advice to Book your Dive Trips
Bluewater Travel is your full-service scuba travel agency. Let our expert advisers plan and book your next dive vacation. Run by divers, for divers.
---