Nauticam Housing for Sony RX100 III
Nauticam Announces RX100III Housing - 1st with Vacuum Value & other Big Upgrades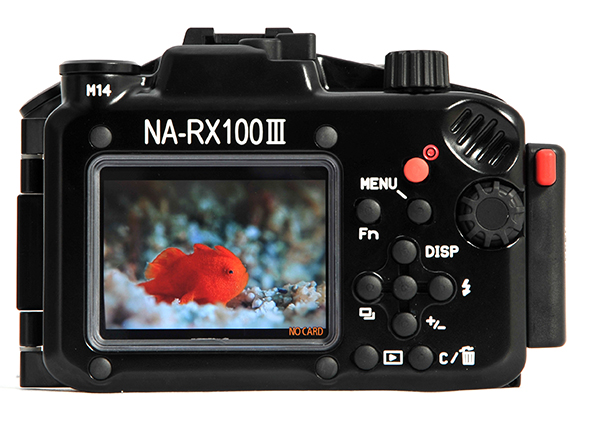 Nauticam has announced their housing for the Sony RX100 III. This housing inherits much from Nauticam's compact camera housing line, but with a few important additions. The Sony RX100III is sure to be a hit with underwater photographers, building on the great success of the RX100 andRX100 II. If you haven't yet, check out Scott Gietler's Initial Thoughts on the RX100 III for underwater photography.
New for the NA-Rx100 III
Updated fiber optic block

Built-in vacuum check system

2 accesory bulkhead ports

Support for routing HDMI cables for an external monitor
Ship Date: August 1, 2014
MSRP: $995 USD
Order your Nauticam NA-RX100III on Bluewater Photo
PRESS RELEASE
Announcing NA-RX100III
The New Housing for the Sony RX100 III
Nauticam is pleased to announce the release of it's newest aluminum underwater camera housing for the Sony RX100 III. The NA-RX100III inherits much from its hugely popular predecessors, but manages to add the innovative touch with new features not previously seen in a compact camera housing.
The Sony RX100 III
The Sony Cyber-shot DSC-RX100 III, as it is officially known, is the third in the series of advanced, large sensor compact cameras from Sony. The RX100 line is hugely popular with underwater enthusiasts, and has proven itself as an excellent performer in terms of both image quality and usability. RX100III is a more professional model with a much improved lens, popup electronic viewfinder, a built-in neutral density filter, and more.


The RX100III is built around a 20 megapixel 1" CMOS imaging sensor, and gets an updated image processor called Bionz X. Image quality is exceptional.

The big news is the lens. It is a 24-70mm equivalent with aperture ranging from f/1.8 to f/2.8, considerably faster than the RX100II. Not only will this enable more shallow depth of field shots, but it will make focusing easier. The lens also focuses more closely than its predecessors, meaning shooting small subjects is more achievable without a close-up lens.
The display panel is a 3" TFT-LCD, with something Sony calls "WhiteMagic", which is a technology that adds a white sub-pixel to the normal RGB array, allowing for a brighter screen in bright daylight with reduced energy consumption. The display panel is articulated, and can tilt a full 180 degrees, allowing for the inevitable "selfie" shot.

The electronic viewfinder is a small popup on the left side of camera. The resolution is 1.4Mdot, though the screen itself is quite small. While useful topside, especially in bright sunlight, the small size and low magnification (0.59x) would make it less beneficial underwater. A better choice is the large 3" LCD screen, combined with a Nauticam LCD Magnifier (p/n 25106) and rails (p/n 25131). This combo provides a shaded, magnified image allowing easy confirmation of fine focus.
Nauticam NA-RX100III
The NA-RX100III sets a new standard for compact camera housings. While it builds on the success of the NA-RX100 and NA-RX100II, it is clear that Nauticam did not just copy and paste this housing into existence. The features you'd expect are certainly present, like ergonomic design, the clearly labelled controls, sculpted shutter release and more. A closer look reveals features like an updated fiber optic connection block, built-in vacuum check system, 2 accessory bulkhead ports and support for routing HDMI cables for an external monitor.
Shot with Sony RX100II in the NA-RX000III housing, with Inon UWL-H100

The NA-RX1000III is milled from a block of solid aluminum, then hard anodized. The result is a rugged and reliable piece of gear that will stand up to saltwater and the daily rigors of diving. Since the housing accesses all of the camera controls, including the front control ring, the user can take advantage of the enhanced programmability in the RX00III.
NA-RX100III Feature Checklist
Secure, easy to use locking latch

Ergonomic controls with size, shape and color differentiation

All camera controls accessible

All controls clearly labeled

Popup/push down flash lever

Fiber optic bulkhead

Integrated leak detector and optional vacuum check

M10 mounting ball

Cold shoe mount

67mm threaded port mount

1/4-20 tripod or tray mounting holes

Sculpted, sensitive shutter release

M16 bulkhead port for HDMI output

M14 bulkhead port for vacuum valve
Going Wide or Going Small
The RX100 housings feature an industry standard 67mm threaded port mount, meaning it is easy to attach a number of different wet mount lenses.
While the new 24-70mm lens Sony installed in this camera is terrific, and reasonably wide, going wider allows the underwater photographer to get closer to their subject. Getting close means less water, and less particulate, between subject and camera, and results in more colorful images.
Shot with Sony RX100II in the NA-RX000III housing, with Inon UWL-H100
Testing indicates that the Inon UWL-H100 (either in the m67 mount or the LD mount) is an ideal wide angle lens for the RX100III. This combination will result in a diagonal FOV of approximately one hundred and ten degrees (110º).
On the macro end, the Nauticam Super Macro Converter 1 (SMC) is the ideal choice and enables about a 1" vertical subject to fill the frame. This is over 4x magnification provided by the stock lens (stock lens images 160mm wide, SMC 38mm wide).
Nauticam Vacuum Check System
In a feat worthy of Houdini, the engineers at Nauticam managed to squeeze in the Nauticam vacuum monitoring and leak detection electronics. By default, it serves as an audible and visual leak detector, but add a Nauticam M14 Vacuum Valve, (p/n 25611) and it becomes a vacuum check system. The vacuum monitoring system provides early warning for any problem with watertight integrity - which means peace of mind when shooting underwater.
The 2 bulkheads and the indicator light for the vacuum/leak system
M14 vacuum valve installed, and green light indicating solid vacuum
Video
Video gets an update in the "III" as well. The camera now supports XAVC S, at up to 50Mbps, shooting HD at 60p. More importantly, the RX100III eschews "line skipping", sampling the entire sensor before downsizing to the recorded resolution. The results are very impressive. In the comparisons posted on DPReview.com, the video frame grab from the RX100III clearly out resolves and displays less moiré than cameras like the Nikon D610 and even the Sony A7.
The standard NA-RX100III housing supports HDMI out, via an optional HDMI bulkhead connected to the M16 accessory hole in the front of the housing. This means that the underwater videographer can use either excellent SmallHD DP4 Monitor (in the NA-DP4 housing, p/n 17901) or the Atomos Ninja 2 Recorder (NA-NINJA2 housing, p/n 17902). The Ninja can record high quality ProRes HD video at around 220 Mbps, which is made possible by the "clean" HDMI output option in the camera.
Recommended Accessories

Nauticam
p/n

Item

Description

25611
M14 Vacuum Valve
Enables vacuum check system, allowing for check of watertight integrity
81201
SMC
Super Macro Converter; add on lens that provides close focus macro with minimal distortion
25101
M67 Flip Diopter Holder
Enables quick installation and removal of the SMC underwater by flipping lens in place or out of the way
71201
Easitray
Simple tray with comfortable rubberized hand grips
71207
Flexitray
Adjustable tray with comfortable rubberized hand grips
71209
Flexitray W
Wider Flexitray, also allows for tripod use
71208
Right Handle
Right handle for Easitray or Flexitray
71311
Ball for Easi/Flexitray
1" Mounting ball for either tray, allows mounting strobes/lights using Nauticam arms/clamps
36316
Compact Handstrap
Comfortable handstrap for right side of housing
36323
Long Handstrap
Longer version of handstrap for larger hands
25106
LCD Magnifier
Enlarge the view of the LCD; easy to see in bright sun, and can adjust diopter
25131
LCD Magnifier Rails
Allows installation of LCD Magnifier
25221
M10 ball
Mount point for lighting hardware
25514
Ball adapter (Inon)
Allows mounting of Inon strobe
various
Arms/Clamps
Nauticam mounting hardware
various
Carbon fiber buoyancy arms
Arm that provides extra buoyancy to offset heavy lights or strobes
26214
Fiber optic cable for Inon Strobe
Allows fast, accurate automatic flash exposure (TTL) over fiber, with no sync cables to flood or corrode
26215
Fiber optic cable for Sea&Sea strobe
Allows fast, accurate automatic flash exposure (TTL) over fiber, with no sync cables to flood or corrode
Recommended Third Party Accessories from Inon, Keldan, FIX NEO
| Item | Description |
| --- | --- |
| Inon UWL-H100 28m67 type 2 | Recommended wide angle wet mount lens |
| Inon Z-240 | Powerful, reliable strobe with excellent coverage |
| Inon S-2000 | Smallest strobe, ideal for travel |
| FIX NEO 2000 SWR | Focus light with Wide, Spot and Red light options |
| Keldan LUNA 4 | Compact 5000 lumen video light |
Details and Specifications
Depth Rating: 100m

Weight: 0.83kg

Dimensions: 150mm (w) x 101mm (h) x 107mm (d)
###
Video Review: Nauticam RX100 III Housing
Contact Bluewater Photo for expert advice on the Nauticam RX-100 III housing and accessories.
Further Reading
SUPPORT THE UNDERWATER PHOTOGRAPHY GUIDE:
The Best Service & Prices on u/w Photo Gear
Visit Bluewater Photo & Video for all your underwater photography and video gear. Click, or call the team at (310) 633-5052 for expert advice!
---
The Best Pricing, Service & Expert Advice to Book your Dive Trips
Bluewater Travel is your full-service scuba travel agency. Let our expert advisers plan and book your next dive vacation. Run by divers, for divers.
---